Fiji is a tropical paradise, and this idyllic archipelago in the South Pacific can be visited any time of the year if you're looking for hot weather and an escape from the cold.
The country enjoys beautifully warm weather regardless of the season, and it's a popular place to visit for anyone looking for winter sun.
Fiji does have a wet and a dry season, but unlike other parts of the Pacific, it's only rarely hit by cyclones in the worst of the wet season.
The wet season runs from November to April, and this is when Fiji is hot and humid. You can expect rainfall but it's often short, although fierce, and it's a good time to visit for lower prices and quieter tourist spots.
The best time to visit Fiji is in the dry season, which coincides with winter. This is from May to October, and you can expect beautiful, warm weather, and clear skies. This is also the peak season of course, and prices can be much higher.
To help you to plan your Pacific getaway, here's our month by month guide to choosing the best time to visit Fiji.
Don't leave home without: Lonely Planet Fiji (Travel Guide)
---
Best Time to Visit Fiji: Month by Month Breakdown
January in Fiji
January is the middle of the wet season in Fiji, and that means that it's also the height of summer.
Temperatures rise well above 30 degrees Celsius and remain hot even through the night, which can be an uncomfortable experience if you're not used to dealing with constant humidity.
January is a popular time though despite the heat because many Europeans or North Americans will visit to escape the cold of winter back home.
It's also one of the busiest times outside of the dry season because many Australians and New Zealanders visit too, in order to enjoy their Christmas and New Year holidays.
It can be an expensive place to visit in January and it's not the best time to visit Fiji if you are on a budget.
February in Fiji
February is also the middle of the rainy season, but this is the best time to visit Fiji if you're looking for a bargain resort getaway.
The flights to Fiji tend to be much cheaper in February, and because this is low season, the hotel deals can be fantastic.
It's so much quieter than January but the weather remains the same, with lots of heat and humidity.
You can expect to be caught in frequent rain showers, but generally speaking, these are usually short, although very fierce. Pack the raincoat and umbrella for February.
February is the best time to visit Fiji if you're looking to see the waterfalls at their best because the swimming areas and the drops are powerful after heavy rainfall.
March in Fiji
Just like February, you can expect there to be a lot of rain in March and it's not the best time to visit Fiji if you're looking to stay dry.
This is the rainiest month of the year and it's also the middle of cyclone season, meaning that if Fiji does get hit by tropical storms it's likely to happen in March.
But for budget travelers, the deals on flights and hotels can be a steal compared to the high season.
If you want to experience luxury on a budget, then consider March, and book out a swanky beachside resort or overwater bungalow.
You'll also find the jungles and forests at their most pristine, as the heavy rainfall ensures that flowers are blooming and the trees and foliage are verdant and beautifully green.
The waterfalls, of course, are easily at their most powerful extent in March too.
The Yasawas Islands are also a good pick for March because they receive less rainfall than places like Suva or Nadi.
April in Fiji
April is the last month of the wet season, and it's a lovely time to be in Fiji if you're looking to avoid the summer crowds that will soon arrive and enjoy fairly glorious weather too.
Temperatures are still very hot, and you'll find it often rises above 30 degrees Celsius in the daytime and still stays high in the night.
The humidity is dropping though as Fiji transitions into winter.
You'll still have rain showers in April but these drop off towards the end of the month.
The Yasawas and Mamanucas Islands will have much less rainfall so head here for a lovely tropical getaway.
A beachside resort is a good choice for April as you'll be able to jump into the ocean to cool off.
May in Fiji
May is the start of the dry season and it can easily be the best time to visit Fiji.
You'll avoid the real high season crowds that arrive in June and July and you'll still have wonderfully gorgeous weather.
There might be the odd rain shower in May but it's mostly dry across the islands.
The sun is shining and the temperatures are still hovering around 30 degrees Celsius, which is why this is a great time to explore Fiji.
Go scuba diving or snorkeling, as the water is still warm and the visibility is already much better than during the rainy season.
Fiji has some of the best coral in the world and one of the largest reefs in the world too.
Head to Vanua Levi for the pick of the snorkeling, or visit Denarau Island to explore the beautiful offshore paradise before the crowds arrive next month.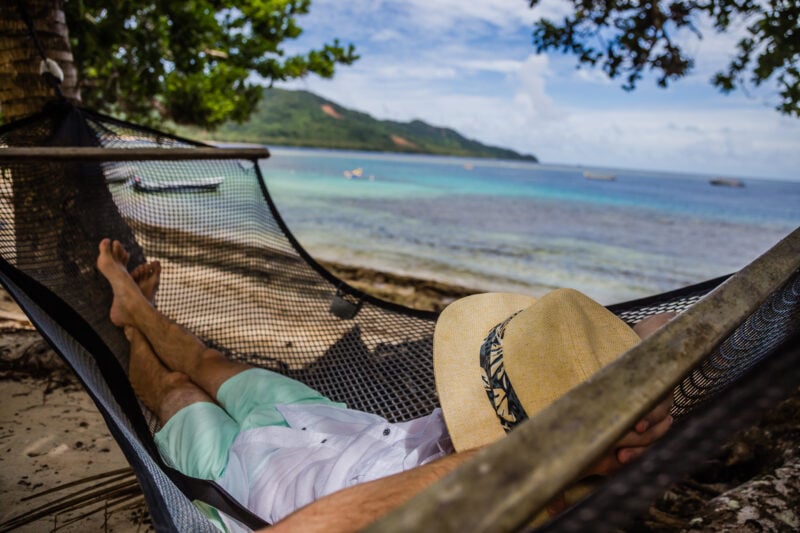 June in Fiji
June is the start of the high season because weather-wise this is the best time to visit Fiji.
The rain is now over and the skies are clear, while the temperatures are starting to drop too.
This is a great time for snorkeling and diving, so head to the tropical idylls of Yasawas or Mamanucas for some world-class underwater views and marine life.
June gets busy in Fiji because in Australia and New Zealand its winter and winter sun-seekers flock to the islands.
July in Fiji
It's winter in Fiji in July but that means that it's a prime time to be exploring.
Everyone else will have the same idea though because this is peak season.
Not only is Fiji packed with winter sun-seekers but it's the school holidays in Australia and New Zealand too, and for many, it's the only chance they get to take a vacation.
If you are looking for peace and quiet then July isn't the best time to visit Fiji.
It's not a good time if you're on a budget either because of the prices across the country skyrocket.
You'll be paying a premium for resorts and paying a lot more for flights too.
It's a beautiful time weather-wise but if you do go in July be sure to book everything in advance.
August in Fiji
August can be just as busy as July, especially during school holidays, and August is best avoided if you are looking for a quiet getaway.
Prices remain high in August, but everywhere in Fiji looks beautiful this time of the year.
You can't really pick a bad destination in August so try and get off the beaten track if you absolutely have to travel now.
September in Fiji
September is much quieter than August so try and hold off and visit now instead.
This is getting towards the end of the dry season but the weather is still perfect. It's getting hotter and it's very dry.
This is the best time to visit Fiji if you want to snorkel or dive because the water is incredibly clear.
It's also manta ray season and you can swim with these beautiful creatures off the coast in the warm waters of the Pacific Ocean.
October in Fiji
October is the last month of the dry season, so make the most of the dry weather and clear skies before the wet season soon begins.
This is very much a shoulder month and it's a great time to be in Fiji if you're looking for a quiet escape.
Visit the Coral Coast or other popular destinations for excellent underwater activities in the clear waters that surround Fiji.
November in Fiji
November is the start of the rainy season again in Fiji, although it's more of a transitional month.
This can actually be the best time to visit Fiji if you want to avoid the summer crowds.
You can still enjoy some great weather because there's only a spattering of storms and rain clouds throughout the month.
Prices are cheap after summer and before Christmas so take advantage of the low costs and book into some luxury bargain resorts.
December in Fiji
Although December is well into the wet season now, and temperatures are high and the humidity is at times unbearable, Fiji experiences a mini high season, especially over Christmas.
Holiday-makers flock here looking for a hot and sunny Christmas or a tropical getaway over the holiday period and prices skyrocket.
There are lots of rain showers, but actually, the wet weather isn't too bad in December, which is why Fiji is still so popular a choice.
The warm waters are welcoming for snorkelers and divers and you can book a beachfront resort to enjoy the cool ocean breezes.
---
Our Top Recommended Tours:
More on Fiji:
Did you like this story? Share it!