The locals will say you haven't actually visited Queenstown until you have stood in the queue and eaten at Fergburger. We wanted to make sure we earned our right of passage while in Queenstown, so we made it an afternoon and headed to the infamous Fergburger.
First impressions are that it's a hole in the wall burger joint located on a busy street near all the clubs in Queenstown. I guess this impression isn't too far off but the place does impress with the mass amounts of people that flock in for their famous burgers.
After placing our order and then devouring (almost finishing) both our burgers, we decided to catch up with one of the waitresses and find out what it's like to work at such a busy burger joint in a place like Queenstown.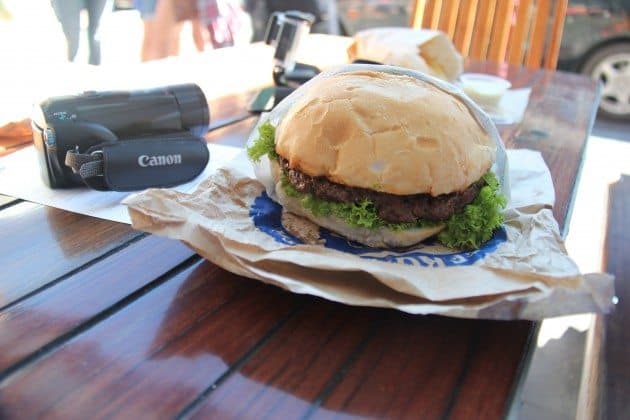 Who are you and where are you from?
My name is Frankie and I am from England. I was traveling through New Zealand and came to Queenstown, I remember at that time thinking it was an amazing place and that I definitely wanted to return and work here when I was done traveling at the time.
Of all the places to work in Queenstown, why Fergburger?
I love working at Fergburger, seriously one of the coolest jobs I've ever had. Lots of my friends say to me 'How can you work here? It's so crazy' but I absolutely love it. I love the people and have met so many cool people while working here.
What's your favorite Fergburger?
Well, I'm a vegetarian! But the most popular is the Southern Swine. I can literally tell you everything about every burger but hands down the most orders we process are for the Southern Swine.
Is it weird working at a burger place and being a vegetarian?
No, I'm not bothered by it at all. Some people that are vegetarians would be offended, but for me, I choose to be a vegetarian and those that want to eat meat don't bother me.
We know that Queenstown is known for it's nightlife and Fergburger is open pretty late. What is the craziest thing you have ever seen while working the late shift?
So many times working the night shift, like so many people just lying on the floor, lying on the street, running into cars, knocking themselves out, fighting. People literally get so drunk here and McDonald's and Fergburger are literally the only places open in the middle of the night, so we have seen it all.
Do people come in late and place crazy orders?
Yes, people come in and order loads of stuff, with no clue of what they have ordered and then they just run away.
We require that everyone pays when they place their order because people literally will order things and leave, all the time. Even now that people pay when they order, we see loads of orders left behind.
One time a guy ordered 2 Big Al's and 2 orders of fries, all for himself and he was so wasted he couldn't even stand up and he just stood there and devoured the whole order!
Who is the most famous person you have seen at Fergburger?
Do you know who Heather Mills is? She's married to Paul McCartney. I met her here once. Johnny Depp ordered a burger here the other day, obviously, he didn't come in, but one of his people picked the burger up for him. Lots of non-famous people come in here; half of them we don't know at the time but then later hear they were here.
We get a lot of professional skiers in the winters that are famous Olympians.
Favorite thing about working at Fergburger?
Hands down the people. We meet so many amazing people working here and everyone is so happy and singing. There is a lot of joking and banter that goes on and the managers are so quality as well.
It's good that it's busy, you can be here all day and before you know it, you're at the end of your shift.
What is the weirdest Fergburger order you have seen?
Oh yeah, I put one together once that was a Double Big Al with Cockadoodle Oink, fish and it had a bulls-eye on it. It was literally a foot tall and I thought it was disgusting. We couldn't even wrap it; we had to wrap it in foil all the way up.
People also mix the sauces up a lot too, we see everything here.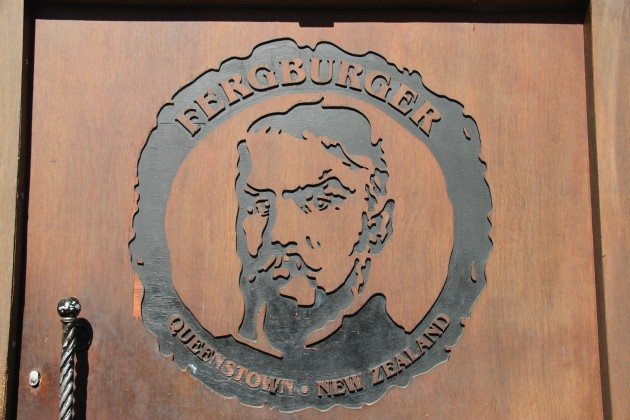 So there you have it, straight from the horse's mouth. Fergburger seems like a pretty cool place to work and you definitely shouldn't miss a visit to this place if you find yourself in Queenstown.
More on New Zealand:
Did you like this story? Share it!