I know what you are thinking; didn't you leave the Wisconsin winter in search of warmer climates? So why on Earth would we spend a day playing in the snow and ice? Well, it's not every day you get to climb around on a glacier.
The little town of Franz Josef was built solely to support trips to the glacier and surrounding areas. It reminds me a lot of Aguas Calientes in Peru, the town that sits at the base of the mountains where Machu Picchu is located. Although, you will find that Franz Josef is much smaller.
You will find a number of accommodation sites, restaurants and tour offices here all ready to meet your needs during your time in Franz Josef. There are a number of rainforest hikes you can participate in but the main draw here is for the ice time. Franz Josef glacier is the fastest moving glacier in the World. It is also one of the easiest accessible glaciers, due to its path down the mountains. Because it moves quickly, it can often be visited from lower points in the mountains.
During the winter, it descends right into the rain forest before retreating in the spring back to a higher elevation. Even then, we are lucky to be able to access it. You can be standing on this massive sheet of ice in shorts and t-shirts in the summer. That is what makes it unique.
Even though it descends down towards the rain forest, the terrain is brutal, so accessing it can only be done by helicopter from Franz Josef. This makes your visit to the glacier a real adventure as they fly you on and off the ice for your visit.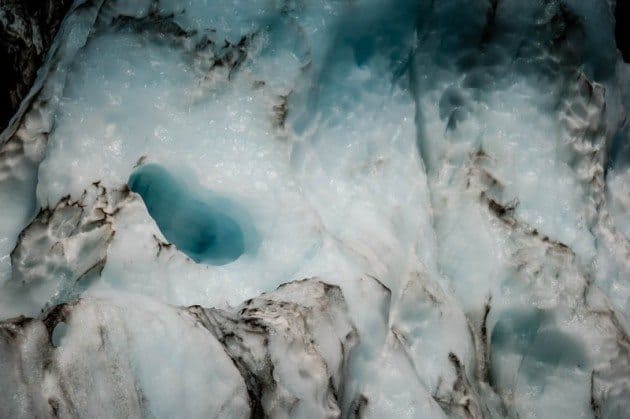 ~*~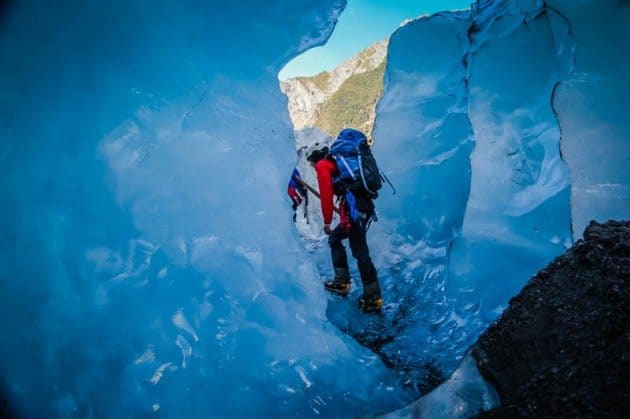 The helipads are built right in town and offer a variety of options for seeing the glacier. If you just want an air tour, great they do that. If you want to hike on the glacier with a hired guide, they do that too.
We opted for one of the extreme adventure options; trying our hand at ice climbing. Having been born and raised in Wisconsin, where we get obnoxious amounts of snow and cold weather each winter, you'd think we would have gotten up to this before. Sorry to say, the thought of ice climbing never crossed our minds at home.
Lucky for us, our whole group was new to the sport, so we were given in-depth tutorials on the techniques and processes to climbing the ice safely and successfully. We were also provided with all the necessary gear for climbing including snow pants, jacket, hat, gloves, helmet, boots, crampons, and ice pick.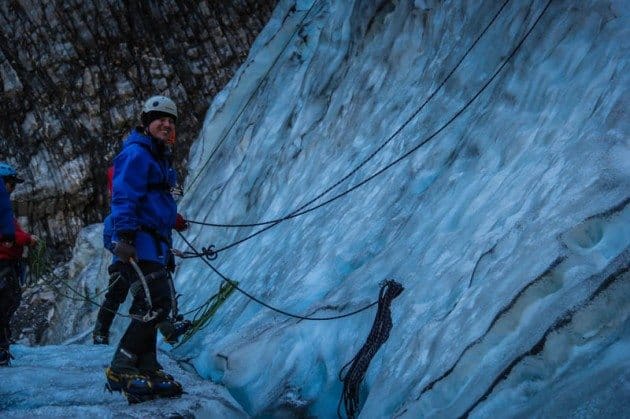 Navigating up the icy inclines is tricky and requires a finesse that can only be learned through practice. The part that would seem the hardest, getting your pick set in the wall, is the easiest. A slight flick of the wrist as the pick comes over your shoulder places it straight into the ice with a firm grip.
Getting your feet secure is a whole different story. The crampons have sharp edges that cut straight through the ice, but getting them set in a way that allows you to put leverage on them and push up the ice is another story. Once your toes are in the wall, you have to step back into your heels and let the weight of your body set the clamps into the wall. You have to trust that it will hold because once your feet are set, you have the task of resetting your picks above you.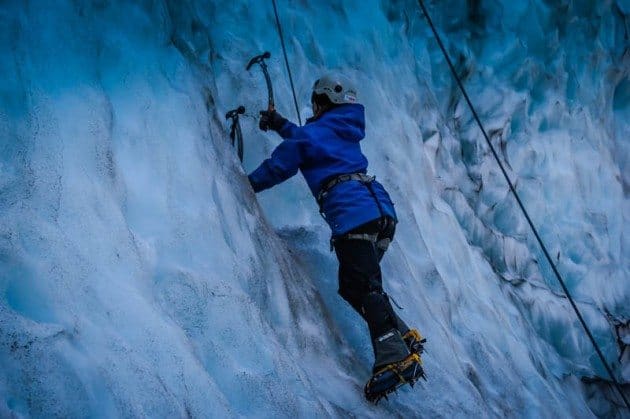 This leaves your only support in your boots and the sharp crampon spikes. It takes a couple tries to get a good stick, so it's hard to really tell what is correct or not until you figure it out. Luckily we were able to practice on surrounding ice sheets to the walls we were going to be climbing.
We seemed to both take pretty naturally to scurrying up the ice walls. Maybe it's from a lifetime of living in sub-arctic Northern Wisconsin; just kind of leaves you at home in conditions like that of the glacier. Or maybe just beginner's luck, either way, we caught on quickly.
We climbed a total of 6 walls that day, all a variety of difficulty and each more challenging than the previous. Honestly, by the time I was standing in front of the 6th wall, I was exhausted. Ice climbing is a full body and mind sport that requires complete focus, determination, and physical strength to complete.
After having my fill of climbing I sat back on the rocks that the glacier had brought down the valley and watched the others try their hand at a few more climbs. I couldn't help but look around and just take it all in. I was sitting on a glacier. In New Zealand. That alone was a little surreal.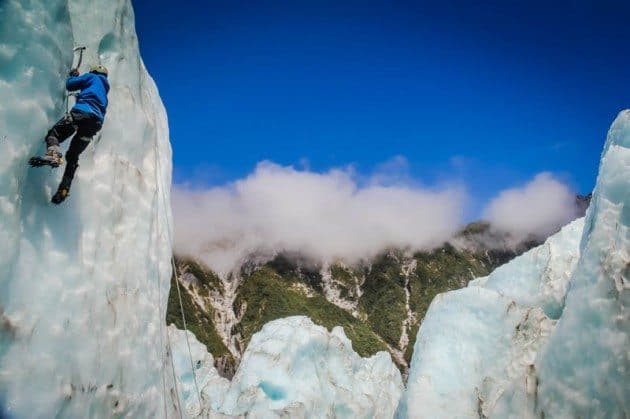 Surrealism aside, I was relishing in a moment of gratefulness. Not only for my new life of travel but for the opportunity to be sitting on the Franz Josef glacier. We were the first group to set foot on the glacier for a week due to adverse weather conditions and we had an absolutely gorgeous, sunny day to boot. Sitting on that rock pile, watching my peers attempting their climbs and glancing around at the bright blue ice backdropped with lush rainforest valleys and waterfalls was the perfect completion of the days' adventure.
Would I give ice climbing another try? Yes, absolutely! It was fun but challenging, which made it appealing to me. Plus I was sore for about 4 days afterward in places I haven't been sore since I was a track athlete in high school. So it's incredibly good exercise and something I wouldn't miss out on trying my hand at in the future.
Have you ever done ice climbing? Tell us about your experience below.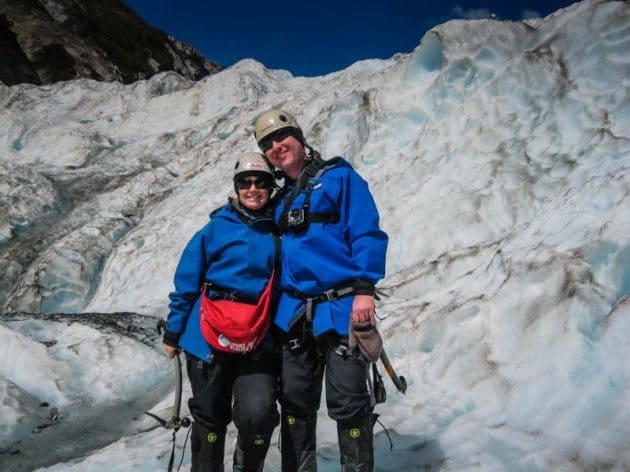 More on New Zealand:
Did you like this story? Share it!