During our first visit to the country, we spent 5 weeks backpacking in New Zealand and it was an absolutely mind-blowing experience for us. The country is just plain gorgeous, there is no other way to put it. 
5 weeks seems like a long time to visit somewhere, but we found ourselves wanting to spend another 2-3 weeks exploring. I know what you're thinking, all you have is time so why didn't you? Well, we had 2 reasons.
The first one, you have to have an onward ticket to enter New Zealand. This meant we had to book a ticket out of the country before we could even board our plane to Auckland when we flew out of California at the end of February.
We basically picked a date and then booked a ticket to Australia. Trying to stick to a budget that decision was influenced by the cheapest flight we could find.
Secondly, we knew that New Zealand was going to be expensive. We were already a little hesitant to extend to 5 weeks when we originally had thought we would spend only 3 weeks there.
Once we started planning though, it became clear that 3 weeks was not enough time for our planned route and then extended to 4 weeks. A month or so later, we added no plans 5th week because the 4 weeks we had planned were already too full.
We would both love to return to New Zealand for a longer period of time and work a little to offset the cost of being there. The country is incredibly diverse and there are still things we didn't get a chance to see and do during our time there.
But for now, we're off to see other parts of the World and take a look at our recap of this beautiful country.
---
Backpacking in New Zealand: 5 Week Recap
---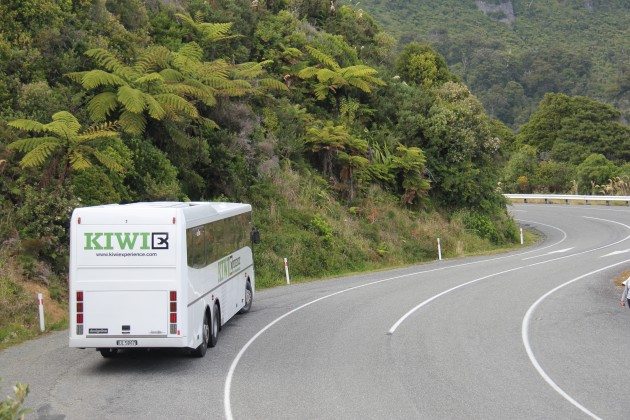 What We Loved about Backpacking in New Zealand
The raw natural beauty of New Zealand is enough to drop any traveler's jaw, including ours. It is so stunning you find yourself almost becoming immune to its beauty.
Everywhere you look it's amazing and you just get used to looking at it every single day on your travels through the country.
The wildlife is very unique. We saw several varieties of birds, yellow-eyed penguins, a Fiordland penguin, sperm whales, dusky dolphins, Hector dolphins, bottlenose dolphins, albatross, sea lions, and seals.
It was nothing short of amazing in that aspect and of course most of the time the sightings were backdropped with the above-mentioned scenery.
The opportunities to try so many new activities and adventures. It isn't every day that you visit a place where you can fill up every day over 5 weeks doing something new.
We are so thankful for our opportunity to get outside of the comfort zone and try some crazy new things including skydiving, white water rafting, cave abseiling, surfing, volcano trekking, and ice climbing.
Kiwis are probably the most welcoming and friendly people we have met to date. We were always greeted with a smile or hand wave.
There wasn't a single time that we had trouble asking for directions or help with something. Their hospitality makes you feel welcome during your visit.
We absolutely loved our time with the Kiwi Experience. We had our reservations about their party reputation but were delightfully surprised that this doesn't suit the company at all.
Yes, people partied, but if you didn't want to, it wasn't in your face. We met some amazing people on our trip around the North and South Islands, including some pretty amazing bus drivers that made our time really unforgettable.
I would not hesitate for one second to recommend them to someone else or travel on them again on a return visit to New Zealand.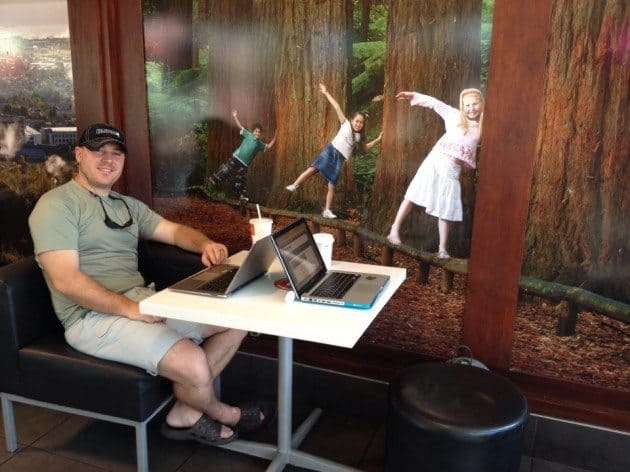 What We Didn't Love about Backpacking in New Zealand
I'll start this off by saying the cost of everything. backpacking in New Zealand is extremely expensive (compared to many other places in the World) and although we made good use of our budget, we still spent more money than we had hoped during our visit.
It was a sad day for us when finding a meal at a restaurant for $10 had us thinking we were getting a good deal. EEEKKK! The US Dollar isn't very strong to the NZ Dollar, so that didn't help much either.
Paying $4.00 for a cold bottle of Coke. We are still cringing about this! David cannot live without a daily dose of Coke or Pepsi and we found ourselves agonizing over it as we didn't have the ability to buy a 12 pack and carry it most of the time. So there were too many times we paid the $4.00.
Nickle and diming you to death on everything. If you went to say McDonald's (because it was the cheapest meal around), refills were not free. Those cost $1.00. Oh, you want ketchup for your fries? That will be $2.00.
Ordering the most amazing fish-n-chips, but you want tarter sauce? That'll be $4.00. Seriously, they charge for every. little. thing. Almost to the point of maddening exhaustion. Don't get me wrong, we loved New Zealand, but when you are penny-pinching, this gets old real fast.
Having to pay for internet and then having it not work well. This was the theme all around New Zealand. They are seriously behind on the internet movement.
Don't get me wrong, it was available everywhere, but it was never free or reasonably priced. Nor did it ever work very well. The exception being McDonald's in Rotorua, where we had fast free internet and the TePapa Museum in Wellington.
We spent many nights up late waiting for things to upload when we were working. This was beyond frustrating because we easily spent around $200NZD on internet access while we were there.
What Did We Spend?
We spent an average of $145USD per day for 2 people while backpacking in New Zealand. This number includes transportation, accommodation, activities, food, internet, and any other miscellaneous purchases during our 5 weeks.
Seeing as our target trip average is $100USD per day and we knew we would be more than that while in New Zealand, we are pretty happy with this number.
Transportation: This was primarily by bus on the Chilly Bin bus pass from Kiwi Experience. Keep an eye on the site as they run killer deals now and again, which can get you into a National Pass for a really great price.
There were a couple of times we visited places away from the Kiwi route and we paid for additional bus tickets for that. We used the intercity and Naked bus for cheap bus fare when we did this. We also rented a car for 2 days in Dunedin to visit the Moeraki Boulders and the Otago Peninsula.
Accommodation: The majority of our time was spent in dorm rooms at the various hostels the Kiwi Experience stops at. We paid on average $30NZD per bed per night for 4-6 bed dorms.
Private rooms ranged between $60-$110NZD per night, so we saved a lot of money by staying in dorms. We did splurge when the private rooms were on the cheaper side of the spectrum or if we were staying somewhere for a few days.
Activities:  There is so much to do and most tours average $150-$250NZD per person. If you are planning a trip to New Zealand, be sure to plan in plenty of money for activities. 
We were insanely lucky to have some amazing partners during our time in New Zealand and this reduced our costs significantly. However, we paid for many things that we just couldn't miss as well.
Food: The Kiwi Experience does a really nice job of working in grocery stores stops as you travel the country. This allowed us to save a lot of money on food. We would plan our meals and cook at the hostel kitchens instead of going out.
This reduced our meal costs from $20-$40NZD per meal to under $10 per meal, plus we were eating way better this way and much healthier.
Our Favorites
Favorite Beach: Piha, North Island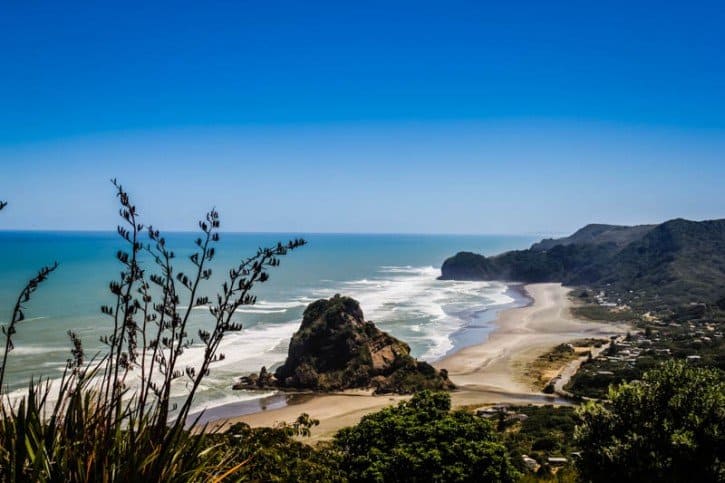 Favorite City: Kaikoura, South Island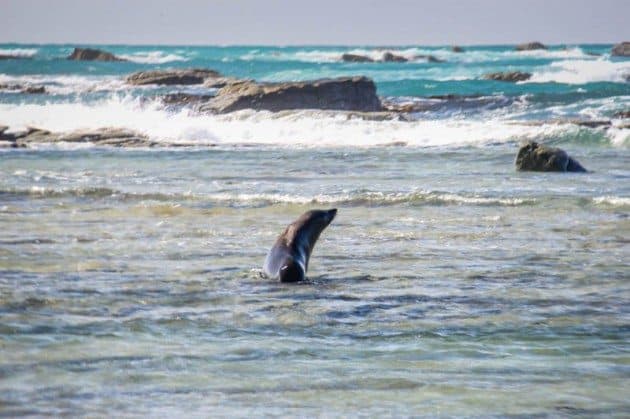 Favorite Activity:  This is tough!! We loved so many things here. Tongariro Crossing, Skydiving, White Water Rafting and Caving.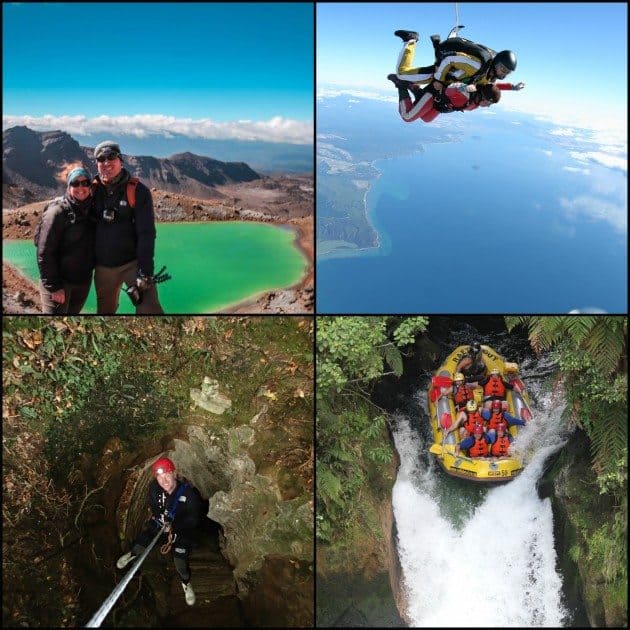 Favorite Meal: Fish N Chips in Kaikoura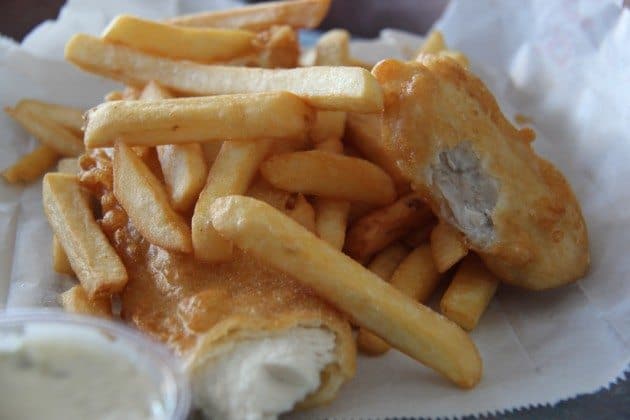 More on New Zealand:
Did you like this story? Share it!