One of our favorite things to do is get up close and personal with any species of whale that happens to frequent the waters we are visiting. When we first started making our plans to visit New Zealand, we knew without a doubt that Kaikoura whale watching would be on our list of adventures.
We knew that this would be the place to have an amazing whale experience.
Prior to our travels in New Zealand, we had been spoiled by being able to go whale watching on a RIB boat in Maui. When you visit Maui in the spring, the water surrounding the islands in like whale soup.
Needless to say, the couple of whale watches I have been on since that has been slightly disappointing; either with no whale sightings or with whales being too far away to actually watch.
Being able to have cool sightings and interactions is something that is important to me if I am going to go out on a whale watch and we actually see whales, I want to be close enough to observe and photograph them.
That said, I do know that whales are wild animals and they come and go as they please. Every time we get a sighting, it's a blessing.
Don't leave home without: Lonely Planet New Zealand (Travel Guide)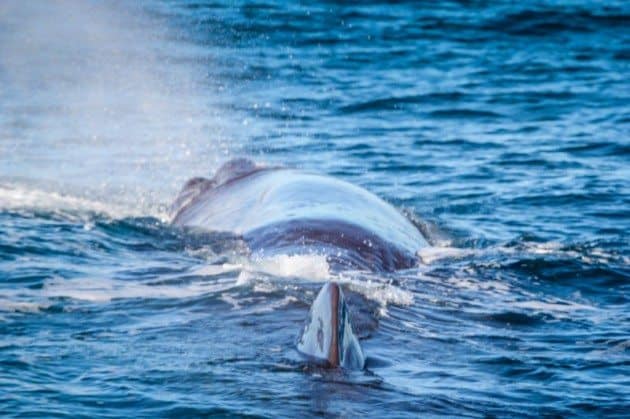 History of Kaikoura
Kaikoura has a history that is inseparable from the sea. The first people to settle here were the Maori, who arrived from the 14th century onwards. The name Kaikoura is derived from the local words for Crayfish, and the Maori settled here to fish, relying on the ocean for their survival, a fact which has, in many respects changed little over the centuries since.
Captain Cook was the first European to chart the region when he passed by Kaikoura in 1770 on his voyage of 'discovery' in the Endeavour. The Maori's had, of course, discovered the area centuries previously, but that didn't stop Europeans from beginning to settle the area too.
Because of the vast numbers of whales that passed by throughout the year, Kaikoura quickly became a whaling station when European colonization began, as whalers flocked here to take advantage of the passing animals.
Numbers dwindled, and species became threatened, but whaling eventually stopped and has in a sense been replaced here by tourism instead, as visitors are given the opportunity to get up close to these wonderful creatures with the help of the locals who know their habits and the waters around Kaikoura.
As long as the whales are looked after, and tourism here remains responsible, then both the wildlife and the people of Kaikoura look set for a bright future.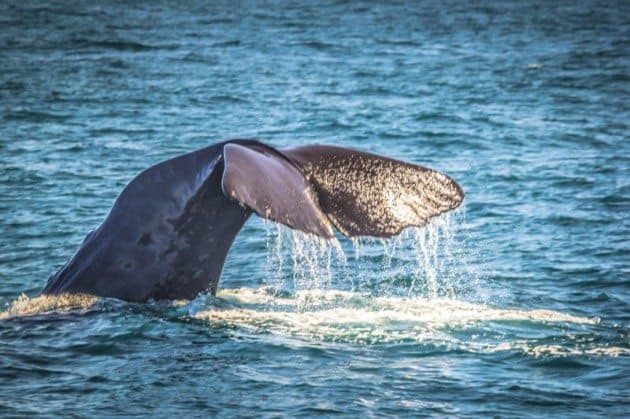 Our Kaikoura Whale Watching Experience
We arrived at the station on time and were seated in a room where we were given a very thorough and understandable safety briefing. They explained to us about the kinds of whales that frequent their waters and other marine life that we may get a chance to spot while on our tour that day.
This included Sperm Whales, Orcas, Humpback Whales, Dusky Dolphins, Hector Dolphins, Albatross and a variety of other birdlife.
At that point, we were whisked from the station into a bus and traveling across town to the other side of the peninsula to board our boat. Each boat that is owned by Whale Watch Kaikoura is custom made so that everyone is able to view the whales.
They are also fast, which means you spend more time with the whales and less time trying to find them.
This alone thrilled me. There is nothing worse than spending more than half of your allotted tour time trying to find them only to be told you have a total of 5 minutes with them.
Things were looking good on this tour and I was impressed with how they loaded and boarded what I thought would be too many people. We were all seated inside the boat and once we left the marina, our Maori guides told us stories about the whales and what they meant to the local and indigenous people of Kaikoura.
It is interesting that Kaikoura was founded as a whaling station and today the whales are part of their marine reserve.
Before too long we located our first whale. Because some of the young adolescent Sperm Whales are permanent residences to Kaikoura, they are known by name. We were graced with the presence of the famous Tiaki. He is the most viewed whale in Kaikoura.
Once they located the whale and began to slow down, they told us we could leave our seats. I expected a mad dash with shoving. The reality is there was a small mad dash, who isn't excited to see whales?
But it turned out that most of the time on the boat I didn't really notice there were so many other people. The boat really is designed for everyone to have an unobstructed view of his or her own.
We were lucky to catch Tiaki in action twice, which meant two spectacular tail views for us. Once he dove for the second time, we were off in search of other marine life. We were successful in locating several Albatross and a large pod of Dusky dolphins, which added a huge bonus to the trip.
Overall it was a spectacular day out on the water with Whale Watch Kaikoura and I consider myself lucky to add so many amazing animals to my list of animals observed in their natural environment. I certainly wouldn't hesitate to go out with them again on my next visit to Kaikoura.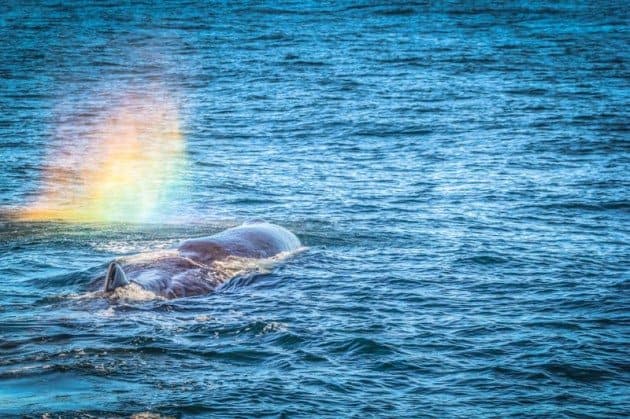 The Whales of Kaikoura
Kaikoura's coastline has the perfect conditions to attract large numbers of whales, from a range of different species. The rich feeding ground off the coast is impressive enough to keep a small population of sperm whales here throughout the year, and it's these local residents that you are most likely to spot during your Kaikoura whale watching trip.
Sperm whales can reach up to 20 meters in length and can dive incredibly deep, for long periods of time, before resurfacing again. They are marvelous to see on the water, and Kaikoura is the best place in New Zealand to be almost guaranteed to spot them.
Tiaki is the most famous local sperm whale, and he's more than likely to make an appearance on most days.
Aside from the year-round presence of a local pod of sperm whales, depending on the season, you can spot different species of migratory whales out on the water too.
Around summertime, roughly between October and March – the whales stick to their own schedules of course! – then you can expect to see Killer Whales hunting off the coast, as they head here for the warmer waters and the prey that follows that warmth.
Otherwise known as Orcas – they are technically a type of dolphin – these intelligent animals can be seen in large family pods, as they hunt in packs, rounding up their catch using teamwork.
They can be surprisingly friendly towards humans and are likely to swim alongside while ducking and diving around the boats.
Travel here for a spot of Kaikoura whale watching in the colder months, and you'll begin to see such magnificent species as the Humpback Whale, Pilot Whales, the Southern Right Whale, and even the mighty Blue Whale.
From June through to August, many of these whales will be seen migrating along the coast. They spend the summer months to the south of New Zealand when the water there is warmer, but come winter, they make their way north to warmer climates, and frequently pass by Kaikoura.
Many of the same whales will be seen returning year after year, and will even call in at the food rich bay around Kaikoura to feed for a few days before moving ever further north, on their epic journeys.
There's no guarantee that you will see these particular whales of course, even if you are here in the 'correct' season, but if there wasn't some element of surprise, then you'd lose part of the whole experience.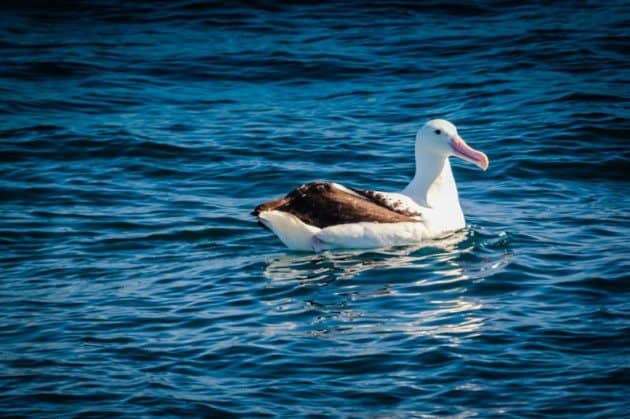 Other Wildlife in Kaikoura
Whales aside, there is much more wildlife that you are likely to encounter whilst out on the water, and exploring Kaikoura. The bay is just as famous for its Dusky dolphins as it is for their larger cousins, and when you are out on boat trips, you'll likely encounter large pods of these playful animals zipping around. In a separate excursion, you can even swim with the dolphins in a unique experience.
Along the coast, you may also come across a resident population of fur seals that call the area home. They can be seen throughout the year, but in their largest numbers in summer.
While cruising through the bay, you're also bound to encounter large albatross birds flying over the water and around the cliffs, yet another beautiful animal waiting to be spotted in Kaikoura.
We even had the thrilling experience of spotting sharks from the boat while we sailed out to find Tiaki on our visit. This was my first time seeing a shark in the ocean.
I was both scared and fascinated, something the guides were thrilled to chat with us about. We asked questions and they happily told us all about the types of sharks that are common in the area.
Our top recommended tours to see other wildlife in Kaikoura:
Disclaimer: These activities are done in the ocean with wild animals. We would never encourage nor recommend swimming with these animals in captivity.
Best Time of Year to Visit Kaikoura For Whale Watching
Kaikoura whale watching is, fortunately, an activity that can be done at any time of the year. This is the primary reason why the town has become such an increasingly popular destination to visit in the South Island because few other locations in New Zealand can give such guaranteed success rates.
Generally, it's held that 95 percent of Kaikoura whale watching trips result in a successful sighting, which means that the odds are massively in your favor when you visit.
The time of year you visit though may affect the rest of your trip around the region and will determine which type of whale you might actually see. If you're not too fussy though when it comes to spotting these magnificent marine mammals in their natural environment, and if you don't mind the weather, then any day is a great day for Kaikoura whale watching.
If you do mind the weather though, then you're best months for visiting are between November and February, when summer is in full swing. The climate this far south is rather temperate, so you can expect warm, pleasant weather, and generally dry conditions.
Although it can rain any time in this part of New Zealand, so always be prepared, particularly when you are heading out on a boat for the day.
The summer weather will make the rest of the South Island more enjoyable too, particularly if you are looking to explore beaches or to head off on hikes after your Kaikoura whale watching excursion.
Summers can be busy though in New Zealand, so be prepared for some places to be busy, particularly given that Kaikoura is a small town and has limited accommodation options, so make sure you book any hotels and your whale watching trip in advance.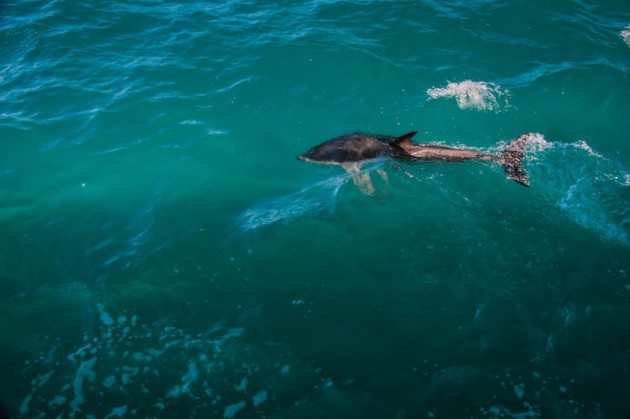 Whale Watching Tours
Kaikoura whale watching is a well-established activity in the town, and you'll find that there are several companies operating throughout the year. During peak season, they try to put on more trips throughout the day to cater for demand, but you can pick from several different departure times. Mornings tend to be the best bet if you have a choice, particularly if you fancy seeing large pods of dolphins too.
The most popular company is Whale Watch Kaikoura, which operates fast, modern boats that give everyone on board a great view of the water. The tours generally last between 2 and 3 hours and are operated by local captains and crew with an intimate knowledge of the area and of the whales.
Most companies will offer a partial refund if you don't spot a whale, such is their confidence!
Our Recommended Whale Watching tours in Kaikoura:
How to Travel to Kaikoura
Kaikoura is located on the east coast of the South Island. It's found near the top end, with the city of Bleinhem being just under 2 hours drive away to the north, and the large city of Christchurch being found 2 and half hours to the south.
Kaikoura is famous for its whale watching and its beautiful landscapes, and although it's yet to see as many visitors as other destinations in the South Island, it's still well connected. If you have your own transport, it's easy to get to, just follow National Highway 1 from either Christchurch or Blenheim.
The closest major airport would be found at Christchurch, where you have regular international connections, making it a convenient location for international travelers to fly into. You can rent a vehicle here and make it the starting point for a South Island road trip, the itinerary opportunities really are endless around here.
If you need to reach Kaikoura via public transport though, then there are several buses a day from Christchurch, and several from Bleinhem too. The fares can be good value if you book in advance.
Getting around Kairkoura itself is easy enough on foot, and you'll be able to get to the whale watching departures too, but further afield, you will struggle without a car, as public transport is almost non-existent.
There are a few private bus companies that run shuttles from nearby cities to Kaikoura, and that also stop off at a few locations on the way, turning the trip into more of a tour.
If you are traveling independently though, this can still be a great value way to see the best sights in the area without having to worry about renting a car.
More on New Zealand:
Did you like this story? Share it!