Visiting Everest Basecamp in Tibet is one of the Top 100 Travel Adventures in the world. View the list and follow our mission to complete them.
Mount Everest. I don't think there is a traveler on this planet that doesn't know where it is located and how special a visit to its presence really is. This massive mountain demands respect and in return, it offers you the most breathtaking mountain scenery on earth.
Most people pay their respects to Everest from the country of Nepal. A lesser-known and underutilized way to see the mountain is by visiting Everest base camp in Tibet.
From the Tibetan side, you are given unobstructed, jaw-dropping views of the North Face of the mountain.
Don't leave home without: Lonely Planet Tibet (Travel Guide).
---
Everest Base Camp Tibet: How to Visit Qomolangma
---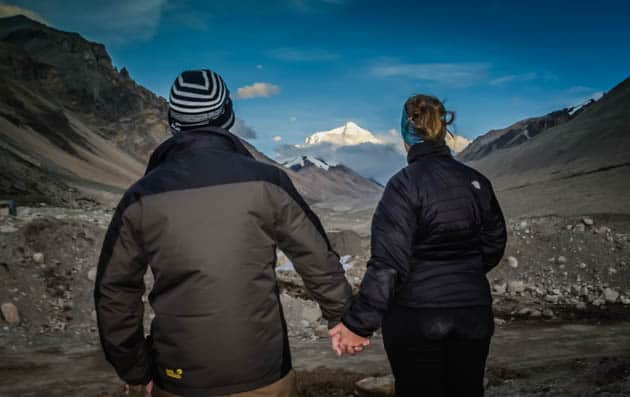 Access to this area can be quite difficult. To enter the Tibet Autonomous Region, you must first obtain a Chinese visa and enter China.
After entering China, you must work with a travel agency to obtain a travel permit to enter Tibet. Arrangements for touring here are also required to be made through an agency as foreigners are not allowed to utilize local transport once within the autonomous region.
If you wish to travel outside the capital city of Lhasa, you must also obtain an alien permit and lastly, to travel all the way to the Qomolangma Nature Reserve for a chance to see Mount Everest, you are required to obtain one more permit.
Yes, that's a visa, 3 permits and group tour in order to travel overland in Tibet. It's a lot of paperwork and hassle but for the adventure traveler, it is worth every single step along the way.
Traveling overland from Lhasa to Mount Everest takes a solid 2 days with an overnight in Shigatse, Tibet's second-largest city. The days are long, the roads bumpy and the air thin along the way but the scenery and people will make these slight observations a mere oversight by the end of your trip.
Arriving at Rongbuk Monastery- Highest Monastery in the World
After a solid 2 days of overland travel, ending with a remote drive through the Mount Qomolangma Nature Reserve, the Rongbuk Monastery will slowly come into view.
When you see the giant white stupa adorned in colorful prayer flags standing in front of a modest monastery structure, you know you have made it to the end of the road.
The Rongbuk Monastery is said to the highest located monastery in the World. At 4980m, I will not argue with that.
The monastery is located smack dab in the desolate alpine conditions of Mount Everest's base and has served as a refuge to Tibetan and Nepalese pilgrims since the early 1900s.
It was also regularly visited by some of the early Mount Everest expeditions in the 1920s and 1930s.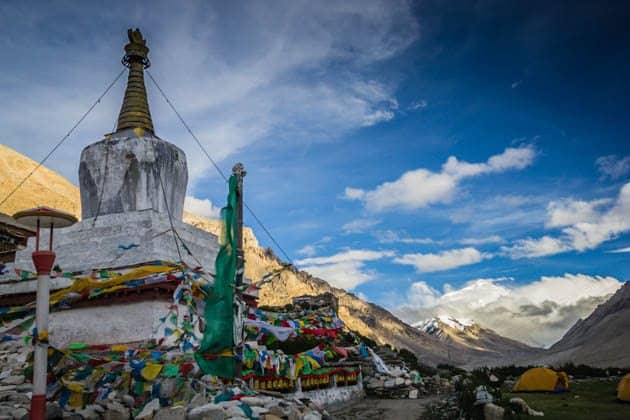 Today, around 30 nuns and monks live at the monastery practicing Buddhism and welcoming visitors who wish to visit Everest base camp to their humble guesthouse opposite the monastery.
Their monastery is simple and you are welcome to pay a visit inside during your stay but I think the best views are right on their front lawn.
Just steps from the front door of the monastery are vast, unobstructed views of Mount Everest and on a clear day the mountain is so close it feels like you can reach right out and touch it.
Like our photos? Check out our Ultimate Travel Photography Gear List
Inside Rongbuk Monastery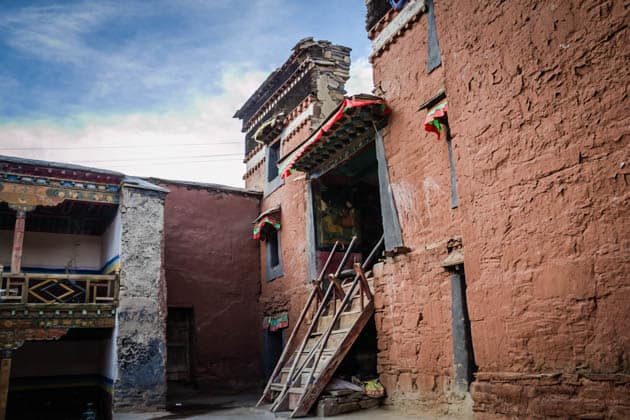 ~*~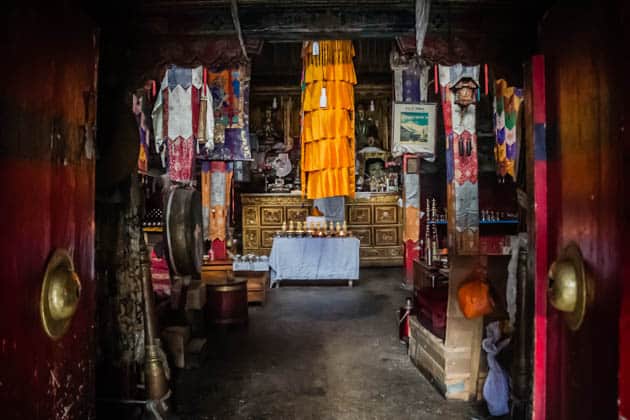 ~*~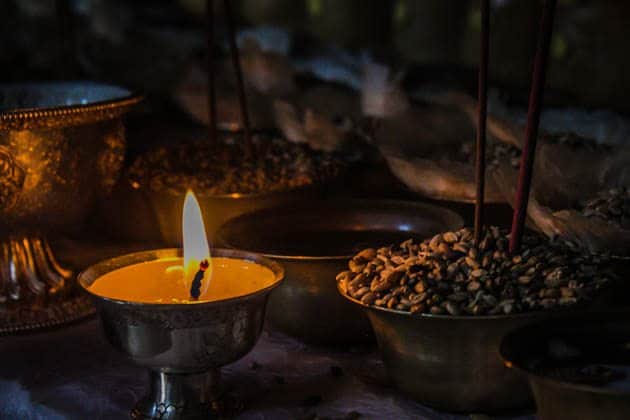 Sleeping at Everest Base Camp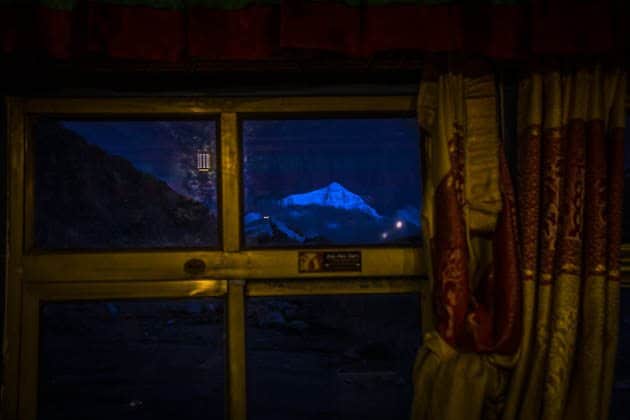 The Rongbuk 'guesthouse' (camping) conditions are extremely desolate with generator electric and no running water. The toilets, well, the holes in the ground, require a face mask for a visit.
You have an option of staying in the guesthouse, which does provide the ability to have a small dorm with other travelers and a lock on the door, as opposed to the tents located slightly farther up the road, which are open with no security.
The 'guesthouse' offers a small communal area with a yak dung stove and a small menu of warm food and drinks to take the chill off from the mountain.
The food is bland and the selection is limited but we were thankful for a warm meal and a friendly smile after our journey from Lhasa.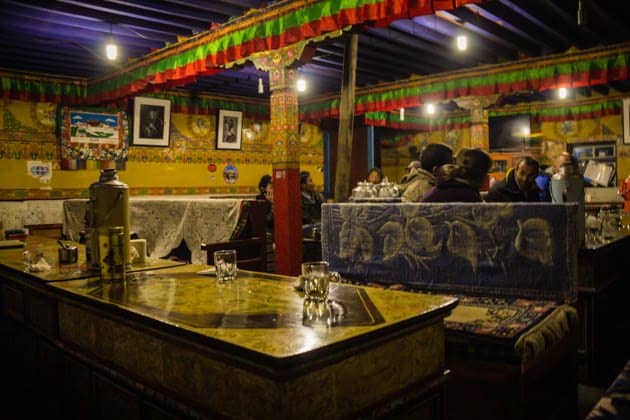 The sleeping conditions there are freezing and the air thin. I woke up several times in the night gasping for air, the air is thin at 4980m!
We wore every layer we had on us including jackets and hats, slept under the 3 provided wool and down blankets and I still could not shake the chill.
With the elevation and temperature, it would have been very easy to catch hypothermia had I not climbed in bed with David halfway through the night.
Don't leave home without: Lonely Planet Tibet (Travel Guide).
Visit Everest Base Camp Tibet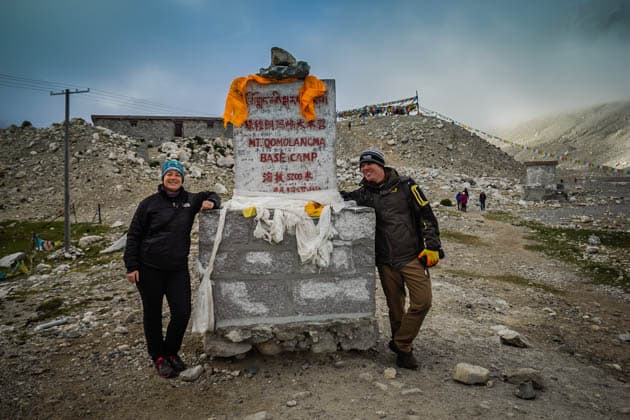 After our hairy night in the Rongbuk 'guesthouse', we rose very early to pack our stuff in the van and then make our way up to the tent camp to visit the official base camp.
North Everest base camp is located up the road from the Rongbuk Monastery and access is currently controlled and restricted to hikers and visitors with permits.
On the Northside of Everest, there are actually two base camps. The one we visited, which is located 6 miles from the Rongbuk monastery, is the farthest access point to non-hiking visitors.
The base camp is built upon a small, steep mound that is covered with streams of prayer flags. After you climb to the top, you have another clear view of Everest and the desolate valley that leads up to the mountain. Many people have gathered rocks and made rock piles in this area.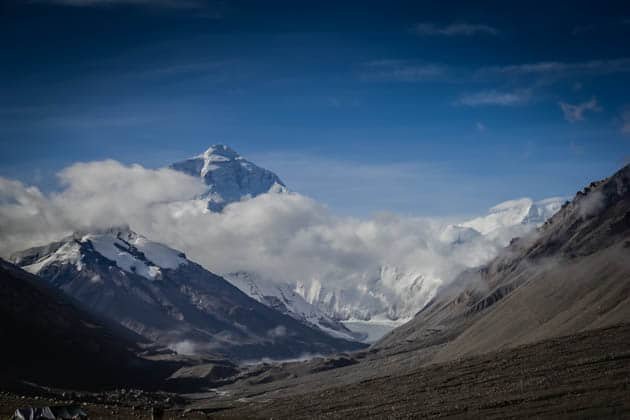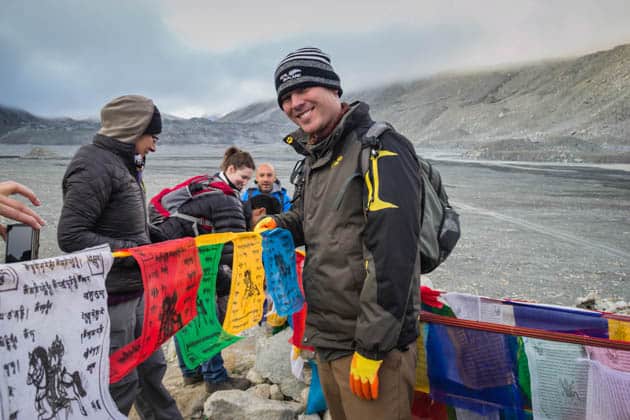 Facts About Mount Everest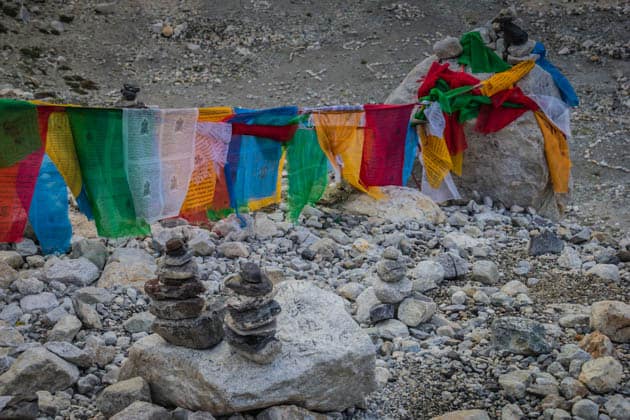 Mount Everest is the highest mountain in the World and stands at 8,848m (29,029 feet)
For perspective, the average cruising altitude for a commercial airliner is 30,000 feet.
1 out of every 10 successful climbs results in death
There are 200 estimated bodies on Mount Everest that climbers use as waypoints
The average cost to attempt a climb to the summit is $20,000USD
At the highest point, you are breathing in a third of the amount of oxygen you would normally breathe
Highest recorded wind speed on the mountain has reached 200kph
Don't leave home without: Lonely Planet Tibet (Travel Guide)
---
Our Travels in Tibet
If you're interested in reading more about our time in Tibet, check out our other Tibet articles including great photography of the people and landscapes.
We made all of our arrangements for travel to Tibet after we landed in Beijing and in order to maximize our time and money spent, booked a tour that was 8 days in duration. At the time, this was the longest available tour that involved travel to Mount Everest.
I can't say enough good things about Tibet Vista, the company that arranged our travel to Tibet. They have taken the lead in setting the standard for Tibet travel and we highly recommend them.
They are based in Chengdu and their website is a wealth of information for all the regions that you can visit while in Tibet. If you book with them, tell them we sent you.
---
Recommended Multi-Day Tibet Tours
Discover amazing tours through Tibet visiting places like Lhasa and Gyantse. Most travelers enjoy exploring our Tibet trips in April, making it the most popular time of the year.
We have put together a list of top tours we recommend for Tibet.
Explore China & Tibet 15 days, Beijing to Shanghai. Get over the wall for a life-changing adventure through China's awe-inspiring interior. Explore the unforgettable city of Beijing and meet pandas at a breeding center in Sichuan. Discover daily life in Tibet and cruise the incredible Yangtze River on a riverboat. Cycle atop the city walls of Xi'an, and face its standing army of terracotta warriors before eating lunch with a local family. Get into China's very heart and it will most certainly get into yours.
Lhasa Highlights. Start and end in Lhasa! With the in-depth cultural tour Lhasa Highlights, you have a 4-day tour package taking you through Lhasa, China. Lhasa Highlights include more.
Tibet Adventure 15 days, Beijing to Kathmandu. Take part in rituals and haggle for a bargain in the markets. From modern Beijing, travel back in time across scenic countryside to Tibet on this well-packed overland adventure. Witness the splendor of the Potala Palace and the majesty of remote monasteries and then celebrate the journey to Kathmandu. Wake up to views of Everest and enjoy a window into the heart of this remote land. A local guide and CEO will show you the region's hidden gems and make sure your trip burns brightly in your memory long after you've climbed down from the roof of the world.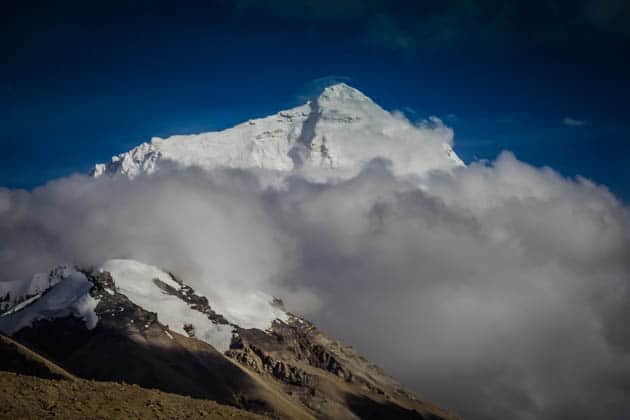 More on Tibet:
Did you like this story? Share it!