Tibet is an adventurers dream destination. A visit here can sometimes be deemed elusive, as the region ebbs and flows based on its political situation.
It is not uncommon for it to just shut down to travelers for several months or years with no advanced notice. For us, we hadn't given much thought to a visit prior to entering China.
We didn't know a lot about the region or its history aside from the few things we had heard in the news over the years.
It wasn't until we started planning out our days in China that we realized a visit to Tibet was essential to our travels. The region was open and foreigners were allowed to visit.
As our excitement built, we came across a number of hurdles that made us realize our visit wouldn't be easy and that we would be required to book with a tour agency.
Click to read our guide on How to Travel to Tibet – Everything You Need to Know
This made the decision process hard for us because visiting with a tour agency would put us well over our budget. In the end, though, we realized that missing it wasn't an option, how often are you in China with an opportunity to visit Tibet?
We signed up for the longest tour time we could, 8 days, and a full-on adventure that would take us to and through Tibet to Mount Everest and back.
Don't leave home without: Lonely Planet Tibet (Travel Guide).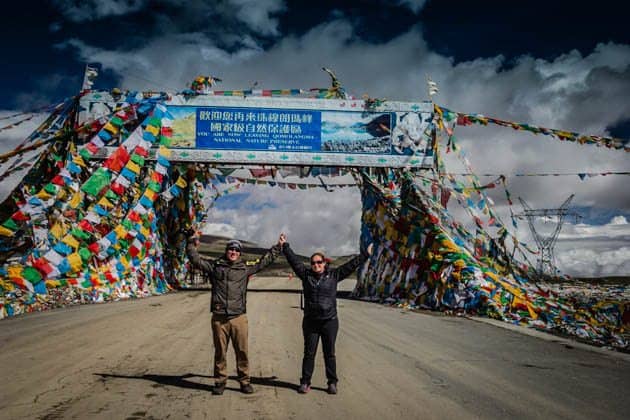 Tibet blew our minds. It was jaw-droppingly beautiful and sacred. We have the ultimate respect for its land and people, truth be told, we would love to pay a return visit to some of the regions that we missed.
The Chinese presence in the Autonomous Region was strong, but the people went about their lives as if they weren't even there. I can't even begin to understand everything that goes on behind the occupation of China, nor do I have an opinion on the political situation. I can speak only from my own experience of the short time I spent in Tibet.
Our experience was amazing, lovely, eye-opening, unique and memorable. If we ever get another opportunity to visit Tibet again, we will not even hesitate. It was that good.
So let's take a look at the details from spending 8 days in Tibet and be sure to check out our photos and other posts from our visit at the bottom of this post.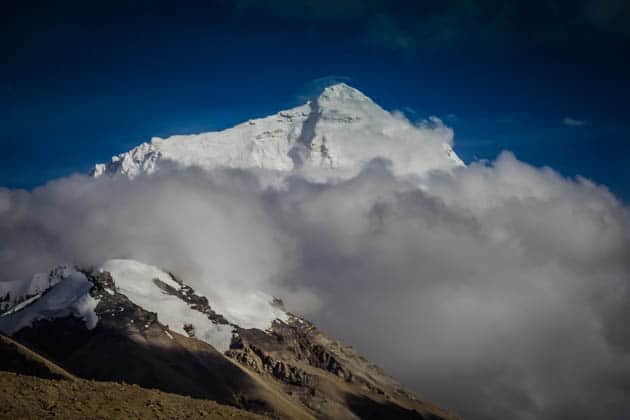 What We Loved:
Tibet is hands down one of the most amazing places we have ever been to. From the moment you step off the plane until the moment you leave, you will be consumed with stunning scenery and intense culture. Every time you leave your hotel room, it is there, waiting for you to discover it.
Adventure: Tibet is the quintessential adventure destination. When we first started looking at Tibet we weren't sure we wanted to visit Everest from that side. We had our hearts set on the Nepal trek, but seriously our over landing to base camp in Tibet has been one of the grandest adventures in our 13 years of World travel.
The people are incredible: They are so beautiful and genuine in their everyday interactions with you. Despite their country's turbulent history, these people are passionate about their way of life and their faith. It shows in the smiles that greet you around every corner, the dedication of the work they do and the children that play in the streets with their friends.
Eating out was insanely affordable: You could walk into just about any restaurant and have a meal for a couple of bucks. We didn't get too adventurous on the food for fear of getting sick and we needed our absolute health to combat the altitude of our trip and the 4 days we spent over landing between Lhasa, Everest and back.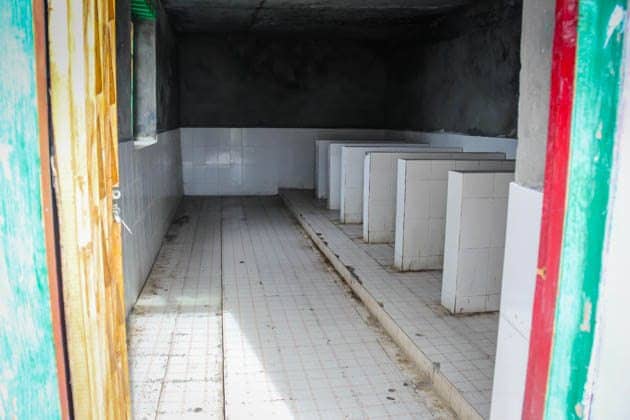 What We Didn't Love:
Lack of sanitation
The trip was hygienically challenged on an overwhelming level at times. Besides the hotels we stayed at in Lhasa and Shigatse, every single bathroom was a literal hole in the ground.
Said holes had never been cleaned out and there are no words to describe the smell that would accompany every visit to the bathroom. This was worst outside of the cities, which is to be expected, but when you add the shortness of breath from the altitude to the need of using our Buffs to avoid passing out, the experience was draining.
Many times the stench was so strong the Buff face cover did little to combat the stench and let me tell you, holding your breath at 5,000m is not the best idea. Can you imagine passing out in one of those 'bathrooms'?!
Military checkpoints
Traveling overland is a task in Tibet when you have to stop at military checkpoints pretty much every couple of hours. Each time our driver and guide would spend 20 minutes or more in the checkpoints being questioned and having their documents checked. We had to provide copies of our permits to each stop, which our guide took care of, and provide our passports most of the time as well.
Lack of food choices
This was our personal choice, there were plenty of food choices, but due to the lack of sanitary conditions, we chose to play it safe. On our second day there, we went out on a limb and all ordered curry at a local restaurant.
One of the people in our group got severely ill from this meal and by some stroke of luck, neither David nor I became sick. After that day, we chose to play it safe and pretty much only eat rice. It was a rather bland week, but our digestive health remained in check and we didn't get sick.
Paying for photos at the monasteries
This was sort of a racket. Admission to the monasteries was included with the tour we booked, but if you wanted to take photos you had to pay extra fees out of your pocket.
Normally this doesn't bother us, we're happy to pay for the chance at taking photos, but in Tibet, it has turned into a lucrative side business. Not only do you have to pay, but they charge PER ROOM and the prices are quite steep considering the number of rooms you walk through in each monastery.
Given the number of monasteries and rooms, you could easily dole out $100USD or more on just camera fees on your day of touring. Adding insult to injury were the groups of monks standing around while counting their bursting fists of cash right in front of everyone.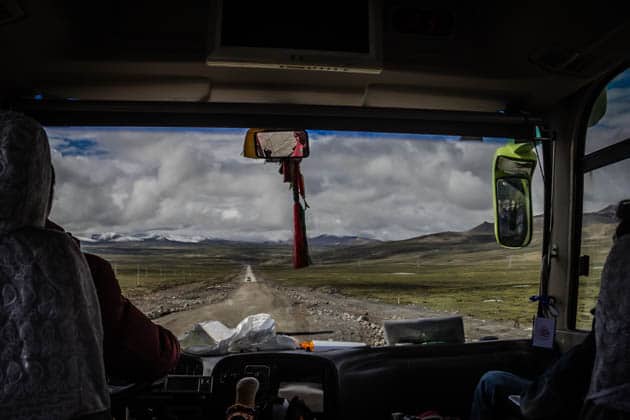 What Did We Spend?
We spent an average of $297USD per day for 2 people. I know what you are thinking, WOW! I know that because we are too. Deciding to visit Tibet was a huge splurge for us but I can say without a doubt it is worth every single penny.
I am sure there are ways that Tibet could be more affordable, but due to the many restrictions imposed on foreign visitors to this region, your options are severely limited. During the time of our visit, tourists can only visit Tibet when booked on a tour with a reputable travel agency.
Transportation: We had 2 options for getting to Tibet from mainland China, taking a 48-hour train ride or flying. We had originally chosen to take the train, but when it came time to make travel arrangements, there were no beds available.
Leaving our only option as flying. This was our most expensive flying leg to date. Round trip tickets from Chengdu to Lhasa were $970USD for both of us. This figure is included in the average.
Accommodation: For the most part, the accommodation was decent. This was included with the tour we booked, so we enjoyed private rooms with bathrooms at hotels that included large breakfasts. The exception is when we stayed at the Rongbuk 'guesthouse' at Everest Basecamp, which is very rustic and not much more than a building you camp in.
Activities: We did a lot of activities that included touring the monasteries, exploring Lhasa and Shigatse, overland traveling through the countryside and visiting Everest Basecamp. All of this was included in the tour price.
Food: The food is not great in Tibet. We did manage to have a couple of okay meals, but you had to be really careful. One of our friends on the tour ate a chicken curry at a local restaurant in Lhasa the day before we started our 2-day overland trip to Everest and was stricken with nasty food poisoning.
We basically ate rice and only rice, with the exception of sampling a few local dishes when they were presented to us. These dishes were quite good but we are both thankful we stuck with the rice and maintained our gut health.
Not all of the meals were included in the tour price, so we did spend an additional $159USD total on food during our visit.
Our Favorites
Favorite Beach: No Beaches in Tibet for us! But here's one of our favorite scenes from our trip: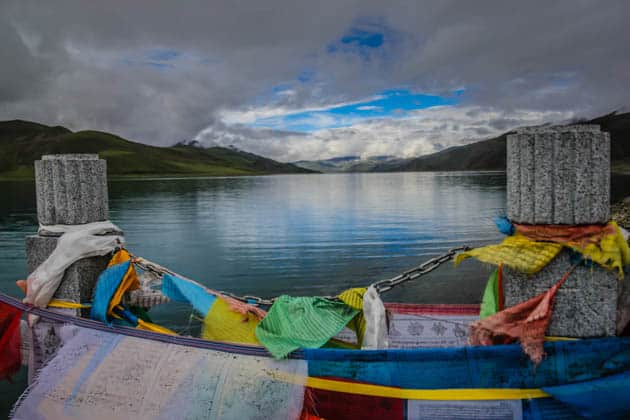 Like our photos? Check out our Ultimate Travel Photography Gear List
Favorite City: Lhasa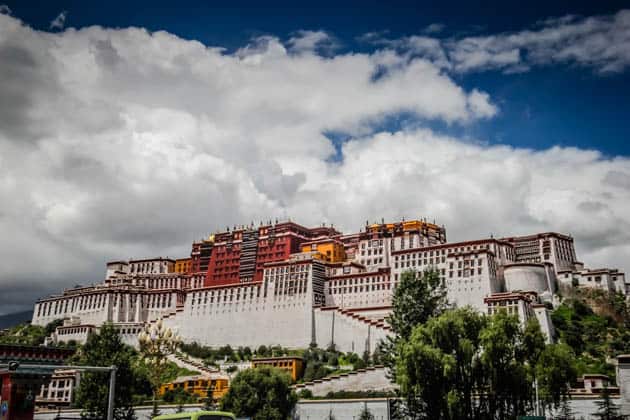 Favorite Activity: Overlanding through Tibet and Camping at Everest Base Camp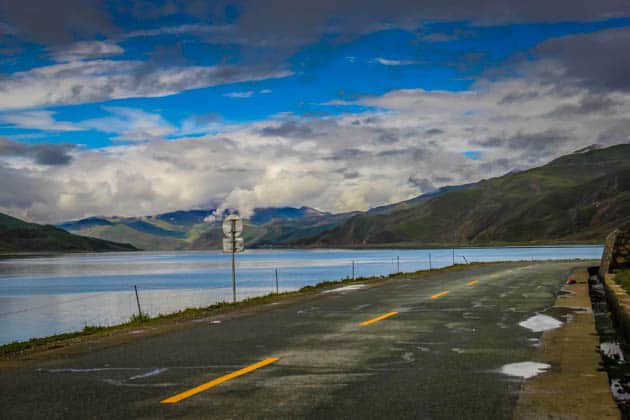 Favorite Meal: Thinly sliced yak cooked with vegetables and served with white rice. I didn't take a photo! But here's a pic of a Yak.
Top Tours we Recommend to Tibet
We have put together a list of top tours we recommend for Tibet. These are tours ran by top tour companies in the world like G Adventures, National Geographic Journeys, and TourRadar. Discover amazing tours through Tibet visiting places like Lhasa and Gyantse. Most travelers enjoy exploring our Tibet trips in April, making it the most popular time of the year.
Our Travels in Tibet
If you're interested in reading more about our time in Tibet, check out our other articles including great photography of the people and landscapes.
We made all of our arrangements for travel to Tibet after we landed in Beijing and in order to maximize our time and money spent, booked a tour that was 8 days in duration. At the time, this was the longest available tour that involved travel to Mount Everest.
I can't say enough good things about Tibet Vista, the company that arranged our travel to Tibet. They have taken the lead in setting the standard for Tibet travel and we highly recommend them.
They are based in Chengdu and their website is a wealth of information for all the regions that you can visit while in Tibet. If you book with them, tell them we sent you.
More on Tibet:
Did you like this story? Share it!