If you are planning a trip to Turkey, you might be wondering what to wear in Turkey and what you should be packing in your luggage.
Although certain items are obvious, such as your beach clothes and sun cream, it's a good idea to make a checklist of what to take in order to ensure that you are fully prepared for your trip.
Turkey is a country full of many contrasts. It is among the largest countries in its region and its land area is greater than any European nation. Because of its sheer size and geographical location, Turkey truly can dazzle its visitors with its distinct extremes in climate, religion, and culture.
With this said, trying to decide what to pack for such a destination can be a little overwhelming so hopefully, after reading this breakdown you will feel a little more at ease before embarking on this amazing destination.
The first question to ask yourself is what will be on your itinerary? Will you be traveling to different regions that experience different patterns in climate? Will you be visiting culturally sensitive sites such as mosques? What activities will you be participating in?
These are all things to consider before coming up with a packing list.
Don't leave home without: Fodor's Turkey (Full-color Travel Guide)
---
What to Wear in Turkey: Ultimate Packing List for Turkey

Plan Around the Season You Are Visiting
Let's start with climate; packing for the summer season will be considerably different than packing for winter. When you speak to people about visiting Turkey you will often hear the terms high season, shoulder season and low season.
The high season in Turkey runs from May through September. This is the time when the temperatures are hotter and dryer. Depending on your actual location will determine what you need to wear throughout the hot summer days.
For the warmest weather, it is best to wear cool cotton or linen, a hat, and sandals during the day. Rain shouldn't be a problem but no matter where you go I always suggest bringing a light sweater for cooler evenings.
If you are wondering what to wear in Turkey during the warmer summer months, you will need to pack a sun hat, loose clothing, and sun creams and lotions in order to protect yourself from the sun's dangerous rays.
If you have sensitive skin, it is a good idea to take items of clothing that will cover your shoulders in order to avoid being sunburnt.
There are two shoulder seasons, on one side there is the month of April and on the other side is October through mid-November. The shoulder seasons are perhaps an ideal time to visit with moderate and comfortable temperatures during the day.
It does cool down at night, so be sure to pack a jacket or a warmer sweater. In the Northeast and Eastern part of the country, you will probably come across near-winter conditions however in the Southeast, the temperatures are still very warm so you can pack as you would for a mild summer.
Low season runs from mid-November until March and is when temperatures drop, bringing the possibility of rain or snow. Even though the days may be sunny you will need warmer clothing as well as a coat.
This is not to be said for all of Turkey, however, as the Aegean and Mediterranean coasts enjoy mild winters and are popular year-round destinations.
Dressing Respectfully for the Culture
Turkey is definitely a mix of conservative and liberal ideologies. Because of this mix, it is best to dress modestly so that you don't stand out. When you are deciding what to wear in Turkey during your trip, respect for the culture should be front and center.
What I found most interesting while in Istanbul was that in one neighborhood I felt totally comfortable wearing shorts as I was surrounded by others doing the same.
However, while I was on the train with a mix of locals I could feel that I was being stared at for baring my legs. There truly is a fine balance in cosmopolitan centers, but airing on the side of 'more' is probably the best idea.
Visiting places of religious importance such as mosques is when it is necessary to adhere to the strict dress codes. Both men and women need to cover their shoulders and their knees, and I suggest bringing a pair of socks to wear so you can walk on the carpets respectfully.
For women, it is mandatory to cover your head with a scarf or pashmina. If you don't bring one with you there are plenty of opportunities to buy beautiful pashminas at any of the markets.
Most mosques, including the Blue Mosque, do have scarves for visitors to borrow so if you are in a pinch you don't need to worry.
What Kind of Activities will you be doing?
Finally, will you be doing a specific activity while you are traveling around Turkey? Will you be sailing in the Mediterranean, swimming in the pools of Pamukkale, hiking the valleys of Cappadocia or skiing the mountains of Kartalkaya?
All these require specific items so making a list ahead of time is suggested so you don't forget that much-needed article of clothing.
If you spend any time near the sea, the obvious item to bring would be a bathing suit. There is no need to worry about showing too much skin or dressing conservatively in these areas as typical beach attire is a fair game.
Along with a swimsuit, I would bring a pair of flip flops, sunscreen, and a beach towel or sarong.
Turkey has its fair share of hiking trails and is a sought-out destination for avid hikers. The Lycian Way is a famous trail that can take hikers up to 30 days to complete.
This is obviously a more strenuous hike so having the proper hiking gear including proper boots, breathable clothing, and mosquito repellent would be a must. Depending on the terrain, trainers or even comfortable sandals like Birkenstocks would be appropriate.
It's best to research your hike ahead of time so you can be the best prepared with the proper gear.
Visiting in Turkey in the Winter
If you're planning to visit Turkey during the winter, don't be fooled by the warm weather in the country during the summer.
The temperature from December to February can drop down below -15C especially in the eastern parts of the country, so it is a wise idea to pack warmer clothes along with a raincoat and umbrella.
If you want to shred the snowy mountain slopes there are approximately 35 miles of runs to discover that reach an altitude of over 11,000 feet. Coming prepared with the appropriate gear such as gloves, a toque, goggles, and a snowsuit is highly suggested.
Resorts always have rentals for boots and skis, but it is important to bring the essentials from home.
Now that you are finished reading this are you still questioning what exactly to bring to Turkey? Below is a suggested clothing packing list for him and her during the high season and shoulder seasons.
Of course, how many of each item you bring depends on the length of your travel time so this should be a rough estimate depending on your needs.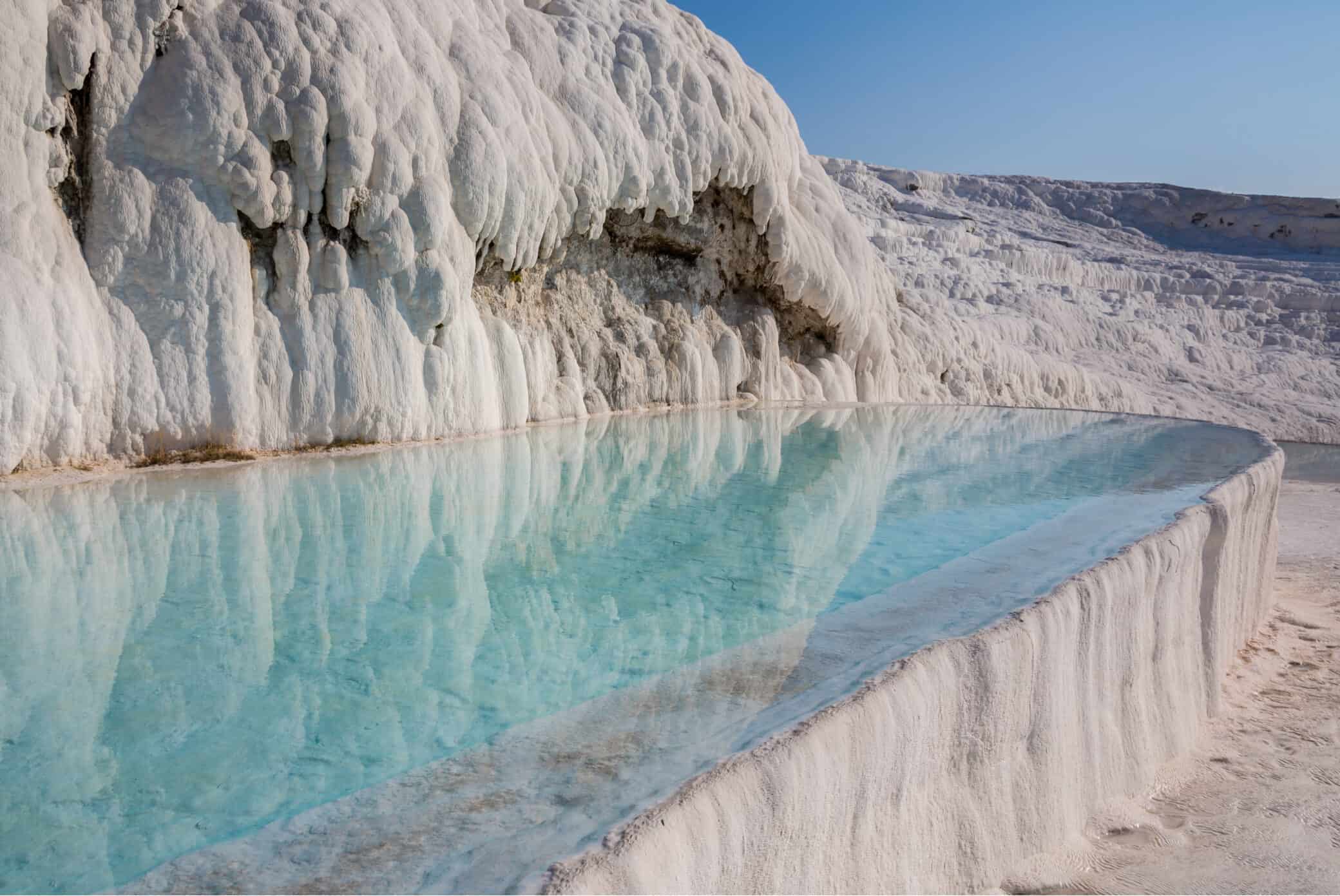 Suggested Packing List for Her:
2 pairs of shorts: If you are in certain areas of big cities or in coastal towns wearing shorts is definitely acceptable. I like to have a pair of denim shorts with me because they wear well and don't need to be washed as often.
2 pairs of lightweight trousers: Personally I like to have a few pairs of lightweight capri pants that go past my knee but not to my ankle. This allows me to be dressed appropriately for any area that I may visit but keeps me cool enough when the weather is hot.
A flowy skirt: A skirt is a perfect article to have with you when you are traveling around a conservative country. As long as it hangs below your knees nobody will look twice at you. The added bonus is that flowy skirts remain airy on hot summer days. It is also a great article of clothing to have on hand as you can dress it up or down depending on the occasion.
4-5 basic T-shirts: Make sure that the T-shirts are simple so that you can mix and match with various bottoms and most importantly that they cover your shoulders.
1-2 long-sleeve shirts that you can throw over your T-shirt or tank top: My go-to items are either a lightweight cardigan or a denim button-up shirt. I tend to bring them along for places that are air-conditioned, breezy evenings or even to wear over my tank tops if I need to cover up in a pinch.
2 tank tops: You are welcome to wear tank tops near beach resorts as well as some neighborhoods in big centers like Istanbul. Just make sure you have something with you to cover up if need be.
A pashmina or scarf to cover your head in religious sites.
1-2 bathing suits: When you are on the beach or at pools it doesn't matter if you wear a one-piece or a bikini.
A sarong or beach towel: Personally I like to bring a sarong as it is lightweight and easy to pack. I can also tie it around myself if I am feeling like I need to cover up in certain situations.
A hat: Bringing a hat is a must when traveling around Turkey. Not only is it the perfect way to stay cool while lounging on the beach, but it is a necessity when visiting any of the historical sites. The historical sites are usually not shaded so a hat is an easy way to protect yourself from getting overheated.
A pair of flip flops: These, of course, are a must for any beach-goer, but also come in handy to wear as slippers in hotels or guest houses.
Comfortable walking shoes: Personally I swear by my Birkenstocks. They are open-toed so my feet are cool in hot climates, but they have plenty of support especially when walking on uneven ground like cobblestone. You may prefer a pair of trainers and I always have these on hand as well as I prefer to travel on my long flights with closed-toe shoes.
7 pairs of underwear: I usually bring one week's worth and then some washing liquid so I can do a quick wash in the sink during my travels.
2 bras: No explanation needed here – every girl has her favorite!
3-4 pairs of socks: The number depends on how often you think you will be wearing your trainers.
A small day bag: Either a purse with extra room for a water bottle and necessities or a smaller backpack will suffice.
Suggested Packing List for Him
2 pairs of knee-length shorts: These are great to wear for either exploring around a city or any coastal town. Cargo shorts are a great item as the extra pockets come in handy to carry your phone, entry tickets or any other small items that you like to bring with you.
2 pairs of lightweight trousers: Having a pair that is versatile so you can either dress them up if need be is always handy.
4-5 basic T-shirts
2 smarter shirts: Either a polo or a button-down shirt is suggested so that you can make any outfit look a little dressier.
A light jacket for possible cooler nights.
1-2 pairs of swim trunks
A sarong or beach towel
A hat: As I mentioned in the women's list it is important to always have a hat. Covering your head is a great way to stay cool on hot summer days at the beach, but also a necessity when exploring the open-aired ruins of historical sites.
A pair of flip flops: These are a must-have article at the beach and a great item to have to slip on while staying in a hotel or guest house.
A comfortable pair of walking shoes: Depending on your preference you might prefer a pair of trainers, but there are plenty of comfortable sandals to invest in that are light-weight and supportive.
3-4 pairs of socks: The number you bring will depend on how often you think you will be wearing your trainers.
7 pairs of underwear: I always accompany this with some washing soap.
A small day bag: Fanny packs are back in style or carrying a small backpack is handy when you need to lug around a water bottle and other necessities.
Important Documents
When planning your trip to Turkey, it's important that you check your passport to ensure that it is valid for at least three months. Depending on your nationality, it is most likely that your stay as a tourist will be limited to three months' maximum.
You will also most likely need to apply for a tourist visa in order to gain entry into Turkey, which you will be required to get in touch with the Turkish Embassy regarding.
If you are planning to take domestic flights within Turkey a passport is not required, however, you will need to show an identifying document in order to board the flight.
Phrasebook & Travel Guide
Although in many of the main tourist areas you will find that many people speak English along with English signs and directions if you are planning to venture away from the beaten tourist path you may find that there becomes more of a language barrier.
For this reason, it's a good idea to pack a travel booklet for visiting Turkey, which will provide you with common phrases and words in Turkish and information on the cultures and customs.
Don't leave home without: Lonely Planet Turkish Phrasebook & Dictionary
Essential Medication
If you take any prescription medication you should ensure that you have enough of a supply to last for the duration of your trip.
It is also a good idea to take along other medications such as vitamins, painkillers, and diarrhea treatment such as Lomotil or Cipro, as studies show that 50% of tourists who travel to developing countries often develop a condition known as 'travelers diarrhea'.
You should discuss the options with your doctor before choosing a medication to take.
---
Figuring out what to wear in Turkey doesn't have to be stressful or hard. I promise that the more you travel, the more you will feel at ease when preparing for a trip to a new destination.
After numerous trips, I have my go-to wardrobe and items to take with me that make me feel most comfortable.
The biggest suggestion I can make when traveling to a place that is more conservative is to just bring layers. Always have something to cover-up with and use common sense in situations to show respect for the local community.
More on Turkey:
Did you like this story? Share it!