Many people ask when the best time to visit Turkey would be and truthfully this answer depends on a number of factors. Straddling both Europe and Asia this beautiful nation has a combination of exotic flavor and cosmopolitan flair.
Being the 37th largest country in the world, it also has a diverse topography that allows you to do a wide range of activities. Are you interested in exploring ancient ruins, bathing in crystal blue waters, hiking up stunning mountains or shopping in a vibrant city?
Do you prefer to bask in the sun, or perhaps are milder temperatures are more up your alley? Are crowds something you would prefer to avoid, or would you rather visit a destination at the height of its splendor? These are all things to consider when choosing the most optimal time to visit.
When you speak to people about visiting most tourist destinations you will often hear the terms high season, shoulder season and low season. The high season in Turkey runs from May through September.
This is the time when the temperatures can soar but along with the numbers on the thermometer, so to are the numbers of visitors who visit during this time. Because high season brings demand to its destination, accommodation rates and airfare prices are usually at its highest.
There are two shoulder seasons – on one side there is the month of April and on the other side is October through mid-November. The shoulder seasons are perhaps an ideal time to visit with lesser crowds, moderate temperatures and discounts on accommodations and airfares.
One thing to make note of, however, is that some shops, restaurants and accommodations do shut down when the high season is over so not everything will be open during this time.
Low season runs from mid-November until March and is when temperatures drop bringing the possibility of rain or snow. This is not to be said for all of Turkey, however, as the Aegean and Mediterranean coasts enjoy mild winters and are popular year-round destinations.
Don't leave home without: Lonely Planet Turkey (Travel Guide)
---
Best Time to Visit Turkey: Month by Month Breakdown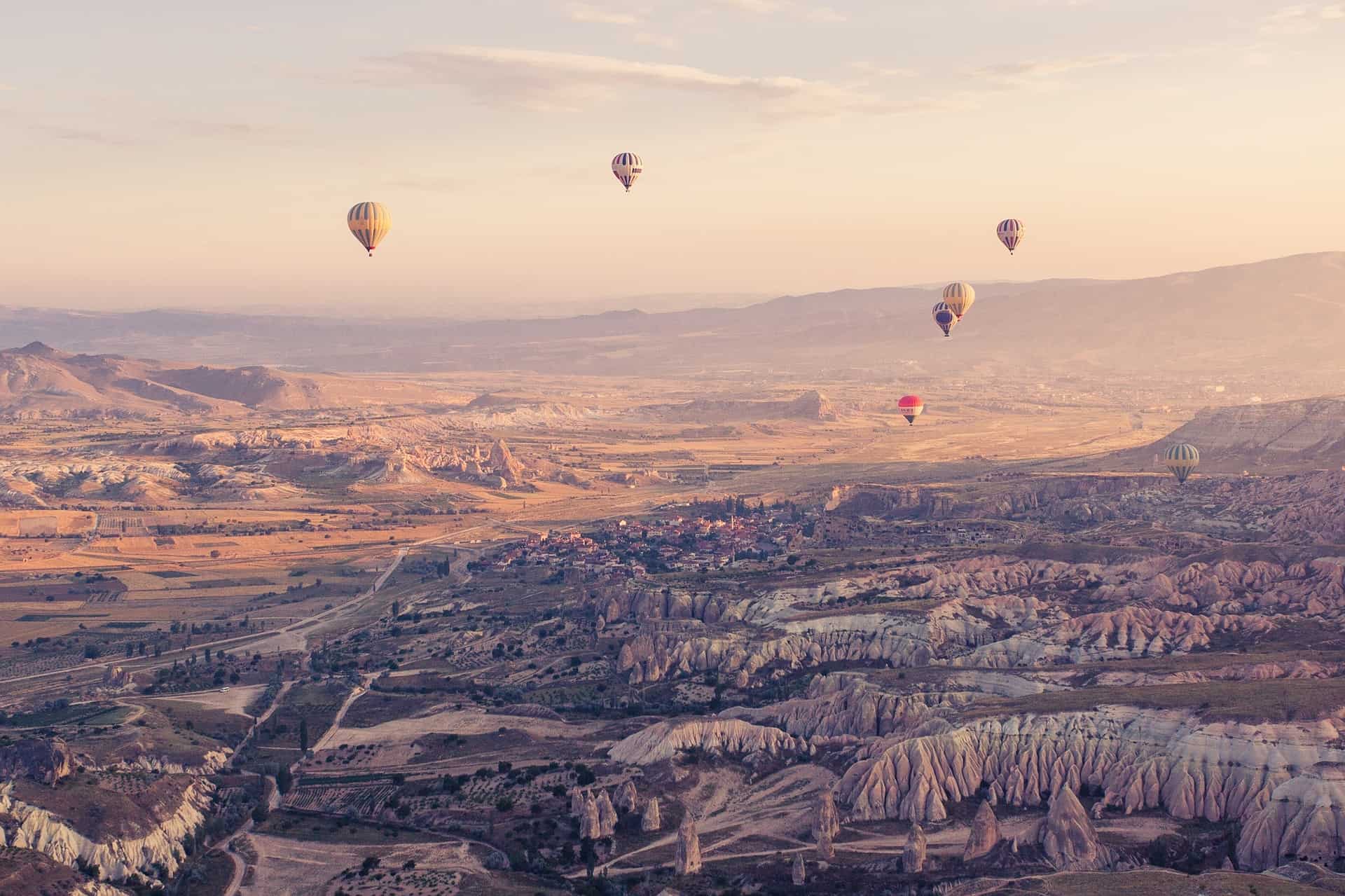 January & February in Turkey
January and February are fairly cold months in Turkey. Istanbul's location near the sea makes it common for it to be especially windy during this time. If you are wanting to take a cruise on the Bosphorus, be aware that it is possible that unforeseen weather may cause cancellations.
On a positive note, because of the decline in visitors at this time, you can frequent all the amazing museums and sites with very little crowds. As you travel further inland and to the east, snow is not uncommon.
Visiting iconic places such as Cappadocia in the winter is just as beautiful as the summer. It has a different vibe with snow-topped fairy chimneys and plenty of opportunity for amazing panoramic photographs since there are far fewer people to contend with.
If skiing is an activity that interests you, perhaps traveling further north to the small ski resort of Kartalkaya in the Koroglu Mountains is a place to be.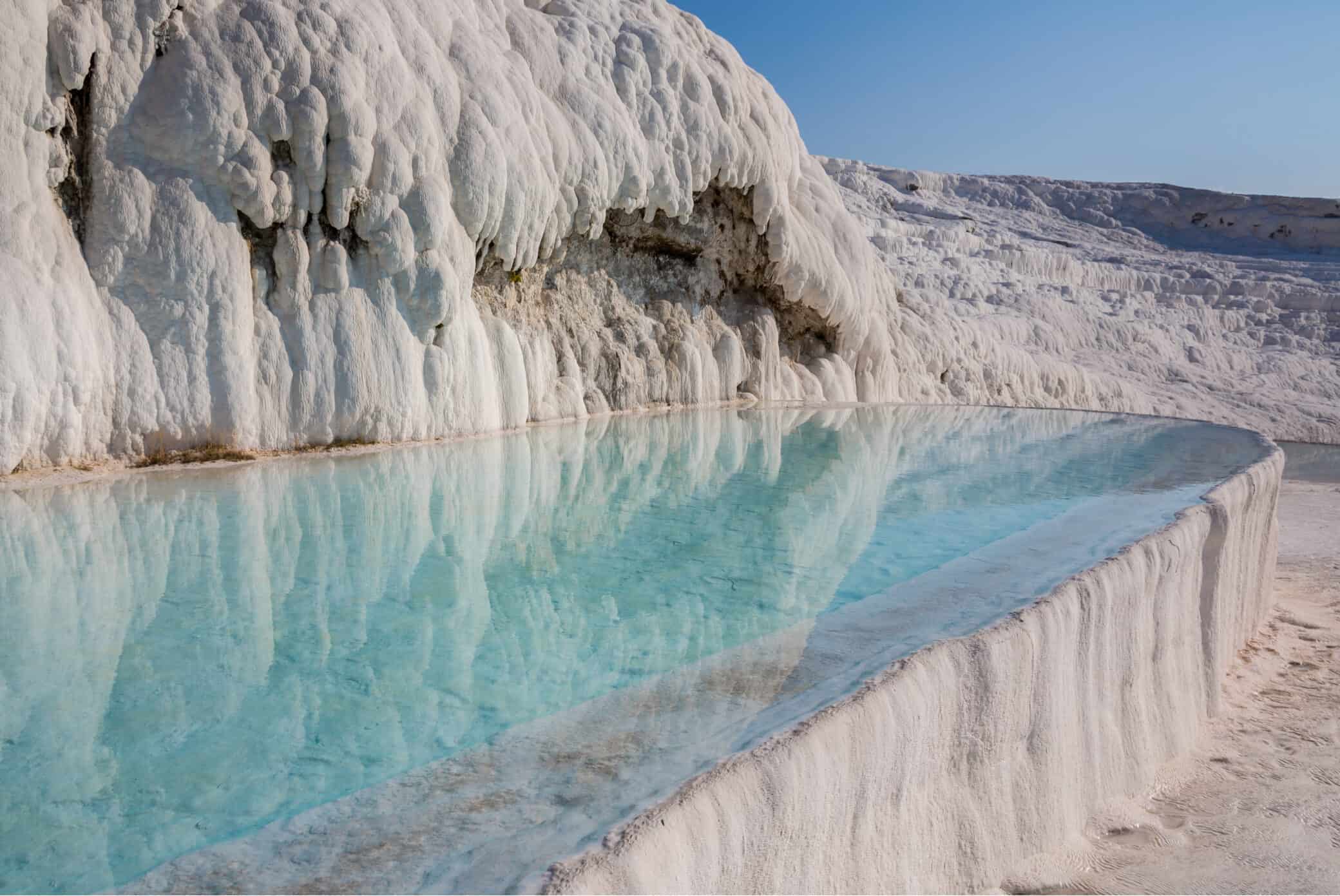 March & April in Turkey
In March and April, temperatures begin to rise and flowers begin to bloom. Crowds are still at minimal and accommodation and airfare rates are still fairly low. If you visit in April you will be able to see the tulips in full bloom which is a spectacle in itself as parks and gardens are bursting with vibrant colors.
Each year at the beginning of April, the Istanbul Foundation for Culture and Arts hosts the Istanbul International Film Festival. This event celebrates the best of national and international film. It is the largest film event in Turkey with over 200 films to be seen.
In 2020, this event will take place from April 3 to 14th.
On April 23rd, Turkey celebrates National Sovereignty and Children's Day. Commemorating the first gathering of the Grand National Assembly which took place on April 23, 1920, this day hosts many events and festivals throughout the country.
Because Ataturk dedicated the Turkish Republic to children, school children take seats in the Parliament and symbolically govern the country. The biggest ceremony takes place at the Ataturk Mausoleum in Ankara.
On April 25th, Canakklale is bustling with energy as thousands flock to Gallipoli to pay respects to the Australians and New Zealanders who selflessly gave their lives in 1915 by fighting for the Allied Forces against the Ottoman Empire during WWI.
The day begins with a service at dawn where veterans and their families stand in silence for two minutes, while the remainder of the day you can visit the surrounding battlefields.
Similarly the Turkish also celebrate Canakkale Naval Victory Day on March 18 each year. This is to commemorate the success of Ataturk who successfully led his troops to victory.
As Turkey is a predominantly Muslim country it is important to make a note of when Ramadan takes place. Ramadan is the ninth month in the lunar calendar and lasts between 29 to 30 days.
Because of this calendar, the beginning of Ramadan moves backward by about 11 days each year. For 2020 Ramadan takes place from April 24th to May 23rd. This Islamic holy month is intended to bring Muslims closer to God and teach them about patience, spirituality, and humility.
Part of the observance is for Muslims to fast during daylight hours. Depending on where you are in the country you may notice slight differences.
Restaurants tend to be less busy during the day and some places that usually serve alcoholic beverages may refrain from doing so during this period.
Swimming areas will also be less crowded as people who are fasting are not allowed to swim. After sunset places like Istanbul get back into a lively atmosphere where locals head to restaurants that offer special Ramadan menus or buffets.
Tourists and non-Muslims are welcome to join in on the festivities.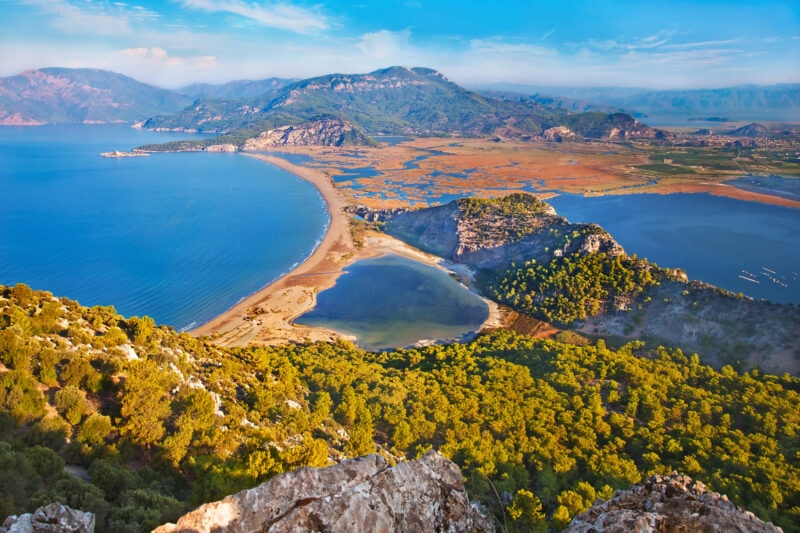 May & June in Turkey
If you are like me you will also think that May and June are the best months to travel around Turkey because the weather is hot, but not at its peak. Having said this, I was there near the end of June and walking around the historical sites at times became a little unbearable.
It may be the perfect temperature to lay on a beach but when you are walking around an uncovered historical site you will have to bring a hat and sunscreen as there is very little shade.
On May 5th & 6th is one of Turkey's annual festivals called the Hidrellez Festival. This festival is a celebration of spring and is more often celebrated in the countryside.
To mark this occasion various ceremonies and rituals associated with nature are performed which in turn guarantee the well-being and prosperity of the family and community for the upcoming year. These rituals have cultural meanings and provide the community with a sense of identity.
July & August in Turkey
Summer in Turkey is hot and dry and can even reach temperatures beyond 100 degrees Fahrenheit. Swimming in the Mediterranean is a welcomed activity and coastal towns are in full swing.
This is also the peak season for cruise ships, making the beach resorts and ancient sites a bit busier. As I mentioned earlier, be conscious of the heat when visiting any of the historical sites.
With very little shade and a lot of walking, it is best to visit these sites early in the morning. As a lot of people tend to flock to the coast during the summer months, Cappadocia tends to be a little quieter.
Enjoy a majestic balloon ride high above the fairy chimneys or hike the valleys that turn into a beautiful pinkish hue.
Every year Istanbul hosts the Istanbul Jazz Festival during the month of July. Concerts are held in different locations around the city and provide unique experiences to festival-goers by turning unconventional spots into concert venues.
During the summer months is when the renowned Aspendos International Opera and Ballet Festival takes place. Aspendos is located in Antalya Province, just 2 and a half miles north of Serik and 24 miles from Antalya.
It has a unique location in a magnificent Roman amphitheater that dates back to 2nd century A.D. This open-air theater truly is phenomenal as it has perfect acoustics where sound can easily reach the last bench.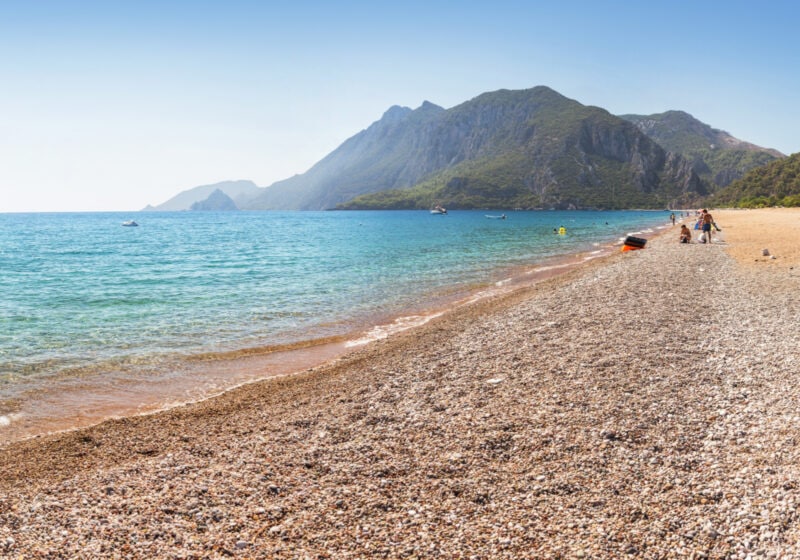 September & October in Turkey
September and October are part of the shoulder seasons and like their spring counterparts are great months to explore Turkey. Temperatures are mild and it tends to be relatively dry. One thing to make note of is that in late October hotels and amenities start to shut down for the winter along the Mediterranean coast.
October 29th is Republic Day. This day marks the creation of the Turkish Republic in 1923. A new constitution was adopted which replaced the old constitution of the Ottoman Empire.
It is a national holiday where public administration buildings, schools, post offices as well as many small businesses remain closed. If you are trying to get around the bigger cities be aware that public transport schedules may also vary.
The day is celebrated with parades, public speeches, traditional dancing as well as fireworks.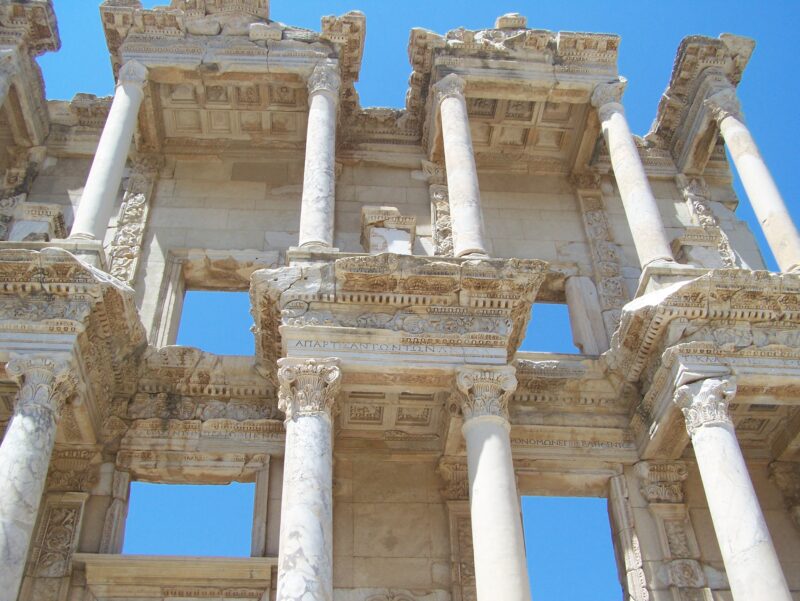 November & December in Turkey
Like the beginning of the year, November and December remain quite chilly throughout most of Turkey. The southern part of Turkey in the Antalya region has far warmer weather but in general, expects to dress warmer.
When traveling in January and February, there are perks to traveling to Turkey during the winter. You can take advantage of the amazing museums and sites as you don't have to contend with the crowds.
For 11 days in December Konya hosts the Mevlana and Whirling Dervish Festival. Thousands of people gather to commemorate the life and teachings of the 13th-century poet and Sufi mystic Rumi.
The Mevlevi Order was founded in 1273 by Rumi followers after his death. The Mevlevi believe in performing their dance and musical ceremony known as the Sama.
The Sama represents the spiritual journey of a man's ascent to find love and truth by deserting the ego and arriving at spiritual perfection. Konya is one of Turkey's more religiously conservative cities and because this is a spiritual event certain rules must be followed while attending the festival.
Women need to wear a headscarf and men and women are seated separately. In 2019 this event takes place from December 7th to the 17th.
As you can see Turkey truly is a destination that you can visit all year round. With so much to see and do there is something for everyone no matter what time of year you visit.
More on Turkey:
Did you like this story? Share it!