Morocco has long been on our list of destinations to visit, so it should come as no surprise to you that we already knew something about the famous blue city of Morocco, Chefchaouen.
This is a small city located in the northwestern part of Morocco near the Riff Mountains. As a city that was closed off completely to foreigners until 1920, the city maintains much of its local charm.
It is one of the few places we visited in Morocco that lacked touts and aggressive street selling. Dave and I spent time wandering the streets in the evening and early morning hours and while we encountered many locals, they were very friendly and peaceful towards us.
Perhaps the fact that it is a dry city, absolutely no alcohol is allowed within its walls, has something to do with that.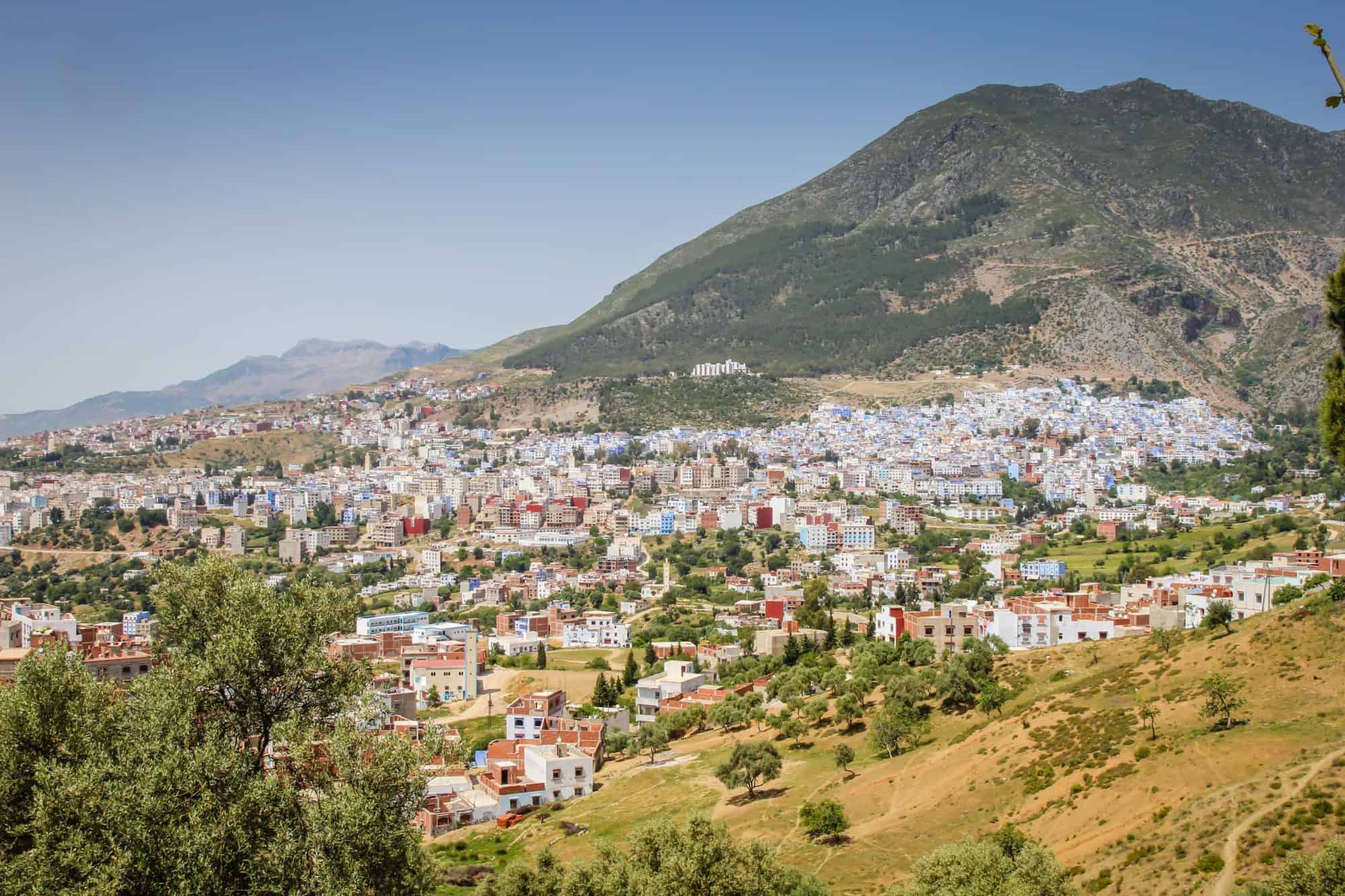 Like our photos? Check out our Ultimate Travel Photography Gear List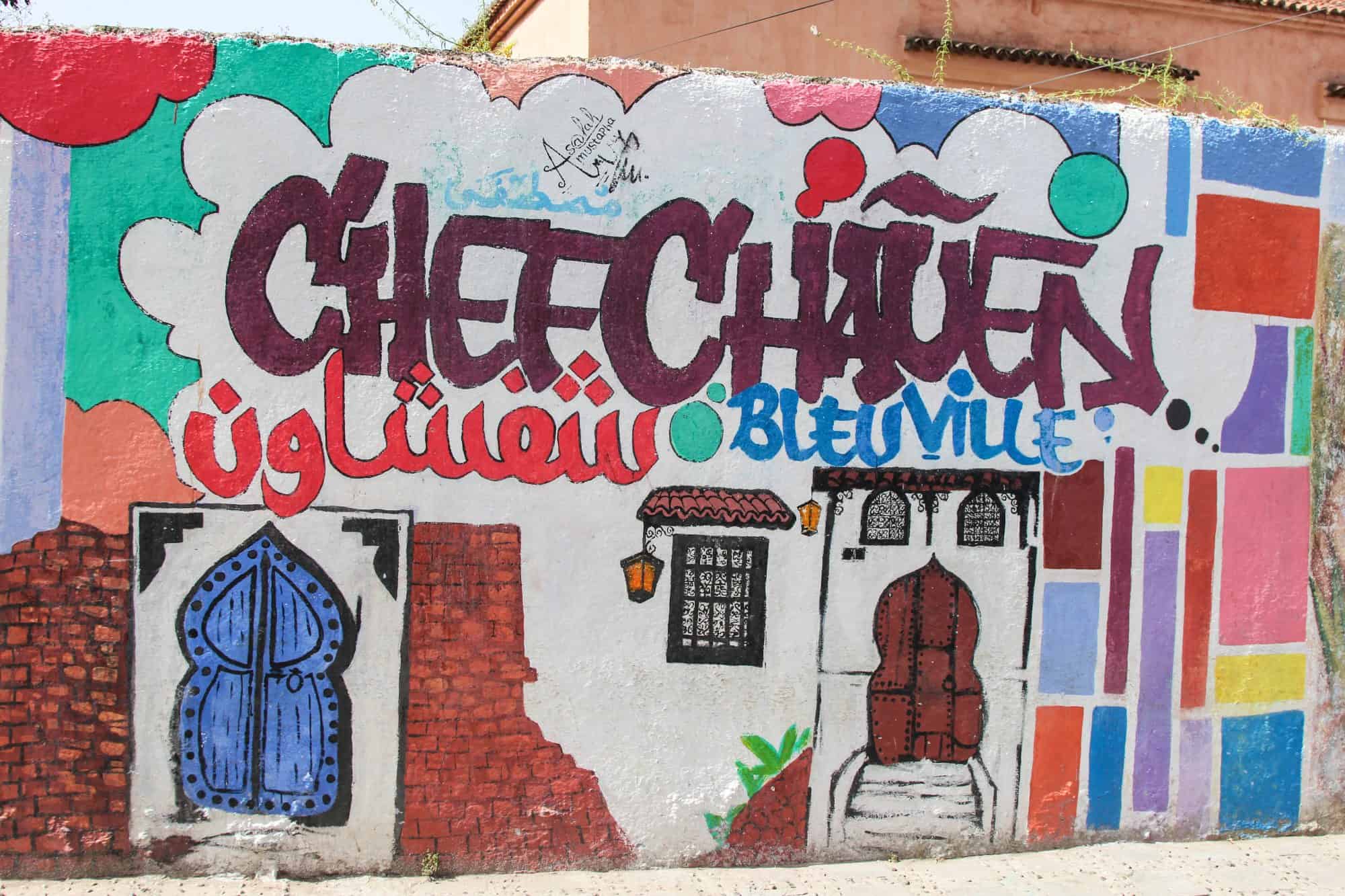 Chefchaouen is extremely photogenic and one of those places where you will be hard-pressed to not capture a great photo.
The shades of blue almost engulfed us as we made our way through the streets. sometimes it was mesmerizing, drawing our attention away only when we caught glimpses of other colors in the forms of rugs, clothing, and animals.
Providing one of the ultimate contrasts are the street cats that run rampant through the streets. Most of them are of the orange variety creating, as you can imagine, a striking contrast in color that I just couldn't resist stopping to photograph on several occasions.
The other stark contrasts came in the form of the colorful rugs that the residents of the city would leave hanging on random balconies, bridges, and walls after washing them.
Plan your own adventure in Morocco: 15 Day Morocco Encompassed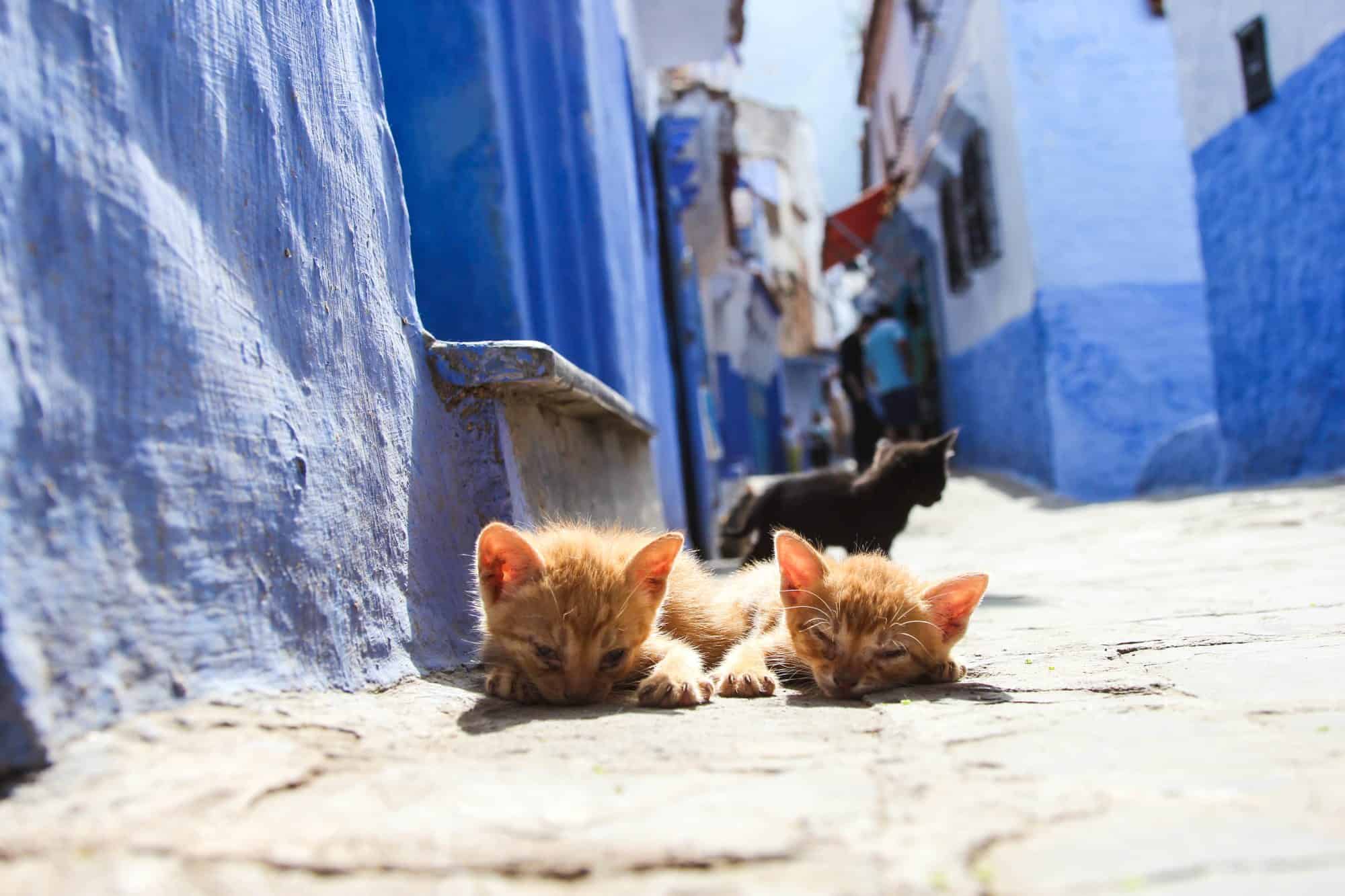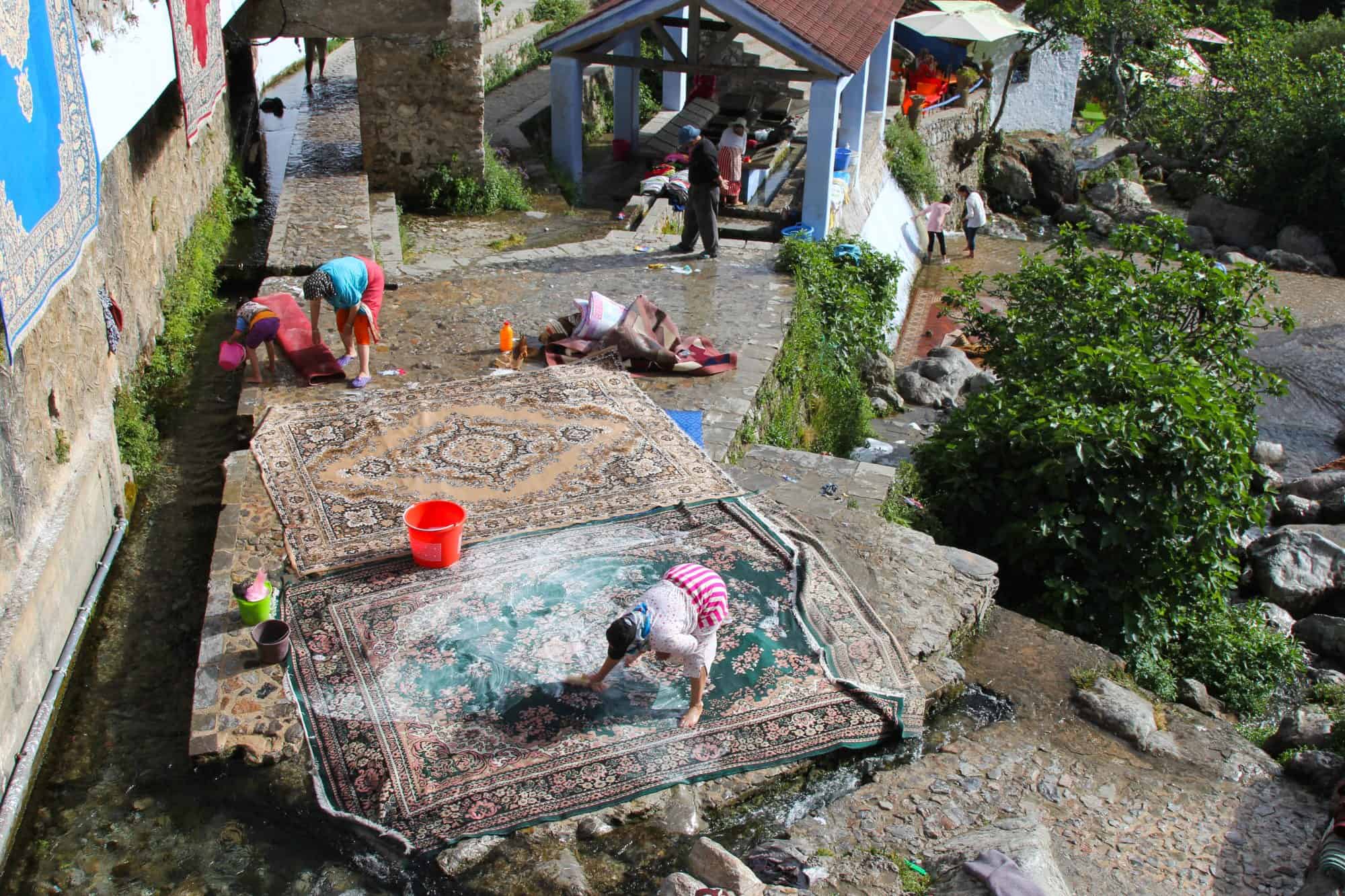 The people of Chefchaouen do not have washers and dryers, so they do their washing in a public river area where there are several small waterfalls and pools that makes it's way from the top of the hill, through the city and down the mountain.
Arriving at midday, we had the opportunity to witness these daily activities on our first walk through the city.
Serving not only as a laundry area, but the falls are also the hot place to be for all the kids of Chefchaouen. Here the real play comes out with belly flops, cannon balls, splashing and bridge jumping; each kid working to perfect their next jump and impress their friends.
It's always nice to take a small moment and just watch local life unfold in front of you. It really gives you a true feel for what their lives are like.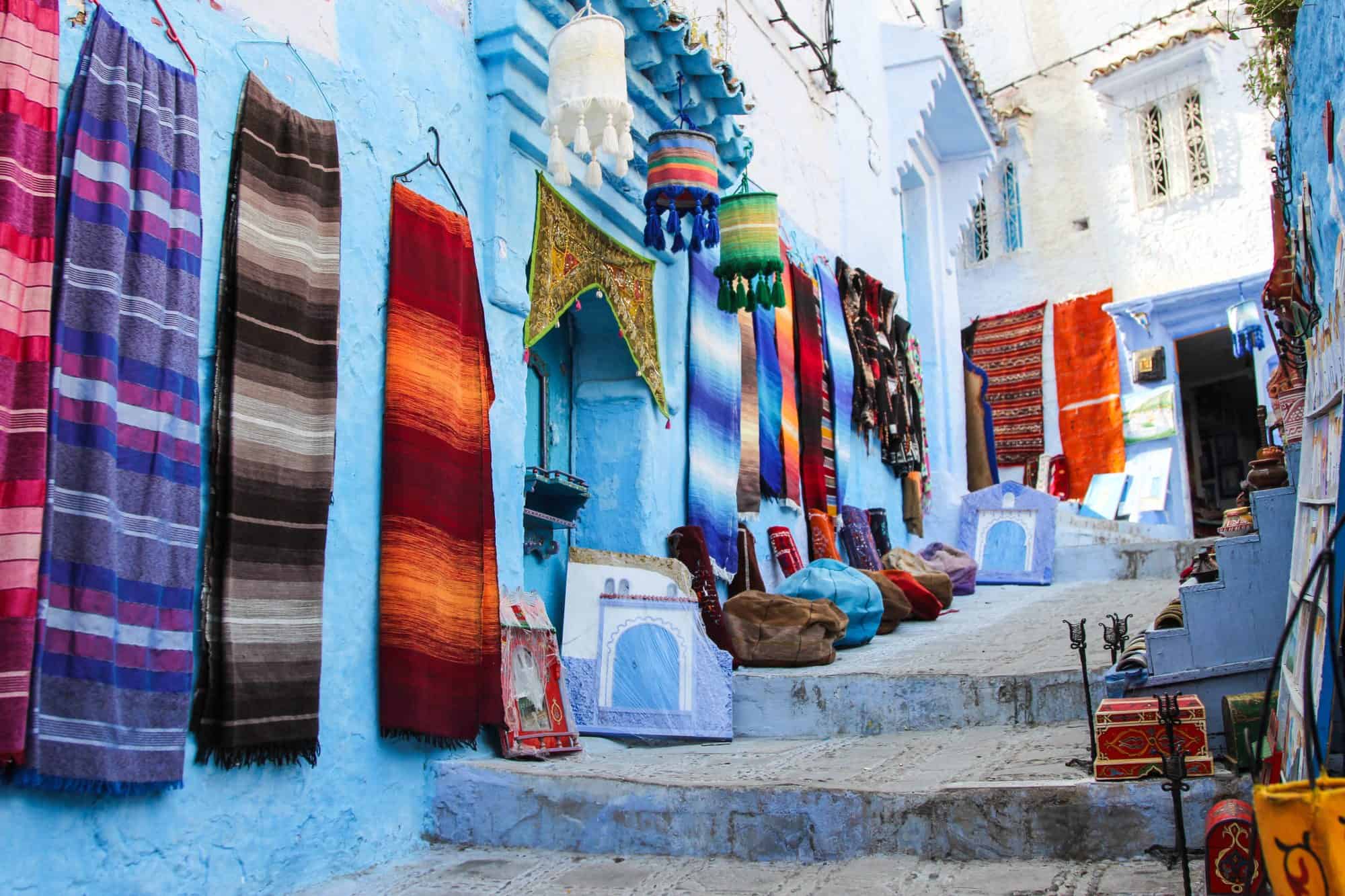 Our walk the next morning was one of the serene purposes, a time for us to walk through the city filming and photographing without the presence of any tourists.
Although this is the quietest city we visited, while there were *some* tourists there, it was mostly independent travelers and this made the place much more natural to visit and experience, plus less crowded and chaotic.
Due to the way the walls are built, our walk in the morning provided us with many changing light conditions and was a great way to capture different scenes of the city.
The only thing about rising early in Morocco though, it that the locals do not. So while we were missing the tourists, we were also missing the locals.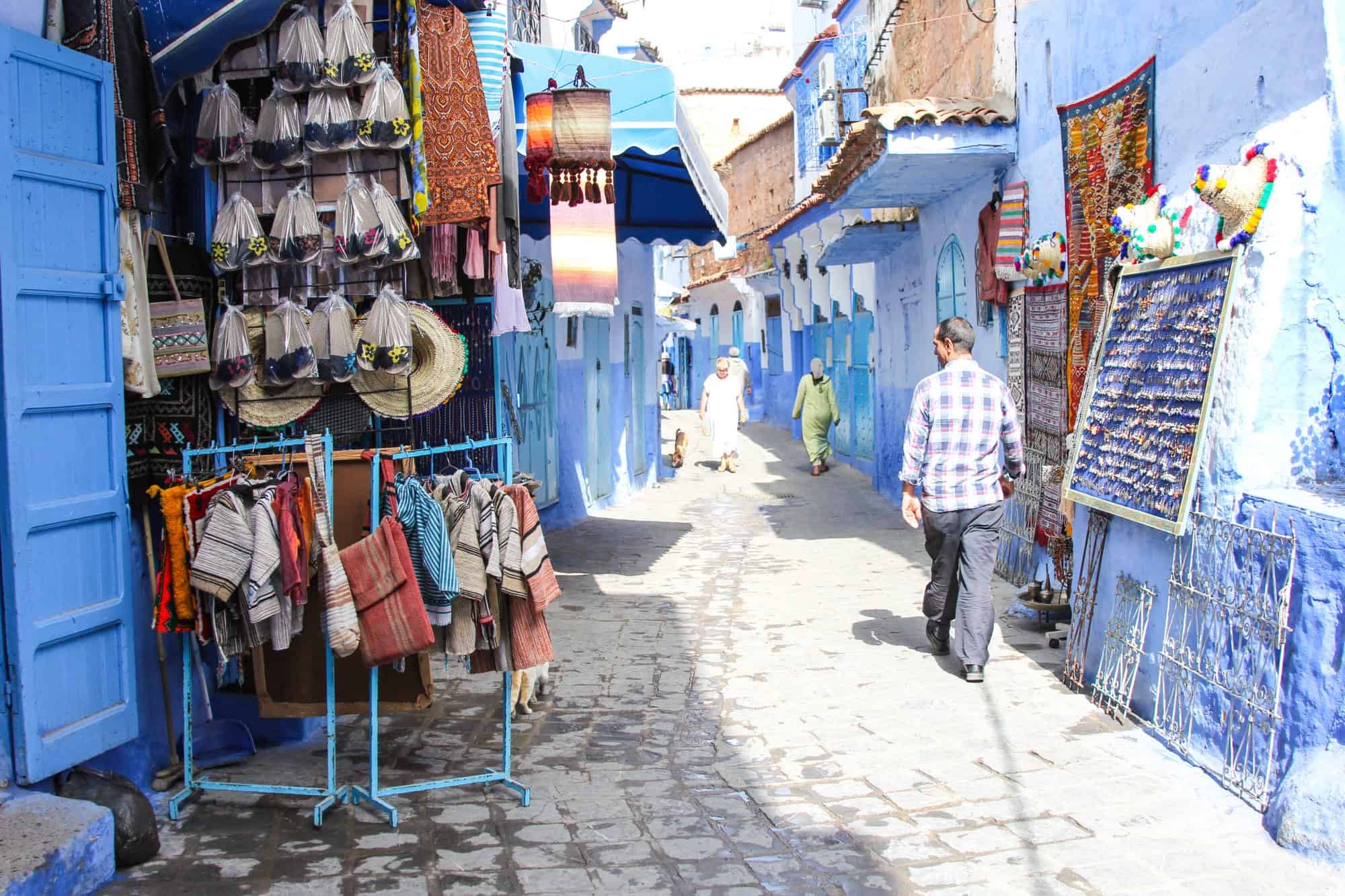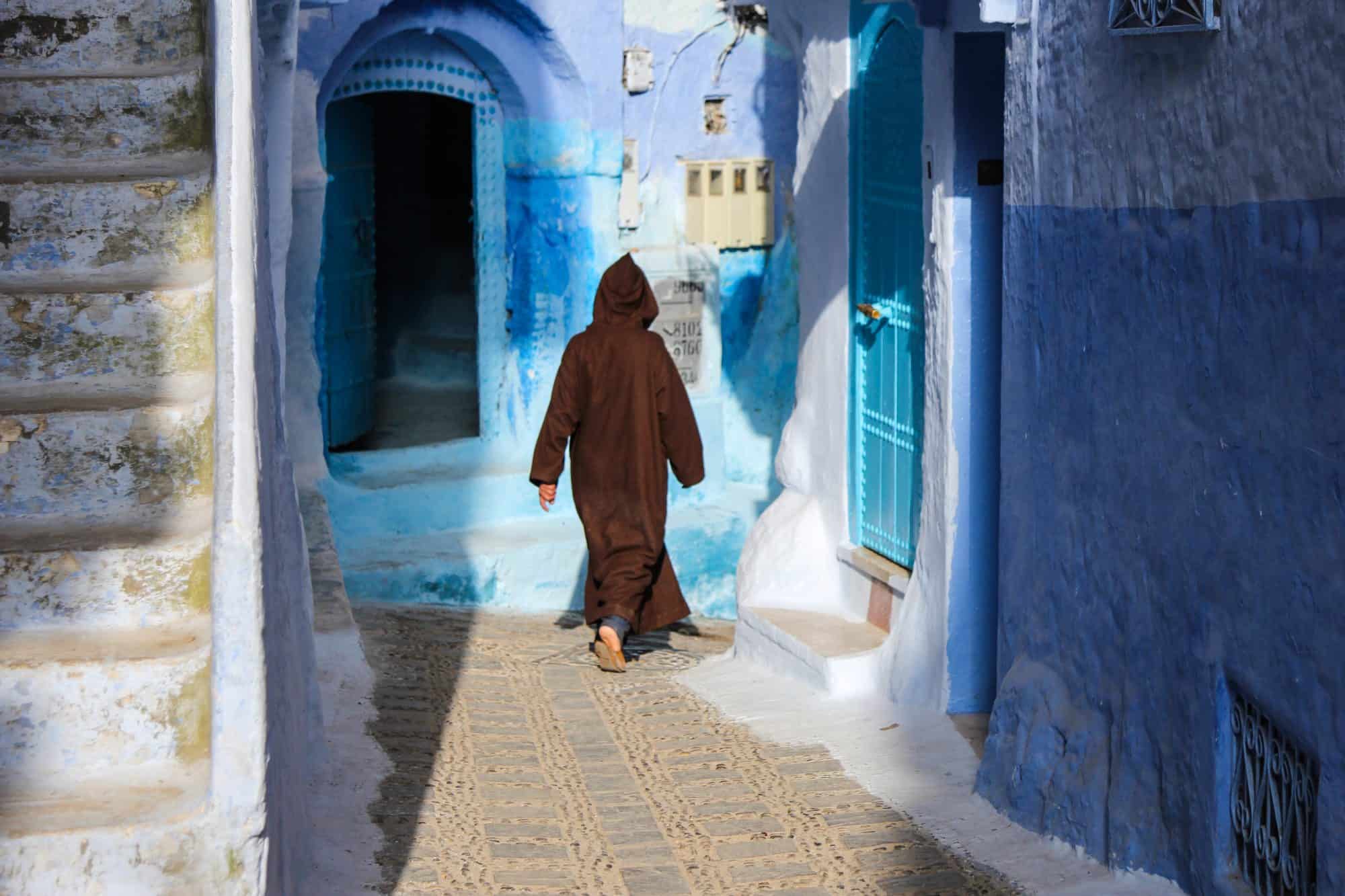 Making our way back towards the city center in hopes of some signs of life, we came across a young merchant making some early morning propane deliveries.
Except this wasn't in the conventional way you would think, no motorized vehicles can be found within the narrow streets of the city, but by donkey. Each donkey was wearing a harness that allowed him to carry several propane cans on his back and trudge through the narrow uphill streets to make their deliveries.
It was that moment every traveling photographer hopes for, a non-crowded street in a place as beautiful as Chefchaouen to witness something natural and local. Without the crowds around and without anyone else standing in your frame.
Topping it off with decent light makes it a tall order and something that happens very rarely for us, yet that morning, those two donkeys stepped into my frame under those exact conditions.
Plan your own adventure in Morocco: 15 Day Morocco Encompassed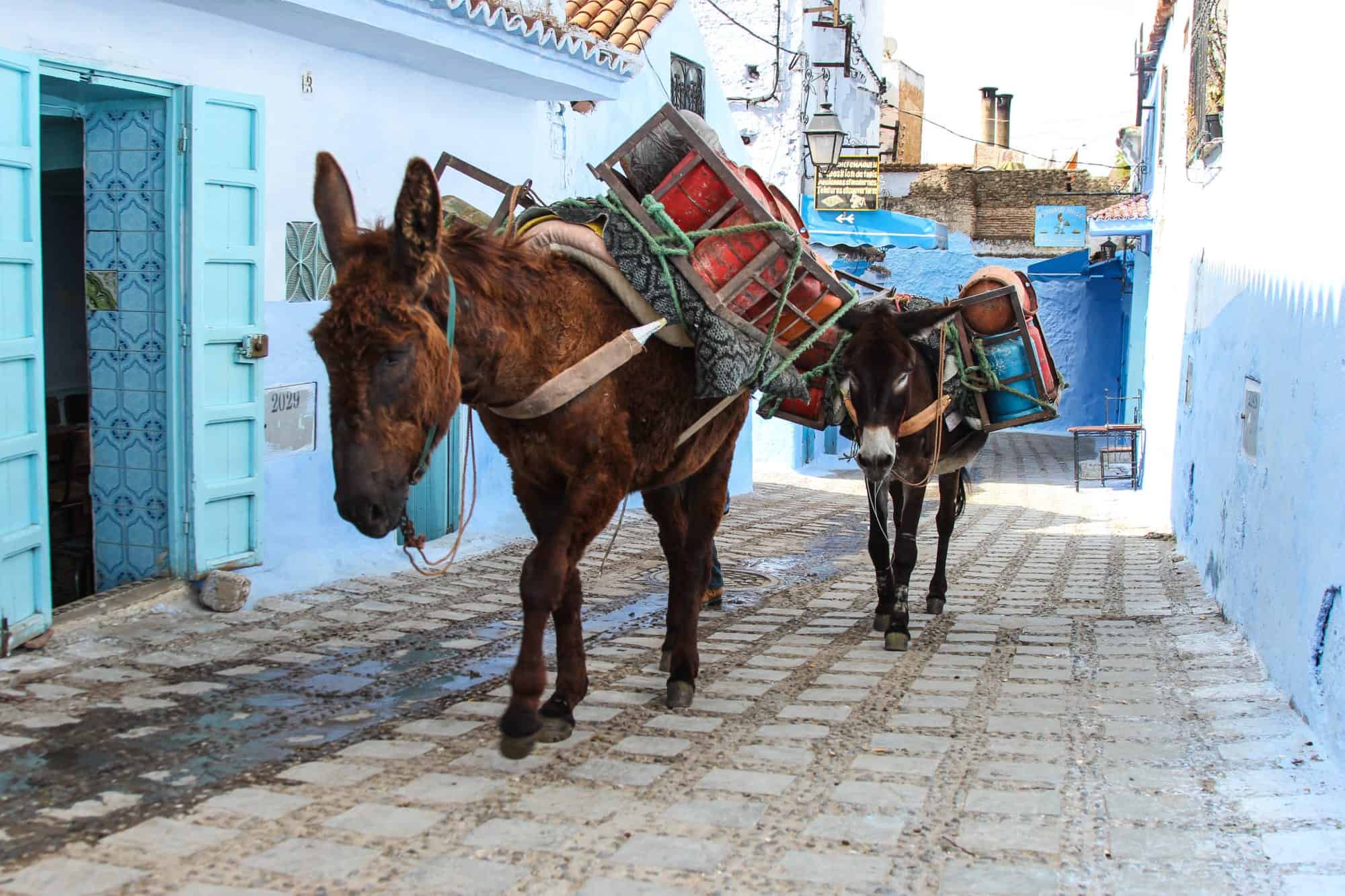 Chefchaouen has shown us her most beautiful side and having traveled through many countries in this World, it is not only the most beautiful city in Morocco but one of the most beautiful cities in the World.
Want to Visit Chefchaouen on your Morocco Travels?
Something to keep in mind when thinking about planning your own trip to Morocco is that most basic tours do not include a stop in Chefchaouen. The reason being that it is not located close to the main cities that are toured by companies. You will struggle to find a company to bring you there on a tour that is less than 10 days in duration.
We partnered with Oasis Overland on their 15 days Morocco Encompassed tour so we would have the opportunity to visit the blue city of Chefchaouen.
Of course, independent travel is always an option as well and you can take local transport via bus from Meknes, Rabat, and Tangier to reach the blue city on your own.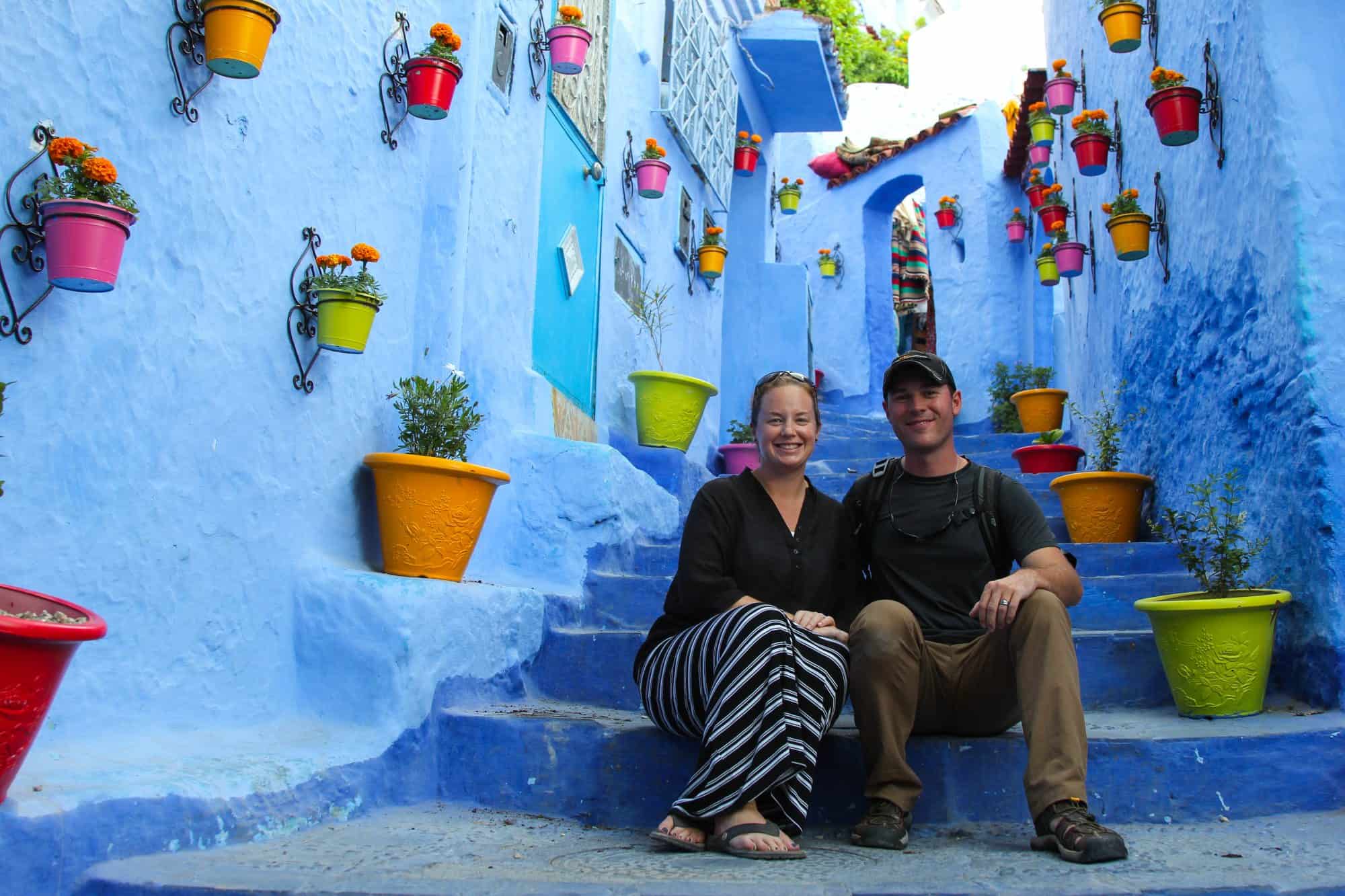 ---
Top hotels we recommend in Chefchaouen, Morocco
Looking for a great hotel for your stay in Chefchaouen, Morocco? We have put together the top hotels we recommend for your visit to Moroccos Blue City. These hotels have some of the best locations in Chefchaouen and are rated well be other travelers.
Read reviews and check prices with our Hotel Search Engine, which gives you the best hotel deals found on the web. Our search engine pulls results from all of the major booking places, including Expedia, Hotels, Booking and more. All the options, all the deals, all in one place and just for you.
---
Top tours we recommend in Morocco
We have put together the best Sahara Desert tours offered by top tour operators like TourRadar, Viator and G Adventures. These are top Morocco tours ran by locals with experience and knowledge of Morocco. If you want to capture and experience Morocco below are the tours you must go on.
Marrakech To Marrakech (15 Days) Morocco Encompassed. Start and end in Marrakesh! With the in-depth cultural tour Marrakech To Marrakech (15 Days) Morocco Encompassed, you have a 15-day tour package taking you through Marrakesh, Morocco and 10 other destinations in Morocco. Starting from $1028.76, Marrakech To Marrakech (15 Days) Morocco Encompassed is 46% cheaper than the average 13-17 day tour through Morocco.
Moroccan Desert Adventure. Marrakech – whisper it and instantly your mind goes to a place of seduction and spices. Experience it for yourself. This intense 1-week journey reveals the secrets of Morocco and is filled with all the activities and energy you crave. In the company of other young travelers, dance beside a campfire in the Sahara, go rock climbing in Todra and hang with the hippies in Essaouira. Explore the kasbahs, coast, and desert and lose the herd on a trip you'll never forget.
More on Morocco:
Did you like this story? Share it!