One destination on many adventurers' lists is the beautiful country of Morocco and that comes as no surprise. There is no shortage of things to do in Morocco.
The country offers a wide variety of scenic wonders, cultural richness and adventurous activities to please any travelers' desires.
We spent 15 days hopping cities and discovering what the draw of this place really was for fellow adventurers.
It is a beautiful country and although at times it can be a challenge, it is worth putting on your list if you're an experienced traveler.
If you're ready to explore a country that is different from the typical traveler's destination, then have a look. You won't be disappointed.
Plan your own adventure in Morocco: 15 Day Morocco Encompassed
---
27 Things To Do in Morocco
---
1. Get Out of Your Comfort Zone
Stepping off the plane in Morocco will find you immersed immediately in an unfamiliar culture. The sights, the sounds, and the customs will overwhelm your senses and bring out your true adventurer side.
Spend some time wandering the old medinas, haggling in the souks and observing the daily life. If you're up for it, have a stroll through the meat market, you may even find a camel hanging on display.
These local lead tours will immerse you into culture when visiting Morocco.
2. Experience the Marrakech Markets
Marrakech is one of the country's premier tourist destinations, and one of the best things to do in Morocco is to experience the hustle and bustle of Marrakech's many markets.
The city's busy souks and markets are where you can jump right into local life. Haggle for carpets, sit down for tea with the locals, and leave with many more souvenirs than you could possibly ever need!
Experience the Marrakech Markets today on these top local tours:
3. Visit the Glitzy Bahia Palace
Morocco is famed for its many palaces, but one of the most fascinating is found in Marrakech. The glitzy Bahia Palace is a beautiful work of art and architecture that dates back to the mid-19th century.
The palace was built for the city's ruling minister and was home to one of Morocco's most important families. Today, it's still a maze of never-ending roads, squares, and gardens, where you can lose yourself for hours.
Make sure to add these top tours that include the glitzy Bahia Palace in Marrakech.
4. See the Tanneries in Fez
One of the best things to do in Morocco is to see the unique tanneries in Fez. The Chouara Tannery is the most popular and dates back to around the 1tth century AD.
For hundreds of years, Fez's tanneries have been producing high-quality leather, which is tanned and dyed in different colors. The business hasn't changed much in almost a thousand years.
You can take a tour of the tanneries to see how the work is done and meet the craftspeople who carry it out.
There are many great tours offered in Fez but the ones below you simply can not miss out on.
5. Visit the Deserts of Merzouga
You can't visit Morocco without visiting the desert, and one of the most impressive stretches of sand you can explore is found at Merzouga.
This desert town is the jumping-off point for Erg Chebbi, a hugely impressive collection of dunes close to the Algerian border.
Take a Merzouga Sahara Desert tour by camel safari, spend the night under the stars, or go on an ATV adventure through the desert sands of Merzouga, one of the best things to do in Morocco.
Visiting the Merzouga Sahara Desert is a bucket list adventure below are the top local tours we recommend.
6. Learn To Cook Tagine
Morocco has a fantastic culinary tradition, and the country's national dish is often said to be Tagine.
Consisting of vegetables and meat (usually lamb), slow-cooked in an earthenware pot, Tagine can be found on almost any traditional menu in Moroccan restaurants.
For a real experience, though, you should join a Tagine cooking class, where you can learn from local chefs the best way to prepare this Moroccan delicacy and the history behind it.
Into cooking, why not learn from a local? Below are a few of the best local cooking classes offered in Morocco.
7. Visit the Roman Ruins of Volubilis
Morocco is awash with archeological sites. To delve deeper into the history, you should visit the Roman ruins of Volubilis.
Located close to the modern city of Meknes, Volubilis dates back to the ancient Berber kingdoms that ruled Morocco over 2000 years ago.
When the Romans arrived, they expanded it greatly, leaving the legacies you can see today.
Do not miss out on visiting the Roman ruins of Volubilis.
8. See the Moroccan Tree Goats
Morocco has some unique sights, but perhaps the most peculiar of them all are the tree-climbing goats.
Head to the Sous Valley, where goats are found climbing the rare Argania Tree in search of food (and selfies with tourists)!
9. Explore Bohemian Tangiers
The port city of Tangiers was once a favorite hangout for artists and writers during the 60s.
While things have become more conservative, you can still trace the history of famous authors such as William Burroughs, who lived rather Bohemian lives in the city.
Tangiers isn't on the normal tourist path, but your not the normal traveler. We highly recommend adding it on to your Morocco itinerary.
10. Visit the Caves of Hercules
Morocco's coastline is a place steeped in legend, and one of the most important sites to visit is the Caves of Hercules.
Overlooking the Straits of Gibraltar, this elaborate cave complex is thought to form part of the legendary ancient tales of Hercules.
There's much evidence of ancient civilizations within the caves that remain to this day, including ancient maps and carvings drawn into the rock by the Phoenicians.
Discover the Caves of Hercules today on this amazing private tour: Tangier Medina & Hercules Cave
11. Visit a Piece of Spain in Morocco
You don't need to take a ferry over to Europe to visit Spain, because there's a piece of Spain inside Morocco. The city of Ceuta was never handed back to Morocco after decolonization and remains Spanish to this today.
You can cross over to explore a uniquely Spanish yet decidedly Moroccan-influenced part of Spain. It's kind of like Gibraltar is for the British, and makes for a fun day trip from Morocco if you're up on the coast.
12. Explore the Royal Sites and History of Meknes
One of the best things to do in Morocco is to visit the underrated city of Meknes. Located between Fez and Rabat, the city of Meknes was one of Morocco's four Imperial cities.
Much of the grand, royal architecture remains to this day, while Meknes sees just a fraction of the tourists that visit more popular destinations.
Explore the museums and royal sites, visit palaces and mosques, and take in the beauty and grandeur of Imperial Morocco in all its glory.
Discover the best of Meknes on these top tours:
13. Visit Rabat, Morocco's Capital City
Morocco's capital is one of the most interesting cities in the country, but it's always surprising how few people actually visit it or can even name it. No, the capital isn't Casablanca or even Marrakech, but Rabat.
You can find French-inspired botanic gardens, resplendent Berber palaces of old, and a thriving mix of modernity and tradition that complement the lack of tourism well!
Discover the best of Rabat on these amazing local tours.
14. Visit Casablanca, Morocco's Largest City
Although Rabat might be the capital, it's not actually Morocco's largest city. That title goes to the much better-known city of Casablanca, enshrined into eternity by the timeless movie of the same name.
There's a fantastic mix of French colonial architecture and Islamic inspired buildings, palaces, and mosques to explore in Casablanca.
Visit the city's museums, walk along the Corniche, and explore the many parks and great things to do in Morocco's largest city.
Do not miss all the great things Casablanca has to offer.
15. Go Surfing at Taghazout
You might be surprised to hear that one of the best things to do in Morocco is to go surfing, but for those in the know, Morocco's wild Atlantic Coast has long been a popular surfer hideout.
One of the best places to visit if you're into surfing is the relaxed, laid back destination of Taghazout.
A few years ago, this was just a fishing village. Today, it's still a fishing village, but in summer, crowds of surfers descend upon the beaches to hit the huge waves that crash into the coast.
You can find surf schools, chilled out hostels, and plenty of fellow surfers to socialize with at Taghazout.
16. Relax on Agadir's Beaches
Some of Morocco's best-known beaches are found just along the coast from Taghazout, by the popular resorts of Agadir.
In summer, the beaches here are heaving with package holidaymakers from Europe, but if you're looking for sun, sea, and sand – and all at a great price! – you really can't beat Agadir.
Head away from the resorts to find more secluded stretches of Atlantic coastline untouched by tourism, if the crowds aren't for you.
17. Marvel at the Natural Rocks of Legzira Beach
If you're looking to visit one of Morocco's best beaches, then along the Atlantic coast – not so far from Agadir – you can find the beautiful climes of Legzira Beach.
Legzira Beach is best known for its iconic red rocks that tower above the sands. Many of the cliffs have been sculpted by the fierce waves of the Atlantic into natural works of art, with beautiful arches standing precariously against the power of the ocean.
18. Beaches and Archeology at Tetouan
If you prefer calmer seas, then one of the best things to do in Morocco is to visit Tetouan. Located on the peaceful Meditteranean Sea, the beaches of Tetouan provide year-round warm waters to tourists.
At Tetouan, you can immerse yourself in history, too; the small city is home to great archeological sites and museums, many dating back to the ancient world.
19. Explore Ait Benhaddou
One of the best things to do in Morocco is to explore the historic streets of Ait Benhaddou. This UNESCO World Heritage Site dates back to at least the 11th century and is a remarkable example of Moroccan clay architecture.
Ait Benhaddou was an important stop on the trade routes that dissected the deserts of the Sahara, and today, it remains an integral place of local history.
Not all Morocco tours include Ait Benhaddou when booking your tour make sure its included, below we have added our top recommend tours that include Ait Benhaddou.
20. Hike the Dades Gorges
Morocco has some incredible hiking and outdoor scenery, and one of the best things to do is hike the Dades Gorges.
This unique network of gorges, canyons, and wadis (dried river beds) extends from the Atlas Mountains into the deserts and offers some exceptional hiking opportunities. Visit in winter to avoid the heat!
If you love nature you have to add visiting Dades Gorges on to your Morocco Itinerary.
21. Freshen up at the Ouzoud Waterfall
Of course, no trip to Morocco is complete without calling in at one of the country's best waterfalls. The most popular waterfall to visit is the Ouzoud Waterfall, and you'll soon see why.
There are actually at least seven waterfalls found in this beautiful canyon. They make a great day trip from Marrakech, being located just a few hours away from the popular tourist hotspot.
22. Explore Chefchaouen- Morocco's Blue City
Your trip to Morocco would be incomplete if you didn't add Chefchaouen to your itinerary.
This literally blue city is a photographer's dream with contrasting blue walls, bright colored carpets, merchants, shops and stalls waiting to be seen.
A walk around the city itself is a hike, as it's built into the side of a large hill but those wanting more of a work out can make the steep climb to the Spanish Mosque for an amazing view of the blue city.
Chefchaouen is one of the best cities in Morocco, why not discover it on these top local tours.
23. Camp in the Sahara Desert
One of the highlights of our trip around Morocco was our adventure into the Sahara Desert. We camel trekked for an hour to a Berber camp where we spent our afternoon climbing sand dunes and sandboarding.
After the adrenaline was done pumping, we settled atop one of the dunes near our camp to watch the sunset before enjoying dinner and a campfire with a local Berber family.
Music and dancing ensued before we spent the night sleeping under the stars with no light pollution insight.
If your going to add one of the top things to do in Morocco that we recommend it has to be camping in the Sahara Desert.
24. Explore the Atlas Mountains
Morocco is an excitingly diverse country that offers you beaches, deserts, rocks, and the Atlas Mountains.
When they aren't visually stunning you with their amazing vistas, they are tempting you with their many hiking trails. You can partake in anything from short day hikes to multi-day camping trips.
If your looking to experience the Atlas Mountains more than just from a car or van's window you should look into one of the tours listed below.
25. Rock Climbing in Todra Gorge
Todra gorge is an adventurer's playground if you are into rock climbing. There are several faces with bolted and self-bolted climbs that you can explore.
These climbs range from beginner to advanced and offer some of the best rock climbing views you'll come by.
If you seek a lighter adventure, go for a hike along the gorge and capture the dramatic landscapes. A bonus with Todra Gorge is the local festivities you will encounter on the weekend.
Plan your own adventure in Morocco: 15 Day Morocco Encompassed
26. Head to the Coast and Visit Essaouira
While many people plan their visits to this oceanside town to relax and shop, many people don't realize it is one of the adventure capitals of Morocco. Due to the consistent winds off the Atlantic Ocean,
Essaouira is a hotbed for all things wave and wind-related. Try your hand at surfing, kite surfing, windsurfing or boogie boarding. If you prefer land, horse trekking and camel safaris along the beach are easily an option.
When visiting Essaouira you must add these tours on to your must-do Morocco travel list.
27. Enjoy All of the Goats, Burros, Camels, and Horses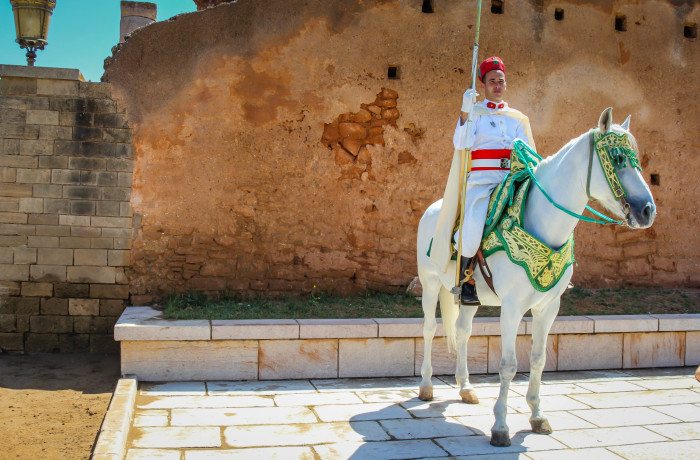 These animals are part of daily life in Morocco, which means they are everywhere; on the streets, in the houses, in the cities, in the desert, in the villages and in the middle of nowhere.
They provide entertainment and many photographic opportunities while you are making your way around this colorful country.
Our highlight? Seeing goats in a tree on the side of the highway while making our way to Essaouira, you don't see something like that every day.
---
Top Morocco Tours We Recommend
---
We have put together a list of the best tours offered by top tour operators. These are tours ran by locals with experience and knowledge of Morocco.
---
More on Morocco:
Did you like this story? Share it!