Camel Trekking and Camping in the Sahara Desert is one of the Top 100 Travel Adventures in the world. View the list and follow our mission to complete them.
There will come a point in our lives when Dave and I will sit down somewhere, look at each other and say crazy things like, "Remember that time we went on a Sahara Desert tour in Morocco where we camel trekked and camped under the stars?"
The very mention will transport us both back to the raw adventure of our travels.
---
Merzouga Sahara Desert Tour in Morocco
---
Arriving in Merzouga was a celebration in and of itself after spending 6 hours traveling from our last stop off in the Berber village of Midelt before making our way through the rest of the Atlas Mountains towards the Sahara Desert.
The journey seemed like a lifetime but was continually rewarding as we watched the landscape change and show signs of the dry climate we were headed into.
Coming to the desert this way is mesmerizing, we had watched the vegetation slowly disappear and the towering dunes at the edge of the Sahara Desert began to come into view through the windshield.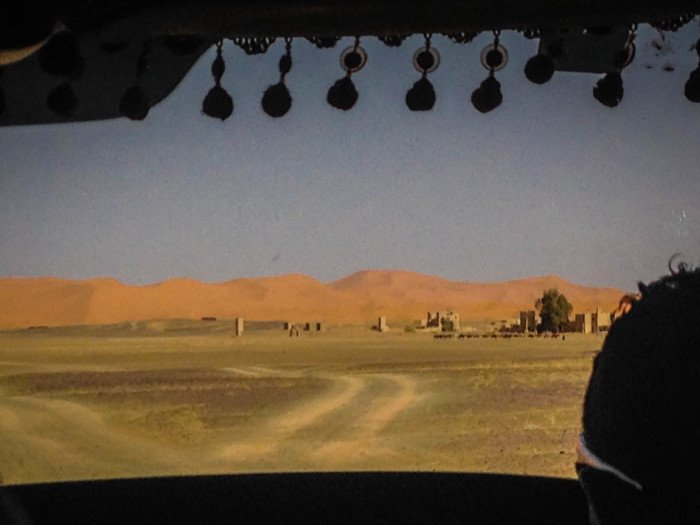 I stood at the Berber house that marked the endpoint of the car journey and stared off into the mountains of sand that stood before me. We were about to jump on some camels and embark on a Sahara Desert tour via camel to a Berber camp where we will play in the sand and sleep under the stars.
Our Berber guides were all business and began loading up our small bags and water onto the camels that lie in the sand waiting for us. We had a few minutes to use the toilet, take some photos, perhaps get a turban tied on our heads, then mount up and begin our trek into the desert.
Sahara Desert Tour By Camel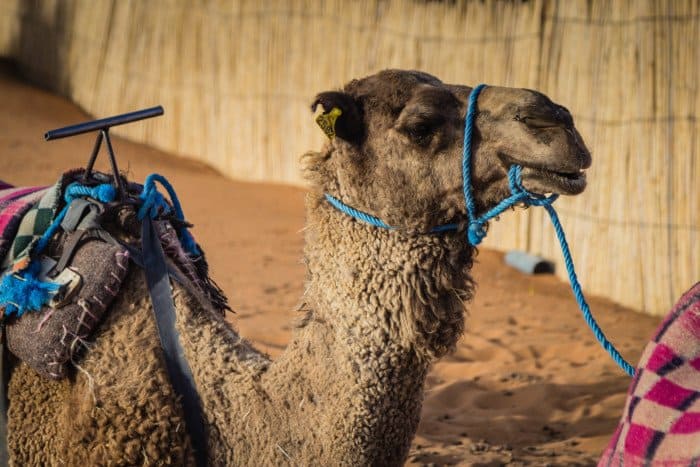 Our camels were shaggy and adorable, a little different then the camels we rode in the Thar Desert of India. Those ones had been shaved and weren't really into having people around them. The Sahara camels, however, were very sweet and loved having attention from us during the camel trek.
It took us over an hour to negotiate the sand dunes with our Berber guides leading the string of camels up, over and through the towering mounds of sand. At the time, it was hard to process being in the desert.
I just kept looking around me in awe as the mounds around us grew bigger and became more vibrant in color.
It gave me the feeling of being on another planet. There was no vegetation on the horizon, just the occasional scrub brush but no trees or other signs of life. We lucked out with a beautiful evening, no wind and the temperature hovering around 35 Celsius.
I was relieved for the lack of wind, which meant I could attempt to carry my DSLR camera with me while riding the camel.
The wind assisted in thwarting the heat, a little, but just minutes after entering the Sahara Desert I could already feel the moisture being wicked from my body and the smallest pangs of a thirst igniting in my throat.
I had attempted to hydrate more that day, putting down 2L of water before arriving in Merzouga, but it wasn't enough. We had each brought 4L of water with us for the trek in, camping overnight and the trek out.
As I guzzled on my first 2L my head filled with concern that I possibly hadn't brought enough.
Arriving at the Merzouga Sahara Desert Camp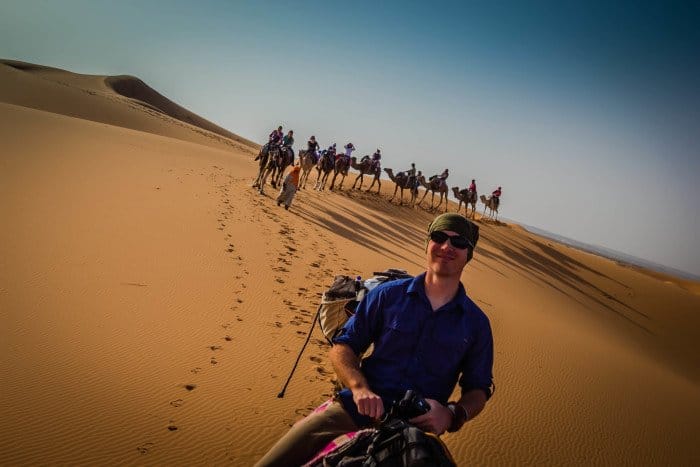 No shade or wind, just sun and camels. Arriving into the Berber camp was a welcomed transition. The camp was small with a line of several Berber tents, a campfire and a makeshift table with stools.
We arrived just in time to pump up our adrenalin with some sand-boarding on the dunes before climbing to the top of the dunes and watching the sun slink away behind the mountains of sand.
Just before dark the Berber men lit the fire and prepared us dinner while the rest of the light left the sky and calm set on the desert around us.
We enjoyed a sand garnished meal, with which I polished off the rest of my first bottle of water, before sitting around the campfire for some music and dancing.
The real part started when they brought out the apple shisha pipe- which we were explicitly told did not contain hashish! Don't worry, he was actually telling the truth, but I didn't taste any apple, I tasted black licorice.
It was fun to pass it around anyways and watch the stars slowly light up the pitch black sky above us.
Sleeping Under the Stars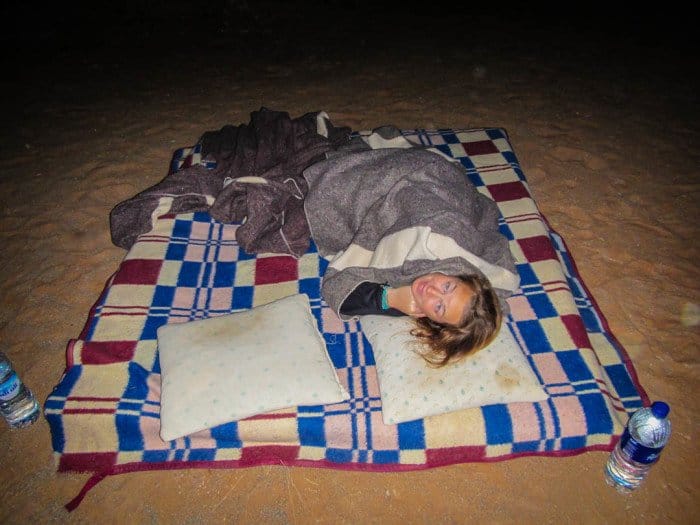 Despite the wind that had picked up, the Berber camp was located at the foot of a dune, which meant we had good coverage of the wind and that it was going to be a warm night. Knowing this, Dave pulled our mattresses out of our tent and we slept under the stars.
I laid awake for quite some time just staring at the universe above me, I must have seen 20 shooting stars and picked out the constellations of so many things I couldn't name but it was a beautiful experience.
Sleep eluded me as I tend to be a bit paranoid about my surroundings and I couldn't help but think about the dung beetle I had run into while using the toilet before bed.
Somehow I managed to drift asleep because it was a surprise to me when Dave began shaking me to wake up. It was 5:30am and it was up and out to make our way onto the dunes with our camels to catch the sunrise.
I always hate morning, despite the fact that I love photographing sunrises, I absolutely hate getting up and until I see a cup of coffee I can be quite grumpy. You'd think after all those years of horse showing, which require 4am wake-up calls, that I would have adjusted, nope.
Sunrise Over the Sahara Desert in Morocco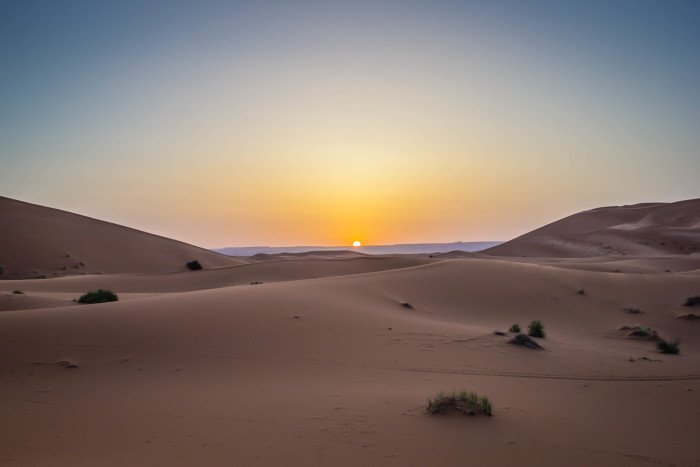 Waking up in the desert was a little shocking for me. Due to the conditions, I decided to sleep in my contacts and not try messing with them as the sand is very fine and it just wouldn't have ended well.
Opening my eyes at first was easy but the dryness immediately took over and I had to close my eyes. I had not one tear. Not one swallow of saliva. Sleeping in the desert had leeched most of the excess moisture straight out of my body.
Luckily I had carried eye drops with me because even blinking repeatedly for several minutes mustered not one tear to lubricate my eyes. This was humbling for me and gave me a renewed respect for the desert.
I didn't hesitate to begin guzzling my second 2L bottle of water and it took several applications of eye drops before I could actually hold my eyes open.
However, it was worth it as it always is. Watching the sun show itself from behind the dunes of the Sahara Desert is something I will never forget.
The glow of the sun against the stark colors of the desert gave a glow that made us feel as if we were on another planet.
The last hour of our camel trek back to Merzouga was like being on cloud nine. My camera battery had died and while I was momentarily disappointed I then realized that it was my chance to have my own moments with the desert.
To just enjoy being there, to look around and see it with my own eyes instead of through the lens. It gave me a chance to connect with the adventure and reminded me that I need to take more moments like this during our travels.
Moments for me so when the day comes that we find ourselves talking about these wild travel days, I can reflect on with without a photo and remember what it felt like to be there.
Plan your own adventure in Morocco: Morocco: Sahara & Beyond
Want to Have Your Own Sahara Desert Adventure?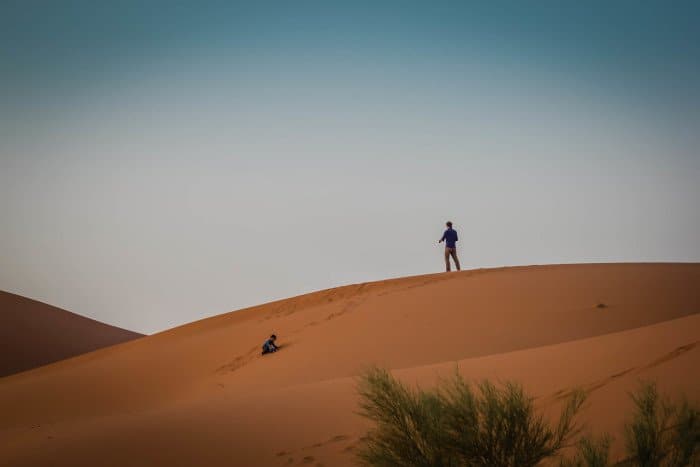 The most popular way to spend time in the Sahara Desert is through a reputable tour company, usually booked in conjunction with a longer tour to other parts of Morocco.
It can be done independently, but can prove difficult as you need to travel at least 2 days from the closest big city via a van. Public transport doesn't run to the Sahara Desert.
We strongly advise that you do your homework when booking this experience outside of an organized tour. While there are plenty of great companies to go with, there are also plenty of scammers that will take you on an experience that could ruin your trip.
Don't believe it can happen to you? Read My Hellish Sahara Desert Tour
We partnered with Oasis Overland Adventures, specifically to not only cross the Sahara Desert off our bucket list, but to bring you this incredible adventure. Despite the partnership, I would highly recommend them as a company that will not only take you to the desert but show you the time of your life.
Plan your own adventure in Morocco: Morocco: Sahara & Beyond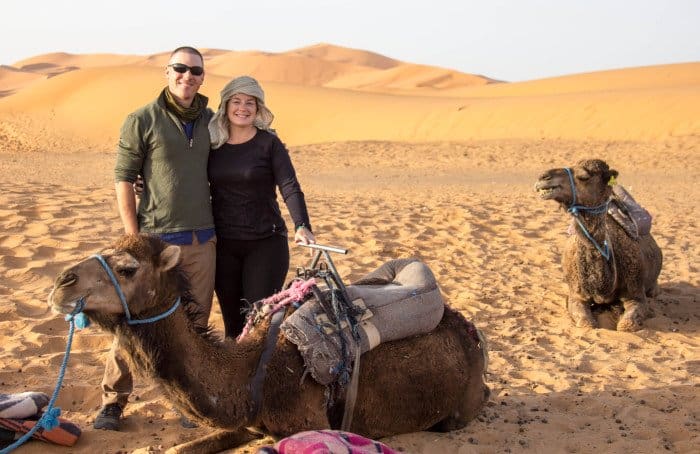 ---
Top Recommend Morocco Tours
We have put together the best Sahara Desert tours offered by top tour operators. These are top Morocco tours ran by locals with experience and knowledge of Morocco. If you want to capture and experience Morocco below are the tours you must go on.
** OUR RECOMMENDATION FOR THE PERFECT MOROCCO TRIP**
Morocco: Sahara & Beyond The culture of the Berbers in northern Africa dates back as many as 5,000 years. Come discover their world on this 15-day experience through the most incredible cultural highlights Morocco has to offer. Explore the souks and streets of Marrakech and Fes; spend a night in a comfortable tented camp; enjoy dinner with a traditional Berber family; and unwind in the coastal beauty of Essaouira. Come to Morocco and return home with a new understanding of this unique part of the world.
Other tours to consider:
Moroccan Desert Adventure. Marrakech – whisper it and instantly your mind goes to a place of seduction and spices. Experience it for yourself. This intense 1-week journey reveals the secrets of Morocco and is filled with all the activities and energy you crave. In the company of other young travelers, dance beside a campfire in the Sahara, go rock climbing in Todra Gorge and hang with the hippies in Essaouira. Explore the kasbahs, coast, and desert and lose the herd on a trip you'll never forget.
Marrakech To Marrakech (15 Days) Morocco Encompassed. Start and end in Marrakesh! With the in-depth cultural tour Marrakech To Marrakech (15 Days) Morocco Encompassed, you have a 15 day tour package taking you through Marrakesh, Morocco and 10 other destinations in Morocco. Starting from $1028.76, Marrakech To Marrakech (15 Days) Morocco Encompassed is 46% cheaper than the average 13-17 day tour through Morocco.
Best of Morocco Start in Casablanca and end in Marrakesh! With the in-depth cultural tour Best of Morocco, you have a 15-day tour package taking you from Casablanca to Marrakesh and through Casablanca, Morocco and 9 other destinations in Morocco. Best of Morocco includes accommodation in a hotel as well as an expert guide, meals, transport.
More on Morocco:
Did you like this story? Share it!