This backpack has not been tested in a river behind my house or on a weekend camping trip, it's been used and abused while traveling with us on our World adventures. We have been on the road traveling for the past year and a half and we never know what adventures may come our way.
Our adventures have taken us bush camping in Australia, white water rafting in New Zealand, sea kayaking in the Philippines, motorbiking in Vietnam and multi-day hiking in the jungles of Sumatra looking for Orangutans. We need equipment that can survive the abuse and the Shasta 30L Backpack has proven to us that it's ready for whatever adventure you can throw at it.
The Shasta 30L Backpack opens up from the top. The side strap latching system is genius and I do not know why everyone is not making their waterproof bags like this.
All you do is roll it up, grab the side strap, latch it down and tighten. Tightening the side straps allows it to adjust for how you have the bag packed. There's no chance water will get in through this lid. It rolls up four or more times to make a sure fit seal.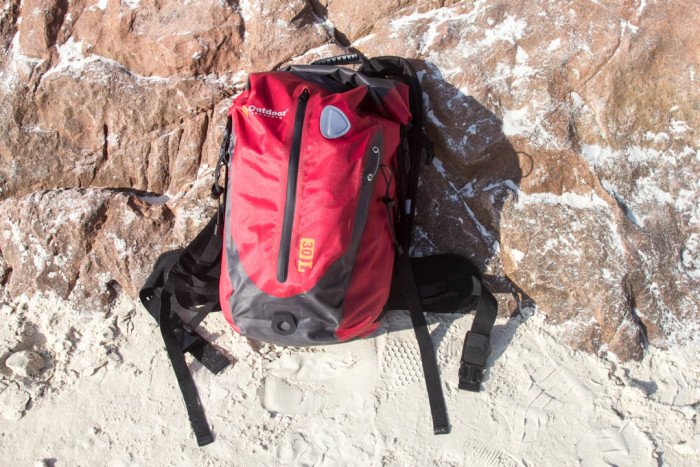 Security
One thing we love about this bag is the overall security of it as a street bag. That's right, the use of this bag doesn't stop with the outdoors. With the only access being from the top of the bag there is no zipper access to the interior. While walking through busy markets or checking out city landmarks, I do not have to worry about someone pickpocketing this bag or sneaking things out of it.
What do we pack in our Shasta 30L Backpack?
This bag has loads of much-needed space. We recently took it on the ultimate test, into the Sahara Desert on a camel trek. We packed: a DSLR Camera, an extra lens, 2 camera filters, 2 Go Pro's, 2 sets of clothes, 2 water bottles, a medkit, and various toiletries.
With all of the gear stuffed inside of the bag it does not feel like a typical waterproof bag it feels like a backpack. The inside of the bag is lined with an extra rubber layer of even more water protection.
The center front pocket has a waterproof zipper that adds protection for those items you need to get at quickly without going into the main compartment of the bag. This pocket is a lot larger then it looks.
On our camel trek we had the above contents in the big part of the bag and the rest of this in the front pocket; a pack of baby wipes, 4 camera batteries, 2 filters, a cell phone, a headlamp, and a lens cloth. in that pocket. It held all of the stuff without bulging out. It's like an endless pocket. This kind of gives you an idea of its holding capacity.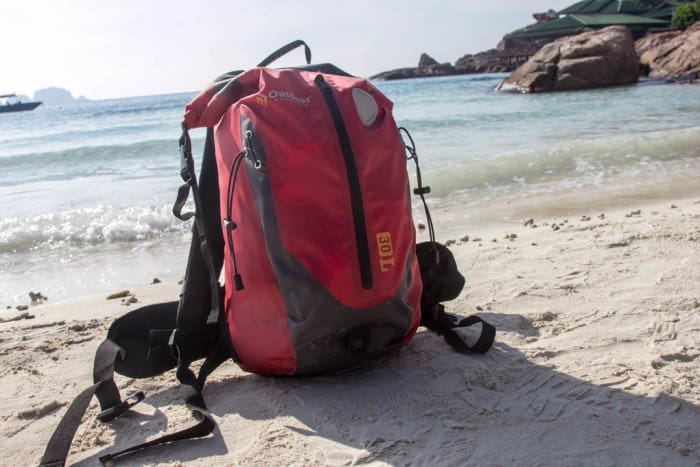 But it doesn't stop at the water; this little bag protected all our equipment from the fine sands of the desert that tried to corrupt our camera equipment. 48 hours in the Sahara desert and not one speck of sand in our bag.
The Shasta 30l has fit right into one of our must-have items. We were in need of a daypack that was waterproof and also acted as a full backpack for those days we are on multi-day hikes. It's nice to be able to throw your gear in and go without worrying about dirt or water getting into the bag.
The Next Generation of Waterproof Bags
The 420 Denier fabric was designed for the military and now is used for many outdoor bags. This fabric is smooth and will not snag on anything while being lightweight. This is important; no pickers will stick to the outside of this bag. The 420 denier fabric is 100% waterproof so there's no need to worry about your gear getting wet as your raft tips while white water rafting or being caught in a rainstorm.
This pack also has fully adjustable elastic cords on each side with trekking pole loops. You can also use these cords to fasten down a tripod or to hold down extra gear. Each one of the adjustable elastic cords is capped with a rubber end so they will not untie and each eye hole is lined with metal so no matter how tight you strap items down they will not pull through the fabric.
The fully adjustable shoulder straps can adjust for all shapes and sizes. I have a longer body than Lina and this backpack adjusts enough to fit us both comfortably. Each shoulder strap also has four straps across them allowing you to hang items off them. I love this because when I'm hiking with my video camera out I often just clip it onto these straps for easy access. There's also a fully adjustable chest strap.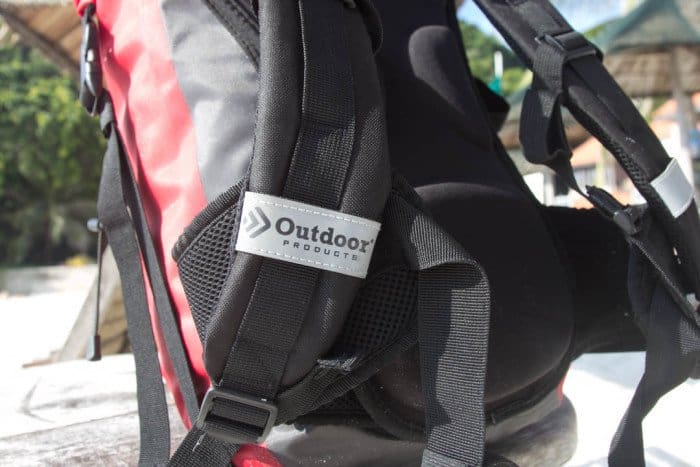 On the front, you will find reflective strips on the straps that allow you to be seen at night along with a large reflective strip on the front of the backpack. It's nice because sometimes you may not plan to be out at dark but your hike or boating trip took longer then you thought.
One place to save on when making a backpack is on its buckles that's why so many bags have flimsy or cheap buckles. This is not the case on this backpack. All snap buckles are good hard plastic buckles.
It's always nice to grip the top loop strap and not worry about if it will hold. The top loop strap has rubber grips and is sewn right into the frame of the backpack. Some are just sewn into the top of the bag, not this one. I have had no fears hanging this around saddle horns, hooks or even off motorcycles.
Whoever designed this bag did one heck of a job! Thank you Outdoor Products for making a bag that can hold up to whatever adventures we might get ourselves into.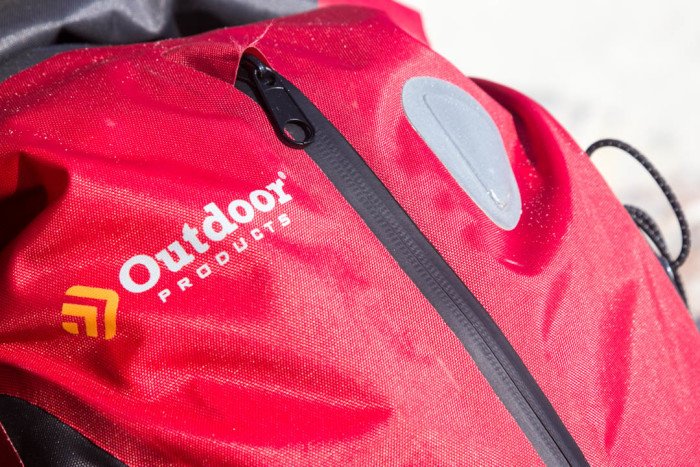 Canned Facts on the Shasta 30L Backpack:
Dimensions: 20.5in x 10in x 10in / 1,654 cu in
• Welded seams
• Watertight, roll top seal
• Reflective accents
• Articulated padded shoulder straps with sternum handle
• Top carry handle
• Front access pocket
• Two side pockets
• Trekking pole holder
• Padded waist belt
• Made from 420 Denier fabric with TPU coating
Travel Insurance: We use for Allianz for travel insurance and have since our first trip to Mexico in 2003. They've been there for us on our adventures – and many friends and readers – multiple times over! If you want to book with Allianz Travel Insurance, simply use this link to get their travel insurance!
Disclosure: We were given a complimentary Shasta Backpack to try out. However, all opinions are 100% mine. All photos created and owned by Divergent Travelers.