There are few things in life as relaxing as taking a felucca boat on the Nile River in Egypt for an overnight trip.
A Nile Felucca cruise is a traditional way to take an enticing journey through the ancient land of the Egyptian Pharaohs. While there are many options when it comes to river cruising in Egypt, there is no experience quite like that of the traditional Felucca boat.
Often referred to as a floating bed, we sailed for 2 days & 2 nights with our feet in the water by day and sleeping under the stars at night. Just the way the Egyptian's and Nubians have done for centuries.
Taking a Nile River Felucca trip in Egypt is one of the Top 100 Travel Adventures in the world. View the list and follow our mission to complete them.
---
Sailing a Felucca Boat on the Nile River in Egypt
---
What is a Felucca Boat?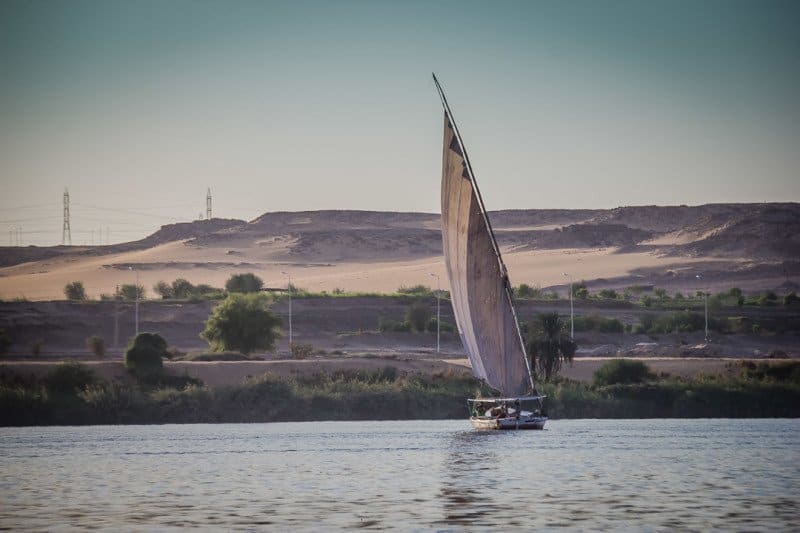 Feluccas are solely wind-powered, acting like a sailboat, and have no engines or power aboard.
They cruse the river with large sails, zig-zagging back and forth with the currents and wind patterns. If there's no wind your trip will take longer if there's wind you will get there faster. It will be slow but that's life on a Felucca.
At first, Lina and I really were not sold on floating slowly down the Nile river on a floating mattress in the unforgiving Egyptian heat. I mean, who really wants to do that?
It didn't even sound fun to us but we dig adventure and this is one of Egypt's best. So, as we always do, we looked at it as an adventure and if anything it would be two lazy days sleeping on a boat doing nothing.
Now that we've done it, there's really no wonder why National Geographic named this adventure as one of their top 500 journeys of a lifetime. As a result, we have added this to our Top 100 Travel Adventures in the World.
Introduction to Life on the Nile River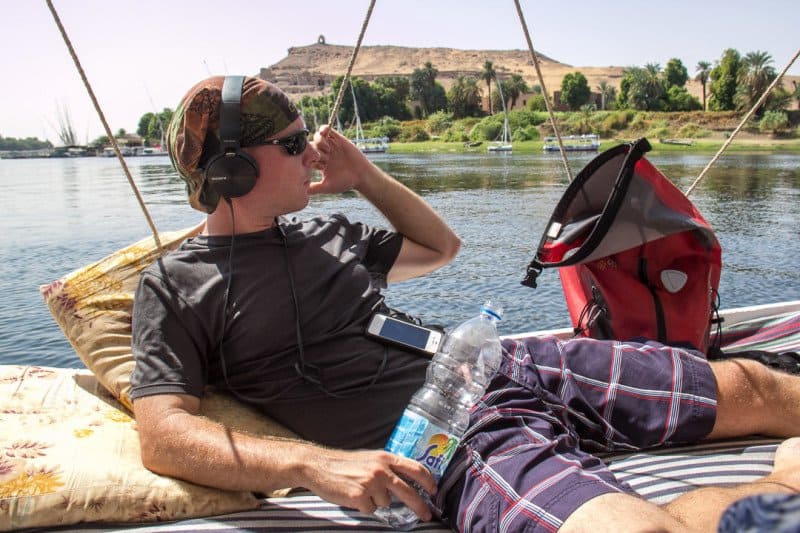 After checking out all of the sights in Aswan,  we were ready to set off down the Nile river on our own traditional Felucca boat.
Once aboard it was time to say goodbye to shoes and to go barefoot for the next two days. We were handed a welcome drink, two pillows and were left to find our spot on the floating mattress.
I know it sounds funny, floating mattresses, but there really is no exaggeration. The boat floor was made with wood slats and then set atop it was a layer of foam mattress, covered with a futon type cover.
This would be where we sat, laid, ate and slept during our trip. Above our heads was a canopy that covered the width and length of the felucca to shield us from the hot Egyptian sun.
Plan your own adventure in Africa with Oasis Overland
With Elephantine Island to our left and Aswan to our right, we started our trip down the Nile River. Our trip started in the early afternoon, around 11 am, and we set sail upriver with the current.
After sailing for a few hours and enjoying the sights our group decided it was time for a pee break. Felucca boats do not have onboard toilets.
For us guys, it's no problem, we just go over the side but for the girls, this can be a problem. No worries though, there's a rope off the back of the boat.
All you have to do is jump in, grab the rope, hold on and do your business.  Alternatively, you can hold it until you pull up to one of the banks, where you are greeted by a bush toilet.
Check out: The Best GoPro Accessories for Adventure Travel
Camping on the Banks of the Nile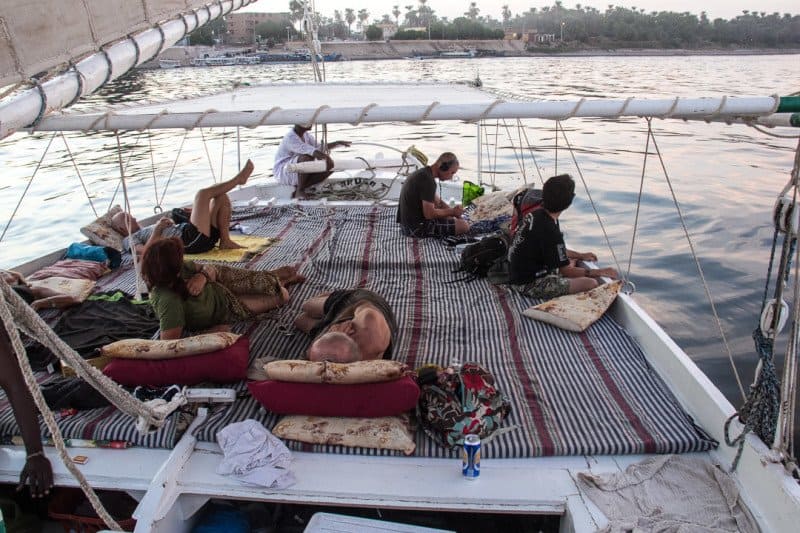 After the first day of sailing our Nubian crew picked a spot on the riverbank where we would anchor the Felucca to enjoy the sunset and settle in for the night.
Who can say they have camped on the banks of the Nile River? Well, we did! Not an experience you will get on those larger river cruise boats. Our perfectly chosen spot offered cover for the bush toilets, an area to swim and a hill to watch the sunset from.
I quickly jumped off the boat to climb up that hill to watch the sunset. The view from the top of the hill showed us that there was nothing for miles.
It was what I would imagine the surface of Mars would be like, just sand for miles and rolling landscape. It was just us and the raw nature of Egypt, that made it a special experience in itself.
Plan your own adventure in Africa with Oasis Overland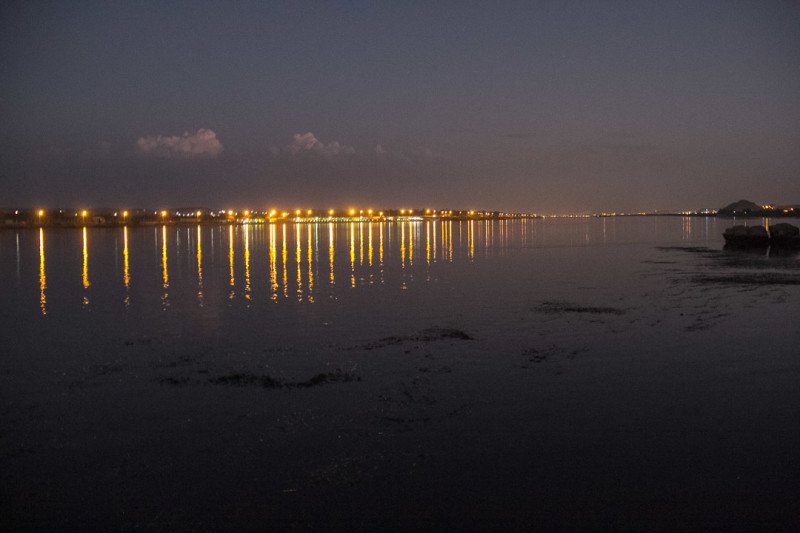 While the aroma of dinner began to fill the air we took our time to relax, explore the area and go for a swim.
The Nile River is a refreshing welcome after spending a day in the heat. Eventually, the smells of dinner and our selfish stomachs couldn't keep us away from the felucca.
It's amazing what the crew cooked up for us and seeing as we were on the Nile River, it was only fitting that we had fresh Nile perch.
After dinner, it was time to enjoy ourselves and take in the moonlight on the river. It was a great time to play some card games and just enjoy the darkness.
Felucca Camping Tips: You sleep on the deck mattress of the boat and will need a blanket or light sleeping bag in the winter months. Canvas walls and a roof are erected at night if it is cold or windy and mosquito nets are also provided at night while you sleep. Mosquito repellent is recommended for the evenings and early mornings, and wearing long sleeves at night is a good idea.
---
Cruising the Nile River – Day 2
---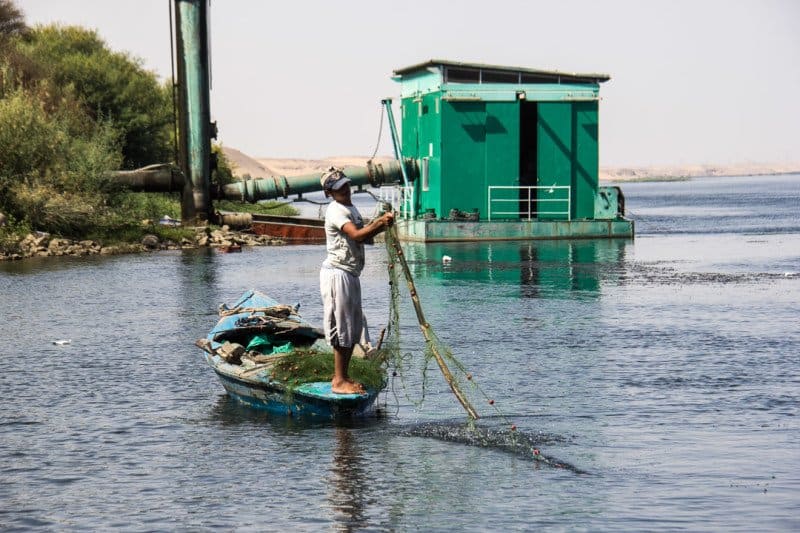 Around 3 am I awoke to fisherman fishing near our felucca. They were in little wooden fishing boats and were hitting the water with their paddles and throwing nets into the water.
We had been warned to put whatever we did not need under the deck during the night so no one could see what we had.
They easily could have paddled up to our boat and grabbed whatever they wanted. These fishermen did not even care that we were parked in their daily fishing hole.
As the rest of our group began waking up, our crew cooked all of us eggs, brewed hot coffee and served us fruit before raising our sail.
Plan your own adventure in Africa with Oasis Overland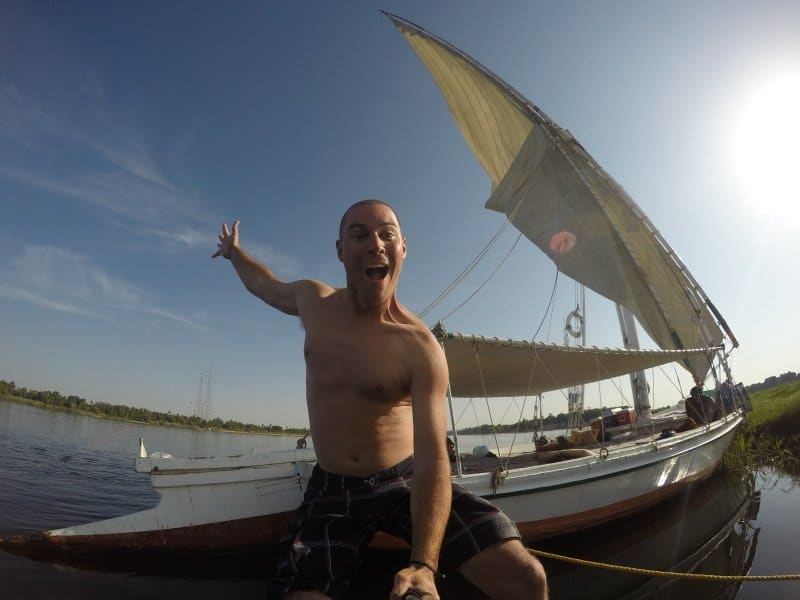 The rest of our day would be one of relaxation. After spending the morning lying on our floating mattress we found a great sandbar along the river to pull up on and enjoy an afternoon of swimming.
The local villager was worried that we might damage his crop, so he watched from far away as we all played in the water.
Shortly after lunch, which was another great meal, we were back on the river to sail. A surprise afternoon tailwind put us ahead of schedule and we found ourselves docking for dinner near our stop for the following day.
The night was short and we woke up finding ourselves just steps from the temple of Kom Ombo.
Would we take another Nile River Felucca trip?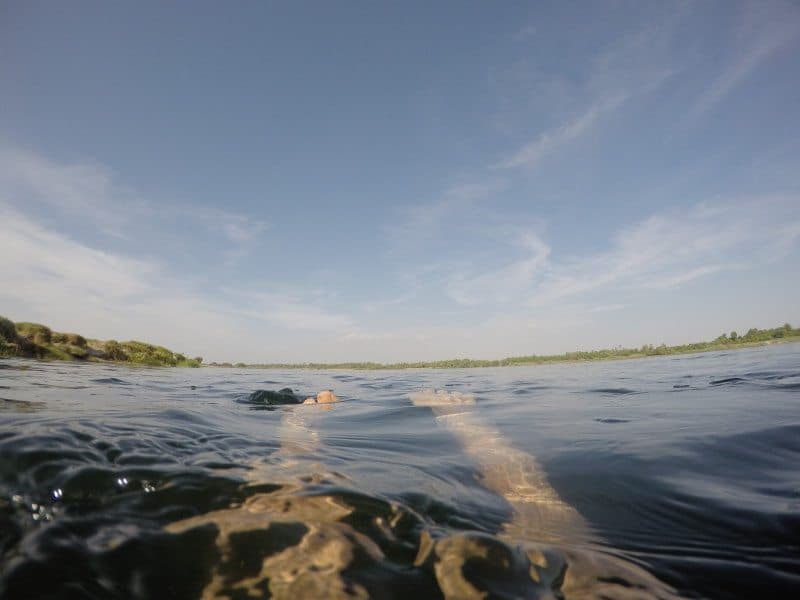 Yes, this was a great adventure. It was certainly a little slower then our typical adventures and a lot more laid back but can easily be added as a unique adventure experience to have in Egypt.
Felucca Tips: Don't bring too much stuff. You're just going to relax, eat and sleep. Bring a book, I-pad or something to play music on. You can even pass the hours on the Nile playing games on your iPad. There's nowhere to charge your items so bring a power cell to charge things. Use lots of sunscreen and bug spray. Don't forget snacks just in case you get hungry between meals. Don't forget your towel, remember that it can also act as a blanket. It can get cold at night, I was happy in my silk sleeping bag but an extra blanket is always nice.
We took our Felucca trip while traveling through Egypt with Oasis Overland on their 17-week expedition from Cape Town to Cairo.
Plan your own adventure in Africa with Oasis Overland
More on Egypt:
Did you like this story? Share it!