Settled between two of Botswana's top attractions, the Okavango Delta and Chobe National Park, is a place where fine sand and massive elephants meet.
The marriage of these creates a place where the two are brought together for those of us that seek adventure. This is a campsite that combines the beauty of African nature and its wildlife, Elephant Sands.
I think it goes without saying that Elephant Sands is our favorite campsite to date and will be a tough one to beat on this trip. While setting up camp we literally watched huge African elephants with massive tusks walk meters from our tents to the central waterhole at the campground.
Unlike many other campsites you come across while overlanding in Africa, this one is out in the open without borders or barriers to keep things out. In the middle of the camp sits a large natural water hole where the local herds of elephants move to and from freely.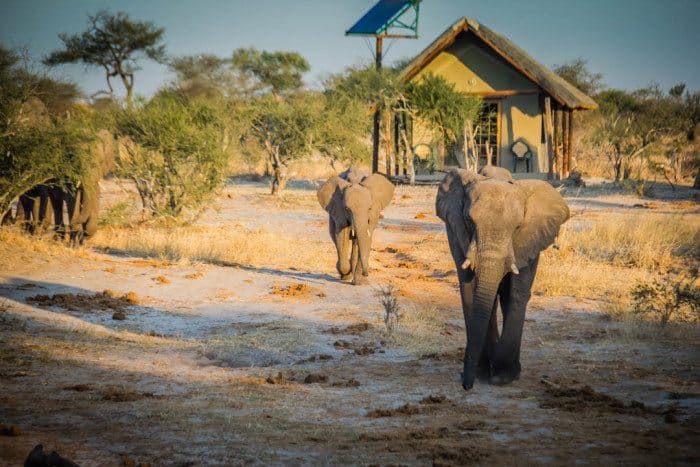 The thing to do here is to grab a drink at the bar, grab a chair and watch elephants. I've never been so close to a wild elephant in my life! We saw huge bulls, elegant cows and adorable calves all meters in front of us. At one point there were around 12 elephants just next to the viewing platforms. Quite simply, amazing.
Camping at Elephant Sands
It is an interesting place to arrive at as the drive into the site is like driving through sand dunes and then you just arrive at a place set in the middle of nowhere. The barriers that surround the patio and bathroom are created of concrete with large stones placed in them to deter the elephants from coming near to them.
The reception building is quite large and has a bar and patio built off the back of it into a viewing platform near the waterhole. At the edge is a fire pit that is lit each night with a gigantic fire where you can sit in the chairs and observe the elephants into all hours of the night. They are seriously close enough to touch, not that you should.
Plan your own adventure in Africa with Oasis Overland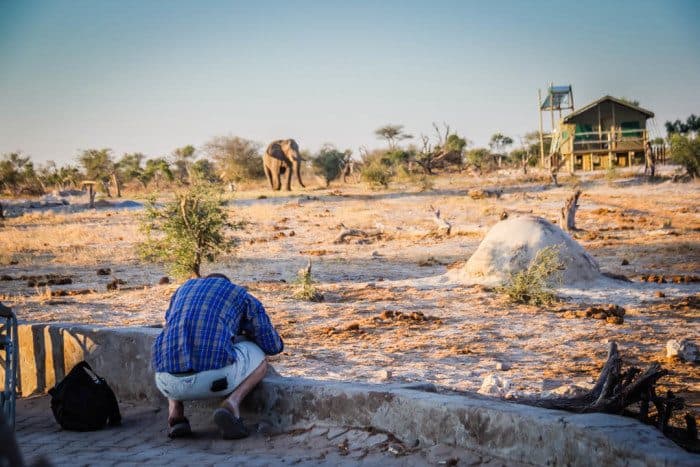 The setup is easy and open, there are no barricades or set camping areas. You just pull up into an area and set up camp.
For our group, it ended up being on the far side, farthest from the water hole, and we were instructed to set up our tents close together and near the surrounding trees to deter the elephants from running into them or over them while we slept.
The entire place cuts out water at 9 PM and the electricity grid at 10 PM. After many incidents of the elephants trashing the bathrooms in search of easy water, this is the only solution they have found to keep them in the waterhole!
Knowing that the elephants had free roam of our camp didn't stop our jaws from dropping when the first elephant sauntered through camp while we were cooking dinner.
It was huge and could have cared less that we were there as he headed straight to the watering hole and caused a ruckus with the younger bull that had been hanging out there when we arrived.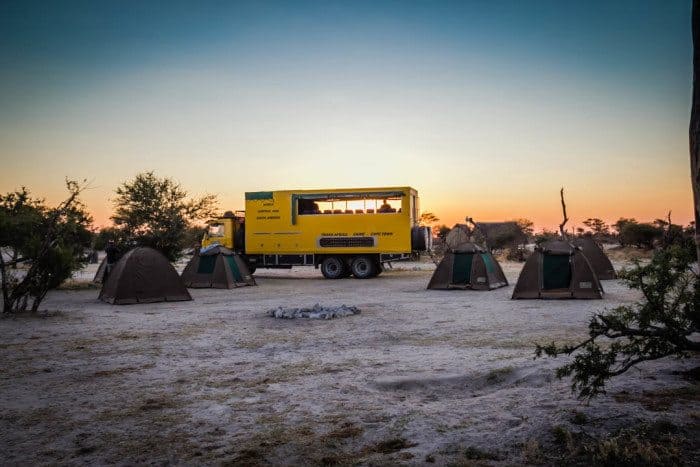 Safety Rules for Camping at Elephant Sands
No flash photography, it will guarantee that you are charged by said elephants.
Middle of the night pee breaks? Open tent, stick out your head, turn on the headlamp and scan area. Clear? Stand up out of the tent slowly with the headlamp on. 360 to the left, 360 to right as you look for elephants. Double-check path to the bathroom. Exit tent and walk slowly.
Pray you make it to the bathroom.
Repeat process on return to the tent.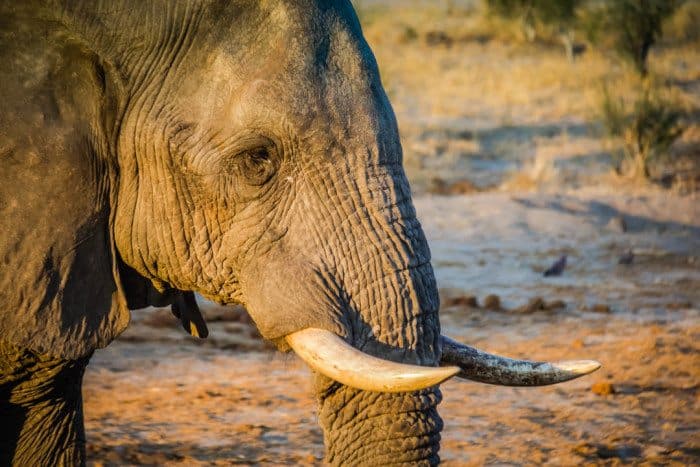 The Morning After…
I am happy to report that we survived the night. It is really something to drift asleep in a tent while listening to elephants crashing around and screaming around you. You just won't get an experience like that anywhere else in the World.
When we first started camping in Africa I was terrified when I started to hear animal noises but now I love it. I'm starting to relax and just relish in the experience.
I never once thought that passing elephants could trample our tents while we slept. I thought only about how unique and special this experience was to our lives.
By morning the elephants had moved on and the camp was empty. We prepared scrambled eggs and toast breakfast over the fire while watching mass groups of spotted hornbills descend on the camp to scavenge elephant shit and garbage.
Then as quickly as we had arrived we all hopped onto the truck and left Elephant Sands in our rearview mirror.
Plan your own adventure in Africa with Oasis Overland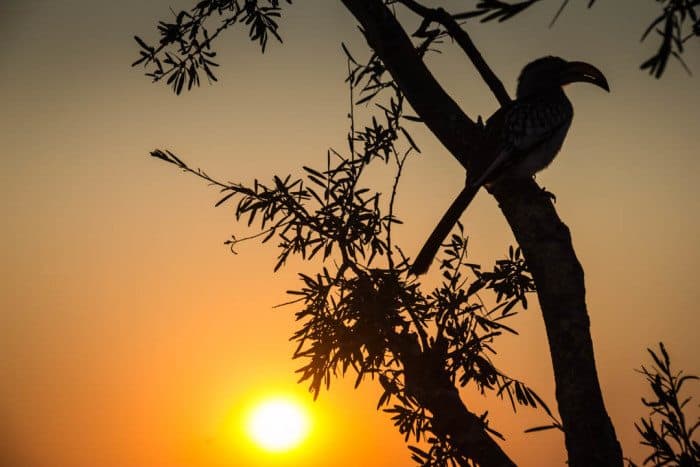 Disclosure: We partnered with Oasis Overland for the ultimate overland expedition, a 17 week trip from Cape Town to Cairo. All opinions are 100% mine. All photos are created and owned by Divergent Travelers.
More on Botswana:
Did you like this story? Share it!