The route from Cape Town to Nairobi is known as the most adventurist route in the world and is the most popular route to take among short term overland trips. With wild animals and extreme adventures, there's no wonder why.
Africa is jam-packed with heart-pumping adventures around every turn. From cage diving with Great White sharks in South Africa to view Africa's apex predator, the lion, on a Serengeti safari in Tanzania, you are guaranteed a wild adventure.
Of course, we spared very few adventures along this route and lived to tell you the tale. We're hoping that seeing these adventures here will ignite your wanderlust and have you searching for overland trips in Africa for your next big trip.
Caution the below adventures are not for the weak of heart!

Plan your own overland trip through Africa: Oasis Overland Africa
Best Adventures from Cape Town to Nairobi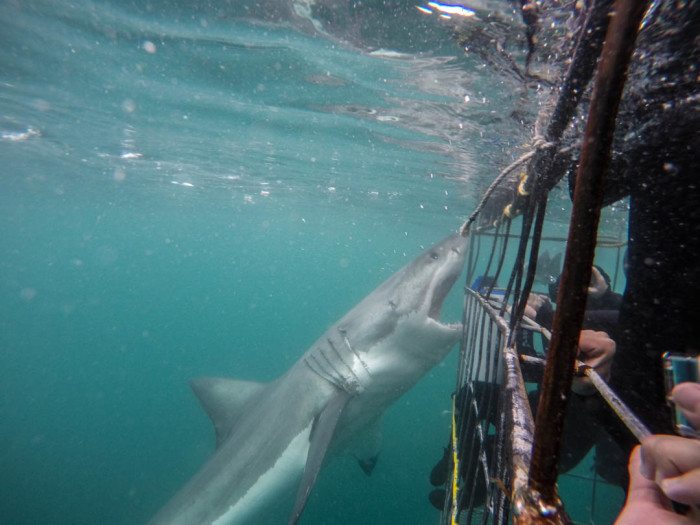 Great White Shark Cage Diving in South Africa
Just two hours from Cape Town, just off the coast of Gansbaai, is a place called Shark Alley. This area is known around the world for its heart beating, stomach-turning, nerve twinging encounters with Great White Sharks.
While it can be done in a couple of other places in the world, this is the best place in the world to shark cage dive.
There is nothing like viewing great white sharks in the wild. So why not jump into a shark cage to see these magical creatures up close and personal. You will get so close you will be able to see the whites of their teeth as they bite the cage.
This is a great experience for anyone who loves viewing nature along with getting a heart beating adventure.
Read about our experience: Great White Shark Cage Diving in South Africa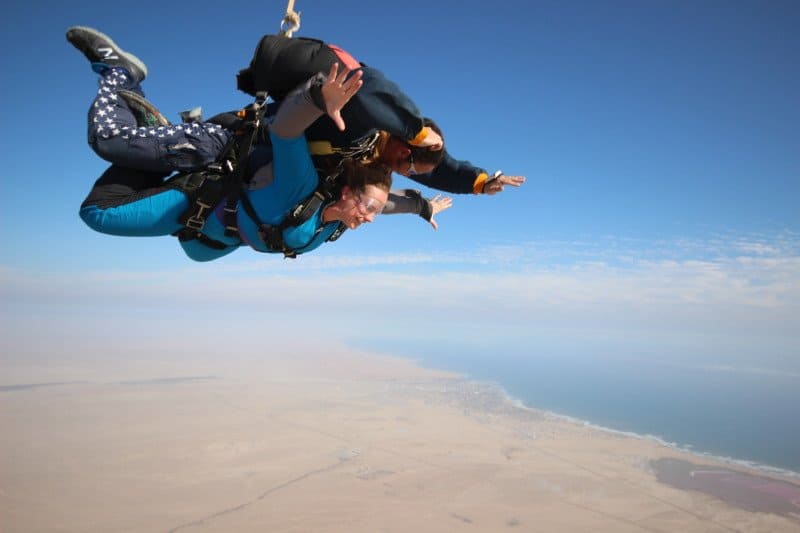 Sky Diving in Namibia
There is no wonder why Swakopmund is the adventure capital of Namibia. It is here that the Atlantic Ocean meets the hot Namib Desert creating a contrast of colors you can only experience from the sky.
For the adrenaline junkies, like Lina and I, what better way to see Swakopmund than from the sky on a 10,000 tandem skydive.
With your heart going a million beats per hour and about to jump out of our chest, go ahead and jump from a plane. Free falling for a quick 10 seconds with the wind tearing at your jumpsuit as you fall.
The views above Swakopmund are unbelievable and there's no wonder why this is one of the top skydiving places in the world. It's not every day you get to jump out of a perfectly good airplane. Will we do it again? I think you can count on that.
Read about our experience: Skydiving in Namibia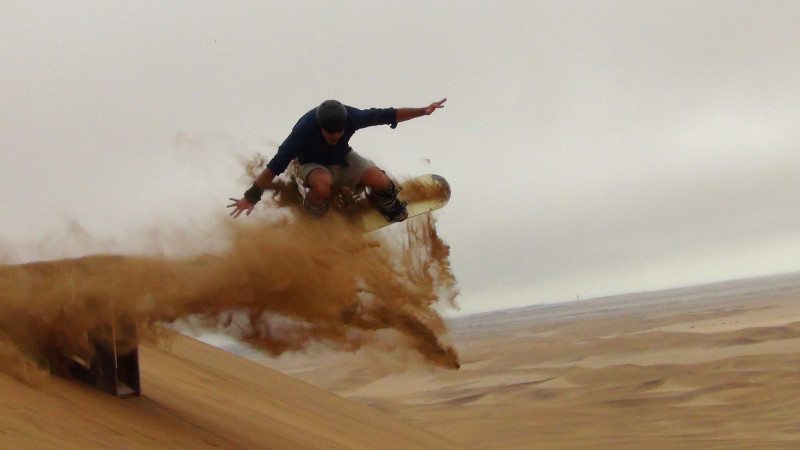 Sand Boarding in Namibia
Thirty minutes outside of Swakopmund, Namibia is where the Namib Desert. This part of the desert has massive, yellow-colored sand dunes for as far as the eye can see. These sand mountains are a great place to strap a sandboard to your feet and take on these sandy slopes.
The large sand dunes are covered with different sand boarding runs along with major jumps for the more adventurous boarders. Don't be scared to take on this major hill, wiping out in the sand is not that bad, as I found out a few times.
If sandboarding is not your thing, try grabbing a sled for some extreme sand sledding. You'll reach speeds of up to 75 kph! This can be all-day fun for all ages.
Plan your own overland trip through Africa: Oasis Overland Africa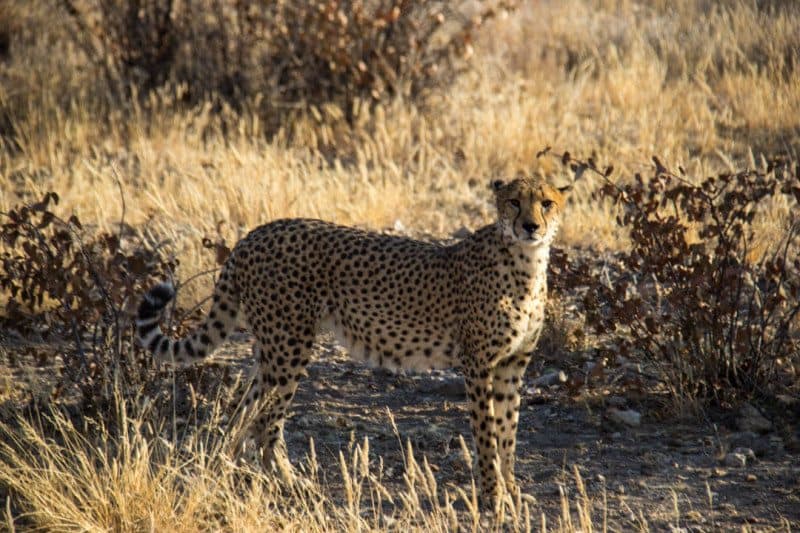 Cheetah Interaction in Namibia
Namibia is a certified 'cheetah country,' and is home to one-third of the world's entire cheetah population. Why not spend a day interacting with these magical animals and also help out a cause?
Spending an afternoon surrounded by cheetahs, you will be able to pet and interact with tame Cheetahs that were rescued and rehabbed.
They love to lick and their tongues feel like sandpaper. After getting up close, with the 3 tame Cheetahs on the farm, we headed out in safari vehicles to feed the ones that live in a conservation park area.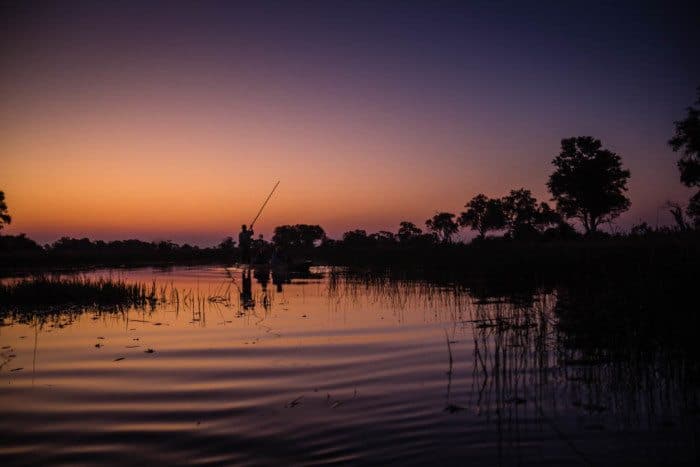 Bush Camping in the Okavango Delta
It's about the feeling you get when you allow yourself to disconnect from the modern world and lose yourself amongst the weeds that overtake the water. It's not about what you see; it's about how you accept what you are given. This is what a trip into the Okavango Delta is like.
We spent 2 nights bush camping with nature and enjoying the scenes around us. Our hikes took us for hours on foot through the bush in search of wildlife.
We took Mokoro cruises to photograph hippo pools at sunset and we sat around a campfire with the local polers who sang local African tunes and showed us their dances. The experience is magic and shouldn't be missed.
Read about our experience: Bush Camping in the Okavango Delta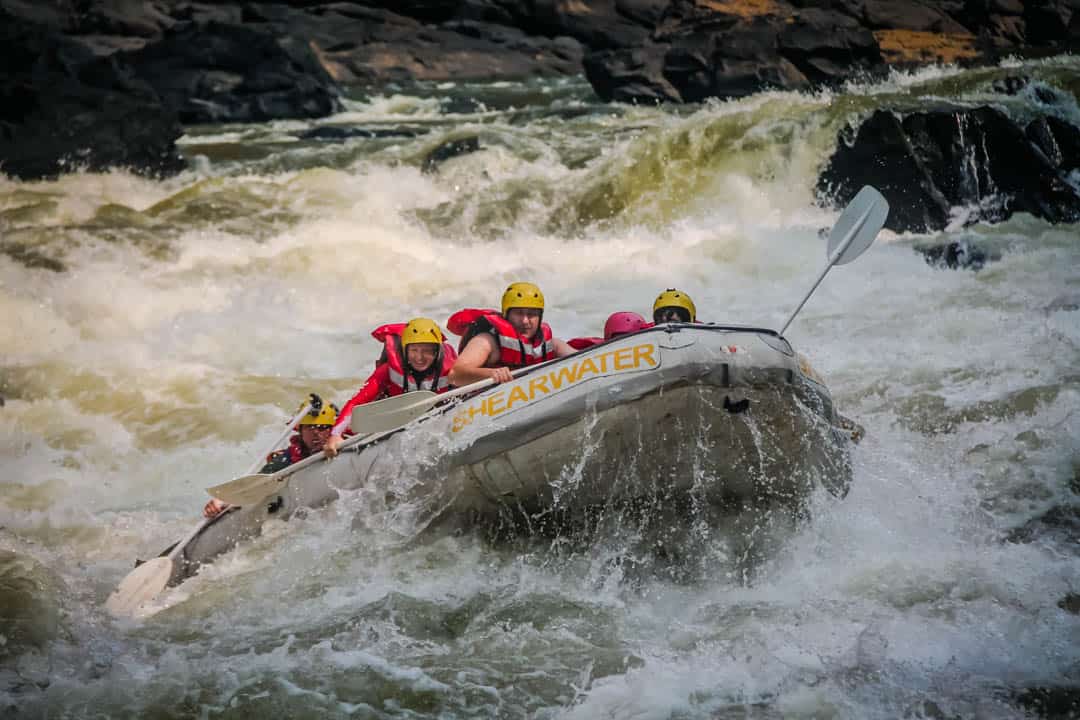 White Water Rafting in Zimbabwe
Victoria Falls is known for its breath-taking falls and its adrenaline-pumping bungee jump off the Victoria Falls Bridge. But what really fuels the falls is the Zambezi River. This is some of the meanest white water in the world. Why not head down the fourteen sets in a rubber raft?
The Zambezi River snakes through a 100+ meter gorge where crocodiles are found sunbathing on the rocks. If you're looking for a river-rafting trip where you don't get tossed, this is not the trip for you.
You will get bucked out of the raft and if you do not your guide is being soft to your group. That is why you go rafting, to head into the wild parts of the river and see if your group can survive.
Read about our rafting trip: White Water Rafting on the Zambezi River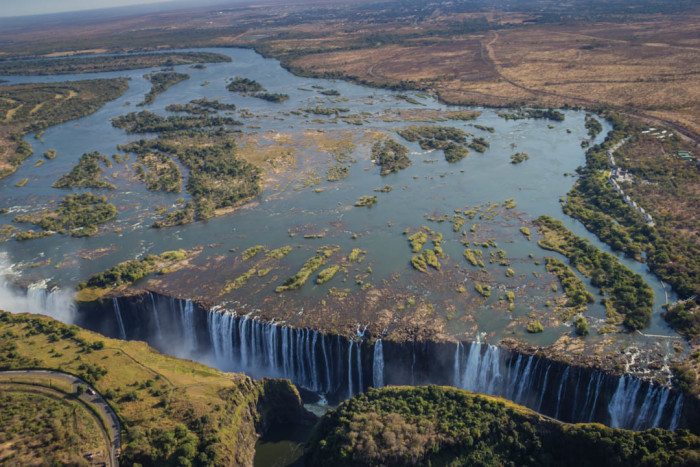 Helicopter Ride over Victoria Falls
Hands down the best experience you can have at Victoria Falls is by hopping into a helicopter for a birds-eye view. The experience will give you whole new respect for the world's largest waterfall. In case that isn't enough to convince you, you'll also get the thrill of being inside a helicopter.
See how the mighty Zambezi flows towards the falls and then widens before it gets there to spread the water over the massive area before dropping and continuing on through Batoka Gorge. It's an experience not to be missed on your visit to Zimbabwe.
Looking for more adventure ideas: Best Adventures to Have at Victoria Falls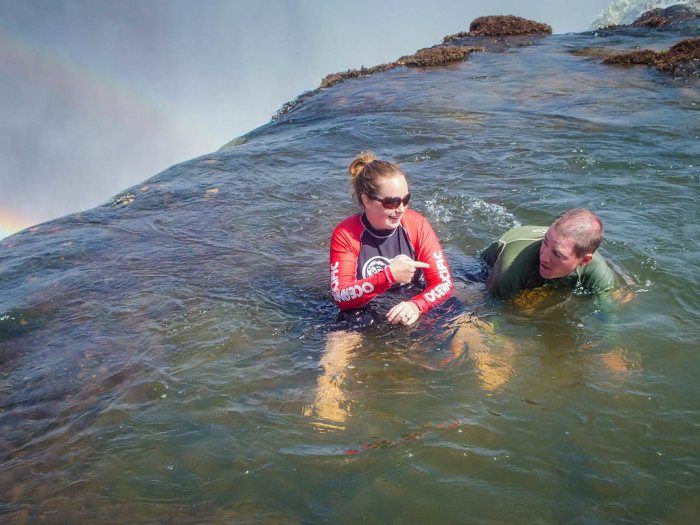 Devils Pools and Angels Armchair in Zambia
Aligning with the adrenaline theme is a visit to Livingstone Island on the Zambia side. It is the only place you can access the Devils' Pool and Angels Armchair. Both are small rock pools that have been naturally formed at the lip of Victoria Falls, just before the edge.
A trip out to the island gives you a chance to visit these pools and have your photos taken at the very edge of Victoria Falls with nothing separating you from the pool and a 128m drop.
The water levels will determine which of the two pools will be open during your visit but please note, during high water it is not possible to visit them at all.
This is one of the Top 100 Travel Adventures in the world.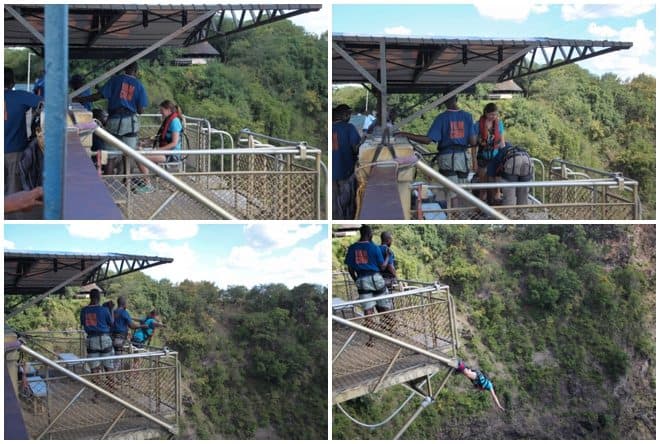 Bungee Jump Victoria Falls Zimbabwe
A proper visit to Victoria Falls wouldn't be complete unless you threw yourself off something. Why not bungee jump from the bridge that connects Zambia and Zimbabwe with a view of the world-famous falls?
It has often been said that the river at the bottom is full of crocodiles and they still offer the option of touching the water, despite this.
If that isn't enough to get the heart racing, I don't know what will. The jump here will find you at the end of one of the top 5 tallest bungee platforms in the World.
Set inside a gorge, you get a day pass for a visit to Zambia and walk yourself right to the center of the bridge where you'll find the small platform that will send you plummeting towards the water below.
We didn't do it, but we know some fellow bloggers that have! Read about their experience here: That One Time we Jumped Off a Bridge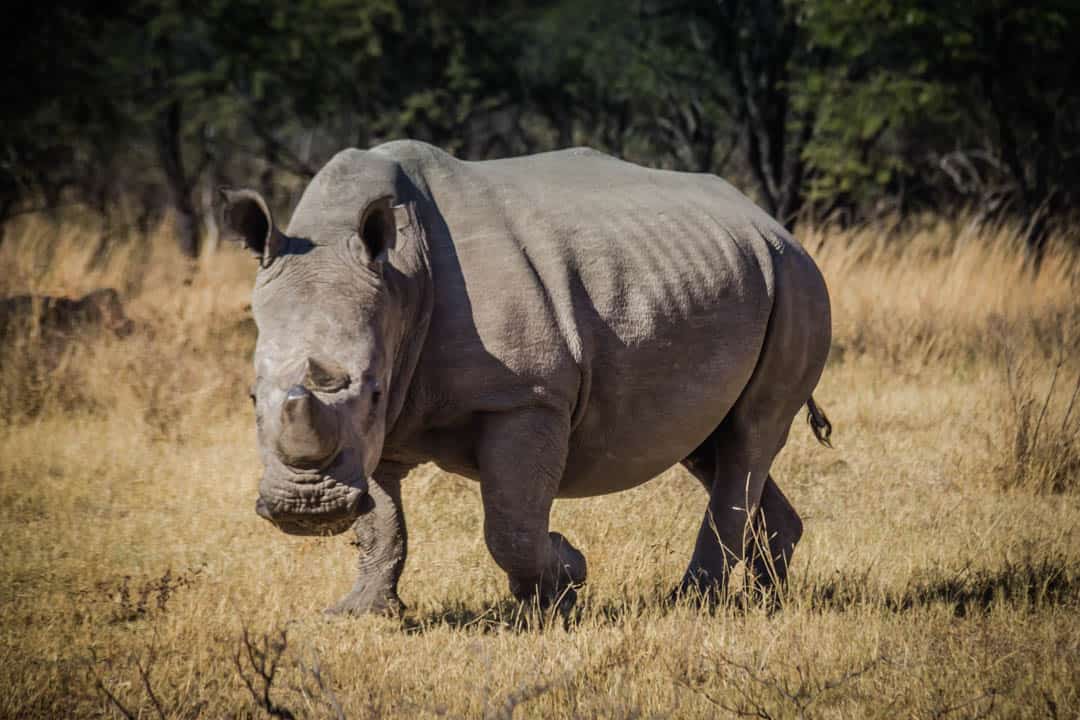 Rhino Trekking in Zimbabwe
Probably one of the most rewarding wildlife experiences you will have in Africa is tracking Rhinos on foot in Zimbabwe. Be within meters of these gentle giants and get a first-hand look at the conservation of these animals.
Don't forget to shake hands with the guards that spend 24 hours a day protecting the Rhinos.
You'll also get arguably the best chances to photography Rhinos in all of Africa. While small groups trek sporadically through this area to see Rhinos, they are still very curious about us being there and can sometimes come quite close to us.
It is a great adventure and a very moving experience.
Plan your own overland trip through Africa: Oasis Overland Africa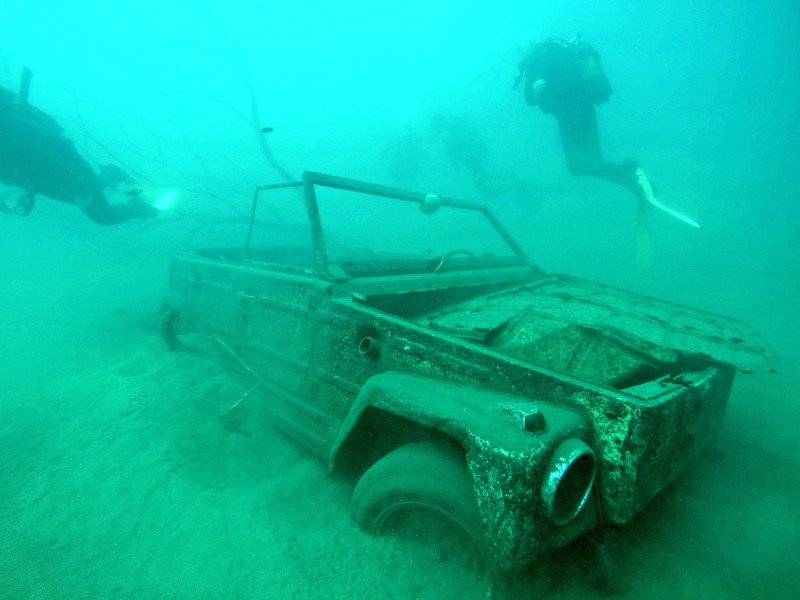 Scuba Diving in Lake Malawi
Have you ever tried scuba diving in freshwater? How about one of the largest freshwater lakes in Africa? Lake Malawi offers you a chance to experience a less buoyant dive at a small amount of altitude. Lake Malawi is World famous for it's diverse and large amount of Cichlids.
While the experience won't be like diving on a colorful coral reef in the ocean, it will offer a very unique experience to see colorful freshwater fish, a sunken Jeep, rock catfish and a wide variety of dead trees.
Need some inspiration? Photo Tour of scuba Diving in Lake Malawi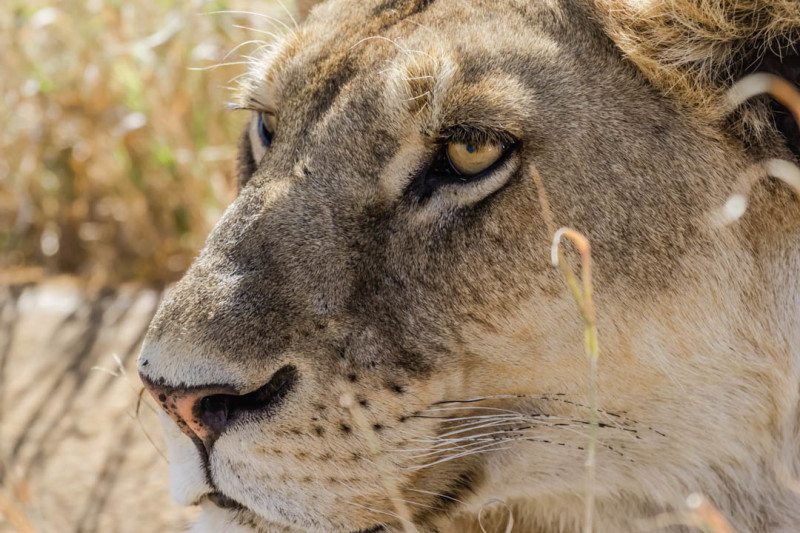 Serengeti Safari Tanzania
You have not seen Africa until you explore the Serengeti on a Safari. Jump into a 4×4 for a full day of wildlife viewing. You will have African ions just steps from your window sunning in the tall grasses of the Serengeti.
Wild elephants will be playing in the water holes trying to escape from the heat and you may even see leopards sleeping in the trees as you drive around exploring. Even if you're not into wildlife this will be an experience of a lifetime.
Read about our time in the Serengeti: Serengeti Safari Experience in Africa
Visit Base Camp or Climb Mount Kilimanjaro
The tallest mountain in Africa, Mount Kilimanjaro, is a must-see on your African adventure. It towers over Africa on the borders of Tanzania and Kenya and on a clear day will afford you one of the most spectacular views in all of Africa.
If you don't have time to climb Mount Kilimanjaro, perhaps opt for the day hike up to the base camp and back. It takes a solid 8 hours to go up to the base camp and back down and depending on the route, may even take you through some beautiful rain forest full of Colobus Monkeys.
Are You Ready for Adventure in Africa?
These experiences are some of the most adventurous experiences in the world and should be on your travel bucket list. Lina and I were lucky enough to experience them during our overland trip through Africa with Oasis Overland and have survived with all our limbs attached and no broken bones.
Of course, you could travel to Africa and spend your whole time just on safari and it would still be a great adventure. No matter how you spend your time in Africa from Cape Town to Nairobi, you're sure to have a memorable time.
If your looking for more adventures in Africa check out, game watching adventures in Zululand Rhino Reserve.
Plan your own overland trip through Africa: Oasis Overland Africa
More on Africa:
Did you like this story? Share it!