Beautiful, historic and diverse Rome, there are few other cities in the World that can match the abundance of sights to conquer on a vacation. I'd be lying if I said you could cover all of Rome in 3 days, more appropriately would be 5 days, but I realize not everyone is rich in time.
So we're going to tuck right into the best way for you to spend your 3 days in Rome. With 3 days being the average a traveler has to spend in Rome, I want to show you the top sites and can't miss things.
If you have more days, great, consider diving deeper into the smaller neighborhoods or taking a day trip outside of the city. Regardless, you can still see a lot of Rome in just 3 days.
Don't leave home without: Lonely Planet Rome (Travel Guide)
---
3 Days in Rome Itinerary – Day One
---
Roman Forum
One of the most beautiful and complex historical sites in all of Italy, the Roman Forum is located in a valley between Piazza Venezia and the Colosseum. The area was originally marshlands that were cleared with a brilliant system.
The Cloaca Maxima canal was constructed to drain off the land into the Tiber River so the area could be developed as the urban center on Roma more than 1000 years ago.
Several structures remain in the Forum from different periods of history and you will be blown away by how well a lot of them look today.
During a small-group tour— limited to 13 people—explore the sites as your guide brings the days of the Roman Empire to life. Beat the queues with skip-the-line entry, and learn of the bold emperors, gladiators, and traders who built Rome from the ground up.
Opening Hours: Guided tours of Roman Forum daily 1:00 pm. Oct 30-Feb 15 daily 8:30am-4:30pm, Feb 16-Mar 15 daily 8:30am-5:00pm, Mar 16-26 daily 8:30am-5:30pm, Mar 27-Aug 31 daily 8:30am-7:15pm, Sep daily 8:30am-7:00pm, Oct 1-29 daily 8:30am-6:30pm. Last admission 1 hr. before closing
Ticket Cost: 12€, ticket good for same-day admission to the Colosseum and Palatine Hill. Guided tours of Roman Forum 4€
Colosseum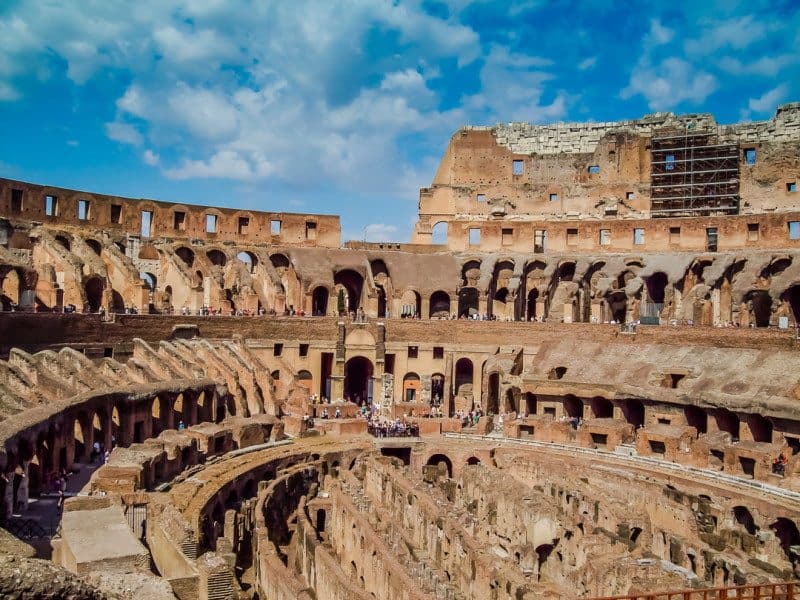 The Colosseum is the most iconic and recognizable place in Rome. If you have little time to see the sites, this is one you shouldn't miss. This grand stadium was completed in 80AD and stands on an area that was drained like the Roman Forum.
It has withstood years of abuse and even fire, being completely rebuilt in 222 after extensive fire damage.
This site was used for bullfights, gladiator fights, chariot races, official events and various other forms of public entertainment. The capacity of the arena allowed for 50,000 to 80,000 spectators on the marble benches and you were seated based on the very strict caste system of the Romans.
It has withstood years of use and abuse with complete restoration in 1750 to the building we now see today.
Skip the entrance line at the Colosseum so you won't waste any time getting inside to marvel at this Roman icon. On this walking tour of Ancient Rome, you'll explore the amphitheater's first and second levels with a guide, who entertains you with tales of gruesome gladiator battles.
Then visit the Roman Forum to see its ancient ruins like the Temple of Julius Caesar.
Opening Hours: Nov-Feb 15 daily 8:30am-4:30pm, Feb 16-Mar 15 daily 8:30am-5:00pm, Mar 16-27 daily 8:30am-5:30pm, Mar 28-Aug daily 8:30am-7:15pm, Sep daily 8:30am-7:00pm, Oct daily 8:30am-6:00pm. Guided tours in English with an archaeologist 7 times per day Mar 28-Oct 30 (9:30am, 10:15am, 11:15am, 12:30pm, 3:00pm, 4:15pm, and 5:15pm)
Ticket Cost: 12€ all levels. Guided tours: 4€. Note: to the Colosseum also includes a visit to the Roman Forum and the Palatine Hill.
Palatine Hill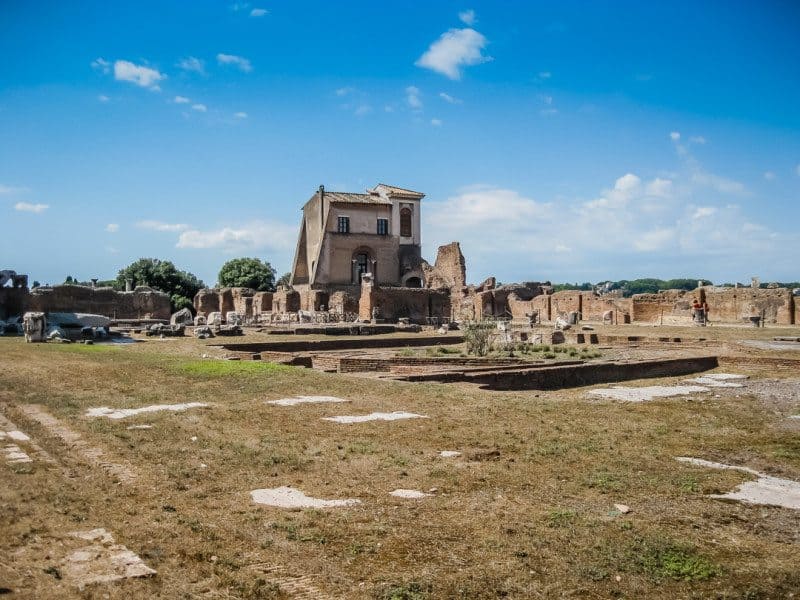 The most famous of the Seven Hills of Rome, Palatine Hill is the most centrally located and stands 40 meters tall. The Circus Maximus, the Roman Forum and the Colosseum surround the hill making it a great place to visit if you want a great view from above.
Archaeological findings show the site was inhabited as early as 10BC and it is known to be the site of the Lupercal Cave where Romulus and Remus were nursed by the she-wolf. It is where Romulus began building the great city in 754BC.
Due to the great views, Palatine Hill was a sought after location for the wealthy and centuries of palaces have been constructed and built over on this site.
See the best of Rome in a 3.5-hour small-group tour by Segway. Explore the highlights of the Eternal City with ease on a Segway, including the Roman Forum, Circus Maximus and the famous Colosseum, along with some unexpected attractions along the way.
Opening Hours: Guided tours of Roman Forum daily 1:00 pm. Oct 30-Feb 15 daily 8:30am-4:30pm, Feb 16-Mar 15 daily 8:30am-5:00pm, Mar 16-26 daily 8:30am-5:30pm, Mar 27-Aug 31 daily 8:30am-7:15pm, Sep daily 8:30am-7:00pm, Oct 1-29 daily 8:30am-6:30pm. Last admission 1 hr. before closing
Ticket Cost: 12€
---
Rome Itinerary – Day 2
---
Vatican Museums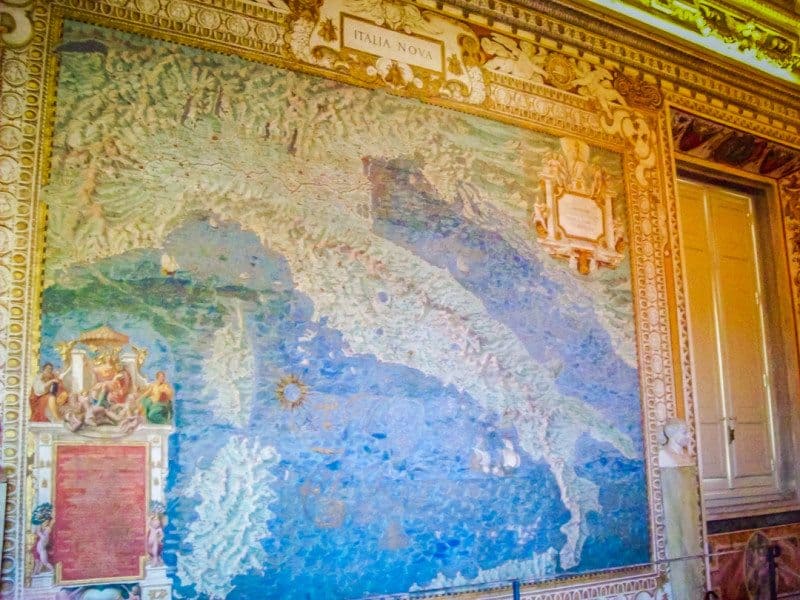 Located within Vatican City, the Vatican Museums comprise several exhibitions within several museum galleries. Pope Julius II and his sons started the collection in 1506 and we're lucky to have such a collection available to the general public.
The first Pope believed that the knowledge of art, history, and culture should be promoted.
The Vatican Museums have various routes designed to take in all the museum highlights within a certain amount of time. There are also guided tours available that will give you more insight into what you are looking at. To walk the entire museum would require a commitment of over 14.5km.
Discover the Vatican on a tour of St. Peter's Basilica, Sistine Chapel, and the Vatican Museums. Navigate the vast complex of rooms, artwork, and history with a guide, who brings the ancient collection to life.
Opening Hours: Nov-Feb Mon-Sat 10:00am-12:20pm, Mar-Oct Mon-Fri 10:00am-3:20pm, Sat 8:45am-12:20pm
Ticket Cost: 14€ adults, 8€ children 13 and under, free for children 5 and under
St. Peter's Basilica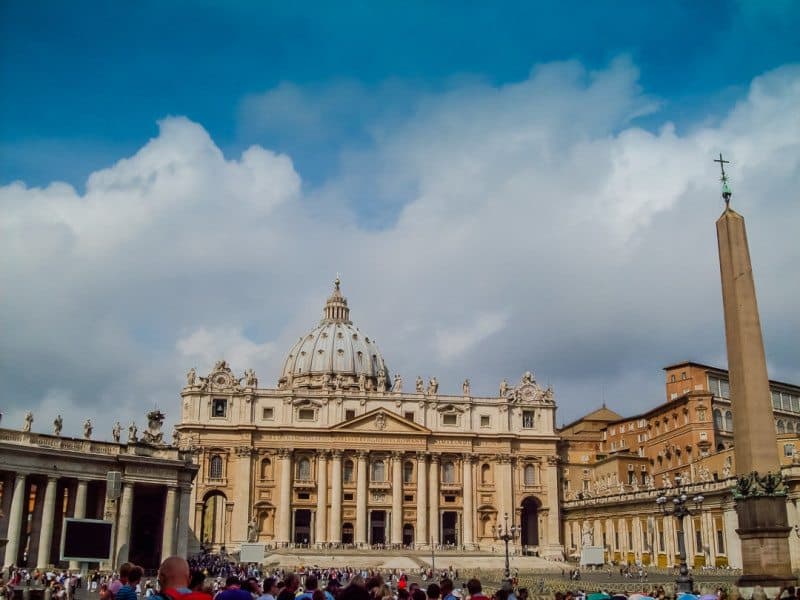 Get ready to check out the holiest and most important church in Christendom and the heart of the Catholic Church. The location is considered to be holy, as the apostle Saint Peter was believed to be buried here is 640AD. A place of worship was first established in 320AD.
Bernini worked on the church for 20 years and in total St. Peter's Basilica can accommodate 20,000 worshipers. When you arrive to visit the holy Basilica you approach the building through the massive St. Peter's Square created by Bernini.
The entire site is a major Catholic pilgrimage site and Christians arriving here begin their visit by kissing the big toe of the Arnolfo da Cambio's brass statue of St. Peter on the right side of the main altar.
Opening Hours: Basilica (including the sacristy and treasury) daily 9:00 am-6:00 pm. Grottoes daily 8:00am-5:00pm. Dome Oct-Mar daily 8:00am-5:00pm, Apr-Sep 8:00am-6:00pm
Ticket Cost: Basilica (including grottoes) free admission. Guided tour of excavations around St. Peter's tomb 10€, children 14 and under are not admitted. Stairs to the dome 4€, elevator to the dome 5€, sacristy (w/Historical Museum) free.
St. Peter's Square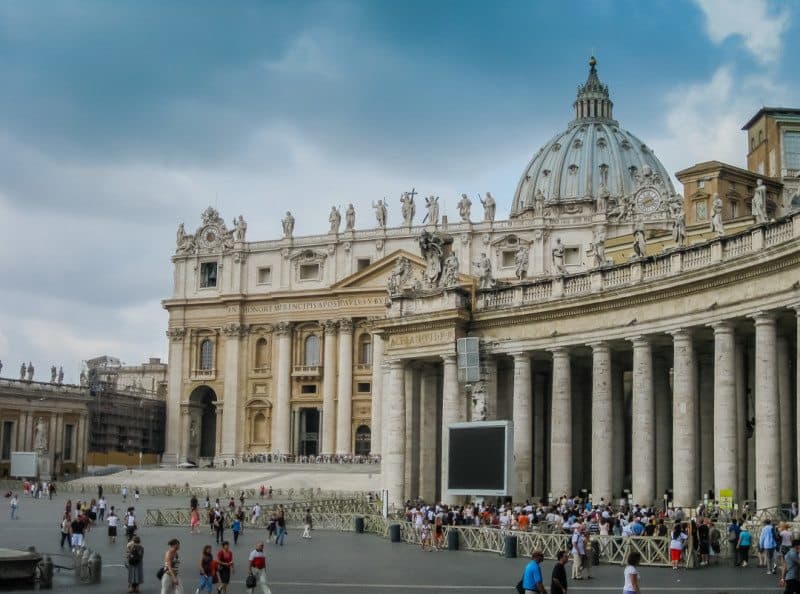 The first site you will lay eyes on when you enter Vatican City is the expansive St. Peter's Square. The square is located right in front of St. Peter's Basilica and was designed by Bernini in the 1600s.
The scale of the square was created to evoke awe in the worshipers who gather here to receive the Pope's blessings from the church. The Pope often appears here to address crowds as well.
The square is paved in cobblestones divided up by radiating lines created from limestone and zodiac signs so that the obelisks can be used as a giant sundial. You will enter the square through the Ponte SAnt'Angelo along the via della Conciliazione.
Discover Vatican City including the Vatican Museums, St Peter's Basilica and the Sistine Chapel. Home to the world's largest private portfolio of artwork, the Vatican is a must-see for visitors to Rome, and the best way to explore it is with a guide.
Be sure to take your time wandering the square and just take it all in, it is a masterpiece of architecture and beauty.
Opening Hours: Always open.
Don't leave home without: Lonely Planet Rome (Travel Guide)
Castel Sant'Angelo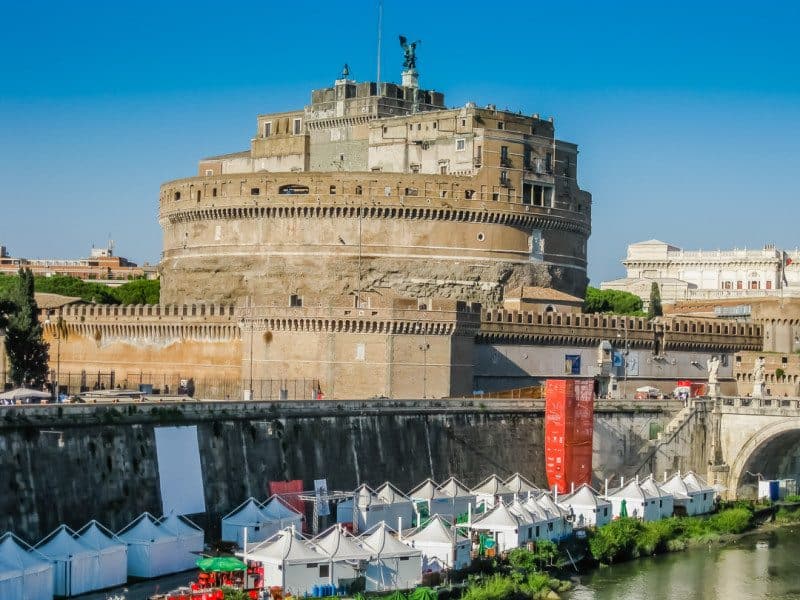 Also known as The Hadrian Mausoleum, Castel Sant'Angelo was constructed in 130AD by Emperor Hadrian on the edge of the Tiber River. This structure has seen a whirlwind of history and changes through the decades and stands as a testament to some of the brutality seen in Rome.
The history of this site is complex and varied with it acting as a sacred place, a fortress, a prison, and a torture complex. Today, you can wander through it only imagining the scenes that have taken place within the walls.
Visitors approach the structure by following a 400-foot long spiral ramp. Visitors can see the beautiful rooms used by the pontiffs with delicate frescoes and on lower floors they can see the prisons and torture chamber.
Dive into the Rome of Dan Brown's bestselling novel on this 'Angels and Demons' tour. Inspired by the book, the tour takes you on a journey through the Eternal City as you search for messages from the secret society known as the Illuminati.
Along the way, admire Rome's beautiful art and attractions like St Peter's Square, Piazza Navona, and Castel Sant'Angelo.
Opening Hours: Tue-Sun 9:00 am-7:30 pm
Ticket Cost: 10.50€, Free for EU citizens under 18.
---
Rome Sightseeing – Day Three
---
Piazza Navona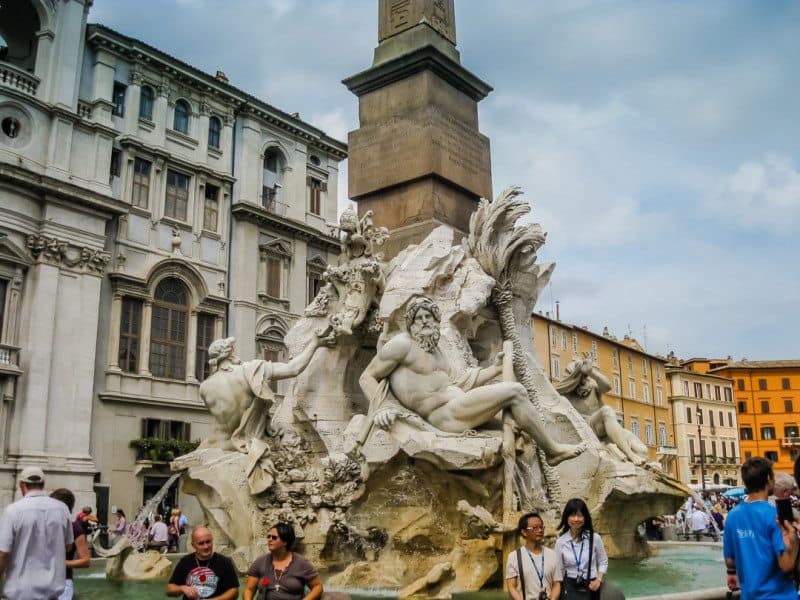 Built in the former stadium of Domitian, Piazza Navona is an elongated, oval square located in the center of Rome. It was paved in the 15th century and used as a market place and venue for special events.
Today it is a popular social place with numerous cafes and restaurants touting Italian cuisine. The main attraction of the square is the three fountains, including the famous Fountain of the Four Rivers.
See ancient Roman ruins and more on this morning or afternoon walking tour. You'll visit key sites like the Colosseum and Roman Forum, enjoying skip-the-line access as you learn about the notorious gladiator competitions of old. Plus, stop for photo ops at the Trevi Fountain among other landmarks.
Opening Hours: Always open
Pantheon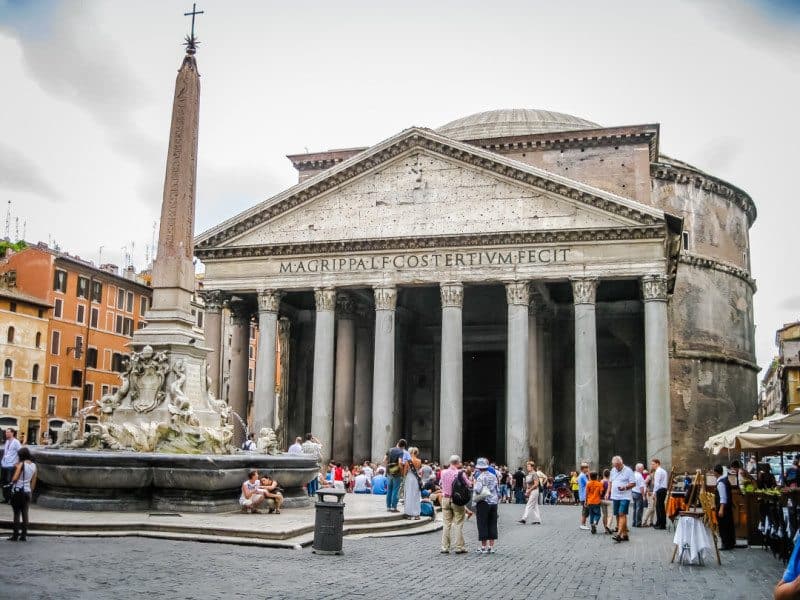 One of the most simple buildings you will visit in Rome, the Pantheon was built on the orders of Hadrian in 118AD-125AD. The original temple burnt to the ground in 80AD and the original inscription can still be seen above the Pantheon entrance.
The building is in great condition due to renovations by the Byzantine Emperor Phocas in 608AD when they converted it into a church. This very church then became the final resting place for several Italian kings the artist, Raphael.
This Rome bicycle tour combines top sights with a few lesser-known attractions and alleyways for an interesting and active way to enjoy the best of the Eternal City.
With a knowledgeable guide, you'll cycle past ancient landmarks like the Pantheon, admire chic shopping streets, check out bustling squares like Piazza Navona and see beautiful churches.
Opening Hours: Mon-Sat 8:30am-7:30pm, Sun 9:00am-6:00pm
Ticket Cost: Free Admission
Trevi Fountain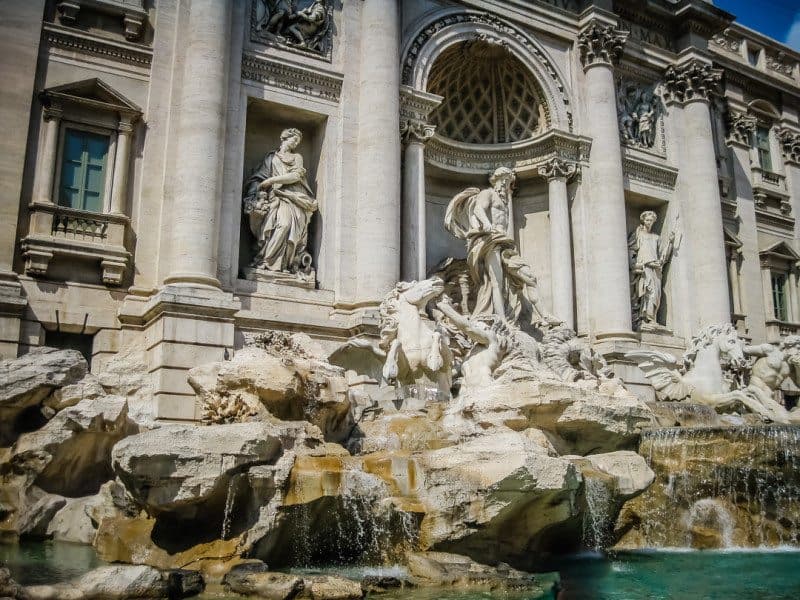 The Fontana di Trevi is the largest baroque fountain in the world and legend has it that if you throw a coin into the Trevi Fountain and make a wish to return to Rome, your wish will be granted.
The fountain stands 26 meters high and 49 meters wide with 80,000 cubic meters of water flowing through the fountain every day.
The crowds can be almost impenetrable during the day, the worst being just before and just after lunch. It is best to visit this site early in the day or evening and you'll have better light for photos at this time too. Bring a sense of humor, everyone will be battling to throw their coins in the Trevi Fountain.
Explore Rome at night on this walking tour that takes in the Eternal City's famous attractions lit up in all their majestic glory.
Opening Hours: Always Open
Spanish Steps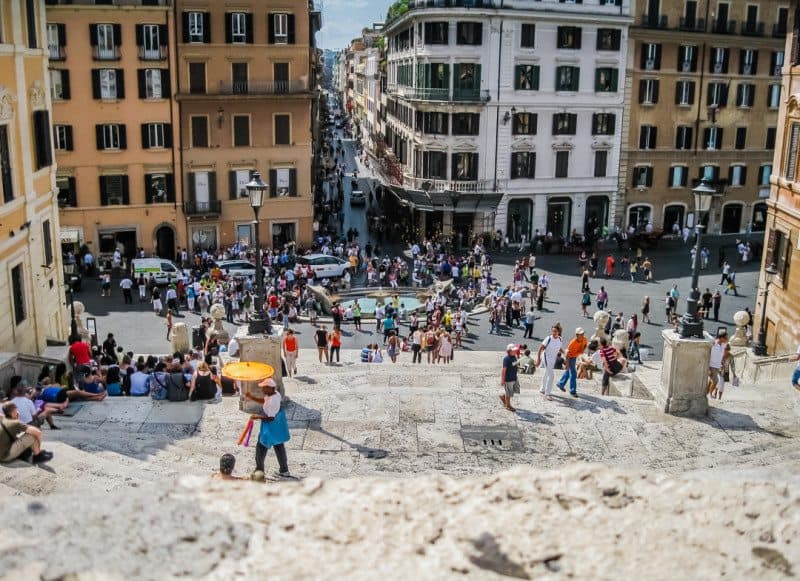 The 137 step flight of stairs was built drawing on the technique of the terraced garden stairs. The stairs signified the peace between the Spanish and the French in the square above. The Spanish steps are one of the most romantic places in Rome and also the widest staircase in Europe.
Enjoy the enchanting atmosphere of Rome after dark on this evening walking tour. With a guide, stroll around the city's historic center to visit attractions like the Trevi Fountain, Spanish Steps, Pantheon and Piazza Navona that, while beautiful during the day, look even more impressive when they're illuminated at night.
Opening Hours: Always Open
Piazza di Spagna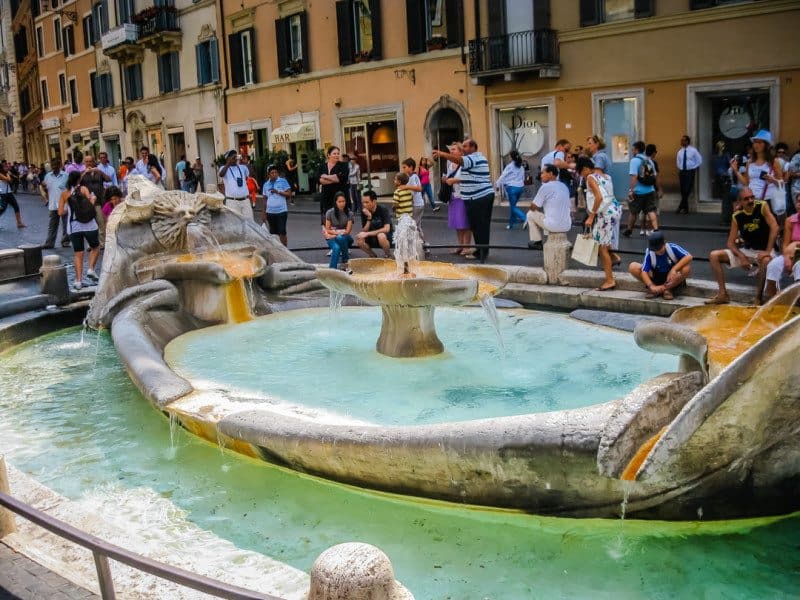 At the bottom of the Spanish Steps is the Piazza di Spagna, which is also worth a visit. The 18th-century square has an irregular shape and extends to the foot of Pincio Hill. The surrounding streets feature top couture stores like Gucci, Louis Vuitton, and Valentino.
With so much to see in Rome, a bike tour is an ideal way to cover lots of ground while saving your feet from fatigue. On this 2-wheeled tour, hop onto a quality bike and follow your local guide through the city's most charming piazzas and interesting neighborhoods.
Opening Hours: Always open.
Capuchin Crypt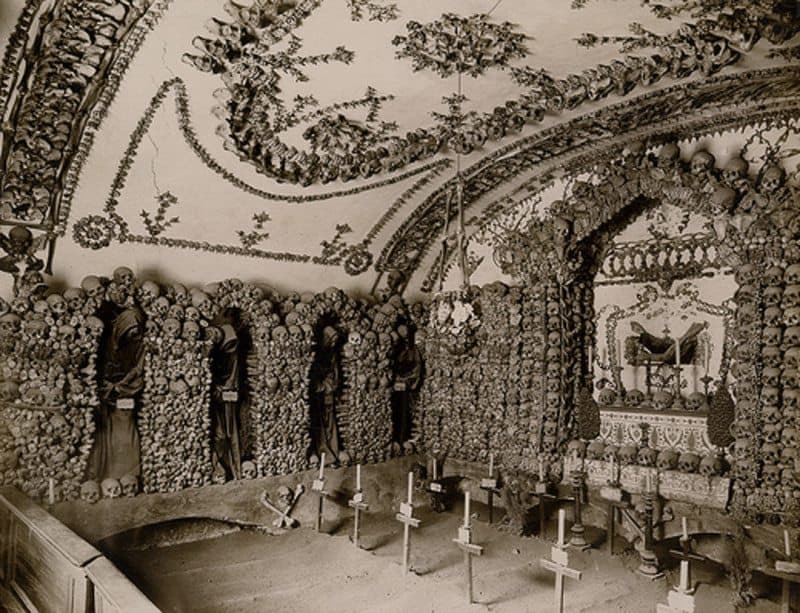 This crypt is located under the Church of Santa Maria della Concezione and holds the bones of over 4,000 dead Capuchin monks. A visit here is not for the faint of heart. The remains are arranged in decorative designs around shriveled and decayed skeletons of their kinsmen.
While strange, the crypt is beautiful and one of my favorite sites in Rome.
After a recent renovation, the crypt has been reopened to the public and can be viewed at the end of the new museum devoted to teaching visitors about the Capuchin order.
Go underground to see Rome's ancient catacombs and crypts on a half-day tour. Visit the Domitilla Catacomb and Basilica of San Clemente with skip-the-line access, plus visit the Capuchin Crypt, where you'll see a Caravaggio painting and marvel at a chapel made entirely out of human bones.
Opening Hours: Friday –Wednesday 9am – 7pm
Ticket Cost: €6 includes museum and crypt
---
Tips for Visiting Rome
---
Take a walking tour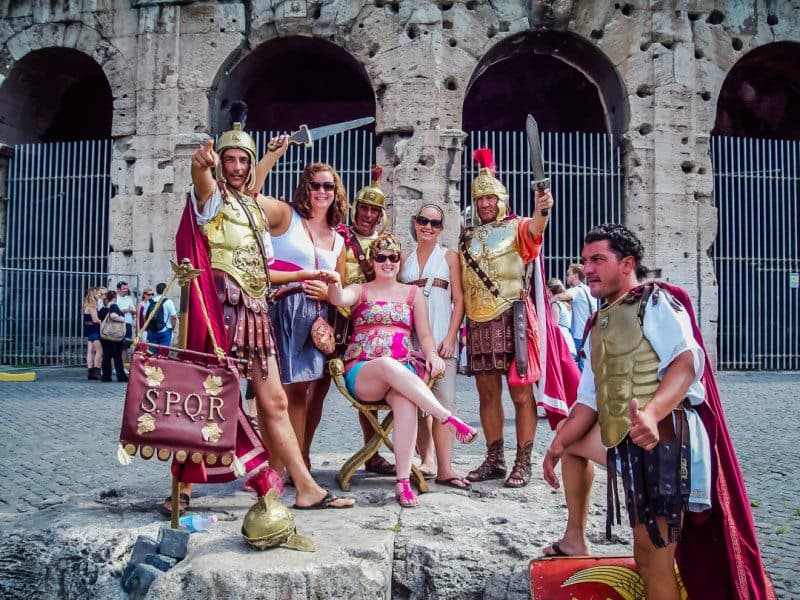 One of our favorite ways to see a new city is by setting out on foot with a local guide for a walking tour. This will give you an intimate look at the city you are in and also give you local insight into daily life.
Plus, they usually know how to avoid the large tourist crowds and how to show you some hidden gems. Plan your own Rome Walking Tour.
Watch your pockets
Most of the main piazzas and major sights in Rome are notorious for being playgrounds of pickpockets. Sometimes even groups of kids will work together to distract and then rob you of your valuables without you even noticing.
While there is rarely a confrontation resulting in injury, keep your valuables secure whenever you enter a busy area. We use Pacsafe bags since they are 100% pickpocket-proof. Never get pickpocket again!
Beware of Scams
Like many of Europe's big cities, there is a multitude of scams that could happen to you. Just keep your wits about you and be aware of your surroundings. If someone is offering you something that is too good to be true, it probably is.
---
Top Hotels in Rome We Recommend
Rome is definitely not in short supply when it comes to accommodation for travelers. You can easily find a place to stay for any budget.
Rome offers great high-end hotels like the luxurious St John's Terrace to the more budget-friendly hotel Castellani A San Pietro.
Read reviews and check prices with our Hotel Search Engine, that gives you the best hotel deals found on the web. Our search engine pulls results from all of the major booking places, including Expedia, Hotels, Booking and more. All the options, all the deals, all in one place and just for you.
Recommended Multi-Day Tours
Best of Italy Summer (Start and end in Rome! With the in-depth cultural tour Best of Italy Summer, you have a 13-day tour package taking you through Rome, Italy and 12 other destinations in Italy. Best of Italy Summer includes meals and more.)
Taste Of Italy (Start and end in Rome! With the discovery tour Taste Of Italy – 8 Days, you have a 8-day tour package taking you through Rome, Italy and 9 other destinations in Italy. Taste Of Italy – 8 Days includes accommodation as well as an expert guide, meals, transport and more.)
The Italian Dream (Start and end in Rome! With the coach/bus tour The Italian Dream, you have a 8-day tour package taking you through Rome, Italy and 7 other destinations in Italy. The Italian Dream includes accommodation in a hotel as well as an expert guide, meals, transport and more.)
How Will You Spend 3 Days in Rome?
Like I mentioned earlier, you could spend a week or more in Rome and just start to touch on all there is to see. However, if your time is short then these iconic places are a great way to start on your first visit to Rome.
Be sure to leave some spare time to just enjoy the culture and atmosphere of the city as there is nowhere else in the World quite like Roma.
If time permits you should also consider a day trip to Pompeii.
More on Italy:
Did you like this story? Share it!