WOOFTA! Another Backpack Review, Deuter Traveller 55+ 10sl! The bag search has been exhausting. I am wondering if every traveler goes through this process before embarking on a long term journey?
Or maybe I am thinking too hard? I am not sure, but I seem to have made a little headway in the search for the perfect bag.

Latest backpack to be critiqued- DEUTER TRAVELLER 55+10SL.
This bag is really neat and it certainly has all the features I have been so desperately seeking in my bag search. It is roomy inside with several mesh pockets built into the bag for storing small, valuable things.
It zips open completely around like a duffel-which makes packing and unpacking it easy. The bottom compartment allows you to either segregate it or open it up into the main compartment.
The harness zips away for airline travel and it has a detachable duffel bag strap on it for carrying it when the harness is stored away. The front part has a detachable day pack that is light, compact and loaded with pockets and mesh.
To boot, the bag is VERY comfortable to wear and has an expansion part that would allow me to open the bag up to 65L, so the 55+10 means you can open that bag up another 10L, not that you get 10L in the daypack (like a lot of them tout).
So I feel that is a bonus. I can't imagine I will need to ever expand it. My reservations tell me that this bag is a touch too big… but I haven't found anything else I like as much as this bag.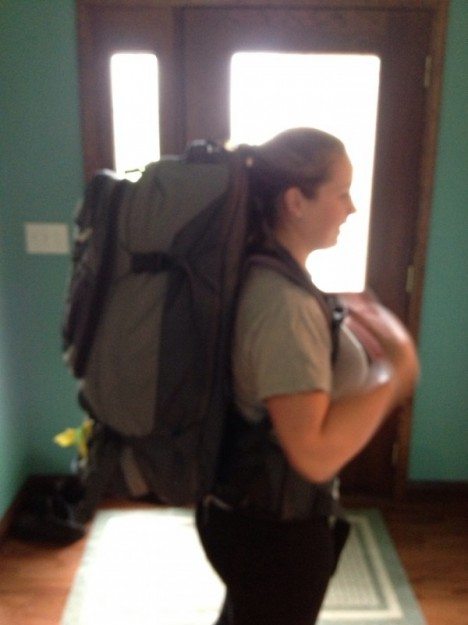 So it is looking like this one will be it. Unless I come across something that has all these features and is 50L…. which I haven't yet!
UPDATE: NOVEMBER 22, 2013
I have decided this bag just won't work for me. It was SUPER comfortable but the rigid frame in it that extends up to my ponytail just doesn't work for me. When I test packed this bag and wore it around the house I couldn't look past how annoying that rigid piece was for me.
So, within 1 day of my returnable window, I returned it. The search continues.
RETURNED!!
Searching for your own travel bag?

Click here to try the Deuter Traveller 55+10 SL Travel Pack for yourself.
More on Travel Gear:
Did you like this story? Share it!