A popular sport in Belgium is biking and with over 2,000 km of bike trails that provide fine riding for any kind of bicycle, it is easy to see why.
Biking is a great way to experience a side of Belgium that locals experience. Most travelers use trains to get from one city to the next, which is a great option if you are short on time, but hopping on a bike gives you a chance to get an up-close look at the countryside and really get to know the country. So begins our adventure of biking from Namur to Dinant.
Our biking adventure took us from the busy town of Namur to the small town of Dinant a total of 30 km down some of the best car-free biking paths in Belgium.
This completely flat route took us through the countryside with beautiful country homes, large rocky cliffs, castles and cathedrals along the peaceful winding Meuse River.
Don't leave home without Lonely Planet Belgium & Luxembourg (Travel Guide)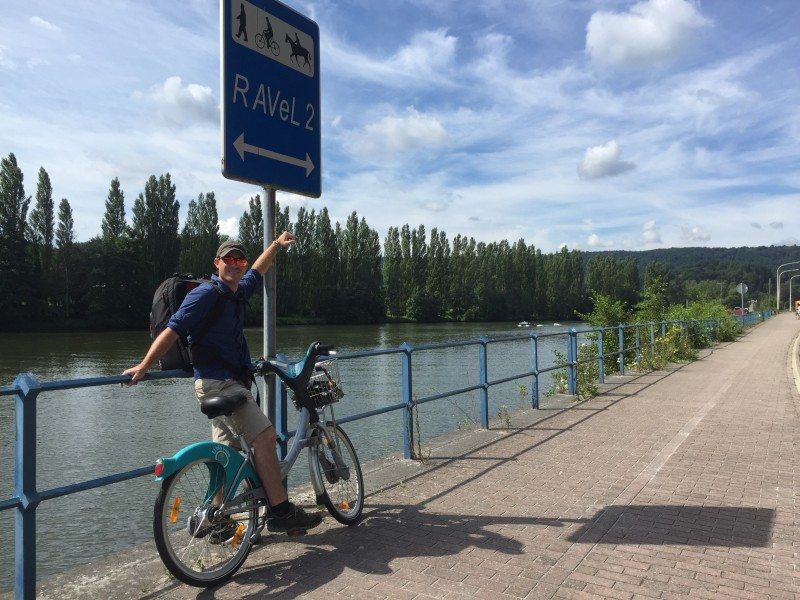 We really did not know what we were getting into when we decided to go biking from Namur to Dinant so we made no plans prior to arriving in Belgium.
After flying from Moscow the night before and taking the first available train from Brussels to Namur we decided to check out the bike rental options for an adventure the following morning.
Since biking is so popular in Belgium, it wasn't hard to find some options although many of them had late opening times and this was a put off for us.
We wanted to embark on our journey early, so we had time to stop for photo opportunities along the way and still make it back to Namur at a decent hour.
In the end, we decided to rent city bikes right off the rack in the street. We were a little worried that our city bikes would not be able to make the full 60k round trip biking from Namur to Dinant but we picked out the best looking bikes and headed off on our biking adventure.
Related Article: All the Reasons I Love Brussels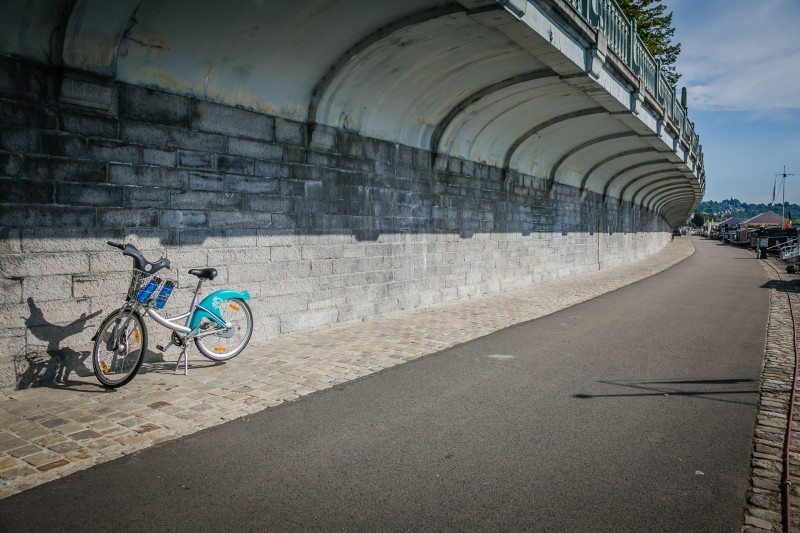 Biking from Namur to Dinant Along the Meuse River
Lina told me to lead the way as we cycled out of the city center in Namur and found the bike trail along the river. We were excited to get out of the city and into the countryside for some exercise and sunshine.
It was one of those perfect outdoor days, not too hot and not too cold. The sun was shining bright and the sky was dotted with clouds. We really could not have asked for a more than perfect day for a biking adventure.
It was early in the morning as we made our way past the docked riverboats that are used to give tours up and down the Meuse River. Everyone we saw waved at us as we passed cruised the riverbank making us feel right at home in the Belgian countryside.
We knew it would take us around two hours to bike the route one way, however, we planned in extra time to stop and take lots of photos along the way.
It's good that we planned it that way because we ended up getting carried away with photos and took more than an hour of extra time. We didn't arrive in Dinant until late lunchtime.
Read reviews and check prices with our Hotel Search Engine, which gives you the best hotel deals found on the web. Our search engine pulls results from all of the major booking places, including Expedia, Hotels, Booking and more. All the options, all the deals, all in one place and just for you.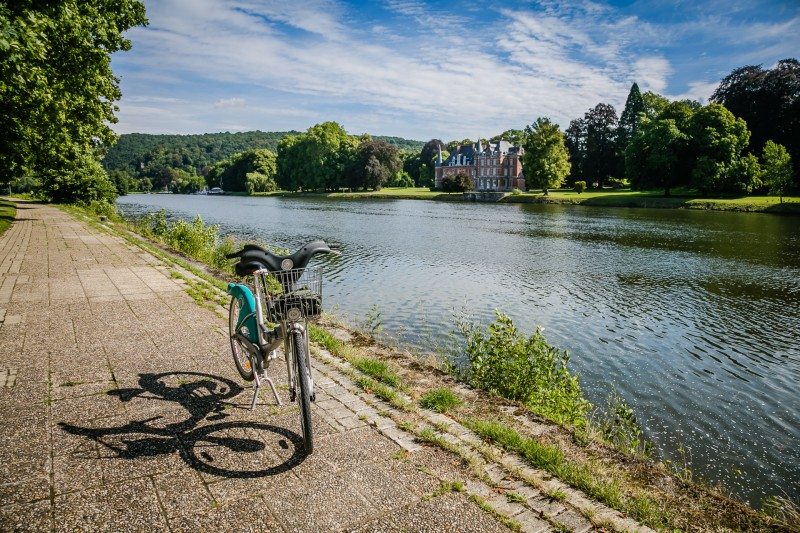 Besides a few bridges and locks, our first major landmark after leaving Namur was the 19th century Dave Castle. Located on the opposite riverbank of our biking path, this castle gave us great views and photo opportunities of the castle along the Meuse River.
If you were visiting the castle you would not be able to get this view since the closest crossing is a few kilometers away. We even found a picnic table and enjoyed the view for a few minutes before heading off down the bike path again.
As we continued down the river we could start to make our large limestone cliffs in the distance opposite the river bank. This site is known as Rochers Du Paradou and is a local rock-climbing site.
You really could not ask for a more picturesque spot to chalk up your hands and harness up with the great views over the river.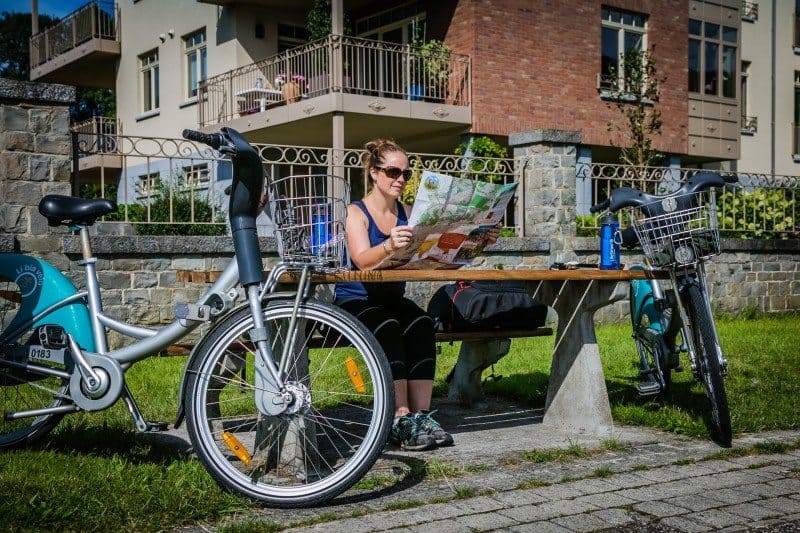 Continuing Along the Bike Trail to Dinant
I love well-marked trails, it does not matter if you're hiking or biking, well-marked trails take out the guesswork and they allow you to have a worry-free adventure.
We knew where we were throughout the whole bike ride and every kilometer was marked with signs telling you how far you had before you reached the next town.
You really cannot beat that, however, it was hard not to count down the kilometers as the day carried on.
Great rides like this always put you smack dab with nature and wildlife. You really do not know what you will run into. Along the riverside, we would hit sections that had wild geese sunning themselves on the paved biking trail.
For anyone who knows geese, they are not very friendly and they can get a little aggressive. It was always fun to hit a section of the trail where these geese were laying because they would stand up and hiss at us flapping their wings.
A few even would chase us as we biked on by. I think we were more scared of them then they were of the bikes but it provided some laughs.
It was surprising the number of boats on the river since we hit a total of six locks along the way. It was fun to stop and watch the locks at work as they filled up for the oncoming boats.
Most boats were transport ships moving different goods; some even had cars on them. Near every lock was a picture-perfect village tucked among the passing hills.
We would meet a few people as we got closer to each village however throughout the entire biking adventure we only saw a handful of other bikers. We had the trails to ourselves.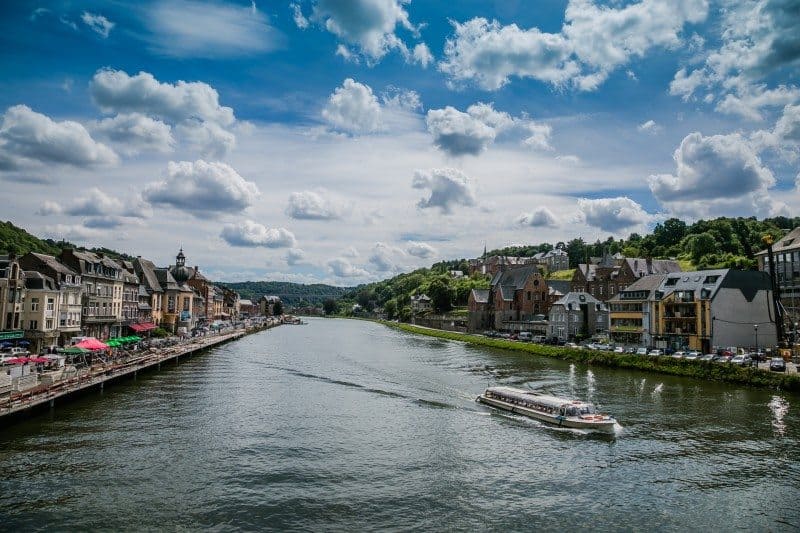 Rough Trails Before Dinant
The only section that was not paved was the last few kilometers before reaching the town of Dinant. As our bike tires hit the loose gravel we could see the city of Dinant in the distance.
Navigating these areas of the trail with city bikes was not pleasant, but we survived. They just are not built to handle the bumps, however, it made for some interesting expressions and forced us up off the seats to relieve our aching bums.
I guess we can't expect a rented city bike off a rack to be fitted to us and despite our best efforts to adjust the bikes according to our heights, our bums took a beating and left that little area that touches the saddle sore for days afterward.
This always seems to happen to us so it's probably time that we look into getting some professional advice for fitting a bike before setting off on another biking adventure somewhere.
Other than that, the cobblestones were outdone by some rough area of the trail that looked as if a truck drove down it in the mud while it was wet.
This part of the path then dried with huge ridges and inconsistent flow. While not hard to navigate it was still annoying on a city bike. Lina often dismounted her bike and walked it through the rougher spots.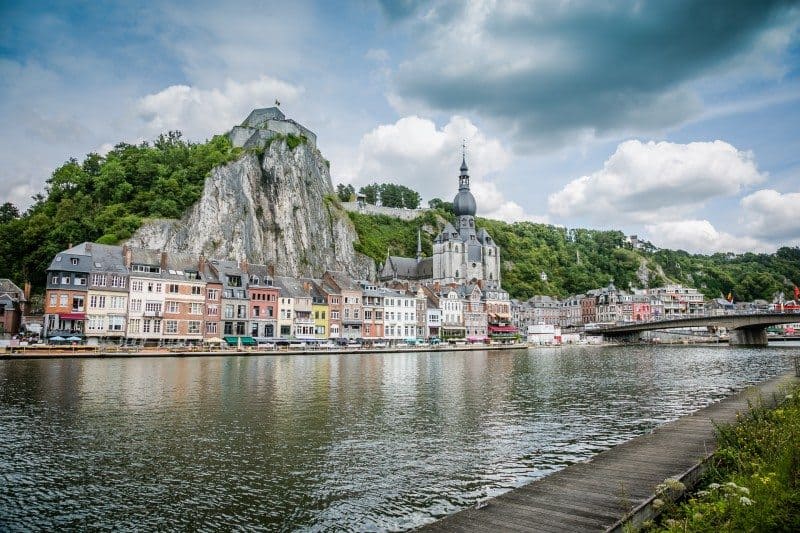 Arriving in Charming Dinant
As we peddled onwards, the colorful town of Dinant came closer into view. We could finally make out the towering Gothic Cathedral Notre-Dame of Dinant with the large Abad Copper Castle looming above it.
Once in the city, Lina and I had to sit on the bridge across from the Notre-Dame and just admire the views of the city along the river.
Of course, this led to a mini photo session before we decided to lock up the bikes and grab a bite to eat. We needed to refuel and were surprised at the abundance of cafes along the river to choose from.
We spent the better part of 3 hours in Dinant, believe it or not. We couldn't get enough of the views after we finished our lunch so we strolled around the river and the main bridge area creating photos.
We also sent the drone up for some aerial views of the village. It was such a beautiful day after having so much rain in Europe this summer that we just lingered in it before setting off on our return to Namur.
Arriving in Dinant was without a doubt the highlight of our adventure biking from Namur to Dinant.
Read reviews and check prices with our Hotel Search Engine, which gives you the best hotel deals found on the web. Our search engine pulls results from all of the major booking places, including Expedia, Hotels, Booking and more. All the options, all the deals, all in one place and just for you.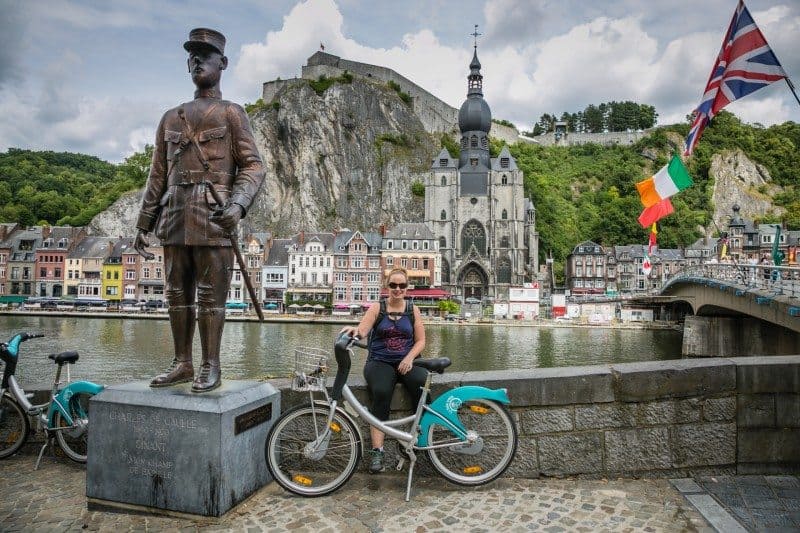 Taking the Train from Dinant to Namur With Your Bike
If you do not want to bike the full 30 km back to Namur, you can also take the train back. It's easy, cheap and the trains are bike-friendly.
This allows you to simply bike one way and take the train back the other way. You will need to buy a bike ticket that is only sold at the station counter by an agent.
Once you have your ticket look for the train car that is marked for bike passengers. If you cannot find it, one of the nice conductors will gladly show you where to go.
The bike car is filled with fold-up seats and lots of room for you and your bike. The train ride from Namur to Dinant takes no more than 30 minutes.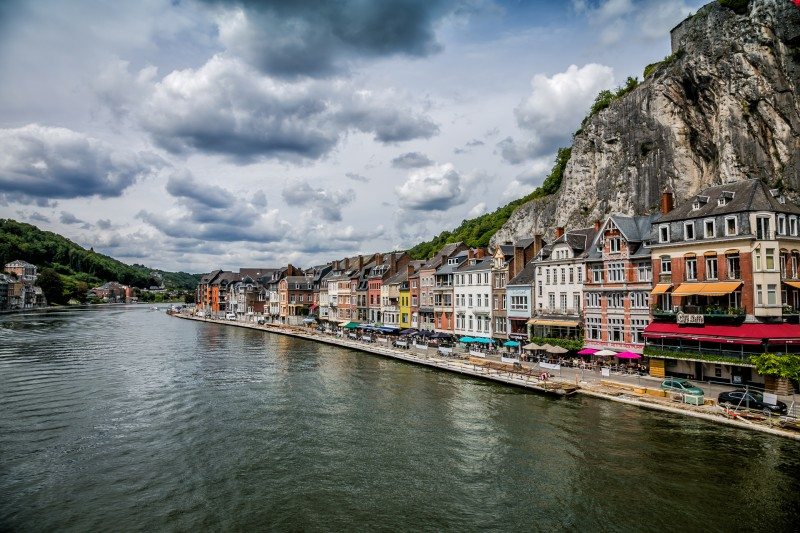 Suggestions for Planning Your Own Bike Trip
We suggest staying in Namur, which is easily connected to and reached from Brussels. It only takes 1 hour from Brussels central station by train to arrive in Namur.
We recommend staying here because the city is a bit bigger than Dinant and has more options for dining and other activities. Dinant is great, but it is a small town and things close down outside tourist hours.
Accommodation: We stayed at the Hotel Les Tanneurs which is well located in the city of Namur. It is situated between the train station and the river and provides very spacious accommodation and a healthy breakfast.
Check rates and reviews at the Hotel Les Tanneurs for your own stay in Namur.
More on Belgium:
Did you like this story? Share it!