Rio de Janeiro is the most iconic city in Brazil. It's a city that will both excite and intimidate you in equal measure, but once you're used to its size, scale and sprawling nature, you'll quickly fall for it, as many a traveler has before you.
Fast-paced urban life is juxtaposed against the laid back beachside living, few other cities in the world can boast such a dramatic coastline on their doorstep. Explore museums in the morning, stroll through lively districts, and perhaps even join a Favela tour to see how the other side lives in Rio de Janeiro.
Then spend your afternoons under the sun, basking on Copacabana Beach, before soaking in the carnival-like atmosphere long into the night.
There is no shortage of things to do in Rio de Janeiro and we're here to help you to plan your visit to one of our favorite cities in the world. This is our personal guide to the best sights and activities to enjoy in this unrivaled South American destination.
Don't leave home without: DK Eyewitness Travel Guide Brazil
---
40 Best Things to do in Rio de Janeiro
---
1. Christ the Redeemer
The statue of Christ Redeemer is undoubtedly the symbol of Rio de Janeiro and it is a must-visit location when you are visiting the city.
Yes, it will be busy and no, it's not one of the more unique things to do in Rio de Janeiro, but it is certainly iconic and no trip to the city is complete without seeing it up close.
The staggeringly large statue of Jesus Christ is found atop a tall mountain peak overlooking the city, offering spectacular views out across the city below, and far along the coastline.
It is best to get here early if you can, to avoid at least the worst of the inevitable crowds, but either way, it's always a glorious sight.
Our top recommended tours of Christ the Redeemer:
2. Sugarloaf Mountain
Sugarloaf Mountain is another of the city's most recognizable sights and one of the best things to do in Rio de Janeiro is to ride the cable car to the summit.
Found in the Guanabara Bay, the cable car ride begins at Vermelha Beach and takes you to the rocky peak of Morro da Urca. From here, it carries on again to the top of Sugarloaf Mountain itself, which stands just over 500 metes high.
At each stage of the cable car ride, you can find wonderful vistas, as well as shops and souvenir stands.
Moor da Urca Trail up to Sugarloaf
For those who are looking for more of an adventure than taking a cable car up to the top of Sugarloaf mountain, you can hike up to the top on the Moor da Urca trail.
This easy hike starts in the neighborhood of Urca on the eastern edge of Rio de Janeiro's Zone Sul. Where it is home to the first stage of the famous cable car that shuttles tourist up to the summit of Sugarloaf.
It takes around 1 ½ hours round-trip to hike Morro da Urca. This trail is almost entirely sheltered by trees and is well-traveled. Taking this path will allow you to experience a side of Sugarloaf that many tours are missing by taking the cable car.
Our top recommended tours of Sugarloaf Mountain:
3. Hang Gliding
If you are visiting Rio de Janeiro there's one adventure you must do, hang gliding. Rio de Janeiro is unlike any other city in the world being cradled around towering mountains. This Brazilian city is where the rain forest meets the sea.
Rio de Janeiro has amazing views from the ground all around the city but just imagine the views from the sky. Take in the views of Rio's world-class beaches and amazing sites while gliding through the tropical air like a bird.
There's no experience needed and there's no other place on earth where you should give it a try. Hang gliding in Rio de Janeiro is a world's Top 100 Travel Adventure and a must-do when visiting this amazing city.
Fly above the skies of Rio today, as we did on this amazing Rio de Janeiro Hang Gliding Experience.
Book: Rio de Janeiro Hang Gliding Experience
4. Parasailing
Rio de Janeiro has some of the best beaches and coastlines in the world. So naturally, parasailing in Rio de Janeiro has to be on your top things to do in Rio de Janeiro list.
Soar over the beautiful coastline on an epic parasailing adventure. It does not matter if this is your first time or if you have done it before, you will not be disappointed.
Get a bird's eye view of the city's most iconic landmarks and coastlines as you enjoy our solo or tandem flight above the crystal clear waters of Rio while being towed by a boat.
Book your Parasailing adventure
5. Paragliding
Rio de Janeiro is an amazing city with beautiful views and breathing landscapes surrounding it. Step out of your comfort zone and into the skies above Rio de Janeiro while paragliding.
Soar like a bird and relax as you take in the amazing views above Tijuca forest and Guanabara bay as your pilot navigates you through the sky. Paragliding in Rio is a unique adventure that will give you a different perspective of this amazing city.
Book your Paragliding adventure today!
6. Copacabana Beach
Brazil's most famous stretch of sand, Copacabana is a must-visit destination for anyone in the city. Found on the southern side of the city, overlooking the Atlantic Ocean, Copacabana Beach is where the skyscrapers meet the sea.
This long, sandy beach is always full, despite its seemingly endless length, and it's always busy and bustling. The beach is 4 kilometers long and you can walk along the surf, the sand or the long boardwalk that follows it.
You'll find plenty of bars, restaurants, and parties at Copacabana.
Our top recommended tours of Copacabana Beach:
7. Ipanema Beach
Not quite as famous as its neighbor at Copacabana, Ipanema Beach is found in the next bay along the shoreline. It's just as spectacular to see, as the city here is built right up to the sands too.
Here you can find endless sunshine, endless bars and endless restaurants strung out along its length.
A visit to Ipanema Beach is one of the best things to do in Rio de Janeiro and you may just find that you keep returning time after time to soak up the sand and the good vibes.
Our top recommended tours of Ipanema Beach:
8. Prainha Beach
Prainha is home to another of Rio de Janeiro's beautiful beaches and this is just about as untouched as it gets. Found on the far western coastline, the beach is set away from the city and surrounded by rugged nature.
There are a few great restaurants and the odd ramshackle bar, but aside from this, there is very little development this far out of the city, making it the perfect getaway.
Our top recommended tours of Prainha Beach:
9. Museum of Tomorrow
Take a break from the sun, cocktails, and beaches of Rio de Janeiro to visit the fascinating Museum of Tomorrow.
The distinct, spaceship-like outer structure of the museum is unmissable, and you'll find its futuristic facade jutting out prominently into the bay by the center of the city.
The museum will take you on a journey through the history of space, the earth, and far beyond into the future, as it imagines what the world of tomorrow might be like for humanity.
Our top recommended tours of the Museum of Tomorrow:
10. Museum of the Indian
Another intriguing museum to visit while you are in Rio de Janeiro is the understated Museum of the Indian. Modern Rio has a cultural and ethnic makeup like few other cities in the world, and few other cities can claim to be quite so diverse.
Unfortunately, though, the original indigenous inhabitants of Brazil are often overlooked.
The Museum of the Indian however, despite being small in size, offers visitors the chance to learn more about the country's original inhabitants, their history and culture.
Related Article: 34 Amazing South America Adventure Experiences
11. Dona Marta Lookout
The viewpoint from Dona Marta lookout is as impressive as the view from the Christ the Redeemer Statue but without all the people. This is why it makes our list of top things to do in Rio de Janeiro.
Known as the most beautiful views of Rio de Janeiro this once old helicopter takeoff points is now turned into one of the best locations to watch the sunset over the city.
The Dona Marta lookout offers full 360 views of Marvelous City, Urca, Botafogo and Flamengo beaches, Sugar Loaf, Maracana, Christ the Redeemer Statue and the Bay of Guanabara.
12. Botanical Garden
One of the best things to do in Rio de Janeiro is to visit the verdant greenery of the Botanic Gardens. Here you can find thousands of unique species of plants sourced from across the world, but most significantly from the huge biodiverse rainforests found across Brazil itself.
The garden is over 200 years old, and although it started as just a small collection of flora, it's since grown into a huge botanical haven.
Our top recommended tours of the Botanical Garden:
13. Catedral de Sao Sebastiao (Rio de Janeiro Cathedral)
The Rio de Janeiro Cathedral looks to be Mahan pyramid placed in the middle of modern cityscape of Rio de Janeiro, it sticks out like a sore thumb and is one of the most unusual looking cathedrals I've seen in all of my travels.
That being said, what is in the inside counts. The outside is less to be desired but head inside and gaze up that the towering rows of stain glass windows that run top to bottom like ribbons.
This church is dedicated to Saint Sebastian, the patron Saint of Rio de Janeiro and is an operating church.
14. Tijuca National Park
Not many cities the size of Rio de Janeiro can claim to have a rainforest within the city limits, but this is no normal city.
The sprawling forest found within Tijuca National Park is a haven for wildlife and flora, and it's all just a short journey away from the center.
You can ride a train through the forest, hike along footpaths and visit incredible viewpoints overlooking the city.
It's a breathtaking place, made all the more bewildering by the surrounding skyscrapers and densely packed districts of Rio de Janeiro.
Historic Valley Circuit: A 7.5 km hiking trail that takes you to fountains and monuments of historical and cultural interest.
Paineiras Road: The Paineiras road end at the feet of Christ Redeemer. Along the way up there are endless amounts of lookouts with exceptional views of South Rio that include Rodrigo de Freitas Lagoon, the beaches of Copacabana, Ipanema, and Leblon, and Cagarras Island.
Parrot's Beak: Parrot's Beak is one of the most frequented peaks in Tijuca National Park. Its resemblance to a parrot's beak and offers fantastic views of the beaches of Barra and Recreio.
Tijuca Peak: This is the highest point of Tijuca National Park standing at 1,022 meters. Accessible by trail or climbing, this lookout will give you a 360 view of the city.
Gavea Rock (Pedra da Gavea): This is a great rock for rock-climbing, it stands 842 meters above sea level.
Vista Chinese: If you are looking for great views you must hike up to Vista Chinese. This charming little Chinese structure dates back to 1903 located 380 meters high in Tijuca National Forest.
Pedra Bonita: Pedra Bonita is one of Rio de Janeiro's most popular hikes due to the amazing views of all of the different parts of Rio that can be spotted at the top. This is where many of Rio's paraglider/hang glider launch and is located in the Tijuca Forest.
Our top recommended tours of Tijuca National Park:
15. Largest Street Art Mural in the World
The city of Rio de Janeiro is one of the most colorful cities in the world and one of the most artistic cities I've ever experienced. Art is everywhere and everywhere you look you will find not good street art but great street art.
There is no better place to view Rio's street art than along the 560-foot waterfront known as the Olympic Boulevard. Here you can appreciate the largest mural graffiti in the world.
These murals come to life as you stand in front of them. The eyes of a Tajapo boy from Brazil, a Mursi woman for Ethiopia, a Kayin woman from Thailand, a Supi man from Northern Europe and a Huli man from Papua New Guinea see to stop you in tracks with lifelike detail.
The most famous works of art are by Eduardo Kobra, representing humanity's common ancestors, the indigenous people from America, Asia, Europe, Africa, and Australia.
You can also find other murals by graffiti artist Andre Calila Cadiz, Jr or Rita Wainer along the Olympic Boulevard.
Don't leave home without: DK Eyewitness Travel Guide Brazil
16. Forte de Copacabana (Copacabana Fort)
This fortress is located between Copacabana and Ipanema. It gives great views of Copacabana beach since this structure is located at the end of the small peninsula.
The fort is home to the army history museum that will give you an inside look at the war.
This is a great place to sit back and relax, there are two cafes with outdoor sitting area that will have you enjoying a panoramic view of Copacabana beach.
On Sundays enjoy a live open-air concert where you will find locals dancing from the age of 2 to 92.  
17. Grumari Beach
Another breathtaking piece of nature waiting to be discovered close to the city is Grumari Beach. Although Rio de Janeiro is a city of beaches, Grumari is different, because there's almost no development here.
It's set away to the southwest of the center, far enough along the coast from the popular spots of Copacabana and Ipanema to be far removed from the crowds, but not so far that you can't still day trip here from the city.
The sands are virtually pristine, and if you're into it, you can even find a nude beach just a bit further to the west.
Our top recommended tours of Grumari Beach:
18. Rodrigo de Freitas Lagoon
The Rodrigo de Freitas Lagoon is a huge lake that's found inland of Copacabana and Ipanema Beach, forming part of the epic view you see from the top of the likes of Sugarloaf Mountain or Christ the Redeemer.
It's unmissable, given its size, and it's a great place to get outdoors.
You can take to the water, kayaking, rowing or anything else aquatic that might take your fancy, or you can hike, bike, or jog around the cycle paths that extend around much of its circumference.
19. Take in a Football Match
When most people think of Brazil they think of Football. Whether you're a die-hard football fan or just someone who wants to take in a sporting advent while traveling you must check out a football match while in Rio.
Some of the best local teams are Flamengo, Botafogo, Fluminense, and Vasco. Attending one of these games will guarantee a great match with an amazing atmosphere.
The Maracena stadium is one of the largest stadiums in South America, second only to Estadio Monumental in Peru. The energy in this stadium is truly amazing during a football match.
Book your Rio football experience
20. Visit the Lapa District
Lapa is one of Rio de Janeiro's central districts and it's a great place to explore the urban side of the city.
One of the best things to do in Rio de Janeiro is to visit the famous Lapa Steps, a brightly painted walkway in the district, as well as the architecturally magnificent aqueduct that cuts through the area.
Lapa is somewhat of a creative center in the city, but as well as being home to great galleries, it's also a cultural center renowned for its bars and cafes too.
Our top recommended tours of Lapa District:
21. Parque Lage
What makes Rio de Janeiro so great is all of the green spaces tucked within the city. Parque Lage is tucked away at the foot of the Corcovado in the Jardim Botanico neighborhood.
This once sugar mill turned into a mansion with old stables, a mysterious cave, a castle-like tower, a massive aquarium now is home to the Escola de Artes Visuals do Perque Lage that showcases galleries of students art.
It's 52 hectares is a great place to sit back and enjoy nature. At the backend of the park is the start of the hiking trail that leads up to the top of Corcovado that passed by waterfalls as you climb up to the lookout just below the Christ the Redeemer.
22. Take a Favela Tour
The daring traveler looking to see the other side of Rio de Janeiro can join a Favela tour while visiting the city.
It's not for everyone, but if you sign up with a reputable company you'll be given the opportunity to see parts of the city that are usually off-limits to solo travelers.
It's another world, especially compared to the glitz and glamour of the beaches and the wealth of the central districts.
You'll end the tour with a new appreciation for the less well off of the city and the struggles they go through to live in this urban metropolis.
Our top recommended tours of Favela Tour:
23. Carioca Aqueduct (Arocos da Lapa)
Located in the Lapa neighborhood is a large aqueduct that looks to be out of place among the modern buildings.
This aqueduct called Arcos da Lapa (Lapa Arches) was inaugurated in 1750 to bring fresh water from the Carioca River into the city of Rio.
It's a great example of Colonial architectures and engineering that has lasted the test to time. In today's day the aqueduct that used to carry water carry's something else.
It has been transformed into a bridge for the ever-popular Bondinho de Santa Teresa that carries tourists and locals uphill to the Santa Teresa neighborhood.
Bondes de Santa Teresa: This is also the start of the Bondes de Santa Teresa that runs from Carioca Station and Dois Irmãos. This historic tram line in Rio de Janeiro follows a circuit up and down Santa Teresa hill and offers great views of the city. The tram was the first introduced as a mode of transpiration for locals but now has turned into more of a tourist trap. This is a great way to explore the city of Rio.
24. Go on a Helicopter Tour
There is no better way to see the amazing city of Rio de Janeiro than from above on a helicopter tour. Get a bird's eye perspective of some of Rio's best attractions, beaches, and bays while exploring in comfort.
Capture that photo of Christ the Redeemer that your friends didn't get while soaring above the city of Rio de Janeiro in a helicopter. A helicopter tour of Rio de Janeiro is a bucket-list and a once in a lifetime experience.
For those who are more adventurous or photographers, we recommend taking a door off helicopter tour as we did.
Book your helicopter adventure above Rio de Janeiro
25. Try Surfing
When you think of top places to surf in the world what comes to mind? Hawaii and Australia are probably on the top of most people's minds as top surfing places, but did you know Rio de Janeiro in Brazil always ends up in the top 5. It's true.
So naturally one of the best things to do in Rio is not just to sit on the beach and enjoy the sites, it is grabbing a surfboard and hitting some incredible waves among crystal clear waters against a stunning backdrop.
That's right Rio has a huge surfing community. There are great spots all around the city for varies of levels.
Book your Rio surfing adventure today!
26. Parque das Ruinas (Santa Teresa Museum)
Another great lookout in the city of Rio is at Parque das Ruinas. These ruins overlook the beautiful scenery of downtown and Guanabara Bay. This public park with an excellent art gallery is built around the ruins of the old mansion that was hone to Laurinda Santos Lobo.
The Parque das Ruinas also has many outdoor concerts throughout the year and houses a bar. Be sure to ask around for the schedule during your visit to Rio, you may be able to catch a show.
27. Take a Food Tour
Rio de Janeiro is home to some of Brazil's best restaurant and best dishes and a food tour through the city's best culinary districts will give you the opportunity to taste all the delights of Brazilian cooking.
The best food tours will take you to the little known local places, where you can sample the best-tasting dishes to be found in Rio.
Our top recommended tours of Rio de Janeiro Food Tours:
28. Hop-on Hop-off Rio Line Bus Tour
Discover the best of Rio at your own pace while on the hop-on-hop-off bus. That's the magic of a hop-on hop-off bus tour. If you want to get off and explore just do it or if you want to stay on the bus and just see the city, you can do that as well.
Hop-on hop-off bus tours are one of the best ways to see the city. 
Experience all of Rio de Janeiro's top attractions with commentary on board the bus to learn more about each location and explore each attraction for as long as you'd like.
Book your hop-on hop-off bus tour of Rio
29. Markets in Gloria and Uruguaiana
I don't know about you but when I travel, I love to roam through local markets. The sights and sounds give me a true feeling of what it is like to live there. One of the best ways to experience Rio is by exploring one of its many markets.
There are many markets spread around the city filled with, fruit, vegetables, seafood, antiques, and souvenirs. Gloria and Uruguaina are the best markets in Rio de Janeiro.
If you are a foodie or if you are just looking for some local life away from the Brazilin beach scene, head to the farmers market in Gloria. Here you can find some of the best fruit and vegetable stalls, along with lively locals.
Uruguaiana market has hundreds of stalls selling anything you can imagine. Just think about the great treasures to be found in this market.
30. Soak up the Night Life
This is a city that never sleeps, and one of the best things to do in Rio de Janeiro is to indulge in the nightlife.
While the city might have a bad reputation when it comes to late nights, in the right areas you can enjoy the drinks, the bars and good company without too much to worry about.
Lapa has great bars, while the Santa Teresa District is known for its laid back drinking locations.
Rio Scenerium: A must hit is the Rio Scenerium. This multi-level night club has live bans playing while Samba dances show off their talents nighly. What's great about the three different levels is that there is always different kinds of music play from the classic Samba music to today's hits.
Our top recommended tours of Rio de Janeiro Nightlife:
31. Largo do Boticario
Tucked into the fading hillside of the Cosme Velho neighborhood lies Largo do Boticario. This district of Rio is known for its abandoned houses, unique architecture with vibrant colors and how Rio's jungle is always creeping its way into the city.
This is a great stop for those who wish to explore the more traditional of Rio de Janeiro, we experienced great views while walking its colorful graffiti streets while snacking on some locally made chocolate that we bought off a 90-year-old lady.
Largo do Boticario is also the place where you can catch the Corcovado train that goes up to Christ the Redeemer.
32. Pedra do Telegrafo
Pedra do Telegrafo is one of the most Instagrammed locations in Rio de Janeiro. It's a popular hike that leads to a great lookout with rocks at the top. Here people pose for photos hanging in the air above an abyss when really, they are not hanging.
The hike itself is 2 miles long and offers stunning viewpoints along the way. The waiting line for photos can range from 1-2 hours depending on the time of the year. Be sure to leave early and take plenty of water.
Book: Pedra do Telégrafo Hiking Tour
33. Pedra do Sal ('Rock of Salt")
Tucked down a back street in the neighborhood of Saude surrounded by graffiti painted buildings of musicians is a spot that comes alive at night.
The Pedra do Sal (Rock of Salt) is a popular plaza known for its Monday and Friday night samba parties.
This is where Somba lovers, cold beer and friends gather in Rio de Janeiro. You cannot get any more local than this in Rio.
Pedra do Sal also known as Little Africa has a special significance to residents of Rio de Janeiro of African descent.
History tells us that this is where many escaped and freed slaves lived and where great sambistas have played.
34. Pedra do Pontal (Pontal Stone)
Pedra do Pontal is a small island that lies between Recreio dos Bandeirantes beach and Macumda Beach. It is connected to the mainland by a small narrow strip of sand that comes and goes with the tide.
This is a great spot to watch a sunset. It's a popular Instagram spot so waits can be anywhere from 20 minutes to 1 hour for the photo spot.
Book: Rio Fresh Combo: Pedra do Telégrafo & Wild Beaches tour
35. Ilha Fiscal
Located in Guanabara Bay on its own island is a fairytale-like palace that serves as a reminder of a time when the city was the capital of the Brazilian Empire.
This Gothic-Provence style building was inaugurated in 1889 and was used as the offices of the Brazilian customs authority.
This palace served as the scene for the last ball offered by the imperial government before being overthrown six days later. It surprisingly survived the overturned government and the test of time.
Nowadays this palace is home to a museum, and it has lost a little of its extravagant style but is still worth visiting.
36. Behind the Scenes of Carnival
Step behind the scenes and discover what Carnival is all about. This tour provides a behind the scenes tour of one of Rio's top samba schools. You'll learn about the full history of Samba and the Carnival parade.
Get full access to their carnival creation before it is revealed in the Carnival parade. That's right, walk among their floats in their custom warehouse as they are being created.
Admire the costumes as they are being created in front of you and even dress up and dance in past years' costumes as a samba expert teaches you how to dance.
Book your own Behind the Scenes of Carnival
37. Mangueira's Polacio de Samba
Magueira's Polacio de Samba is one of Rio's oldest samba schools and one of the best in all of Brazil.
In September this samba school rehearsals their Carnival performance with open door dance parties to the public every Saturday night.
The party is always lively with friendly local Brazilians dressed up in sensual costumes that weave little to the imagination.
Be prepared to be hypnotized by the flurry of legs on the smiling extremely talented samba dances showing their moves.
38. Plan Your Visit for Carnaval
It's time to celebrate life with song and dance. Carnaval is one of Brazil's most famous festivals and if you are in Rio at the right time of the year you simply can not miss out on this experience.
So if you have not booked your trip yet, you should really think hard about booking when Carnaval is going on.
Rio de Janeiro holds Brazil's most famous carnival celebrations that last for an entire week, ending with thousands of people at the world-famous Sambodromo stadium wearing masks, colorful costumes, where they dance all night long to the beats of drums and music.
The best of the best in Brazil participate in Carnaval in Rio. You will experience beautifully dressed samba dancers atop amazingly decorated moving floats that include fire, water, and other effects that get the stadium of hundreds dancing as they make their way through.
For an intimate Carnaval experience in Rio: Book the 6 day Rio de Janeiro Carnival experience with G Adventures
39. Plan a Side Trip to Ilha Grande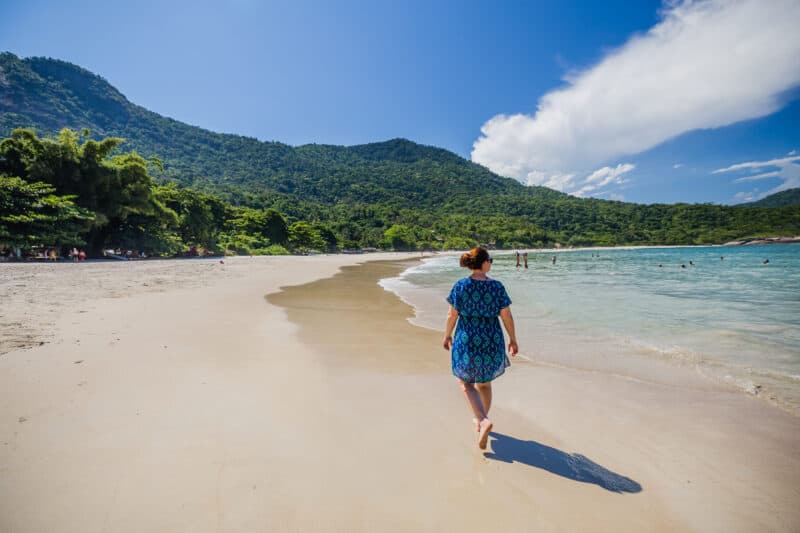 Not too far from Rio de Janeiro are some of Brazil's best beaches on the car-free island of Ilha Grande. This beach lovers paradise is just a few hours from Rio de Janeiro and a visit to Ilha Grande will not disappoint you.
Check out our Ilha Grande, Brazil Planning Guide.
Another great city to visit is Paraty, one of Brazil's best kept colonial towns that offer endless adventures. Get lost among its cobblestone streets or while hiking to one of the many waterfalls located just outside of town.
---
How we Explored Brazil
We spent one week in Rio de Janeiro and 15 days exploring the rest of Brazil on the Wonders of Brazil tour with G Adventures. This tour allowed us to experience the best of what Brazil has to offer in a small group tour.
We danced to the sounds of samba in Rio de Janeiro before hitting Carnival. We relaxed on some of the best beaches in Brazil on Ilha Grande.
We were transported back into time while walking the historic cobblestone streets of Paraty. We stood on the edge of Iguazu Falls on both the Brazil and Argentina sides.
We explored the wild side of the Pantanal wetlands, where we looked for caimans, jaguars and exotic birds.
There was no shortage of wonderful experiences, as Brazil is a pretty epic destination.
Read reviews and check prices with our Hotel Search Engine, that gives you the best hotel deals found on the web. Our search engine pulls results from all of the major booking places, including Expedia, Hotels, Booking and more. All the options, all the deals, all in one place and just for you.
More on Brazil:
Did you like this story? Share it!