One of the first questions that come to mind about traveling to the Amazon usually involves:
Will I see animals on my visit to the Amazon Rainforest?
This is a legit question. If you are used to traveling to places like Mexico or the Caribbean, you know that animals are few and far between. The ones that are there are so sparse that you are very lucky to see them during your trip. You come to accept that the closest you will get to see animals is the travel brochure you read while making your plans.
This was a bit of a concern for me when we're planning your trip into the Peruvian Amazon. Every single brochure and website I came across was littered cover to cover with bright, beautiful animal photos. Even though we know deep down that we can never be guaranteed to see animals, it was clear the animals were there and I wanted to see them.
To my delight, we saw loads of animals on our 5 days in the Amazon Rainforest. We booked with a company that knew the best places to see them in their natural habitat and gave us plenty of opportunities for viewing. From the minute we stepped off the plane in Puerto Maldonado and arrived at the lodge, the wildlife was plentiful.
Puerto Maldonado
After leaving Lima and arriving in Puerto Maldonado, we settled into our room at the Wasai Puerto Maldonado Lodge for our first night. We were sure what to expect here and we hadn't originally planned to stay a night here, but too many delays in Lima and a late arrival caused us to miss the boat to the lodge deep in the rainforest.
We didn't have a choice but to stay a night in town before heading out the next morning. We were both surprised to find wildlife milling around on the property right in town.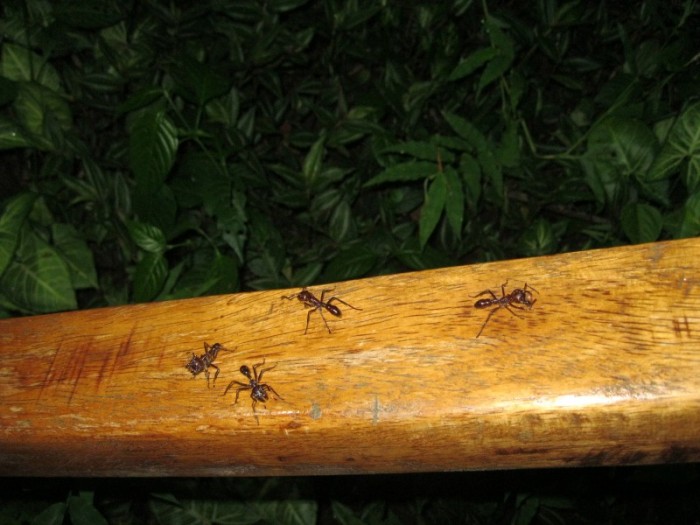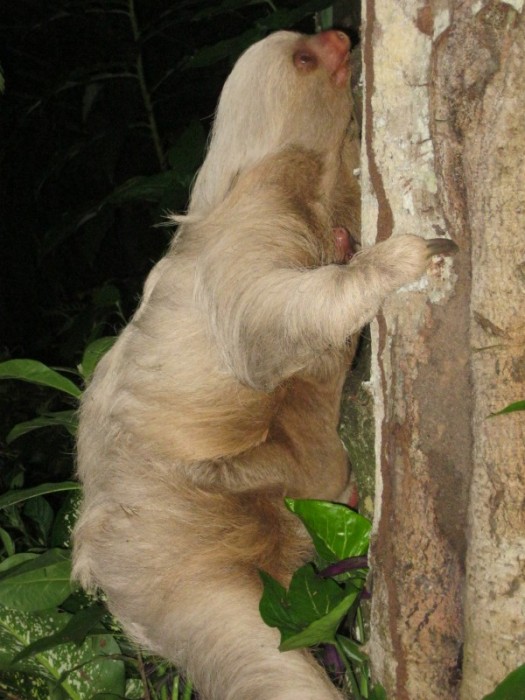 Boating on the Tambopata River
The next day we woke up really early and visited a Clay Lick near the lodge on the Madre de Dios River. We saw a variety of small parrots and one chestnut Macaw which we thought was pretty amazing.
The 4-hour boat ride from Puerto Maldonado to the Tambopata Lodge was something I will always remember. Just cruising along and staring out the side of the boat at the vast array of trees and riverbanks was enough to spark your wildest imagination.
It wasn't long before we started to see signs of wildlife. I was the first one to spot the family of Capybaras that were lounging and swimming on the river banks. We slowed the boat and the guide took us on close for a look.
Strange little creatures and they weren't the least bit afraid of us. Good thing, because that provided ample opportunity to photograph them.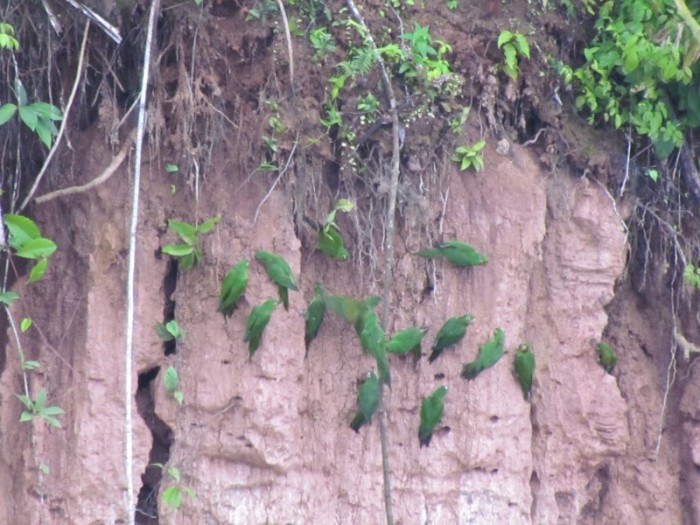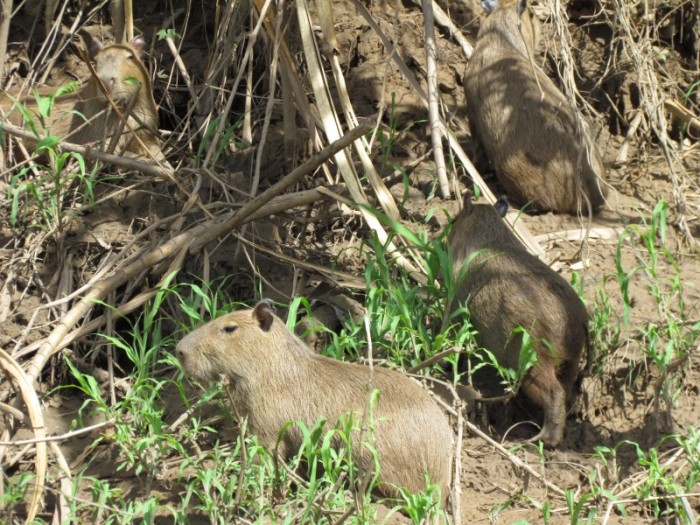 Night Hike in the Rainforest
After taking 4 hours to navigate from Puerto Maldonado to the lodge in the Amazon, it was already evening. We had just enough time to get settled in our bungalows and eat dinner before being briefed about our night hike into the Rainforest.
The goal of the hike is to find nocturnal animals and insects. We had pretty good luck on our hike, spotting many spiders, bugs, a snail and even a snake.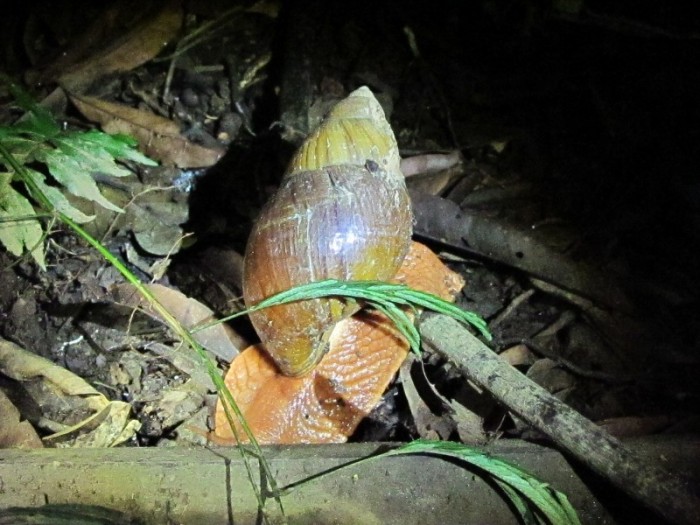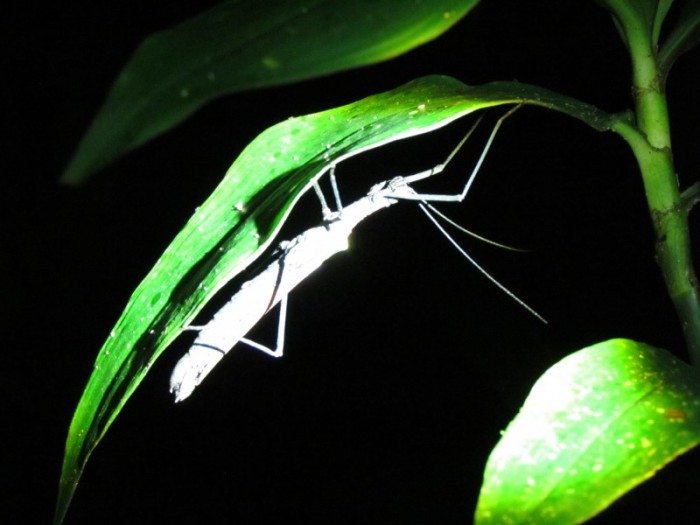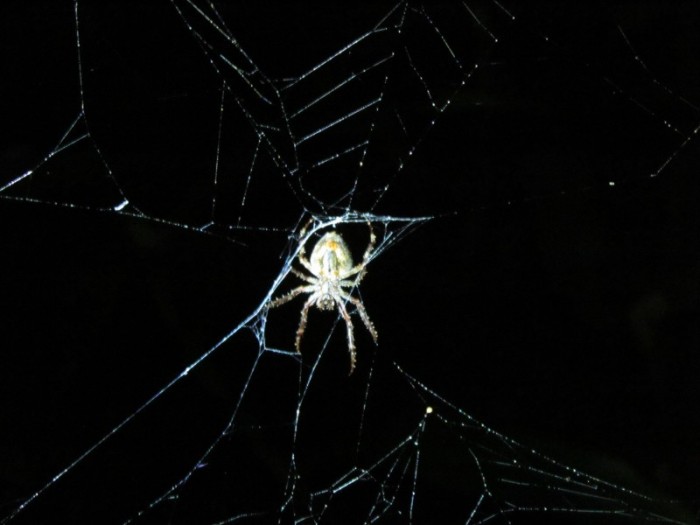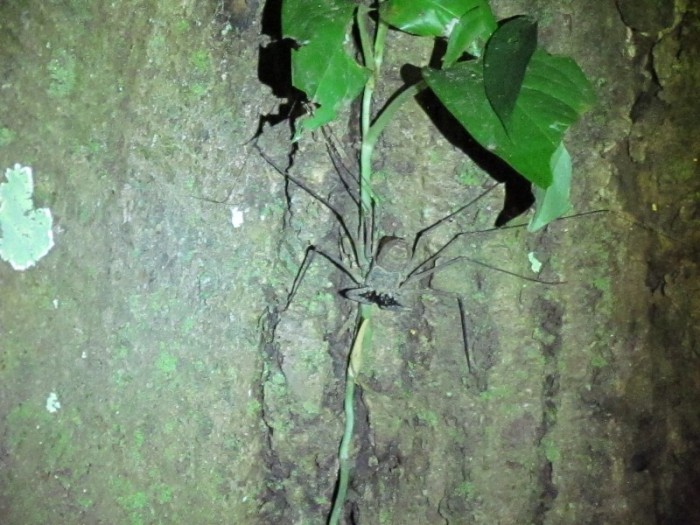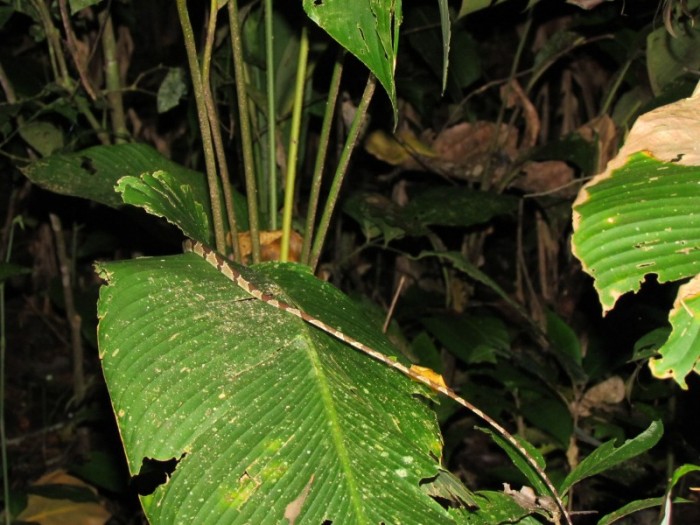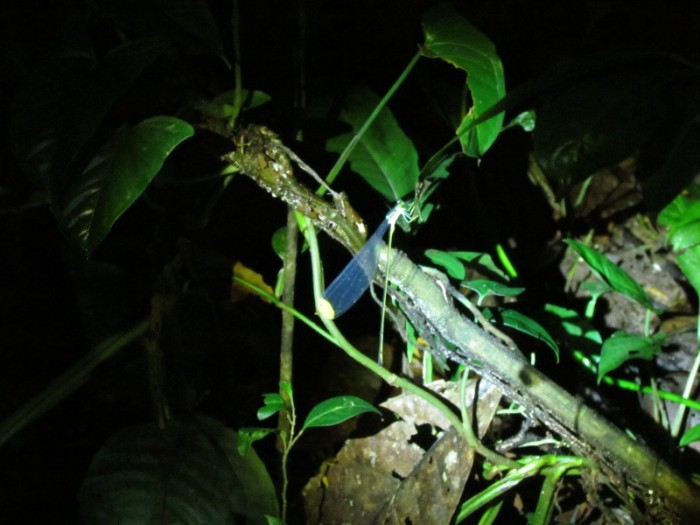 Around The Lodge
After the night walk, I pretty much kept my guard up whenever I was walking around outside. The Amazon is never quiet, so you know there is always something close to you.
Once I really started paying attention, I found that there were animals everywhere. On several occasions, we heard monkeys, but we were never lucky enough to catch a glimpse of them.
I think the highlight of 'around the lodge' was a visit by a beautiful Red Tail Boa. He wandered onto the lodge grounds in search of lunch, which he found in a resident frog.
After his capture, he made his way into the kitchen at the main building and buried himself under the cabinets. One of the staff workers found him and we were able to get a closer look at him.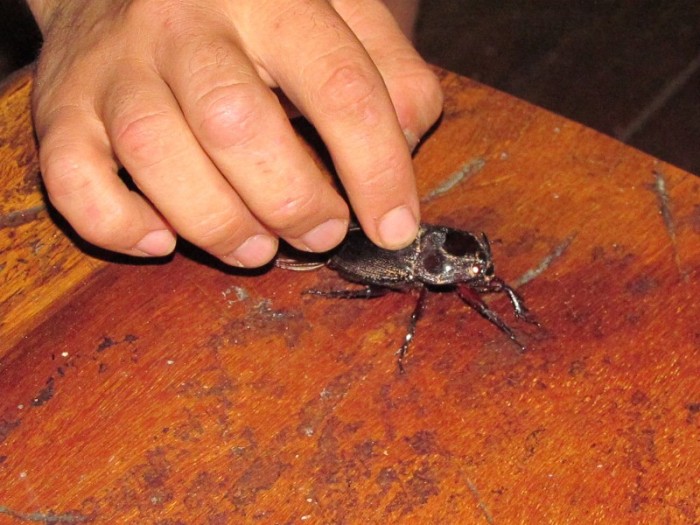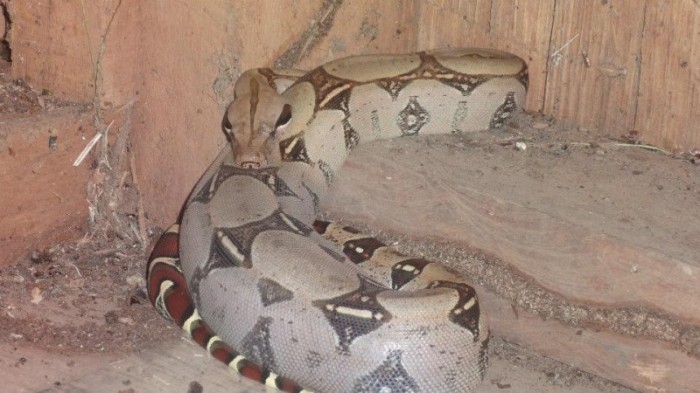 Colpa Chuncho Macaw Clay Lick
One of my favorite activities was getting up super early, think 3 AM, to visit the clay licks. I know this seems crazy, but those birds are wicked smart and if you don't beat them to the clay lick, they will fly away when you arrive.
So getting up early is necessary if you want to see those beautiful birds.
We did this twice, once in Puerto Maldonado and again when we were deep in the Rainforest. We had the chance to visit Colpa Chuncho, which is a well-known clay lick in these parts of the woods.
We had an excellent visit that included the opportunity to see loads of Red & Green, Blue, and Scarlet Macaws. We also saw one Toucan and several smaller green parrots.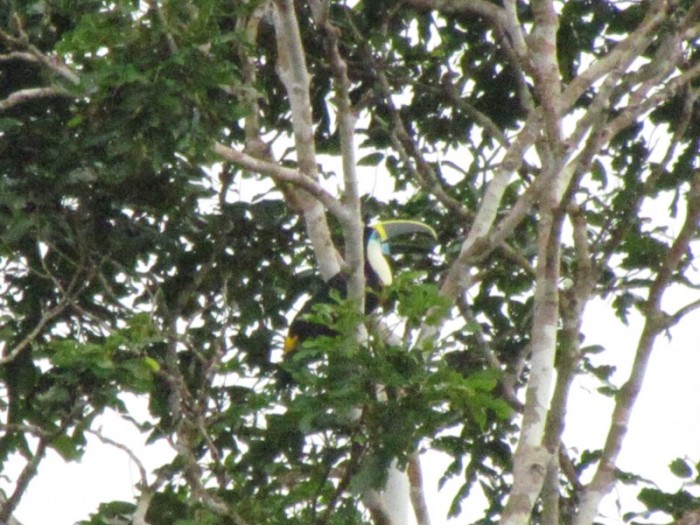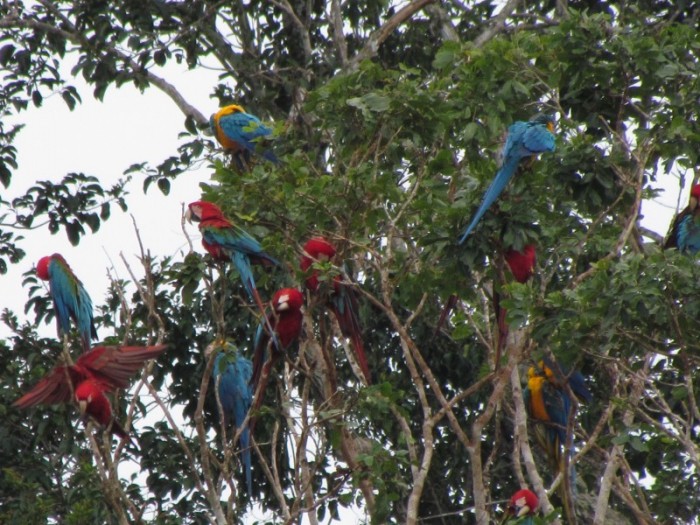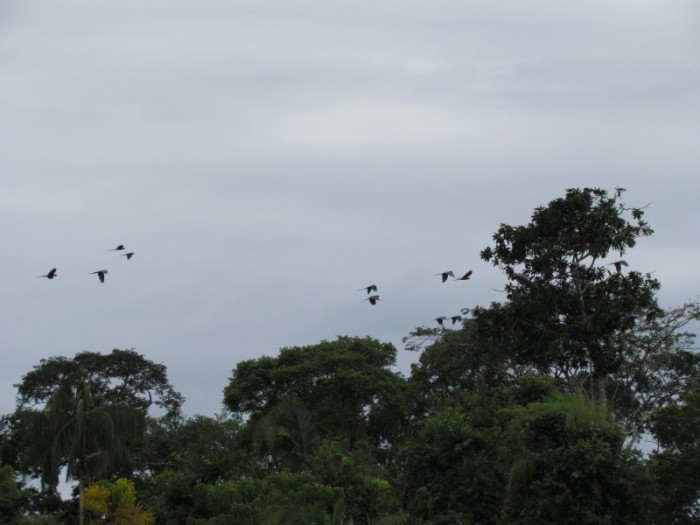 Caiman Night Search
Lastly, we participated in a night excursion of cruising down the Tambopata in search of Caimans. Caimans are a type of Amazon River Alligator. The day we went out kayaking we say a huge one swimming upriver.
He passed right between our kayaks and he was easily the size of both our kayaks combined. Sorry, we didn't snap a photo of that one!
The night search was about finding Caimans on the riverbank. We cruised along in a wooden boat and shined for their eyes. We couldn't believe it, but the banks of the river were just littered with them at night.
Little shining eyes were everywhere you looked so it didn't take us long to find a few to check out. The ones pictured below are just young ones. Adult caimans can grow to 13 or more feet in length.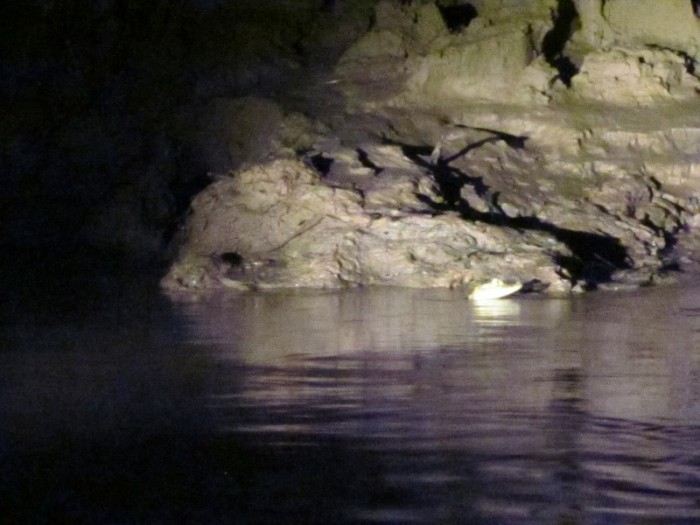 Now we certainly didn't see all the animals that the Amazon has to offer. But we sure got a nice sampling and many reasons for a return visit. So it goes without saying that yes,
More on Peru:
Did you like this story? Share it!