Arriving in Myanmar it was hard not to notice the smiling locals with bright red lips and teeth as they greeted us. They all looked to have large pinches of snuff hidden in their lower lip and no matter if it was a man or women they all had dark red lips with dark red stained teeth.
We had seen this before in Thailand when a monk was chewing and spitting out an unknown substance while visiting a temple but everywhere we looked on the side of the road in Mandalay we saw red spit marks. We found ourselves watching where we walked because we did not want to step in it. What could this be?
One afternoon we asked our local friend, what is up with the red snuff that the locals are chewing on? He told us it was called betel nut and that everyone chews on it and everyone loves it. He explained that it was good for long drives or working late and that it's like drinking coffee.
I wondered out loud if it was like chewing tobacco or something different. He replied that it was like chewing tobacco, but it can stain your mouth red. After a few minutes driving down the road he pulled off at a roadside stand where four younger boys were sitting around rolling leaves.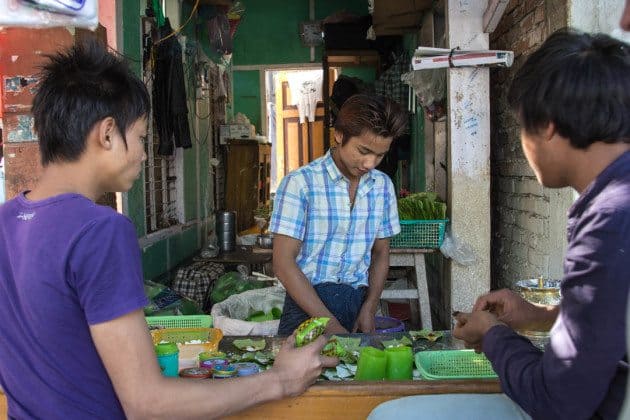 ~ Roadside shop making and selling Betel Nut Chew ~
The local boys quickly smiled at us and gave us a gesture to come over and check out their roadside shop. With the help of our friend, they explained the process of making the betel nut chews and what was in them. We were given a green container with gold writing on it after the preparation was complete.
Watching the preparation of the betel nut was intriguing as the boys were quick handed and knew precisely the right amounts to add of each ingredient.
They would quickly grab a green leaf about the size of your palm, slap some white paste in the middle of it then add a mixture of flavors followed by a small pinch of tobacco before rolling it up into a little pouch.
This took no more then a few seconds. Locals were flocking to this little hole in the wall stand buying ten containers at a time and the boys could hardly keep up.
Who could resist such a site? Hoping to turn my mouth red I quickly popped the betel nut wrap into my mouth and jumped back into the van.
Within minutes I was spitting red like the locals. Not on the side of the road though but into a little plastic bag that was supplied to me.
I'm sure I looked funny walking around the local temples with a huge wad of betel nut tucked in my lip but it was a great way to connect with the local people without having to say a word.
I would smile with red teeth and the locals would smile back with even larger red smiles and sometimes a handshake. One of the best ways to connect with people is through their culture.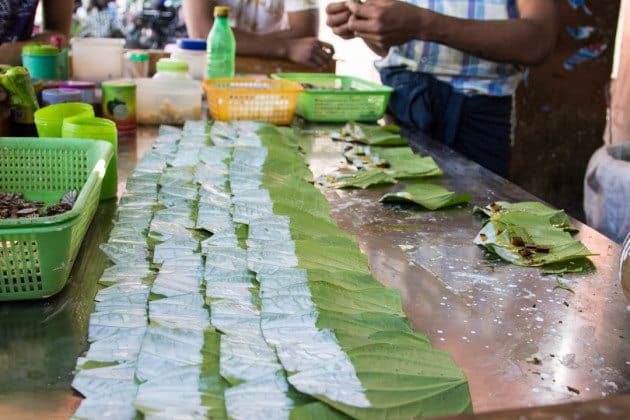 ~ Mint pasted Betel Nut leaves being prepared ~
What Is In Betel Nut Chew?
The betel nut chew consists of a few small pieces of betel, put in a medium sized green leaf, along with lime and mint paste, and a very small pinch of tobacco, spices. The leaf is then wrapped up like a little burrito and popped into the mouth. Do not chew on it, simply position it in your cheek towards the lower lip and suck on it.
We saw different shops throughout our travels in Myanmar adding their own mixes and spices, one even added different jams to theirs.
There were even options to add chilies if you like it spicy. Just imagine the different mixes you could encounter depending on the area you are traveling.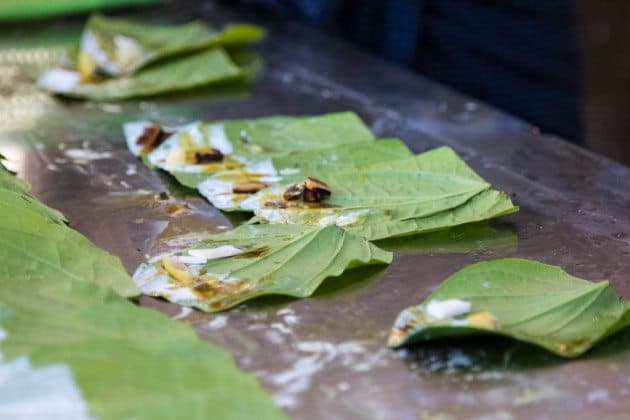 Betel Nut Chew Taste
It tasted like an old brand of bubble gum that I have not had in years. Not Big League Chew or Hubba Bubba but that kind where if you had a pack other people would say that gum causes cancer.
Do you recall what that gum is? Good old Extra bubble gum, the kind in the pink package. I don't know if it really can cause cancer but betel nut tasted just like that gum.
Every now and then I would get a hint of mint from the leaf that the nut was wrapped in and I was told this was a signature of that particular stand we had purchased from.
There's no wonder why locals sit around sucking on betel nuts as it lasted for a few hours before Lina told me to go spit it out.
To my disappointment, it takes sucking on many betel nuts to turn your mouth dark red and I chewed on mine for hours and it only left my mouth slightly red. However, my teeth did become a pleasant shade of red.
I felt like a local with the betel nut in my mouth. Locals would look at me and smile or nod their head like I was one of them. I would recommend anyone to try it just once and only once.
There's no need to go back home with a stained red mouth that toothpaste cannot fix but it's worth a try and a great way to connect with the local people in Myanmar.
Have you every tried Betel Nut chew?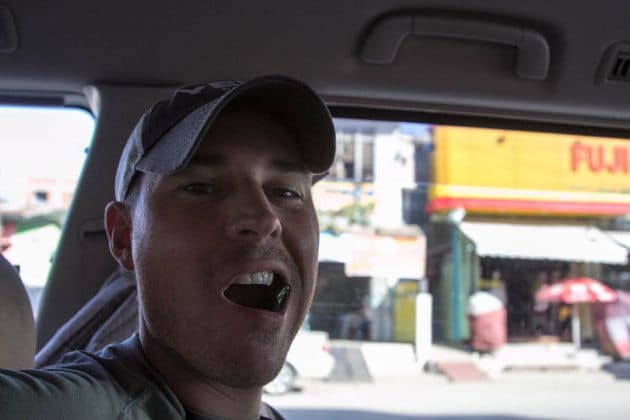 More on Myanmar:
Did you like this story? Share it!