Looking down from the airplane window we saw the tips of the temples scattered across the ground below. From what we could see, each temple was off on it's own winding dirt road. This excited me as it's been some time since we had a scooter adventure and a chance to explore Bagan by E-Bike is what we needed.
Much to our surprise you only can rent E-bikes in Bagan. No other cities offer scooters and this disappointed me because I always love jumping onto a motorcycle or scooter to check out a city.
Why don't they you ask? Because foreigners are not allowed to drive cars or motorbikes in Bagan. (This rule doesn't cover all of Myanmar though!) The only way to get around Bagan is by an E-Bike, hired car, horse carriage or pedal bike.
What is an E-Bike?
Do not let the name of the bike scare you away. It's not your everyday bike where you will have to sweat pedaling from temple to temple nor is it a loud scooter bike like you see in other parts of Asia.
It is an electric powered bike that charges from a basic charger and can last up to 8 hours fully charged. Do you need to pedal like a basic bike? No, once charged you can jump on it and go, it's like a scooter.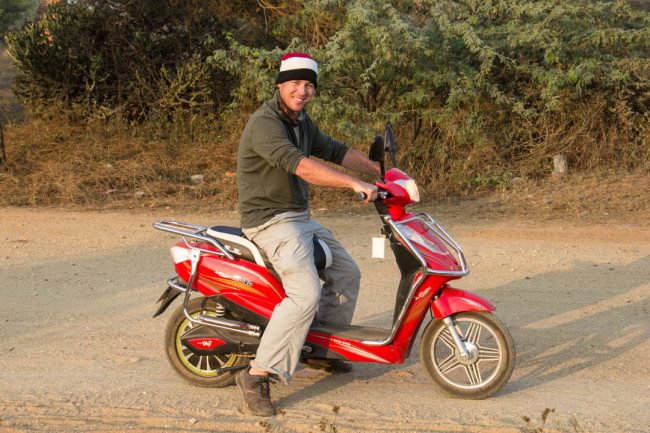 If it looses power or gets low before you can make it back to town, just pedal to charge up the unit and continue on your way. Or, because E-Bikes are so popular in Bagan, just pull over and have a bite to eat and they will charge it for you.
They are basically noiseless, at most giving off a faint humming noise, which is refreshing and serene while exploring the temples outside of town.
E-Bikes are equipped with all of the features of a scooter, including a headlight with high and low beams, right and left blinkers, starter button, storage under the seat and we can not forget the horn.
Most top speeds are 15-20 MPH or 24-32 KPH, so you can't go that fast but it's faster then a basic bike. Some bikes can come with baskets on the front for your extra items. You can find different styles of E-Bikes that work for one or two people.
The bike we rented was just like a scooter and had enough room and power for both of us to ride on it.
Our Bagan By E-Bike Adventure
Waking up at 4:00 am for the sunrise over the temples with the hot air balloons is an absolute must on a visit to Bagan. We mapped out the main sunrise temple, Shwesandaw Paya, the night before and planned to hit another one next to it because it would be less crowded .
We talked to our hotel the night before so they would have a bike for us that early the next morning.
The people that live and work in Bagan know the drill and picking up your E-Bike for a sunrise is a well oiled process. There were no problems just show up at 5:00 am and grab the bike and go. They required payment in advance, but that was all to get the bike, no passport or anything.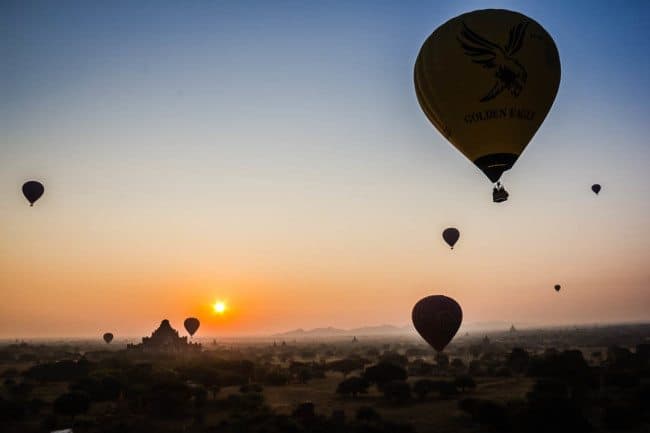 In no time at all we figured out how the bike operated. Heading out of town we saw many of the temples lit up in the dark and there were hardly any bikes on the road heading to the temple's this early.
It worried us a little because we knew where we wanted to go but it's always nice to follow, or at least see, some other bikes heading in the same direction you are going.
As we drove down the main highway we occasionally came across someone pedaling on a basic bike and trying like hell to make it to the temples before the sun starts to rise.
Despite the fact that we had studied the map and even visited this temple the day before by car, we will had trouble finding it in the dark and missed our turn.
We debated about the directions and ultimately decided to turn around and head back towards a road we had passed. This road wasn't the one we wanted but still offered us a back way to access the sunrise temple.
The roads that surround the temples can often pose difficult driving conditions for E-Bikes, pedal bikes and scooters due to the deep sand. We cruised past the sunrise temple thinking we would try to make it to the little temple next to it and quickly hit a deep sand patch on the road.
This threw the bike to the left and right. We were able to quickly recover the bike, although not without a fair amount of sand burn. It was a close call considering we went on to witness several wipe outs in the same spot that morning.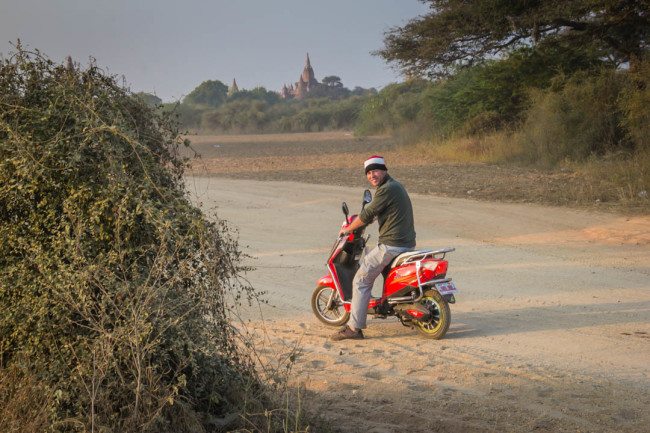 After almost dumping the bike we decided to just park the bike and head up to Shwesandaw Paya to see the sunset. Making it up this temple can be hard in the dark as it has large slopping steps that seem to vary in size and get larger as you head to the top.
It was a little crowed but there were no bad seats as the sun started to rise over the plain of temples in our immediate view.
The North Guni Temple, our attempted destination before we almost wiped out, sat directly to our right and made for a beautiful backdrop as the sun came up.
One thing to not about the sunrise here is that it comes up slow and the hot air balloons do not actually launch until around 7:30am. Many people left before this and missed out on some beautiful views. In our opinion, the only reason to get up for a sunrise in Bagan.
After the hot air balloons passed we made our way down Shwesandaw Paya and decided to spend the early morning exploring some of the temples close by before heading back for a late breakfast and a nap. Our adventure continued with late afternoon temple exploring and a sunset.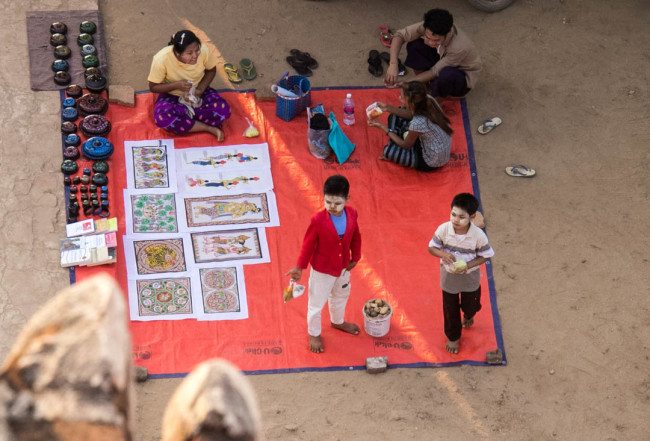 Sunset at North Guni Temple
North Guni Temple is known as the sunset temple and a place you will see all the tour buses heading to before the sun starts setting. Get there early, even if it means sitting there forever, it will be worth it for a good view.
Locating the temple in the light was much easier than in the morning and we carefully avoided the giant sand pile that almost wiped us out that morning.
Pulling up to the temple to our surprise there weren't many people yet, we had succeeded in getting there early. As we entered the temple there were more locals selling items then during the day which gave us the indication that this place was going to light up with tourists soon.
Making our way to the top we scouted out a place with a great view and spent our early time visiting with the local kids within the temple and watching the crowds slowly arrive and shuffle into the temple.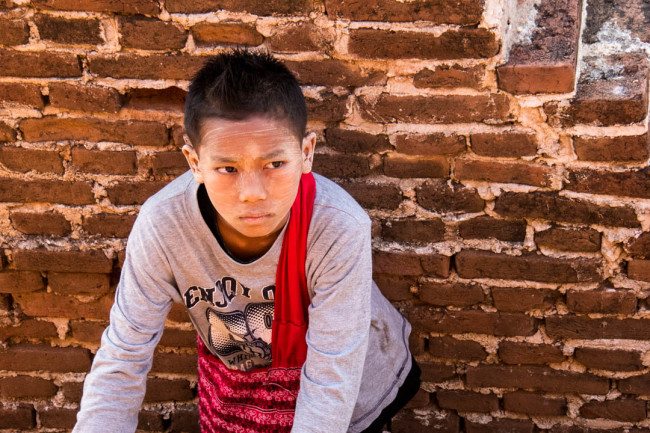 As the late afternoon sun set on the temples, we sat there and watched the sun dip behind the landscape. The sunset was nowhere near as nice as the sunrise, but still beautiful. Most of us started to make our way down early and it was like being part of a herd of cattle as we made our way down the narrow, uneven staircases.
Luckily, the flexibility of having our E-Bike allowed us to take a smaller road away from the temple that was too deep for cars and buses to pass. This allowed us to travel in the opposite direction of the traffic and make our way back to town without being part of a traffic jam. It was a great end to our perfect day.
How to See Bagan by E-Bike
All hotels have them to rent and we rented ours right from our hotel. If that doesn't work for you then just go for a walk and you'll be certain to come across a wide variety of roadside shops that rent them as well.
However, if you rent from your hotel, and you have issues with the bike, they will send someone out to help you. If your renting from that bike shop on the side of the road there's a pretty good chance they will not.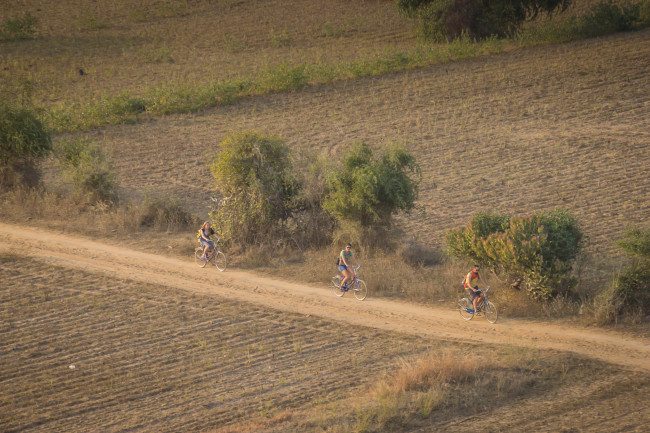 Regardless of who you choose to rent with, all had the same bikes and the same prices. All prices are fixed and there's no negotiation on the one off rental. Prices for a full day of E-Bike adventure are $7.00-$12.00 based on the size of the bike.
If you just need it for a sunrise or sunset, they can cost $5.00-$7.00 depending on the bike size. If you rent for multiple days and are willing to pay up front, then go ahead and try to negotiate a deal.
We rented a E-bike for one and a half days. This allowed us to see two sunrises, one sunset and a full day of seeing temples. We did not use it a full day checking out the temples because we had a driver the first day to show us around and to see some of the hard to reach temples.
This gave us our bearings around town and also gave us an idea on how to get to some of the temples with harder access.
More on Myanmar:
Did you like this story? Share it!