Every free tour in Budapest will take you to the top sites and offer you information on what you are seeing.
I want to tell you about our experience in finding a company that was worth touring with because you have options and you shouldn't settle for less than the best during your travels.
Have you ever arrived in a new place only to be treated poorly by a local when trying to get information about their city?
It isn't something that happens to us often, if at all, as locals tend to be very nice and outgoing in almost every destination we have visited around the Globe.
So you can imagine that it came as a shock when we encountered rude behavior on our first day in Budapest.
Don't leave home without: DK Eyewitness Top 10 Budapest (Pocket Travel Guide)
---
Finding the Best Free Tour in Budapest
---
One of my personal favorite things about Europe is the Free Walking Tours that are on offer in most major cities.
These tours are typically run by university students and offer a personal, informative and historical look at the city you are visiting.
The guides usually have humor and a genuine passion for their city. The walking tours are in fact free with the expectation that you will tip the guide when it has concluded.
They last around 3 hours and these walking tours are typically not strenuous. It's a great way to get acquainted with a new city and take some photos.
First Time is Not a Charm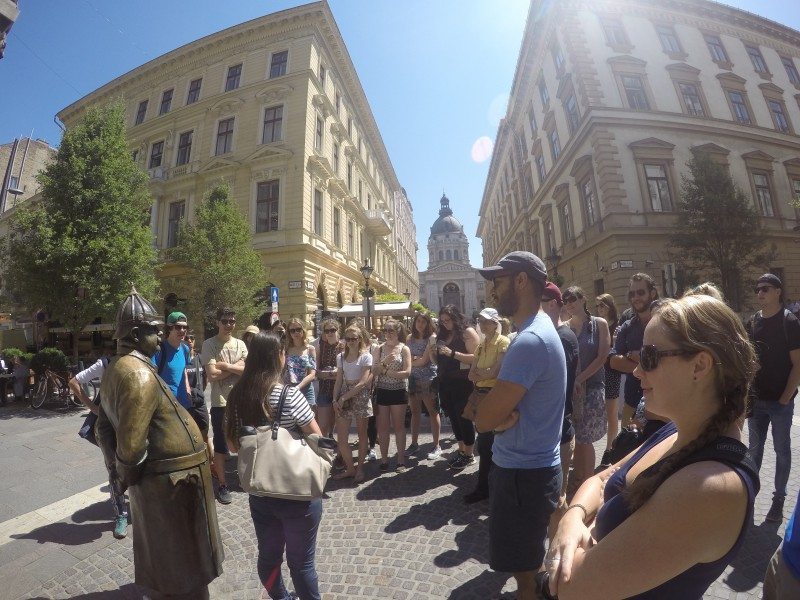 When we arrived in Budapest, we grabbed one of the free walking tours pamphlets at the airport and headed into the city with the intention of taking that tour the next morning at 11 AM.
The meeting point was clearly stated and marked on the map inside the pamphlet.
As planned, the next morning we made our way to the meeting point clearly marked on the map. We arrived 10 minutes early and there we sat. No guide in sight, no people gathering, no movement, nothing.
Hmm, this is odd. Pulling up my phone, it appeared this company had moved their starting location to a different place that ended up being on the Buda side, not Pest.
After waiting for this tour, we didn't have time to walk to the Pest side and meet the tour at 11 AM.
Heading back to the hotel, I pulled up the company on my computer and made an online reservation for the free walking tour, received my confirmation and verified the new starting point.
We were to meet at the Matthias church at 1 PM where we would find our guide for the free walking tour of Budapest.
Beware of Phony Companies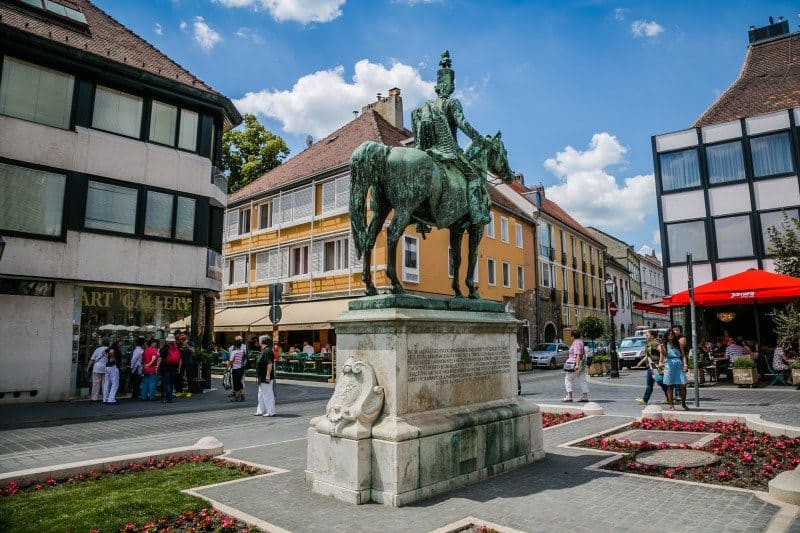 Leaving with plenty of time, we headed off to Buda which involved crossing the famous chain bridge and climbing Buda Hill before we reached the main square outside of Matthias Church.
Again, we arrived to find nothing. No guide, no group, just nothing. While we could see many groups around, none were the ones we were looking for. WTF.
While I tried in frustration to pull up the website again on my phone, a man wearing a blue shirt saying 'Free Tour' on it walked by me, virtually on top of me, with a group of tourists following closely behind.
They engulfed me like I wasn't even there, shoving past and then abruptly stopping leaving me in the middle of the group.
Not sure how to react to the invasion of space, I mean there was a whole square there, I slipped out to the side and listened to the guide speak. Could this be our group? Could we have missed them when we first arrived?
It seemed, by all appearances, that this was the free walking tour in Budapest we were looking for.
I waited patiently for the guy to finish talking before approaching him to confirm. This is when things went sour.
Misinformation and Rude Guides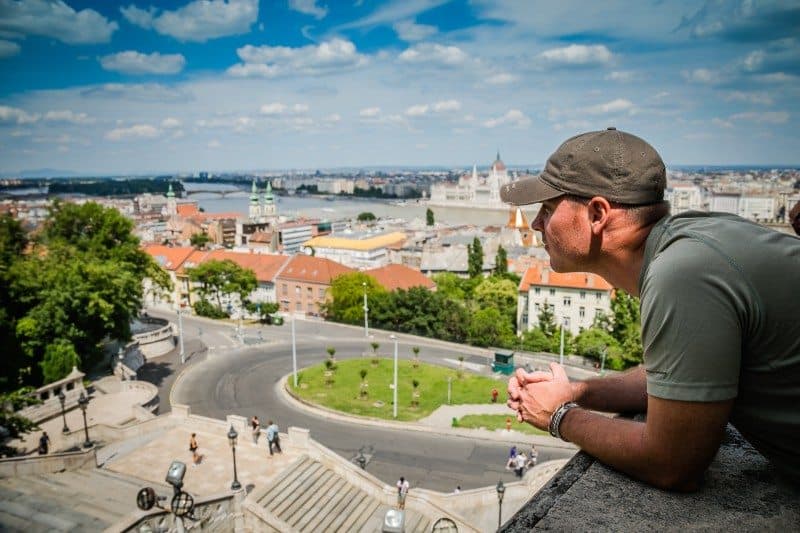 The minute I approached him, he sounded on me rudely. 'What do you want?' he exclaimed as if I had been pestering him for hours.
I explained quickly that I was trying to meet up for the 1 PM free walking tour of Budapest, tried showing him my email confirmation and asking if this was the one.
He looked quickly down his nose at my email then proceeded to scoff at me that he couldn't possibly be part of that company, they only started this weekend and if I wanted a real tour I should take one with his company as they are the 'original' free walking tour in the city.
He never took the time to stop and look at my email. He never offered to promote the company he represents. He never told me where I could join his company's walking tours.
He was rude, arrogant and to be blatant, an asshole to a complete stranger on the street with an innocent and simple question.
To be honest, the whole encounter was a bit of a shock to me. I've never encountered anyone like that who represented a company and based their whole job on tips.
Extremely frustrated, I turned the other way and happened to notice another group walking from the top of the square. Maybe this was our group?
Third Time's A Charm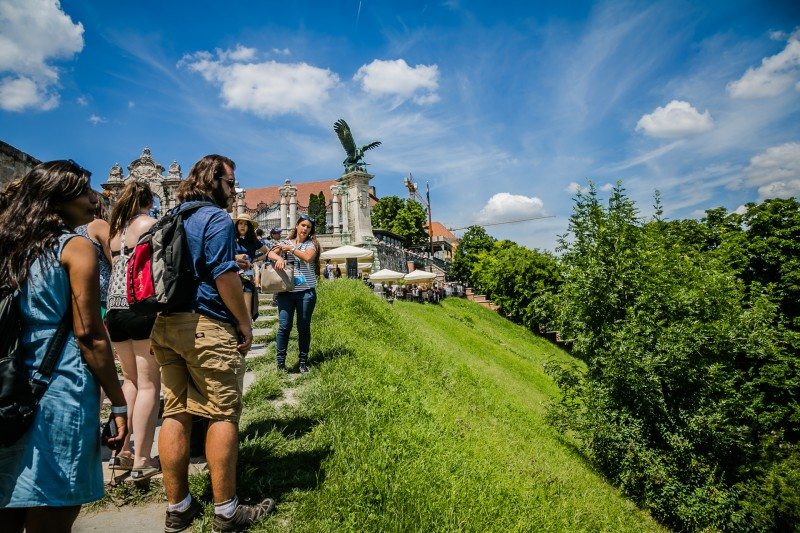 A young girl led this tour and as they walked past us, I thought, why not join them and then try asking for information about free walking tours.
We followed the group to their next stop where she gave a history of Matthias Church and it became apparent to us that she was finishing her tour, not starting it.
Sigh, this day was turning into a disaster of wasted time and effort.
When she finished her walking tour, we approached her and she graciously explained that there are many companies running the free walking tours of Budapest and that yes, some of them were new and less reputable.
She gave us information on her company, talked with us about meeting times, apologized for the rude behavior of the guy that was not a colleague or someone she knew, and wished to us that we wouldn't let that encounter ruin our time in Budapest.
Wow, we literally went from one extreme to the other, all in a 20-minute window. It's not hard to be a nice person, in fact, we have the choice in how we act towards others.
We ended up meeting up with her company the next morning for their free walking tour and she ended up being our guide. It was fabulous like we knew it would be.
It's important to remember that as a traveler and a person, you have choices. Things might be frustrating at times, but don't settle for the asshole that can't give you the time of day or the company that promotes a product that doesn't exist anymore.
How to Book The Best Free Tour in Budapest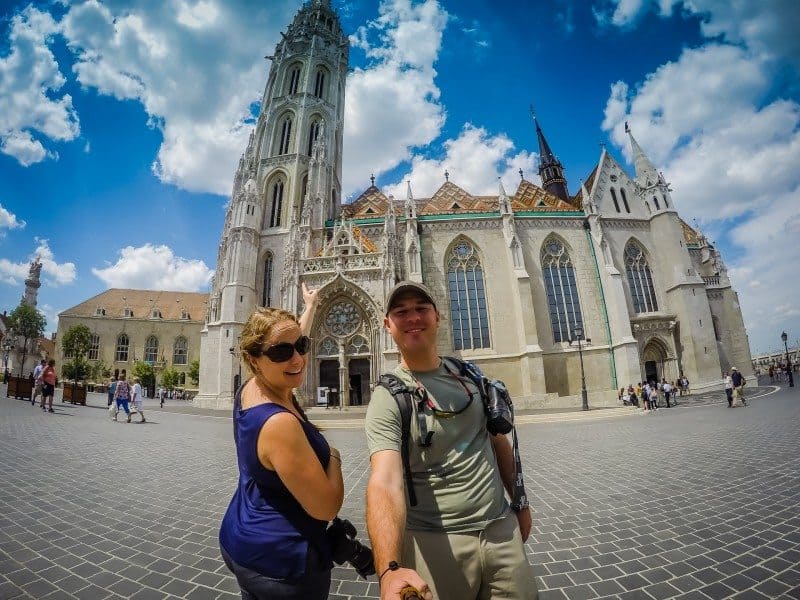 Seriously, among the free walking tours of Budapest, the best one can be taken with Hostel Culture. It lasts 3 hours and starts at 10:30am and 2pm from the steps of St Stephens Basilica every day.
The guides can be found holding a blue umbrella. If you're lucky, you'll get to tour Budapest with Regi, the kindest person we met in Budapest during our stay.
For more information on the best free walking tours in Budapest (at least in our opinion) check current information on the Hostel Culture website.
More on Hungary:
Did you like this story? Share it!