The Galapagos Islands are a destination like no other and a place that sits on thousands of travelers bucket lists. While it is possible to visit on a land-based tour, the majority of travelers will explore by ship. However, finding the right Galapagos cruise can be a daunting task.
No tour, company or ship is the same and it takes a fair bit of research to know what you are getting. The biggest thing, though, is that the itineraries vary widely. This means you can't expect to see everything on every tour.
If you have your heart set on seeing all three species of boobies, you need to pick the right itinerary. Want to see the waved albatross? You need to pick the right itinerary. Thinking you'll see everything on the standard routing is a common mistake that is made in Galapagos planning.
We're here to eliminate the guesswork and make sure you plan your trip right.
Don't leave home without: Lonely Planet Ecuador & the Galápagos Islands (Travel Guide)
---
Planning a Galapagos Cruise Like a Pro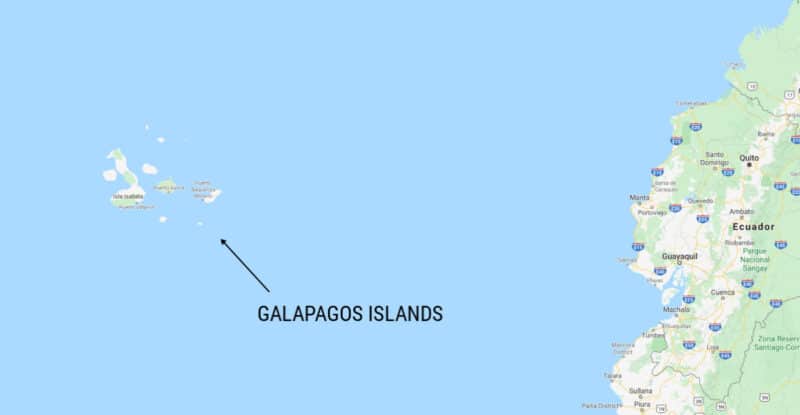 Location of Galapagos Islands
The Galápagos Islands are located 1000 kilometers (620 miles) off the coast of Ecuador, in the Pacific Ocean. The archipelago is composed of 58 islands.
Four of them are inhabited: Santa Cruz Island (where the city of Puerto Ayora is located), Isabela Island (Puerto Villamil), San Cristobal Island (Puerto Baquerizo Moreno) and Floreana Island.
The other islands are not inhabited but most of them are regularly visited by cruises.
How to Get to the Galapagos Islands
There is only one way to get to the Galápagos Islands, which is by plane. Flights depart daily from the main cities of Guayaquil or Quito. There are two airports, one on a small island called Baltra and another on San Cristobal Island.
All baggage undergoes a rigorous inspection because the entrance is not allowed with any organic material, animal, or vegetable. Before check-in, you must pay a fee for a mandatory $20 tourist transit card.
Upon arrival, visitors also have to pay an entrance fee. The Galápagos National Park accepts only cash and it costs $100 per person ($50 for children).
The currency in the Galápagos Islands is US dollars. Many establishments do not accept credit card and it is not easy to find an ATM to withdraw more cash. Therefore, taking enough cash with you is important to avoid any stress.
Search for Flights: Priceline or Skyscanner offers great deals to the Galápagos Islands.
Weather in the Galápagos Islands
For those who imagine the archipelago as tropical islands with dense forests, they are deceived. The Galápagos Islands have a mild and dry climate. As the mountain climbs, the temperatures drop and the amount of rain increases.
Along the coast of the Galápagos Islands, the rainy season occurs between January and April. The maximum temperatures range between 22ºC and 30ºC (72F to 86F) and the minimum between 19ºC and 26ºC (66F to 79F).
The temperature of seawater rarely falls below 22ºC, reaching 25ºC in March.
During our visit in early November, the days were pleasant and warm. However, the water was freezing cold and required wet suits to snorkel and swim. Despite this, it was worth getting in the water.
Best Time to take a Galapagos Cruise
Overall, the climate of the islands is pleasant all year round allowing the Galápagos Islands to be visited at any time. A smart move is to try and avoid peak seasons, such as holiday months like December/January and June/August.
During peak season it is important to make your reservations well in advance.
You can choose the best time to visit depending on which nature displays you would like to experience. From June to November the lower temperatures result in the presence of nutrients in the water that attracts certain species of fish and marine birds.
For instance, albatross arrive on Española Island and penguins are easier to spot. On the other hand, from December to May, higher temperatures allow the flowers to bloom and the vegetation to become more colorful.
This is also a good time to observe unusual courting rituals of birds and sea turtles nesting on the beaches.
Check out our post: Unique Galápagos Islands Animals You Must See
Where to Stay Before/After Your Cruise
The largest city is Puerto Ayora, on Santa Cruz Island, with a good hotel structure and with the largest number of stores and restaurants. On Isabela Island, the largest number of animal specimens is concentrated on the same island and there are hotels standing on the sand.
San Cristobal Island is mainly sought by surfers because of the great waves found there.
Keeping that in mind, there are three options for accommodation in the Galápagos. Either you stay in Puerto Ayora and every day you do a day trip to visit the other islands, or you stay a few nights in each of these 3 islands.
Some hotels have branches in more than one island making it easier to move from one to another. The third option is to take a cruise around the archipelago.
It is important to point out that there are cruises focused on visiting the islands and cruises focused on scuba diving and liveaboards.
It is also not unheard of to start your Galapagos trip from Guayaquil or Quito, cutting out a hotel stay in the Galapagos Islands completely. This is what we did.
Below you can find our top recommendations for each of your options:
---
Galapagos Cruise Overview
The most common and expensive option to visit the Galápagos Islands is to book a cruise. When people think of cruising, they soon think of a trans-Atlantic cruise containing thousands of people.
However, the reality is that the vast majority of boats in Galápagos have a capacity of fewer than 30 people and are divided into four categories of service: economy, tourist, first-class, and luxury.
Cruises usually last between 4 and 10 days and the price varies according to the quality of the accommodations.
Our experience in the Galapagos Islands was a bit outside the norm (but who said we were normal anyway!). We booked 3 back to back itineraries because we wanted to see every corner of the islands.
In doing this, we sailed for a total of 15 days. We chose a more luxurious option, booking onto the Sea Star Journey with Latin Trails. This ship had only 8 cabins, all very spacious, and a maximum of 16 passengers.
Even though we booked in for 15 days, the rest of the ship actually rotated on the 5th, 10th and 15th day. Meaning our shipmates changed each time too. This gives you a pretty good gauge that most people are only in the islands for a short time.
By booking our itinerary like this, we were able to see all the species of animals we had on our list too. If you have the time and money, we highly recommend this approach to your Galapagos cruise planning.
Positive Sides to Choosing a Cruise
A Galapagos cruise visits not only the most common areas but also more remote corners through which they can pass during the journey between one island to another.
Since most of the navigation takes place at night, while you sleep, you save a lot of time and end up spending more time on the tours themselves. Therefore, you do not waste any time getting around the islands and you can enjoy the whole day admiring nature.
Another great point to Galápagos cruising is the fact that you can just relax and enjoy the ride. Just like any other cruise around the world, the big advantage of this option is that you do not have to worry about anything at all during the trip.
The itinerary is ready and all meals, tours, and accommodations are included. You do not have to worry about booking tours or getting to where you need to be. Although, some people might find this not so appealing.
With these fixed tours organized by cruises, you lack the freedom to change your plans or go somewhere a bit different.
As the tours and meals are always included in the Galapagos cruises, those who travel alone interact easily and make friends with the other passengers. Moreover, many cruises also offer onboard lectures on the history and biological aspects of the archipelago.
Not So Positive Side
"Not so positive" because whatever you decide to do, there is no negative side when visiting the Galápagos Islands. You have only to gain from this experience!
There are people who do not adapt to life on a boat, it just does not happen. However, it is worth remembering that Galapagos cruises are usually very stable, even the smallest ones (for 20 passengers).
Therefore, they do not usually frighten people who suffer from nausea as they would on day-tripping tour boats.
Many boats do not have internet and communication can be a bit tricky. Depending on your point of view, this could be another positive side. It can help you stay away from reality and simply take in all of the amazing experiences you will go through while in the Galápagos Islands.
Choosing Your Galapagos Cruise Itinerary
Each Galapagos Cruise has an itinerary set by the Galápagos National Park authorities. Unless you are on a 15-day cruise, the boat will have to miss some islands. In order to decide which Galapagos Cruise you will pick there are a few things to consider.
For example, where you want to go, what you want to see, for how long you want to go on a cruise and how much comfort you want.
Here, we are going to outline the three most common itineraries that are typically offered in the Galapagos Islands.
---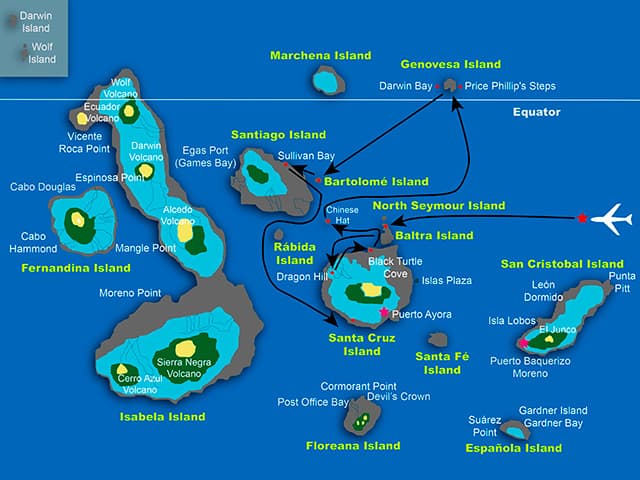 Northern Galapagos Cruise Itinerary
The Northern Galápagos Islands Cruise includes visits to seven islands and during this cruise, you will probably see the Galápagos Short-Eared Owls. The cruise starts and ends in Baltra Island and from there it goes to Santa Cruz Island, the most populated of them all.
Some of the highlight sites visited include Buccaneer Cove on Santiago Island, Genovesa Island (or the "Bird Island") and Pinnacle Rock on Bartolome Island.
Top Recommended Tours that include the North Islands:
---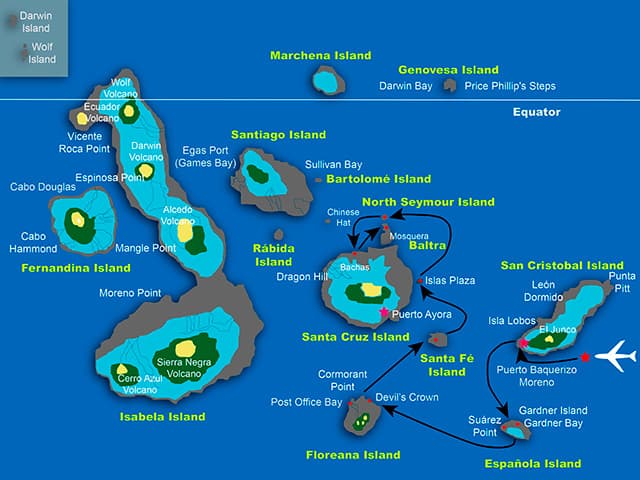 Eastern Galapagos Cruise Itinerary
The Eastern Cruise itinerary tends to visit a combination of eight islands, including the Charles Darwin Research Station, in Puerto Ayora. Kicker Rock is the perfect diving spot if this is what you are into and Punta Suarez in Espanola Island is famous for its blowholes.
Other than that, Punta Pitt (San Cristobal Island) and North Seymour Island are the main highlights of this cruise. If you go on this Galapagos Cruise from April to December, you will be able to admire the Galápagos Albatross.
Another fun stop is on Floreana Island, where you can leave a postcard in a barrel to be picked up and delivered by fellow travelers. It actually does work!
Top Recommended Tours that include the Eastern Islands:
---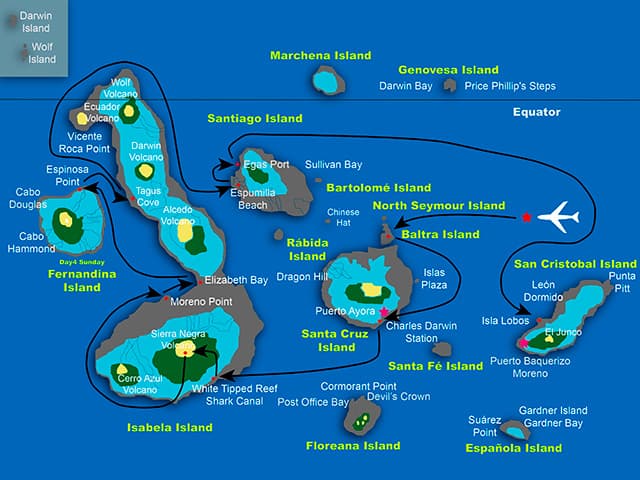 Western Galapagos Cruise Itinerary
Even though the Western Galapagos Cruise only visits five islands, one of them being Baltra, it does not mean that it is any less amazing than the other cruises mentioned.
Other than the Charles Darwin Research Station, with this cruise, you will also visit Fernandina Island, where you will see one of the largest Marine Iguana colonies of the archipelago.
You will also have the chance to get up close and personal with the stunning topography of Isabela Island. Most cruises include a hike to a massive volcanic crater.
The Flightless Cormorant, with their bright blue eyes, are some of the amazing birds you will probably encounter during the Western Cruise.
Top Recommended Tours that include the Western Islands:
---
Galápagos National Park
Ninety-five percent of the Galápagos is protected by the Galápagos National Park Directorate (GNPD), and every site can only be visited with a Park-certified naturalist guide.
The attractions at the Galápagos National Park are based mainly on the observation of local flora and fauna, such as giant tortoises, a multitude of birds, iguanas, sea lions and a rich marine fauna.
The landscape's alternate forests, beaches and volcanoes. The islands are also an international diving hot spot.
However, even if you are not a diver you can snorkel in clear waters and watch a lot of fish, turtles, stingrays and having the incredible feeling of swimming next to sea lions.
An interesting fact about the archipelago is that UNESCO declared Galápagos National Park a World Heritage Site in 1979, mainly due to its immense biodiversity, geological features, and scientific importance.
Galápagos Islands Planning Resources
Recommended Guide Books:
Galápagos Islands Map: Ecuador and Galápagos Islands (National Geographic Adventure Map)
More on Ecuador:
More on South America:
Did you like this story? Share it!