Yala National Park is the most extensive and popular of Sri Lanka's many beautiful national parks. This vast protected area is a haven for local wildlife, and within the almost 400 square miles of wilderness, you can find an enormous diversity of different animals.
Among the species calling this land home are Sri Lankan elephants, leopards, water buffalo, and even the rare Sri Lankan Sloth Bear. The national park is also teeming with different bird species and is one of the best places in the world for bird watchers and enthusiasts to visit.
On a cultural and historical level, within Yala National Park, you can find many relics of past Sri Lankan kingdoms and civilizations, making this a truly unique destination for travelers.
This is a huge place of unparalleled diversity, so to help you to understand the park itself, here's our guide to going on safari in Yala National Park.
Don't leave home without: Lonely Planet Sri Lanka (Travel Guide)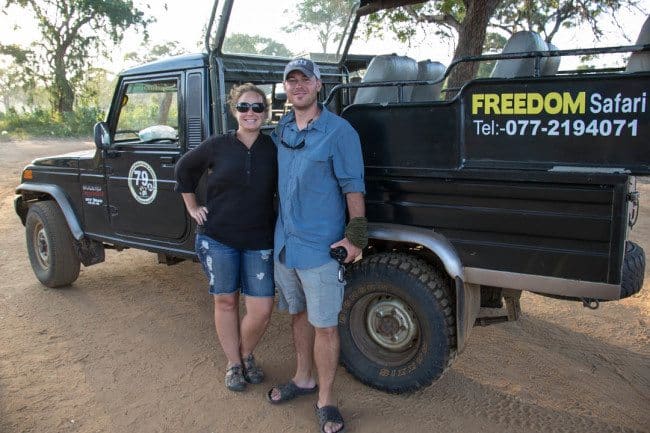 Our Amazing Safari in Yala National Park
Our truck had been bumping and grinding down the road since we left the pavement 30 minutes earlier. The sun was beginning to show its face above the tree line and the day was showing us it would be lovely weather and a bright blue sky. This made it easy to ignore the jostling around as we made our way into the heart of the park.
Our first stop required us to queue and register for permits which would allow us to spend the morning exploring the park and watching the wildlife as we encountered them. Of course, there was no guarantee, but the office was buzzing about the animals being in plain site this morning. Having collected our permits, we hopped back in the truck and set off on the sand tracks into the heart of the Yala National Park in Sri Lanka. We were off on our first safari.
Africa is on our bucket list and with plans to spend most of 2015 crossing that off our list, we looked at the Yala National Park as an opportunity to get our feet wet and check out some animals.
In addition, it just happened that the day we hopped in that jeep marked our 365th day of continuous travel. For us, no matter what we saw, we would always remember this day.
It didn't take long for us to have our first sighting, a group of elephants grazing in the grasslands as we entered the park. Elephants are a hallmark of the island of Sri Lanka, they are everywhere and you can visit many different places within the country to see them living peacefully in the wild.
It wasn't our first time seeing them since we had arrived in Sri Lanka, but it was special to see the group of them so relaxed and enjoying the beautiful day.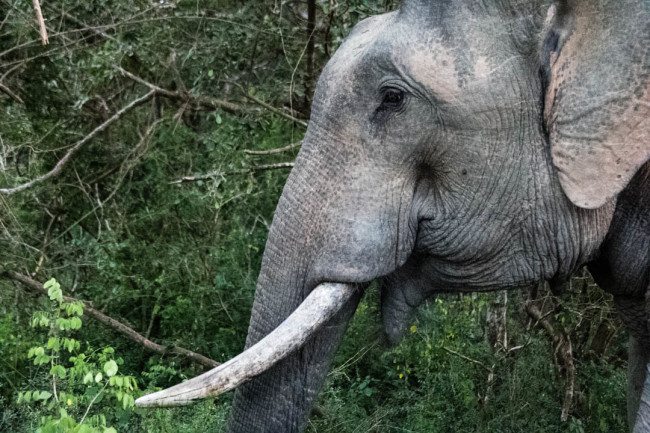 Continuing on from the elephant sighting, our driver opted to take a fork in the opposite direction of the jeeps in front of us. He turned to us with a smirk on his face, indicating that he had just received a call and that our detour would get us to the sight before the other jeeps.
I was intrigued, what had been spotted that would cause and instant diversion?
We bumped along in an almost panicked manner, our driver was speeding up and slowing down between large holes like we were in a race. Rounding a final corner I saw a most impressive sight in the distance.
Now it wouldn't be what you would expect, some majestic animal sauntering across the road, but a massive roadblock of jeeps. By massive, think at least 50.
After some deliberation, excitement, and questions being asked, we determined that a leopard had been spotted across the lake. Ah-ha, that explains the urgency to arrive and the massive roadblock.
Seeing a leopard in Yala National Park is possible, and one of the things the park is well known for, however as big cats go they tend to be elusive. So it is still a chance of luck when entering the park whether you will actually see one or not.
So you can imagine our excitement that one had been spotted so early in our safari, yet I couldn't help but wonder if it would still be visible to us once we reached an area that we could see it.
The commotion was astounding, ill-educated tourists were yelling and shouting to each other, clambering around on their jeeps and making so much noise that even I was bothered. Don't these people know ANYTHING about viewing wildlife?
I thought for sure we would miss our chance, but our driver insisted on pushing forward with the jeep, squeezing through tiny spaces and forcing our way to the front of the group.
When we arrived there, we saw nothing, yet he insisted we needed to look harder. All I could see was some grasslands that led up to a small lake and some shaded forest on the far side.
That is when I realized what to look for. The leopard had taken up a spot on the ground, next to a large rock, under a shady tree on the opposite bank of the lake.
He was having a siesta and could have cared less about us. The only reason being, of course, was that he was so far away you almost couldn't spot him with the naked eye unless you knew exactly where to look.
Good thing, because had we been closer, nobody would have seen him due to the annoying commotion. Our driver edged us all the way up past the other jeeps and we took our time photographing him, or at least attempting, as he was really far away.
My 200mm had nothing on him and while I was able to capture him when I dropped in after the fact it was quite distorted.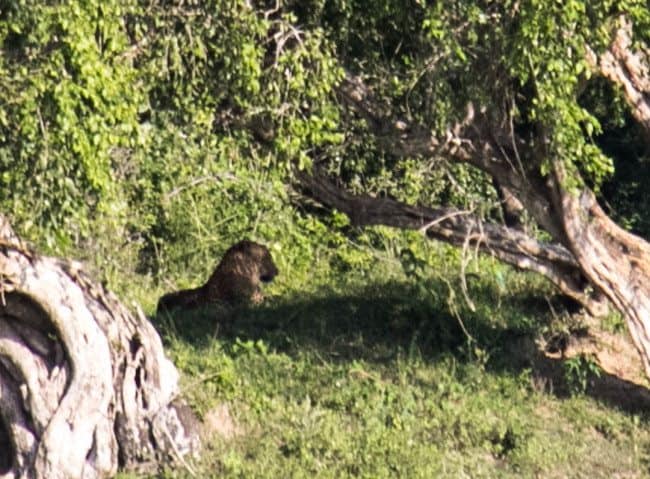 I hadn't been toting around my arsenal of camera equipment for this part of our trip, but it was an unpleasant reminder that despite how heavy and uncomfortable it can be carrying 15kg of camera equipment, it must be done for our visit to Africa.
Inconveniences aside, we had seen a leopard and he was amazingly beautiful. After moving on, we spent the next 4 hours discovering many other inhabitants of the park including crocodiles, wild hogs, buffalo, many bird species and more elephants.
As we left the park, we even had a male bull elephant standing in the middle of the road holding up traffic.
He was literally frisking every jeep that went by, in search of food. The remnants of bags he had snatched lay littered on the ground as we passed through and managed to avoid him grabbing one of our bags. It was a close one, he almost made off with it, but we triumphed in the end. Cheeky bugger!
I know it's not Africa, but the Yala National Park in Sri Lanka is a special place and without a doubt one of the best wild animal experiences we have had in our travels to date.
If you happen to find yourself in the area, don't hesitate to book yourself on a jeep and do some exploring for yourself. You won't regret it.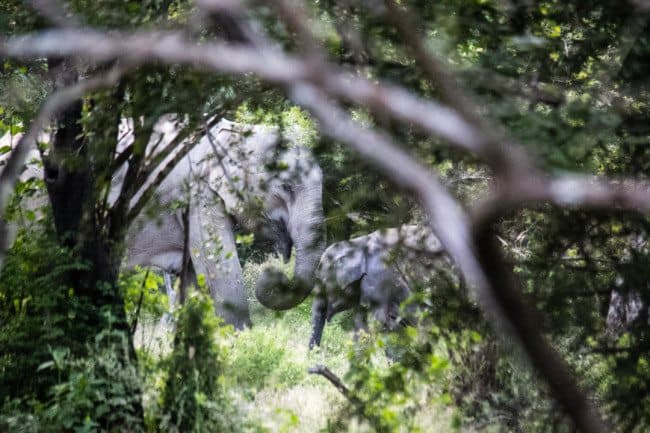 How to Visit Yala National Park
Yala National Park is located in the southeast of Sri Lanka. This beautiful protected area extends for hundreds of square miles and is so large that it's spread across two provinces, reaching into both Uva and Southern Province.
The park is well visited and popular with convenient transport links to major Sri Lankan cities despite its seemingly remote location. The main hub that allows the best access to Yala is Tisamaharama, shortened to Tissa, which is found just to the west of the park boundaries.
A tip: travelers need to obtain one valid visa to Sri Lanka prior to the trip. In 2012, Sri Lankan immigration introduced ETA (Electronic Travel Authorization). Travelers can apply for the ETA at the earliest 6 months before the first arrival date. ETA is valid for 6 months for 2 entries. Each entry, travelers can stay up to 30 days.
There are a few sights to see here because primarily, it's a transport and accommodation base.
If you are arriving internationally into Sri Lanka, then it's likely you will be flying into the capital, Colombo. The airport here has great connections from Europe, the Middle East, and Asia.
From Colombo, the road to Tissa is around 160 miles long. The drive in a private car would take a minimum of four hours, probably more depending on the traffic. There are few direct public transport options to Tissa from Colombo, and if you are planning on traveling by bus, you will likely need to change at least once.
The most common bus route is from Colombo to Kataragama, where you change to Tissa. This would take at least 9 hours depending on your connection time. Some travelers also choose to use Kataragama as a base, as this is located just to the north of the park.
It's a very important holy city and can be an interesting destination in its own right too, although it's not as set up for tourists planning to visit Yala.
There is no train line from Colombo to Tissa. However, you can take the train from the capital city as far as Galle on the south coast, from where you can then change to a public bus for the second half of the journey.
This would take a minimum of 5 hours overall travel time – not counting the time taken switching transport – and it can prove to be a quicker route.
You can also take the bus to Galle, then another bus to Tissa, or take the bus from Colombo all the way to Matara which is further east along the south coast and change here.
If you are arriving from the north of Sir Lanka, from the popular tourist city of Kandy for instance, then a private car would take at least fours to reach Tissa. There are direct buses that take around 8 hours, or you can even fly to the town of Hambantota and then transfer to Tissa.
Search for Flights: Priceline or Skyscanner offers great deals to Sri Lanka and India.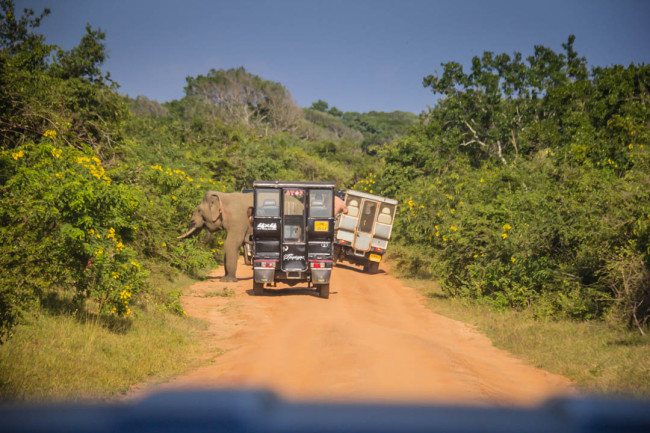 Organizing a Safari to Yala National Park
Using Tissa as your base for exploring the park, it's easy to arrange a safari into Yala itself. You can hire your own vehicle, although it does need to be a high clearance four-wheel drive and you will need experience driving off-road, as there is no legal need to have a guide.
This may not be the best option though, as you are unlikely to know where to go to find the wildlife! A better option is to hire a private guide and driver or to join one of the many daily tours that depart from the town.
These safari tours can be arranged in advance through travel agents, or you can wait until you arrive in Tissa and book through your hotel or an agency.
If you prefer to avoid the hassle, but potentially pay more, then book in advance, as once you arrive you will be approached by many locals trying to sell you their particular tour as they try to fill their seats. Tours depart early in the morning, to give you the best chance of seeing the wildlife.
The park's main entrance from the western side is found by Palatupana, around 12 miles away from Tissa. Here you can find a visitor center and local rangers.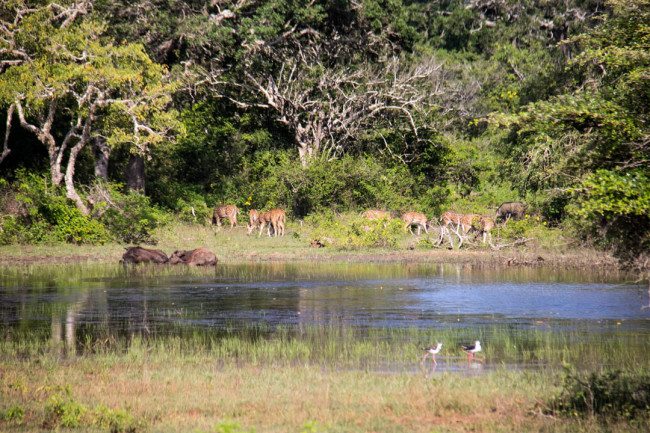 Best Time of Year to Visit
Yala National Park technically is classified as having a dry, semi-arid climate usually associated with desert regions. However, the first thing you will notice about Yala is the greenery, a seemingly contradictory fact and observation.
For much of the year though, Yala receives little rainfall. The area relies heavily on the short but extreme monsoons that periodically sweep through Yala and replenish the region with moisture.
Realistically, you can visit Yala National Park year-round, however, your chances of seeing wildlife are best in the dry season which runs between February and June.
This is when the animals are forced to disperse to more permanent watering holes as the land becomes drier, and so it becomes easier for guides to track their movements and to lead visitors to where they are more likely to be found.
The worst of the northeast monsoon falls between September and December and the park becomes lush, green and overgrown, making wildlife viewing much more difficult, but not impossible.
Some parts of the park may become waterlogged and impassable. Although more difficult a time to travel, it can be much, much quieter during the rainy season, and if you are looking to avoid the crowds then this is the time to visit.
Still, planning your trip to Sri Lanka? Check out: One Month In Sri Lanka: Itinerary And Travel Guide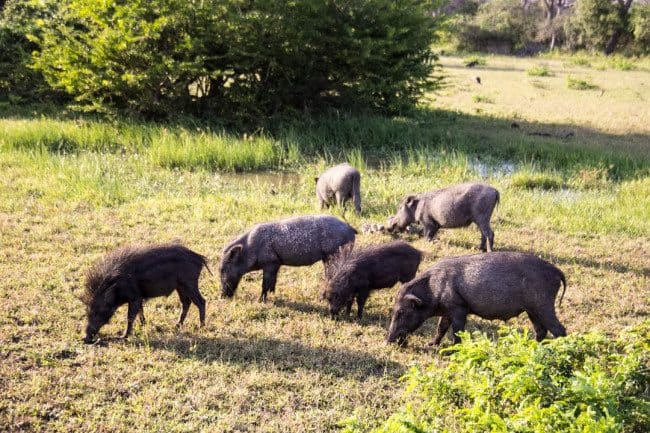 Wildlife of Yala National Park
Yala National Park is such a popular destination for a very good reason. This is possibly the best place in Sri Lanka to see the most number of different species of animals.
The main attraction in the park and the reason that many travelers specifically visit Yala is for the opportunity to see the rare Sri Lankan leopard. There are very few of these creatures left in the wild, but a small number can be found within the park.
There is a sizeable population of elephants here, and you are likely to encounter at least one of these big animals, even just along the main roads in Yala as they are somewhat fearless. Water Buffalo can be found here, as can Saltwater Crocodiles.
Another rare species that call Yala home is the unique Sri Lankan Sloth Bear, a lovely little creature that is unfortunately highly endangered. While there are no guarantees you will actually see a sloth bear, this is the best place in the country to try.
Alongside these more elusive animals, Yala holds much more wildlife, including many diverse species of a bird many of which are unique to Sri Lanka. There are also monkeys, deer, wild boar and many, many more creatures waiting to be discovered within the park.
Don't leave home without: Lonely Planet Sri Lanka (Travel Guide)
Health and Safety
Although it's not required, it's definitely advisable to take a guide with you when visiting Yala National Park. This is wilderness and it's easy to become lost in the expanse. Be careful around the animals, and particularly around rivers and watering holes as there are many crocodiles within the park.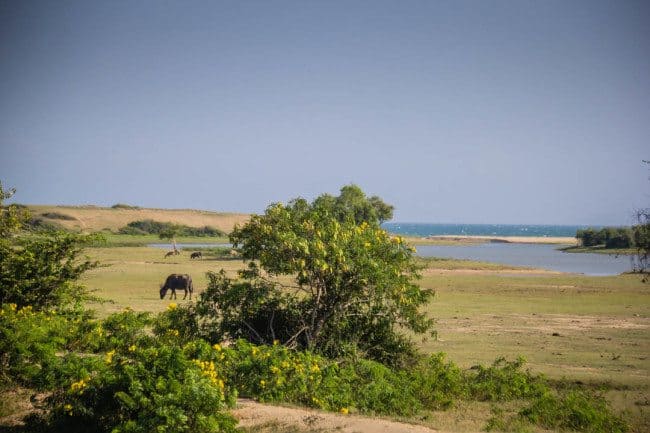 Where to Stay in Yala National Park
As already mentioned in this guide, the most convenient base for accessing Yala National Park in the nearby town of Tissamaharama. There is a great range of accommodation to be found here including some real bargains.
The town though can prove to be a struggle as there are many touts trying to sell their own hotels and you are likely to hear of many scams aimed at tourists.
The cheapest accommodation, while very cheap, maybe unsuitable if you are looking for quality and it can be best to secure a reputable room in advance if you are looking for something specific.
Tissa, while convenient, may not be what everyone is looking for and if you are looking to really get away from it all then there are also several luxury camping and glamping sites within Yala National Park itself.
These options are by no means cheap and very much akin to the luxury safari resorts that are so popular in Africa countries. They are, however, a fantastic experience.
Staying at one of these properties will allow you to enjoy the serenity of the wilderness while having access to comfortable amenities before being taken on daily guided tours through the bush in search of the rarest of Yala's local creatures. Our favorite place to stay near Yala National Park is Cinnamon Wild Yala.
Read reviews and check prices with our Hotel Search Engine, that gives you the best hotel deals found on the web. Our search engine pulls results from all of the major booking places, including Expedia, Hotels, Booking and more. All the options, all the deals, all in one place and just for you.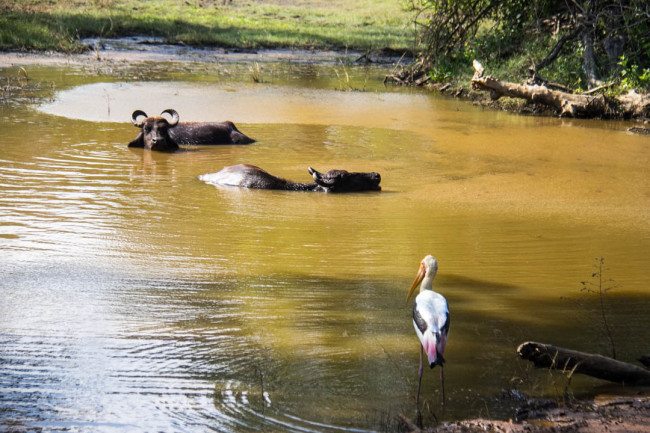 Our Recommended Multi-Day Sri Lanka Tours
More on Sri Lanka:
Did you like this story? Share it!