Our truck had been bumping and grinding down the road since we left the pavement 30 minutes earlier. The sun was beginning to show its face above the tree line and the day was showing us it would be lovely weather and a bright blue sky. This made it easy to ignore the jostling around as we made our way into the heart of the park.
Our first stop required us to queue and register for permits which would allow us to spend the morning exploring the park and watching the wildlife as we encountered them. Of course there was no guarantee, but the office was buzzing about the animals being in plain site this morning. Having collected our permits, we hopped back in the truck and set off on the sand tracks into the heart of the Yala National Park in Sri Lanka. We were off on our first safari.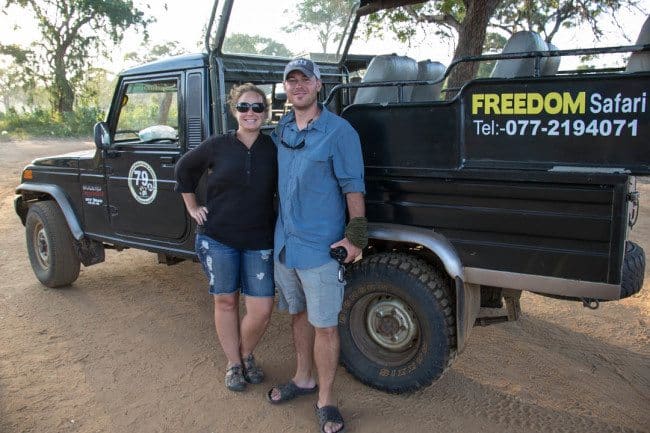 Africa is on our bucket list and with plans to spend most of 2015 crossing that off our list, we looked at the Yala National Park as an opportunity to get our feet wet and check out some animals. In addition, it just happened that the day we hopped in that jeep marked our 365th day of continuous travel. For us, no matter what we saw, we would always remember this day.
It didn't take long for us to have our first sighting, a group of elephants grazing in the grasslands as we entered the park. Elephants are a hallmark of the island of Sri Lanka, they are everywhere and you can visit many different places within the country to see them living peacefully in the wild. It wasn't our first time seeing them since we had arrived in Sri Lanka, but it was special to see the group of them so relaxed and enjoying the beautiful day.
Check out ==> Sri Lanka: 1 Month Itinerary And Travel Guide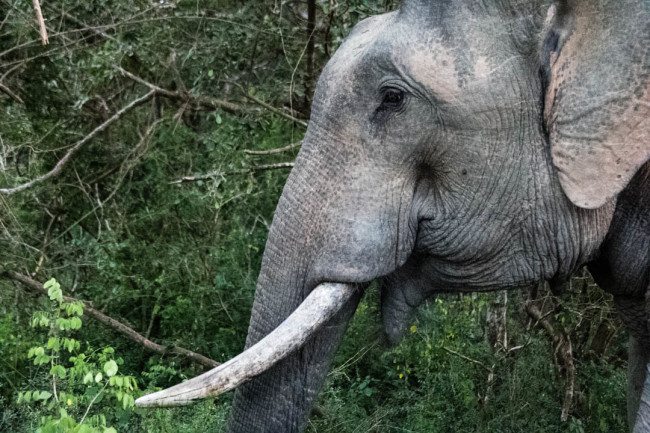 ~*~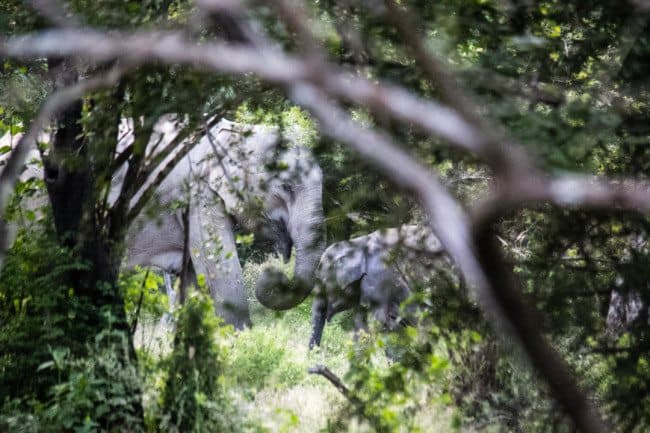 Continuing on from the elephant sighting, our driver opted to take a fork in the opposite direction of the jeeps in front of us. He turned to us with a smirk on his face, indicating that he had just received a call and that our detour would get us to the sight before the other jeeps. I was intrigued, what had been spotted that would cause and instant diversion?
We bumped along in an almost panicked manner, our driver was speeding up and slowing down between large holes like we were in a race. Rounding a final corner I saw a most impressive sight in the distance. Now it wouldn't be what you would expect, some majestic animal sauntering across the road, but a massive road block of jeeps. By massive, think at least 50.
After some deliberation, excitement and questions being asked, we determined that a leopard had been spotted across the lake. Ah ha, that explains the urgency to arrive and the massive road block. Seeing a leopard in Yala National Park is possible, and one of the things the park is well known for, however as big cats go they tend to be elusive. So it is still a chance of luck when entering the park whether you will actually see one or not.
Check out ==> TWO WEEKS IN SRI LANKA: THREE ACTION-PACKED ITINERARIES TO ROCK YOUR TRIP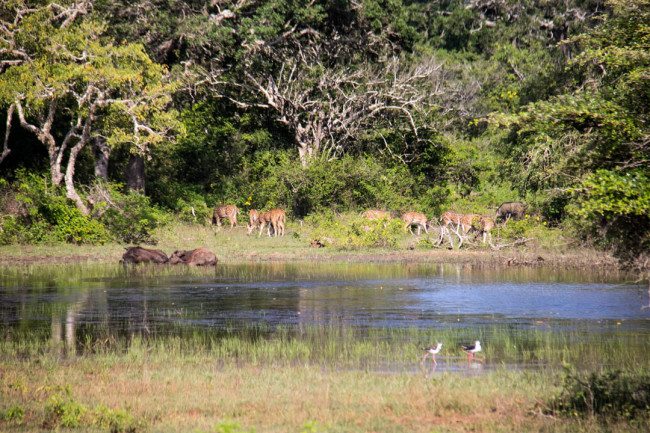 ~*~
[/fusion_builder_column][fusion_builder_column type="1_1″ background_position="left top" background_color="" border_size="" border_color="" border_style="solid" spacing="yes" background_image="" background_repeat="no-repeat" padding="" margin_top="0px" margin_bottom="0px" class="" id="" animation_type="" animation_speed="0.3″ animation_direction="left" hide_on_mobile="no" center_content="no" min_height="none"]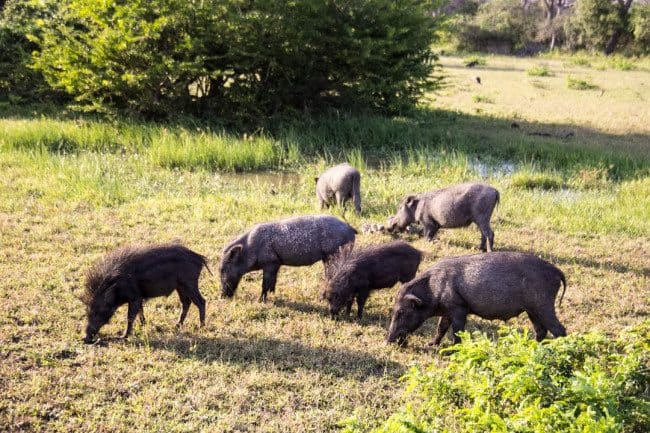 So you can imagine our excitement that one had been spotted so early in our safari, yet I couldn't help but wonder if it would still be visible to us once we reached an area that we could see it. The commotion was astounding, ill-educated tourists were yelling and shouting to each other, clambering around on their jeeps and making so much noise that even I was bothered. Don't these people know ANYTHING about viewing wildlife?
I thought for sure we would miss our chance, but our driver insisted on pushing forward with the jeep, squeezing through tiny spaces and forcing our way to the front of the group. When we arrived there, we saw nothing, yet he insisted we needed to look harder. All I could see was some grasslands that led up to a small lake and some shaded forest on the far side.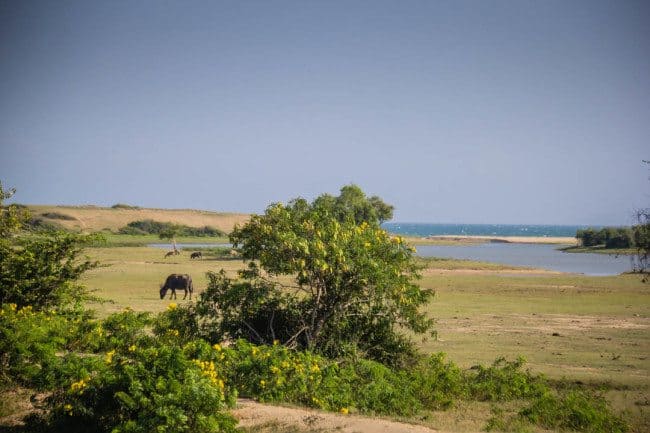 ~*~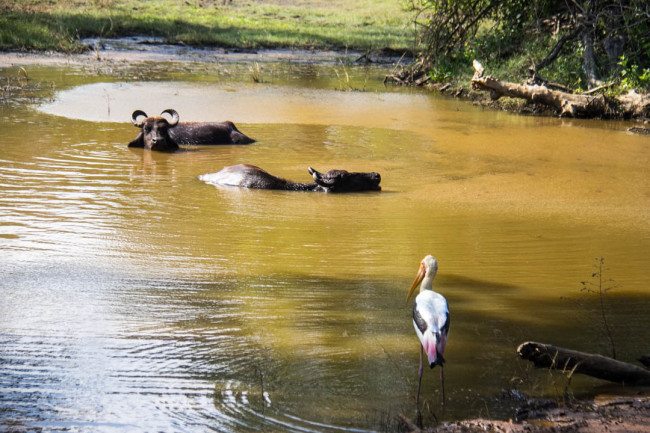 That is when I realized what to look for. The leopard had taken up a spot on the ground, next to a large rock, under a shady tree on the opposite bank of the lake. He was having a siesta and could have cared less about us. The only reason being, of course, was that he was so far away you almost couldn't spot him with the naked eye unless you knew exactly where to look.
Good thing, because had be been closer nobody would have seen him due to the annoying commotion. Our driver edged us all the way up past the other jeeps and we took our time photographing him, or at least attempting, as he was really far away. My 200mm had nothing on him and while I was able to capture him, when I cropped in after the fact it was quite distorted.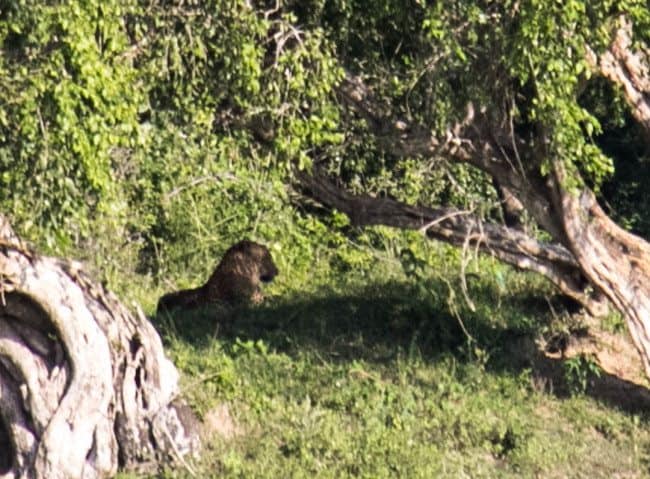 I hadn't been toting around my arsenal of camera equipment for this part of our trip, but it was an unpleasant reminder that despite how heavy and uncomfortable it can be carrying 15kg of camera equipment, it must be done for our visit to Africa.
Inconveniences aside, we had seen a leopard and he was amazingly beautiful. After moving on, we spent the next 4 hours discovering many other inhabitants of the park including crocodiles, wild hogs, buffalo, many bird species and more elephants. As we left the park, we even had a male bull elephant standing in the middle of the road holding up traffic.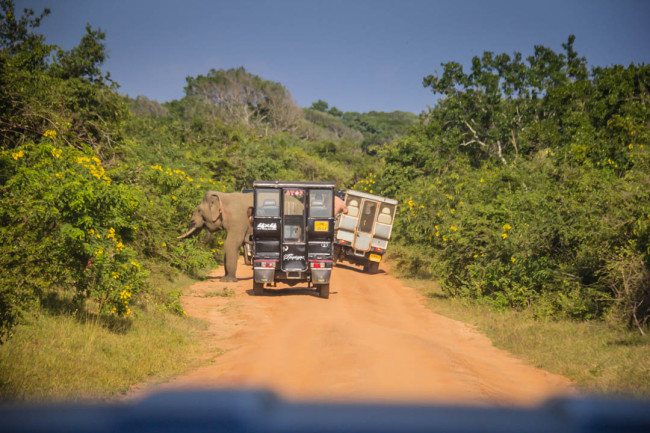 He was literally frisking every jeep that went by, in search of food. The remnants of bags he had snatched lay littered on the ground as we passed through and managed to avoid him grabbing one of our bags. It was a close one, he almost made off with it, but we triumphed in the end. Cheeky bugger!
I know it's not Africa, but the Yala National Park in Sri Lanka is a special place and without a doubt one of the best wild animal experiences we have had in our travels to date. If you happen to find yourself in the area, don't hesitate to book yourself on a jeep and do some exploring for yourself. You wont regret it.
A tip: travelers need to obtain one valid visa to Sri Lanka prior to the trip. In 2012, Sri Lankan immigration introduced ETA (Electronic Travel Authorization). Travelers can apply for the ETA at the earliest 6 months before the first arrival date. ETA is valid for 6 months for 2 entries. Each entry, travelers can stay up to 30 days.
Have you ever been on a safari?
---
More on Sri Lanka:
Kumana National Park – The Only Safari Guide You Need
Arugam Bay Guide to the Perfect Visit
10 Sri Lanka Beaches You'd Be Foolish to Miss
---
Resources For Planning Your Sri Lanka Trip:
Recommended Guide Books For Sri Lanka: DK Eyewitness Travel Guide: Sri Lanka
Search for Flights: Priceline or Skyscanner offers great deals to Sri Lanka and India.
Find Accommodation in Sri Lanka: Read reviews and check prices for hotels in Sri Lanka at TripAdvisor or AirBnB.
Travel Insurance: Allianz Travel Insurance has the best travel policies available for US and International travelers.
Viator offers over 200 different tours in Sri Lanka. Check out ==> Sri Lanka Tours, Tickets, Activities & Things To Do
TourRadar offers 84 multi-day trips through Sri Lanka with 544 reviews. Check out ==> Sri Lanka Tours and Trips
Disclosure: All opinions are 100% mine, as always. This post contains affiliate links, meaning we receive a small commission at no extra cost to you.