It's not every day you find your office view to be the rolling waves of the Indian Ocean. We had arrived in Mirissa Beach, on the south coast of Sri Lanka, the night before and decided to spend the morning working with a view in the beachside cafes along the oceanfront.
The atmosphere is quiet and you have the ability to order cold fruit shakes and enjoy the shade while plugging away on the computer.
While enjoying a morning of working at a little restaurant right on the beach, I couldn't help but peek over my computer screen and admire the waves that were coming in from the Indian Ocean and crashing against the beautiful beach.
I can sit on a beach for about an hour or so but any more time then that and my ADD kicks in. I have to be up to something, I'm always thinking and watching what is going on around me.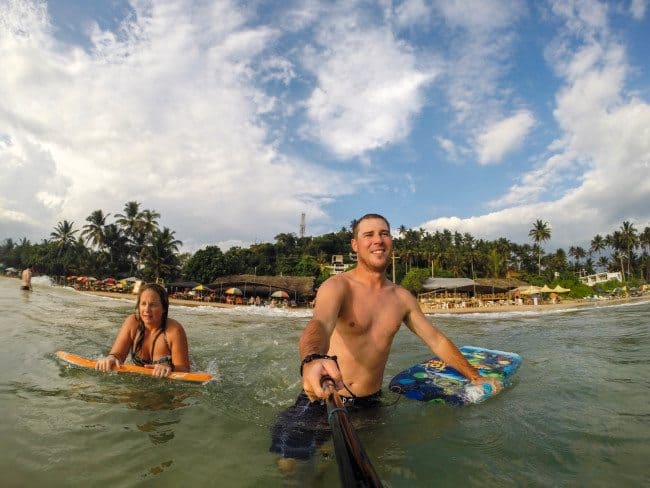 While not doing what I should have been doing, "working", my attention was fixed watching people of all ages trying to ride the rolling waves to the beach. The waves looked awesome and insanely ride-able.
This sent my mind wandering, you know how you always see on beaches around the world those stands with guys trying to rent boogie boards and surfboards? Just because they are renting them does not mean it's worth doing and we typically just meander past them and not really give it another thought.
Well, that was all about to change as we tried to stay focused on our task but constantly being distracted by the enormous waves, we shut down the computers and decided it was time for us to have our own boogie boarding adventure.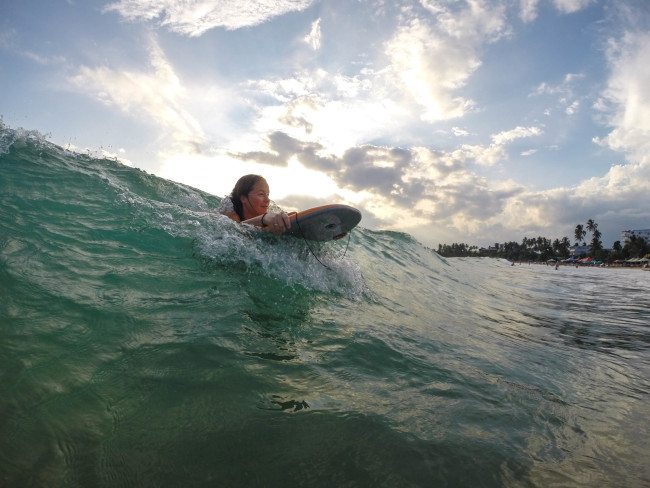 To our luck the hotel we were staying at offered free use of their boogie boards. So this cut out the haggling we would have to do with those guys renting boards on the beach.
They were not in the best of shape but they provided us hours of fun playing in the waves. I have not been boogie boarding since I was a little kid on vacation in Florida, which was years ago.
We stood on the beach, our newly acquired boogie boards in hand, and observed the conditions. There seemed to be some lengthy sets with a lot of build toward the later waves. Even with watching the waves before entering the water, we really didn't know what we were in for.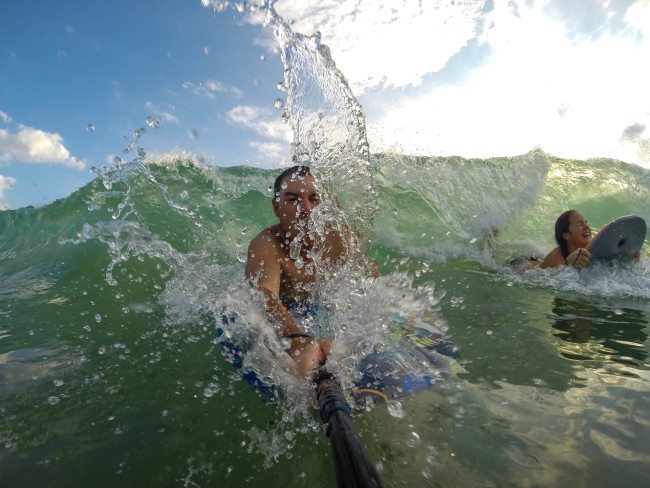 It took a few tries to get used to the board and the waves. Once we figured out the wave pattern, which ones would be good to ride on, then we know when to start paddling.
It just came down to practice and chance for us, and when we managed to find the right wave we got a great ride all the way to the beach. We are no experts at boogie boarding but we were the main show on the beach that afternoon.
People would sit watching us guessing on what waves we could pick to ride and what waves would put working on us.
Every wave was different and unpredictable, even though we would know the wave pattern, once on that wave you would never know if the wave would bring you onto the beach or if it would just consume you.
This was the fun of it and if either of us wiped out, we just brushed the water our of our faces and headed back out to catch another one.
One wave knocked me off my board and sent me tumbling under the wave while Lina road right on top of it at the same time. The wave pushed her on top of me while I was rolling around in the wave.
That wave put a hurting on me and I even kissed the sandy ocean bottom. As if that wasn't enough after it tumbled me a few times I popped up in a bad spot just in time to get worked by the wave behind it.
That's just the joy of it though and what makes it a great day of adventure on the water. No matter where you are you need to make sure it's safe to enjoy the water though.
Watch out for rocks, tides and currents that can cause issues for you. People can also be an issue, watch out for people playing in waves and also for other boarders. You may see them but they do not see you.
The waves were good for surfing in areas outside of where we were boogie boarding on Mirissa Beach and were larger in the afternoon then the morning.
It seemed during our 2 hours of playing in the waves, the sets were getting more aggressive as the tide changed creating stronger under tow and really large breaking waves.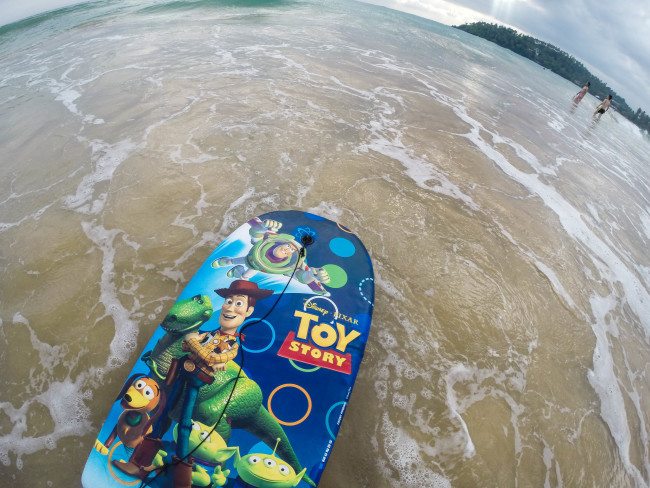 Remember no matter what your age you are never to old to put caution to the wind and enjoy some fun. For me, this is my favorite memory of our time spent in Sri Lanka.
More on Sri Lanka:
Did you like this story? Share it!