Yes, you read that right. Divergent Travelers is headed to Africa, finally! This destination has been long-awaited by us. So much so, that we almost ditched our plans to return to Southeast Asia in October in lieu of heading straight to Africa.
The desire for us to visit Africa is intense and nagging. It has been pulling at us for a while and we finally have our plans finalized. We're happy to announce we will be spending nearly 5 months in our most anticipated continent for 2015.
So, I am sure you're wondering where we will be going and what we will be doing. 5 months is a long time, but when it comes to Africa, I still think we will only be scratching the surface.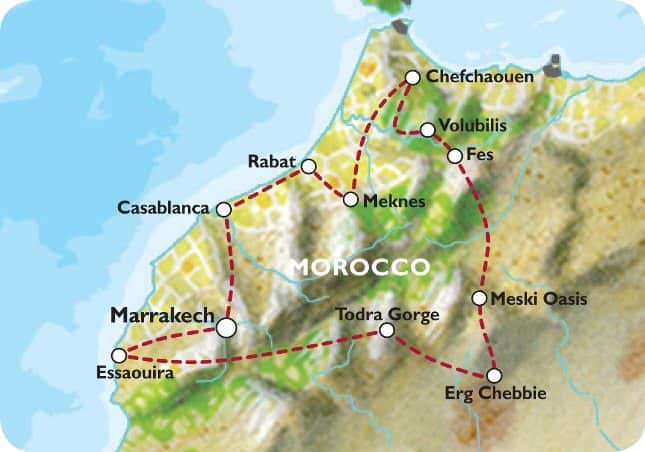 Morocco
First things first, we will be starting in Morocco at the beginning of May. We will be joining the Oasis Morocco Encompassed trip that will take us to all the major places in Morocco. Our time in Morocco will last 15 days, taking us from the busy medinas, stunning coastlines, blue cities, snow-capped mountains to the Sahara desert and back again.
Places included in our itinerary include; Marrakech, Casablanca, Rabat, Meknes, Chefchaouen, Volubilis, Fes, Sahara, Todra Gorge, and Essaouira.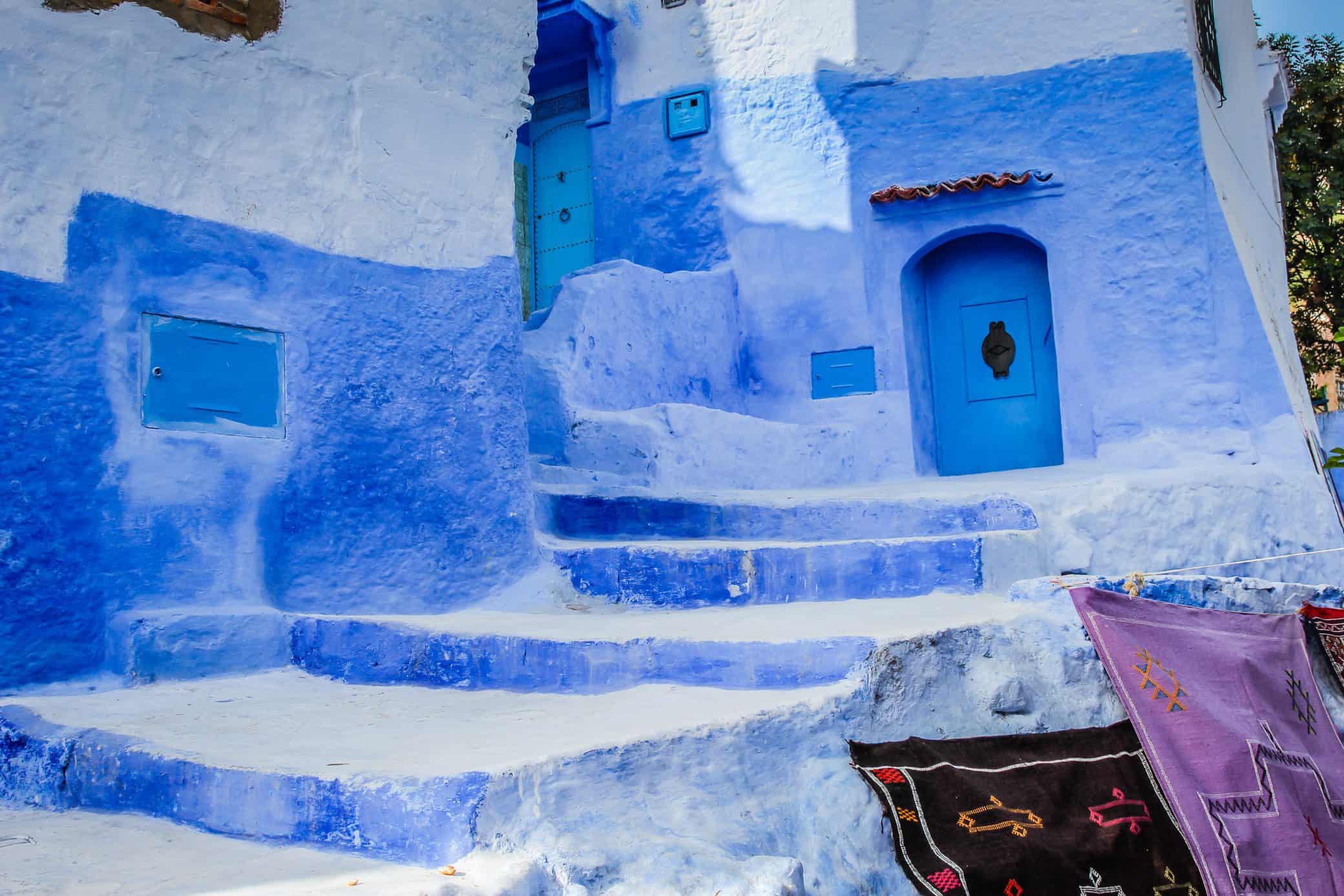 Highlights on this trip include the blue city of Chefchaouen, hiking in the Atlas Mountains, camel trekking into the Sahara Desert and camping at a traditional Berber camp, wandering the market streets and horseback riding along the coast.
Book you own amazing tour to Morocco: Check prices with Oasis Overland
17 Week Africa Overland Expedition
That's right, when we leave Cape Town it will be in an overland expedition truck headed for Cairo. Yes, Cairo and yes, 17 weeks. This journey will be epic! Africa is one of those destinations that makes or defines a traveler. At least that is what I think, kind of like how you haven't really tested yourself as an explorer until you've braved India or China for a length of time. Sort of like a right of passage for those of us that crave adventure and being off the grid. For us this is great, for all of you readers, well you will have to bear with us as we travel through some of the most remote areas on this planet.
Our 119-day expedition will take us overland through 14 countries from the South to the North of the African continent. This type of trip is not for the faint of heart, it will be tough and it will be incredibly rewarding. We will be living off a 22-passenger expedition truck. 80% of our trip will involve camping, and at times, bush camping in the vast wilds of Africa.
We will be sleeping in tents, sometimes we will not have plumbing and we will all be participating in the making of meals and the setting up of camp each day. This isn't a boxed tour that shuttles your hotel to hotel, it is real, raw adventure and we are pretty damn excited.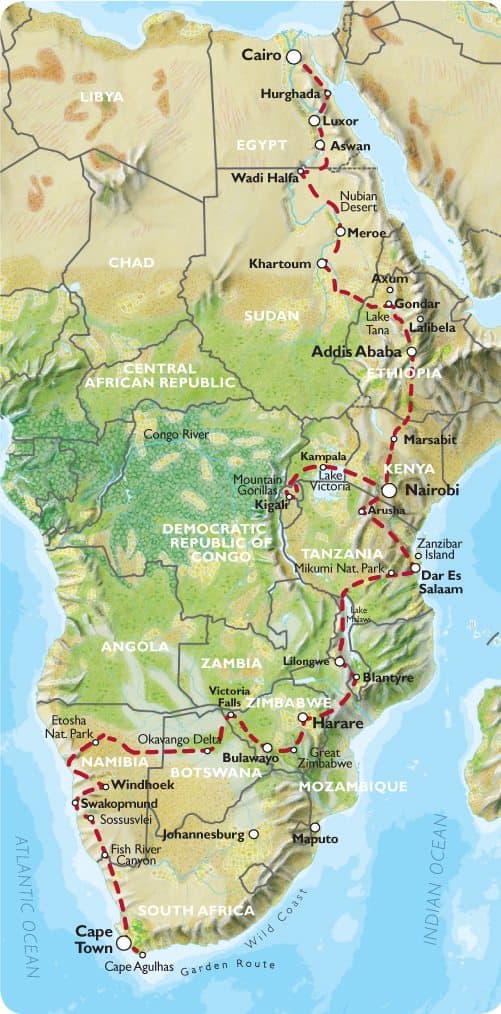 Although it's difficult to sit here and type up every single thing we are doing on our trip, here's a brief breakdown of the countries we are visiting and some of the things we will be up to as we pass through them.
South Africa
After spending time in Cape Town, we will meet up with the rest of the crew and begin our Oasis Overland trip heading North towards Namibia for our first land border crossing of the expedition.
Namibia
This is one of the most diverse countries in Africa, featuring towering sand dunes that plummet into the ocean, animal packed national parks and many landscapes that are unique only to this part of the World. We are so excited this will be near the beginning of our journey and it's an adventurer's playground with many things to discover.

Botswana
The Okavango Delta and Chobe National Park are our highlights as we make our way across Botswana towards Zimbabwe. We'll be leaving our overland truck to venture into the heart of the Okavango Delta in search of some of Africa's most prized wildlife including hippos and rhinos.
Plan your own overland trip through Africa: Oasis Overland Africa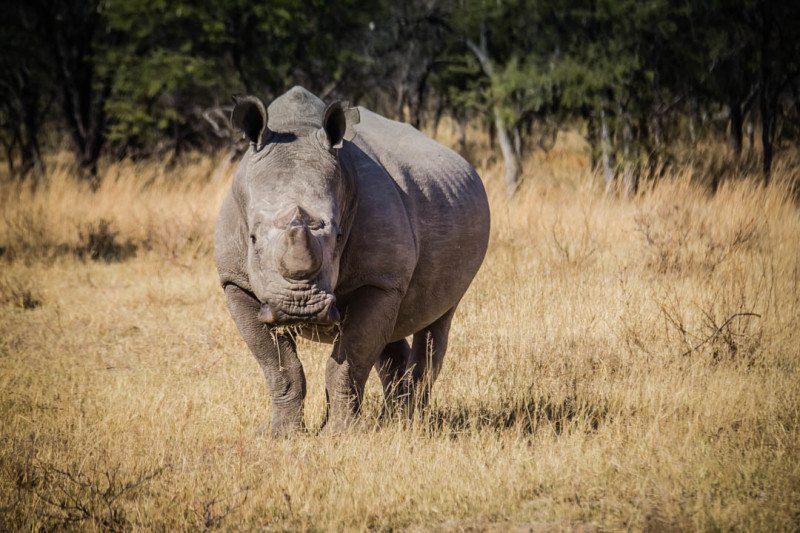 Zimbabwe
The home to Victoria Falls, we will be spending time getting up to all sorts of adventure during our time here including bungee jumping (at least for Dave, I'm still undecided), helicopter rides over the falls, swimming in Devils pool and white water rafting. We also plan to pay a short visit to the Zambia side of the falls. After that we'll head to Matobo National Park hoping to catch a glimpse of the endangered black Rhinos.
Mozambique
We'll be following the Tete Corridor as we enter Mozambique and make our way towards Malawi. Our time here will be shorter than some other countries, but we will be visiting the capital Lilongwe and will have a chance to check out the local markets and take in the local life.
Malawi
We've heard nothing but good things about this small African country and we're excited to get up close and personal with some real culture during our visit to Malawi. We'll be camping near villages and will have many chances to interact with the locals and gain great insight into their lives.
Plan your own overland trip through Africa: Oasis Overland Africa
Tanzania
I believe this will be our busiest country on the trip. Our first stop includes a safari through Mikumi National Park before heading towards Dar es Salaam where we plan to head over to Zanzibar for 4 days of relaxing on their white sand beaches.
From there, we head north into one of the hearts of Africa, Ngorongoro Crater, and the Serengeti. Here we will leave our truck and join a smaller expedition that will take us on safari into the Serengeti and if I am looking at the dates right, we should be there during part of the Great Migration! Talk about great timing.
Kenya
Entering Kenya will take us to Nairobi for some modern civilization and a chance to restock supplies, have a cold beer and catch up on the World news. We then head northwest which will give us more wildlife viewing opportunities as we make our way towards Uganda.
Uganda
We are both overly excited about a visit to this part of Africa. Our truck takes us straight into the heart of this small country where we will have a chance to explore small villages, tribes, and markets before heading towards the Chimpanzee rehab center.
Plan your own overland trip through Africa: Oasis Overland Africa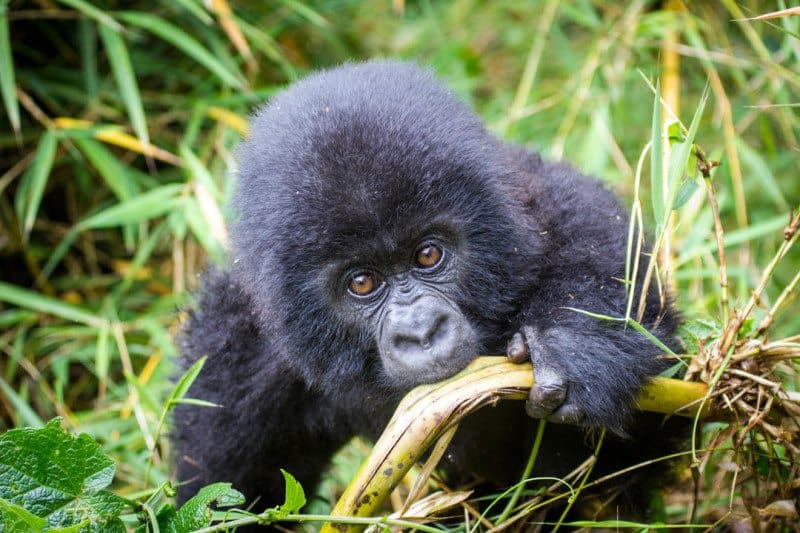 Rwanda
As you all know, we're adventure junkies, so it should come as no surprise to you that we signed up for the optional activity to go gorilla trekking into the jungles of Rwanda. We will have a chance to hike through the jungles of Africa in search of a family of Mountain Gorillas. Once we locate them, we are able to spend an hour with them for photos and observation. We had to apply for permits in order to have this experience, as the gorilla's welfare is the priority. Visitors are limited, so it will be a really special opportunity for us.
Ethiopia
Continuing North from Uganda and crossing through northern Kenya, we head into Ethiopia and we really aren't sure what to expect. Our itinerary says we will be visiting Omo Valley, Omo National Park and the Blue Nile Gorge to name a few. This country carries some mystery for us, so we're looking forward to seeing the landscape start transforming as we head north and explore this country.
Sudan
Speaking of mystery, this is another country we haven't done a lot of research on. We know it can be difficult for US citizens to enter, but from the little that we have read, it sounds like a pretty amazing country to check out if you manage to get in. Our truck will move through this country from south to north stopping on the banks of the Nile, seeing the Pyramids at Meroe and the Nubian desert to name a few.
Plan your own overland trip through Africa: Oasis Overland Africa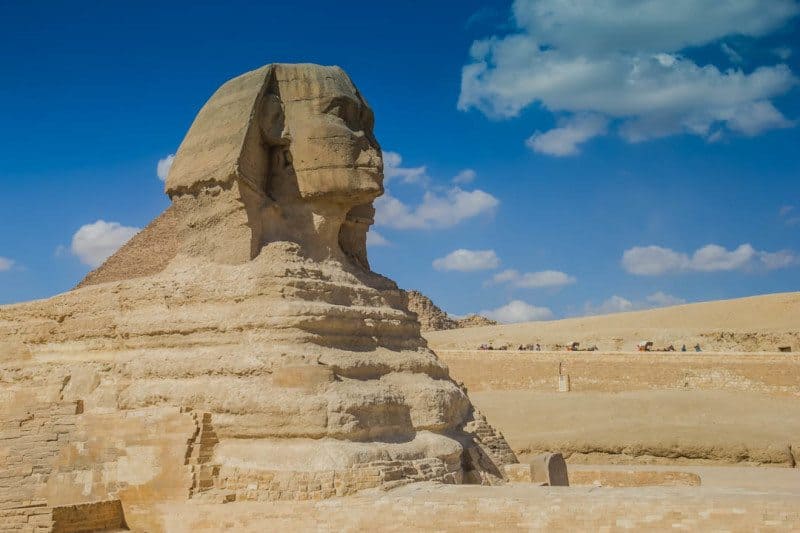 Egypt
Lastly, we cross the border into Egypt and a chance to explore the many wonders this one country holds. Egypt has been on our travel destinations list for many, many years and we are elated to finally have plans for a visit.
I know the political situation hasn't been the best in the past few years, but tourism is alive and well here and we cannot wait to see the grand sites in this country. We will be hitting up all the highlights, including some time on the Red Sea for some diving and of course, the Great Pyramids of Giza.
As you can see, we're in for an amazing adventure and we can't wait to share it with you. We will be documenting our entire trip, including Morocco, right here on the blog and through all of our social media channels. Be sure to follow #OasisOverland and #DivergentTravel to stay up to the moment on our travels.
Plan your own overland trip through Africa: Oasis Overland Africa
Where would you visit on this trip? Have you been to any of these countries?