As an adventurer, I understand the importance of finding a good base and a place to rest my head while exploring a new place. Many people choose their hotel property based solely on what the property can offer them during their stay. While we recognize the importance of amenities, we take it a step further and look at properties from the perspective of maximizing our adventure opportunities, especially when we are staying in cities.
Recently, we set off on an urban adventure to New York City. It is not the Amazon, but it is nothing short of a concrete jungle. There are many things to see, do, experience and get up to on a trip here. The most important thing when visiting a big city is location, followed by the ability to rest and relax between adventures.
While New York City offers a wide variety of properties, from hostel to luxury, we were in search of a property that could put us in the thick of it, offer comfort and give us the recharge we needed between days. Let us introduce you to The Benjamin.
Check out ==> A Weekend Away: New York City
The Benjamin New York City
Established in 1927, originally known as The Beverly, it is one of the most famed creations of architect Emery Roth. In 1999, The Benjamin reopened after undergoing a $30million renovation and became the luxury hotel it remains today. It sets the standard in comfort and relaxation for many hotels in New York City. Every room is equipped with a sitting area and kitchenette to give you a home like feel during your time in the big city.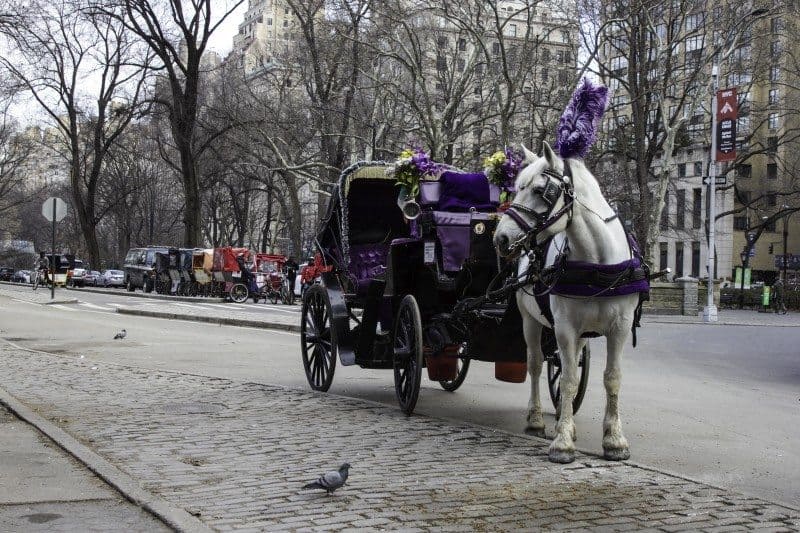 Why is The Benjamin a good adventure base?
Notoriety aside, this midtown luxury hotel is located right in the thick of things and provides the perfect base for an adventure in the urban jungle. Each direction of the hotel offers something different. To the North, you're a hop, skip and a jump from the World famous Central Park. We were able to visit both day and night from this base with ease.
To the South is the famous 5th Ave and a great place to take a photo walk to capture the life of New York City. To the West, you're a mere 10-15 minute walk from Times Square and Broadway. But my favorite part of the location is the proximity to Rockefeller Plaza. We were able to wander to the plaza during the day to photograph the sites, and then again at night to experience the plaza in all of its lighted holiday glory.
Our night visit to the Top of the Rock was made easy with a short 5 minute walk from the hotel. Visiting at night gave us maximum photo opportunities to capture the New York skyline at night.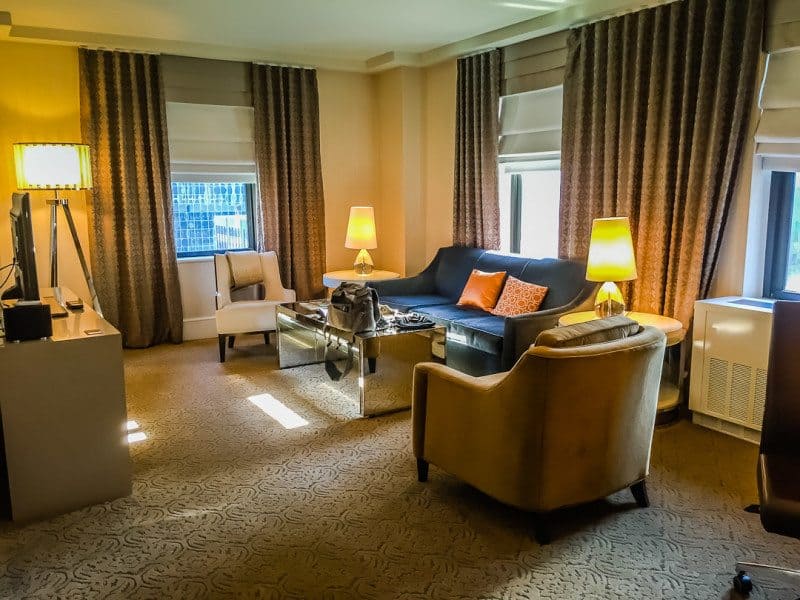 Room to Unwind
Adventure done and dusted each day, we were always eager to return to our fabulous suite at The Benjamin. With popcorn and wine in hand, we relaxed on our couch and enjoyed movies without even noticing the busy city life right outside our window.
As nomads, we are always on the move. Sometimes we will arrive in a new place and before we can muster the energy to go out and explore, we just want to relax in our room. The Benjamin was one of the most comfortable rooms we have ever stayed in. It was laid out like an apartment meaning it felt like home for us. You just can't beat that after a long flight or full on day in the city.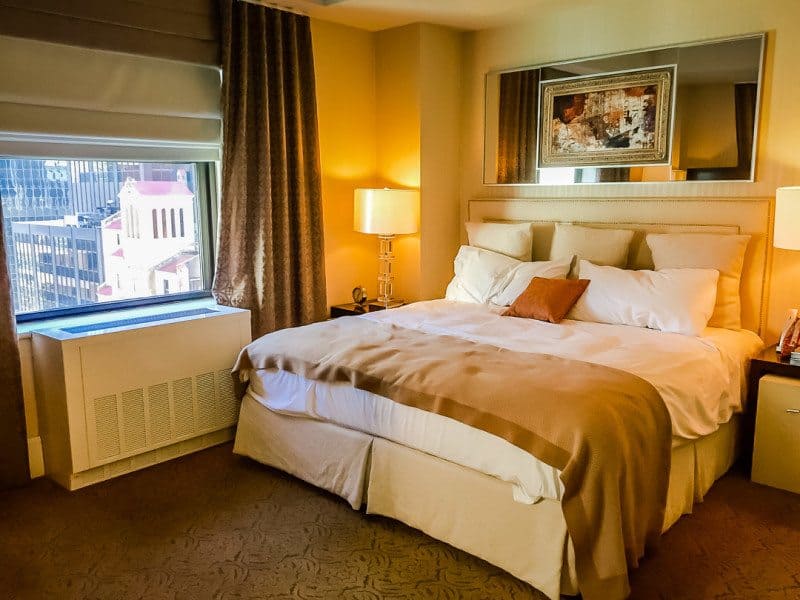 Sleep Program for Ultimate Relaxation
Turning in for the night was welcomed and turned out to be a real custom experience when we opened up the pillow menu in our room. What is a pillow menu, you ask? It is a menu where you select a pillow based on your preferred sleep position. This allows you to maximize your comfort and get the best sleep possible. How awesome it that?
It doesn't stop at the pillow menu either; The Benjamin offers a broad spectrum sleep program that is guaranteed to give you the best sleep experience of your life. Think Lavender essential oils, lullaby music, white noise machines, in-room pampering services and black out curtains. Personally, the black out curtains are on of my favorite features.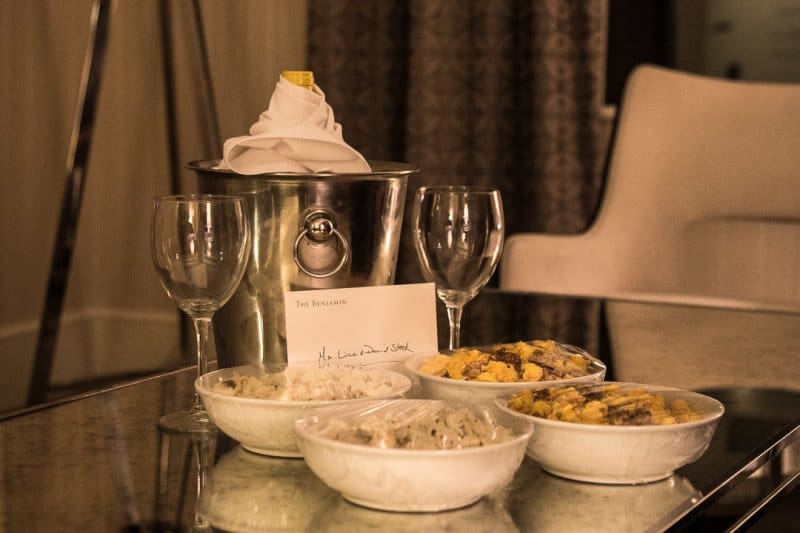 Attentive Staff
One of the most important things to a happy hotel stay is the treatment received by staff. Have you ever checked into a hotel and received sub-par hospitality? I know we have. Not at The Benjamin, from the moment we arrived on the curb of the hotel we were greeted with enthusiasm and genuine interest from the hotel staff.
We were asked daily how our trip was going and if there was anything they could do to make our stay better. We were showered with hospitality in the form of fruit baskets, wine, personal notes and popcorn during our stay. It is safe to say that the staff of this property went out of their way to welcome and ensure us a fabulous stay with them.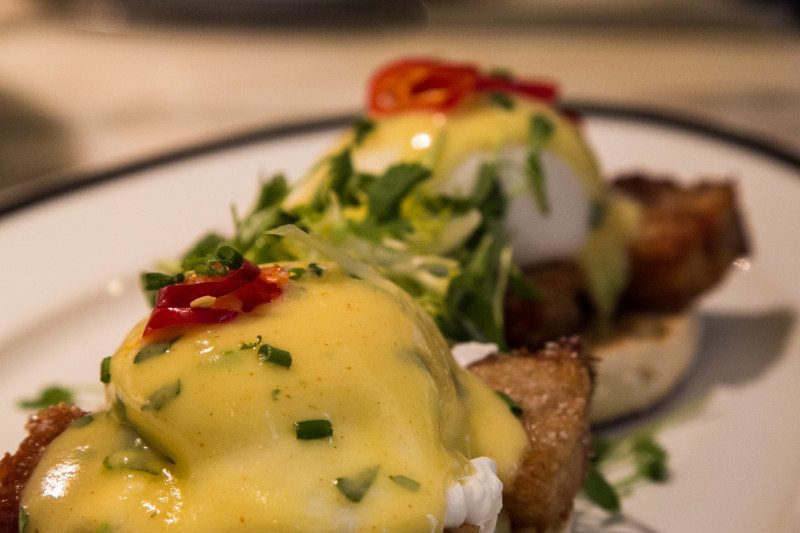 Cuisine Options
The last thing I want to point out is the delicious restaurant attached to the The Benjamin, the popular The National. Working together, The Benjamin and The National bring a food experience to guests that is hard to match elsewhere. Part of Iron Chef Geoffrey Zakarian's vision, Executive Chef William Harris delivers tasty and beautifully prepared favorites.
The best part of having The National attached? You can either dine in at the street level restaurant that is conveniently attached to the hotel lobby or order straight into your room.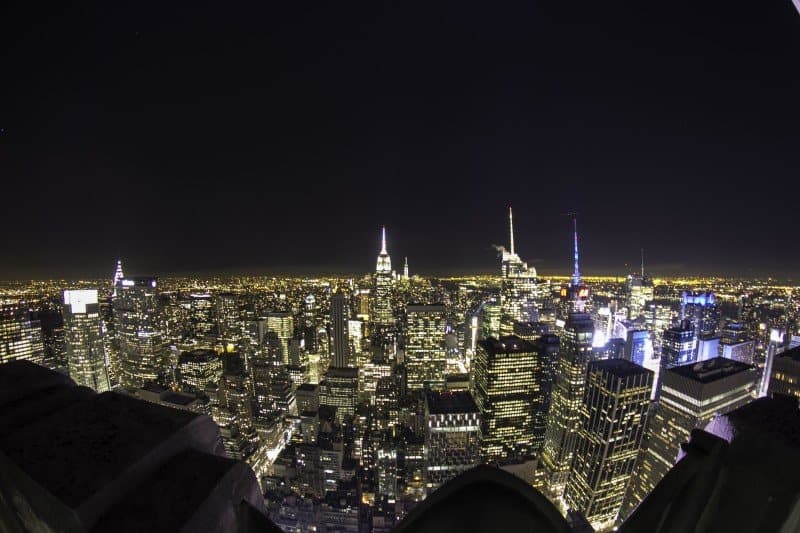 Would We Stay Again?
Hands down, yes. We also wouldn't hesitate to recommend The Benjamin to other adventurers that are looking for a great base to explore the urban jungle of New York City and be able to rest and recharge in between.

Travel Insurance: We use for Allianz for travel insurance and have since our first trip to Mexico in 2003. They've been there for us on our adventures – and many friends and readers – multiple times over! If you want to book with Allianz Travel Insurance, simply use this link to get their travel insurance!
A special thank you to The Benjamin and The National for hosting us during our recent adventures in New York City. All opinions are our own.