You may have heard of Norway for its fjords, and for the cruises that take visitors between the jutting cliffs that form the fjords, but there is a whole lot more to this Scandinavian country than that.
Encompassing not only the deep coastal fjords but also mountains, foothills, and glaciers, Norway has a whole host of things to do for the more outdoors-inclined. And one of the best ways to see this dramatic landscape is on foot, making hiking in Norway is the best way to explore.
There's nothing quite like the feeling of pushing yourself to climb further for a view that's even better than the last time you stopped for a breather.
Add to that the rewarding feeling of having worked for something as you sit there out of breath looking across yet another stunning vista, and there is little wonder as to why hiking in Norway is one of the nation's most popular outdoor activities (alongside cross-country skiing).
The beauty of hiking in Norway is that it can be undertaken at almost any age, young to old, because there are as many different landscapes as there are levels of ability.
Ranging from gentle or mildly strenuous to tough and downright dastardly, the hikes in Norway are some of the best in the world, and here are just a few of them. Additional information on the below hikes can be found in the Norway travel guide.
Best Time to Hike in Norway
After a long, cold winter, people emerge to take in the life awakening fjords, heading off to the countryside or one of the country's 44 national parks to breathe in the outdoors air and feel properly close to nature again.
The Norway hiking season runs from late spring (May-June), when the nature of Norway has risen from its winter sleep, until late summer (early to mid-September).
Summer is not only ideal, but it's also practical: many hikes can be dangerous or even inaccessible out of season, mountain roads are open again, and the very long hours of daylight at this time of the year mean more time to embark on longer hikes without the risk of being out after dark.
---
Hiking in Norway: 7 Incredible Hikes to Try
Surløytenuten, Blefjell, Telemark
West of Oslo | 10km, 3-4 hours
Located in the mountainous area of Blejfell, this hike is little-known but offers rewarding views for much less of the effort. Mountain landscapes often involve, you know, having to trek to the area with stunning scenery and then more hiking on top of that, meaning a big strenuous walk.
However, this relatively gentle walk gives you the sort of terrain you'd expect at high altitudes without having to actually make it there on foot.
Beginning in a pine forest, this hike takes in variegated shades of landscape, including bogs and low-lying vegetation, and offers peak views from the summit of Surløytenuten, itself 1,096m above sea level.
Hiking this route in summer, specifically August, not only means warm weather and beautiful blue skies, but it also means being able to pick cloudberries as you amble through nature.
Dovrefjell
Central Norway | As long as you want (from 2 hours)
This area of Central Norway encompasses highlands that are part of the Dovrefjell mountain range, a wild region that offers hiking in Norway that you can tailor to your own abilities and itineraries.
You're equally at liberty to walk for 2 hours as you are for a few days, using the mountain huts established throughout the area as accommodation. The huts are bare, spartan shelters, but certainly better than spending the night outside.
But arguably more famous than hiking in this mountainous scrubland are the musk oxen that inhabit the area. A trip to the 1,693 meter-square Dovrefjell–Sunndalsfjella National Park offers DIY musk-oxen-spotting and as such is a huge draw to the region.
A surefire hike that virtually guarantees a musk-ox spot, and takes in all aspects of Dovrefjell rolled into one, is the one-night trek from Kongsvold to the Reinheimen hut. It's 16km each way, and because of this length it's moderately difficult, but it's totally worth it.
Hvaler, Østfold
South Norway | 5-8km, 2-3 hours
Just two hours south of the Norwegian capital, this area offers an easy coastal walk that offers up the intricately craggy coastline of the Hvaler Archipeligo.
There is something blissful about taking a slow meander amidst the myriad islands and islets, swathes of blue sea and narrow channels that make up this fascinating collection of land-meets-sea.
A treat for the eyes and not too hard on the legs, a hike on the island of Vesterøy from Guttormsvauen to Kuvauen is a great way to experience this unique Norwegian landscape. It's great in all seasons, but very pleasant in summer when a pit-stop on the beach can provide ample time for a picnic or barbecue.
The old harbor at Kuvauen and the historic fishing huts located there is a fabulous bit of human history that looks quaint and idyllic on the backdrop of a shimmering sea.
Preikestolen (Pulpit Rock), Lysefjord
Southwest Norway | 8km, 2-4 hours
Though this is one of the most-visited natural attractions in Norway, you can certainly see why. The famous 25 x 25-meter block of rock that hangs 600 meters over the crystalline surface of Lysefjord is one of Norway's best-known views.
It can get quite busy here, especially on a clear day, so chances are that this glorious vista won't be wholly yours, but given the singular beauty of this spot, you can forgive everybody for wanting to come and see it.
The hike begins from a carpark at nearby Preikestolhytta and takes roughly 1-2 hours one way to the majestic Preikestolen itself – so famous that it is also known by its English name: Pulpit Rock.
Keipen, Geirangerfjord
Central Norway | 8-10 hours
UNESCO-protected Geirangerfjord is a destination in itself, a heritage site that is a testament to the quintessential landscape of Norway: the fjords. Virtually vertical mountainsides, craggy hiking grounds and the still waters of the fjords themselves make for a dramatic vista from any vantage point.
Waterfalls such as Friaren ("the Suitor"), Brudesløret ("the Bridal Veil") and the famous De syv søstrene ("the Seven Sisters") tumble down like sheets of mist down the sheer faces of the fjords.
There's also the must-see winding mountain road Trollstigen ("troll road"), which is also an alternative way to get to the Geirangerfjorden area. With such sights, it's easily accessible and tourist-friendly hiking in Norway experience.
Whilst there are short walks to Løsta and Vesteråsfjellet that offer up beautiful views, the best place to properly take in the full majesty of Geirangerfjord, whilst avoiding crowds, is from the summit of Keipen.
Scrambling up the steep side of this towering 1,379 meters-above-sea-level pinnacle is a job for summer and definitely not for beginners; the journey from nearby Geiranger (after which the fjord is named) will take you a whole day there-and-back, but the incredible view is likely to be yours to enjoy in your own company and an amazing reward for the hard climb.
Mount Skåla, Stryn
Central Norway | 3.7km, 7-8 hours
Another mountain climb is best undertaken in summer, the summit of Skåla offers views of the fjord, glacier, and mountains stretching below. From the village of Loen at the shore of the fjord it's an exceedingly sharp ascent, continuously upwards the whole way, with the top of Skåla sitting at a lofty 1,848 meters.
Because of the intense and the steep nature of the climb, this is recommended for "Experts" only, though many beginners and intermediates embark on this hike.
In fact, with a very good man-made path all the way to the top, as long as you're fit – and provided you start early – it would be a good goal for anybody looking to challenge themselves. It's around five hours up, and from two to three down, though for inexperienced hikers it can take longer.
Every year there's a race from Loen to the top of the mountain called Skåla Opp. This takes place on 18th August this year. Just thinking about walking up Skåla is tiring, let alone the thought of racing up.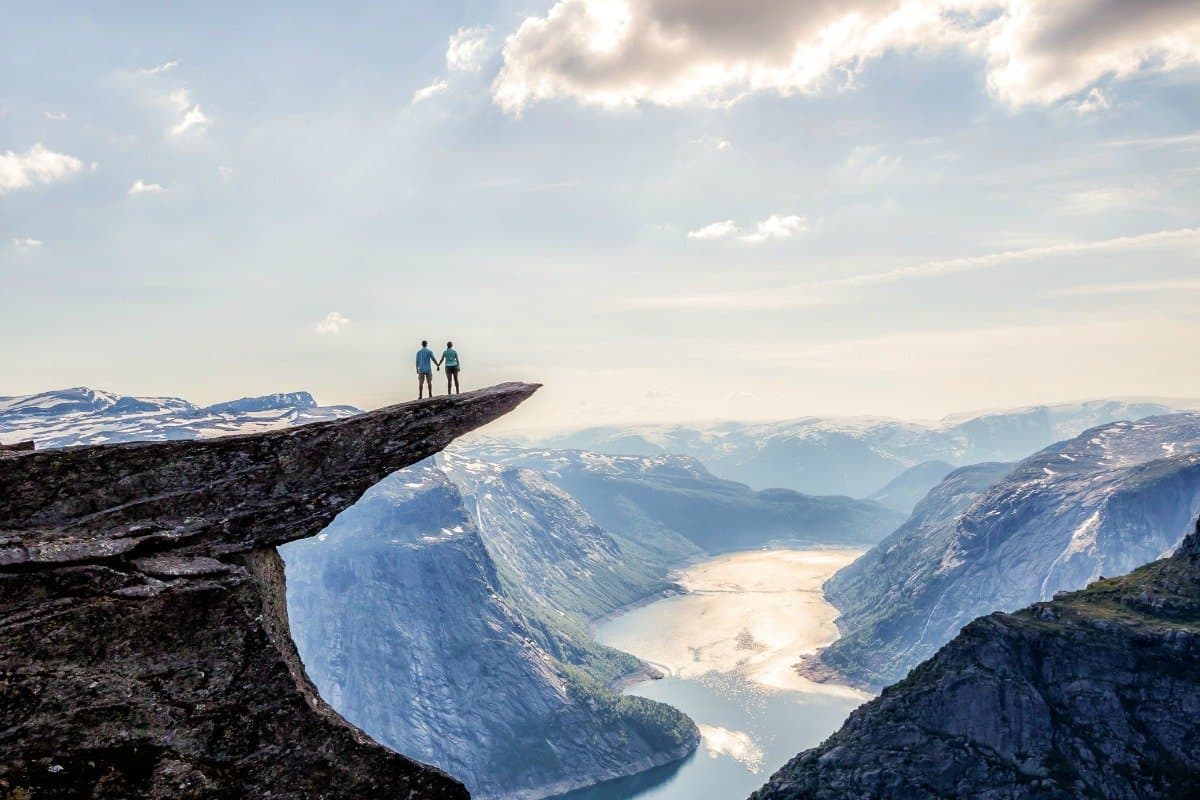 Trolltunga
Western Norway | 27km, 12 hours
Until 2010, the number of people who were hiking this now-famous trial was less than 800 per year; in 2016 the number of people who hiked this route was 80,000. Needless to say, it's one of the most, if not the most, famous hike in all of Norway.
It's named after the rock formation which is the midway point of this circular hike, a platform sharply jutting out of the side of the hillside that apparently resembles a troll's tongue (hence the name).
Read about our experience: Trolltunga Hike in Norway: The Only Guide You Need
The cliff overlooks Ringedalsvatnet, a lake in the Hardanger region, with Folgefonna glacier group visible in the distance.
Despite being so famous, it's not exactly an easy hike from the village of Skjeggedal to Trolltunga and back, taking around 12 hours. However, an alternative route opened in 2017, eliminating the steep climb from the carpark up to Måglitopp plateau.
However the new car park atop the plateau has space for only 30 cars and opens from 7am during the hiking season, so get there early if you wish to avoid one of the most grueling moments of this hike. The Trolltunga trail is open from approximately 15 June to 15 September.
It is also possible to arrange multi-day treks around the fjord and area of Trolltunga, giving you an opportunity to get away from the crowds and see the famous fjord from varying vantage points.
By taking one of these treks, you'll also be afforded evening and early morning hours at the famous vantage point. This approach is one of the Top 100 Travel Adventures in the world.
Hiking in Norway
To say modestly, this is a small sampling of the hiking options you'll find available to you in Norway. We put together a sampling of beginner to advanced hikes to give you a place to start when planning your trip.
It's no doubt the most popular hikes, like Trolltunga, are the ones that would send you to Norway. Don't be afraid to check out some other options as well, there is no shortage of epic landscapes and scenery to explore in this country.
More on Norway:
Did you like this story? Share it!