Norway is a destination we have always wanted to visit. We've spent countless hours dreaming about the perfect Norway fjords cruise while drooling over photos that showcase the natural wonder and charming culture that can be found all through the country.
Choosing a cruise company is not something we take lightly. As adventure travelers, we struggle to find the ones that offer the perfect balance between hard to access places and intimate experience. Of course, there's the ever-growing issue of sustainability that we have to consider too.
We knew that we wanted our Norway cruise experience to be on a small ship that didn't compromise comfort for in-depth exploration. What we found was a company that offers a true expedition environment, on a small ship, with one of the most immersive itineraries possible along the coast of Norway.
Book your own Norway Cruise: Cruising the Norwegian Fjords in Depth
Custom Built Ship
The G Expedition started as a ferry vessel and when purchased by G Adventures was converted into a custom-built, adventure-focused, polar vessel. Not one detail was spared in the designing and safety considerations of this ship.
G Adventures points out on their site that the G Expedition is built for adventure, boasting fast speeds, sturdy sailing, a safe environment, and responsible operation. Having taken an 11 day Norway Fjords Cruise aboard this ship, I wouldn't hesitate to agree.
Fast Speeds – smaller ships have the advantage of speed meaning you spend less time at sea and more time onshore exploring. From our experience, long sailing was done at night while we slept so that we could wake up the next morning in a new place, ready to have an adventure.
Sturdy Sailing – as a former ferry, the G Expedition is very stable and handles rough water without issue, even in the open sea. We were never worried, even when we were in open water during our Norway Cruise. This ship sails to Antarctica every season, if it can handle that, it can handle anything Norway might be able to produce in the weather.
Safety – something that is second to none. Not only is the ship designed with every possible safety feature in mind, but the crew also works tirelessly to make sure you stay safe while adventuring. I also appreciated that the ship carries fully covered lifeboats complete with full-immersion cold weather survival suits.
Environmental Awareness – G Adventures is on the forefront of responsible and sustainable tourism and they did not overlook this on the G Expedition. The ship is maintained and operated in a way that exceeds industry standards. Their commitment to the environment is not something you will overlook.
Size Matters
The first notable thing to point out is that the G Expedition accommodates a maximum of 134 guests. To someone that is not familiar with cruising and cruise ships, this might be overlooked in terms of importance. You're not traveling on 900 of your new best friends on a ship this size.
However, when you're comparing experiences across ships, it's important to note that most ships offering a Norway fjords cruise are accommodating 900+ passengers per itinerary. I know, that's an insane difference in numbers and one of the first things we look at when comparing ships and itineraries on cruises. So you can imagine the perks of booking on a small ship are numerous.
The first thing we noticed was the abundance of space around the ship, featuring a large dining room, full-width lounge, library, numerous sitting areas, multiple deck access points and wide hallways throughout the entire ship.
It was kind of exciting to realize that you only had to share that space with just over 100 people. As a result, we never felt crowded and never felt like we had to stay confined to our room to get privacy. Which is a pretty epic feat for any cruise?
Included Excursions
From the moment you step on the ship in Norway, you are treated to an all-inclusive experience. With the exception of alcohol and specialty drinks, everything on the ship is included for the duration of your itinerary.
The most important of these things to us is the excursions being included and I am not talking about just one included tour each day. We were impressed with the variety of excursions that were offered. As people that like to do stuff when we travel, we are guilty of racking up huge bills when it comes to tours.
Normally people are enticed to book a cruise based on cheap price points, but they don't realize that excursions are not included in that price. All of a sudden that 'cheap' cruise isn't looking so cheap anymore and people find themselves having to compromise the quality of their trip due to unplanned spending.
Not the case with G Adventures. All of the excursions available are included. In every port we were given a variety of options to choose from, meaning we could mix and match our experiences dependent on what was available and how we felt each day.
This alone made the trip for us and is a big reason behind why we will highly recommend booking a Norway fjords cruise on the G Expedition.
Unique Itinerary
Any ship can get into the large fjords and main cities along the coast of Norway, no matter the size. It's the small ships, though, that can get you right into the heart of the destination. This means you're able to experience a unique itinerary.
We truly cannot say enough good things about the opportunity that our G Adventures itinerary offered us in Norway. We not only saw the major highlights but were also taken to small islands and small villages where we were the only travelers insight.
It was the perfect balance for us and we were able to connect with Norway in a way that is not easy without really getting into the heart of the country. From a photographer's standpoint, the opportunity was unparalleled from a group travel perspective.
It can be a struggle to have enough time for creative shooting in heavily visited places but when your itinerary includes off the beaten path places and pairs it with the flexibility of small groups, it's a haven for creation.
Hiking Excursions
One of the best ways to explore a new place is on your own two feet. Practically every stop on our itinerary offered a hiking option. Many times, there were even trail options dependent on skill level.
We hiked to glaciers. We hiked to Stave churches. We hiked through forests. We hiked to waterfalls. We hiked to wildlife. You get my drift.
We absolutely loved this about our Norway fjords cruise on the G Expedition. The staff went out of their way to get us up close and personal with Norway. Even better? We were the only people hiking on the trails 90% of the time.
Large Cabins
In our travels, we have experienced the full spectrum of cruise ship cabins. We've been in small rooms; we've been in huge rooms and everything in between. It's hard to look at photos of a cruise cabin online and truly get a feel for what it will be like to spend 11 days there.
I felt like this about the G Expedition, but it wasn't enough of a deal-breaker to think about another ship. Luckily, when we arrived to our room and opened the door we were met with surprise at the amount of space available.
Not to mention that the rooms are extremely comfortable. Our room featured two twin beds with a large porthole window, a corner sitting chair, desk with chair, a large closet with drawers, hanging space and a full en-suite bathroom.
We were booked into a Category 3 room and didn't have a chance to view any of the other rooms. However, from what we can see on their site, the Category 1 & 2 rooms are similar except featuring a third bed as a bunk. Category rating above ours I would imagine are bigger and offer more.
No Single-Use Plastic Onboard
As I've mentioned already, G Adventures prides itself on taking a stand for sustainable and responsible tourism operation. It's something that the company lives and breathes in its behind the scenes and day to day operations.
One of the initiatives that really stood out to me was their statement against single-use plastic. In order to set a standard for reducing the amount of plastic that ends up in our oceans, the G Expedition avoids using any single-use plastic products on board.
Considering the bad rap that cruise ships get for their lack of care in responsible travel, this is a true testament to the company's commitment to the environment. You will not find things like straws, individually packaged condiments or throw away toiletry bottles on the G Expedition.
Dedicated Mudroom
I know this sounds silly at first but let me tell you when you've been out in nature all day, the last thing you want to do is walk around the ship or in your room covered in dirt.
Instead of conventional zodiac disembarkation on the side of the ship, the G Expedition sports a purpose-built, heated mudroom in the back of the ship. When you board the ship, you are assigned a number that corresponds with your spot in the mudroom.
It is in this place that you store your mud boots, parkas, lifejackets and any wet outer clothing that you use while ashore. No need to track mud through the boat or to fill your room up with wet, dirty outdoor gear.
The rinse sinks, hoses and bristle brush aid in clearing the mud from things while the heated environment dries your outerwear while keeping the humidity out of the air system of the ship. It's brilliant and a well thought out feature to the ship. Oh, and did I mention there's a sauna down there too?
Seasoned Crew
One of the things that really stood out to me was the team of people that are responsible for the running of the G Expedition. Unlike other ships we have sailed on, the crew on this ship has been with the ship for a very long time.
They know the ins and outs of not only the ship but the destinations that it sails to as well. From Antarctica to the Arctic, this crew stays with the ship. The expedition leaders have decades of combined experience and are a huge resource of knowledge during any of the trips.
They are not only dedicated expedition leaders, but several of them are also highly trained scientists, offering an in-depth look at everything that surrounds you on a Norway fjords cruise. We found ourselves having deep discussions and learning way more about the destination than we had expected nor imagined prior to our trip. That alone is something that took this experience to the next level for us.
Guest Involvement in Responsible Travel
It's one thing to have solid responsible tourism practices in place as a company. It is a whole other to actively involve the people that travel with your company and the G Expedition staff do a fabulous job of getting everyone involved.
With environmental consciousness as the undertone of the trip, the crew not only teaches people about the importance of acknowledging the issues our planet faces but incentivizes the guests to help do their part.
Particularly with plastic, the crew never leaves a port without collecting large amounts of plastic to be recycled. As a guest, assisting in plastic clean up while you are out adventuring earns you drink tickets and nothing says a job well done like sipping a glass of wine and watching the beauty of Norway cruise by.
G Adventures Norway Fjords Cruise
Overall, you can't go wrong booking a cruise in Norway on the G Expedition. You're guaranteed to see some of the most spectacular scenery on the planet, learn about interesting cultures and visit idyllic fishing villages along the coast.
Add in that you'll spend several days above the Arctic Circle and set foot on the Northernmost point in Europe and the experience will be one to remember forever. We certainly will never forget our time spent cruising in Norway.
The Full Line of G Adventures Cruises That Include Norway
Other Great Adventures G Adventures Offers in Norway
Did you like this post? Share it!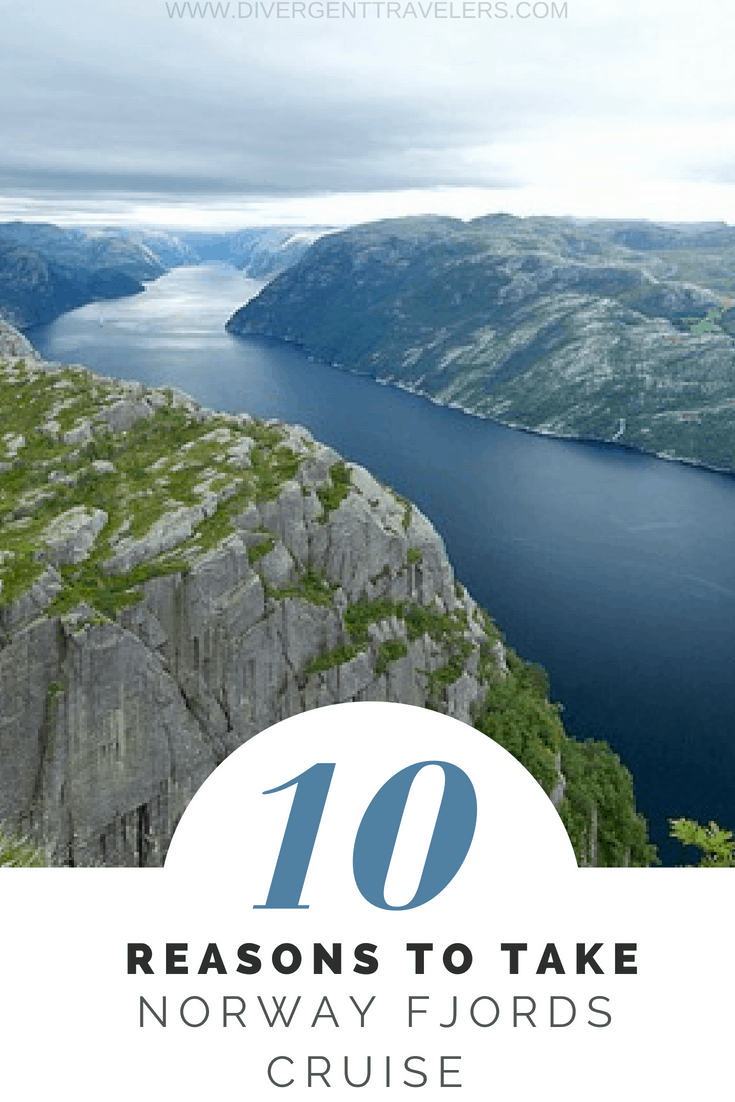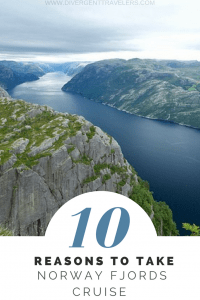 ---
More on Norway:
Did you like this story? Share it!
Disclosure: Our cruise on the G Expedition was in partnership with G Adventures. However, all opinions, stories, and experiences are 100% mine. As always. This post contains affiliate links, meaning we receive a small commission at no extra cost to you.