Heading out for a hike is a wonderful way to explore nature with family and friends, or even by yourself. Choosing the right hiking essentials is the key to a perfect hiking packing list.
Whether you want to dive deep into a multi-day trek or stay closer to home, the places to go are plenty. Many State and National Parks offer a massive network of trails.
Hiking and exploring the outdoors is one of our favorite activities to do while traveling. It doesn't matter if you are a person who loves to explore on shorter day hikes or if you are more adventurous and are planning a multi-day backcountry adventure this hiking packing list will help you out. 
Choosing your hiking style and length on the trail will help you fine-tune your hiking essentials.
Shorter hikes will no doubt involve smaller bags and not as much food and gear, and backcountry or multi-days hikes will require much more gear and preparation before you depart.
Deciding what your hiking itinerary entails is a must before starting your adventure. Let's get started!
---
40 Hiking Essentials: The Ultimate Hiking Packing List
---
Hiking Essentials for Any Type of Hiking
---
1. Solar Powered Lantern
This may seem like a weird item, but one of the best things about some solar-powered lanterns is that they compress down.
A favorite of ours if the MPOWERD Luci Solar Lantern (The Original Inflatable Solar Light). This makes them a great space-saving item as it is inflatable.
Even if you are only planning a day hike it is a good idea to bring a light with you in case you happen to take a little longer or the weather turns bad.
A good plus for a backcountry hike is that you will get a broader spectrum of light out of a lantern for better sight at night.
2. Headlamp
Another great option for a light source while hiking is a headlamp. Usually a little lighter weight choice than a lantern, headlamps are quite handy. Personally, this is one of those hiking essentials that we never travel without.
Whether or not you plan to hike at night, it shouldn't matter, bring a headlamp. You never know what a day of hiking will bring your way.
A great choice of ours is the Black Diamond Spot Headlamp. It is super lightweight with a double power white LED light (300 Lumens). This Black Diamond headlamp is also waterproof making it a safe choice for any hike.
Read more How to Choose the Best Headlamp
3. Hiking socks
Our hiking essentials always include good hiking socks. As important as a hiking boot is great hiking socks. You'll want to choose a comfortable lightweight and breathable fabric for your hiking socks.
We like to use Smartwool Merino Wool hiking socks. They provide great warmth, moisture control, odor control and great breath-ability. It also never hurts to pack an extra pair, just in case.
Read more 10 Best Socks for Hiking & Travel
4. Hiking Shoes/Boots
You will first have to decide what type of climate you will be hiking in to be able to choose a great hiking boot. Choose a good ankle boot no matter the climate for the great support.
Lighter style boots for summer and fall months will help keep your feet cooler and more comfortable. Same goes for winter and Spring, you can find warmer boots with deeper tread for added traction on muddy or snowy trails.
A women's hiking shoe favorite of mine is the Salomon Women's Speedcross. They feature anti-debris mesh to keep out grit and sand. Salomon's Sensifit construction wraps your foot for a close fit.
Similarly, the Merrell Men's Moab 2 Vent Mid Hiking Boot is a great choice for men. They offer amazing comfort with durable leather, a supportive foot-bed and outstanding traction.
5. Emergency Blanket
This is an item that we always add to our hiking packing list and cannot stress enough to have one with you on a hike.
They are lightweight and can truly be lifesaving if unexpectedly caught in a storm or a change of weather. There are many different styles of emergency blankets ranging from wool to the Mylar space blankets.
6. Insect Repellent
It goes without saying that insect repellent is a must for summer and fall hiking treks. Nothing can ruin a hiking trip faster than being attacked constantly by mosquitoes.
You will especially need insect repellent for hikes that involve going in and out of shady areas frequently.
It may feel nice to get a break from the sun for a little bit while hiking a steep mountain slope, but the mosquitoes are usually plentiful in these areas.
Protect yourself with this great REPEL Plant-Based Lemon Eucalyptus Insect Repellent. The scent is not too off-putting and the natural lemon and eucalyptus are much better for your skin.
7. Matches
Whether you're off on a day hike or a several day hikes, waterproof matches or matches in a waterproof container are always a great item to have with you in case of emergency.
You can use them for momentary light at night, to light candles or to start your campfire. Regardless, they belong on your hiking packing list.
8. Hiking Backpack
Once again, finding the perfect hiking backpack is completely dependent on your hiking plans. A day pack of 20 L would be a great choice for a single day hike.
For women, we really like the Osprey Packs Sirrus 24L Hiking Backpack and for men, the Osprey Packs Talon 22 Hiking. Osprey makes great day packs that are lightweight and supportive with great exterior pockets with additional room for hydration bladders.
You will be able to fit snacks, camera gear, and your emergency essentials inside with a little room to spare. Most of those smaller day packs also come with water bladders for easy water storage.
A backcountry hike will require a larger bag, one that you are able to fit a sleeping bag in or on as well as a tent. 50-65 L is of a good size.
For these longer multi-day hikes we are big fans of the Women's Osprey Aura AG 65L backpack and Men's Osprey Aether 70L backpack.
Most have nice supportive and breathable frames to make your long days on the trail a little easier. Opt for one with good side pocket access and straps on the outside.
9. Hydration Pack or Water Bottle
As mentioned above, many day pack backpacks offer water bladder/hydration packs inside of them. They usually hold more water than a single water bottle and come with a handle drinking tube so you don't have to take the water out.
Water bottles with an area to clip to your bag are also great ideas. This makes them very easy to reach while hiking, either by yourself or with someone who is on the trail with you.
10. Snacks
Every hiking packing list should include snacks no matter the length of your adventure. Always pack a little more than you think you will need.
Better to be over-prepared than to be hungry and not have enough. Choose snacks with protein and high-calorie count to help keep you energized on the trail.
Great options to stock up in bulk are: Power Up Trail Mix, Mega Omega Trail Mix, Frooze Balls Plant Protein Powered Fruit & Nut Energy Balls and the Hangry Adventure Kit, which are perfect for Biking, Hiking, and Camping.
11. Rain Jacket
This item is essential for any hiking trip. Since being out on the trail can give way to changing weather at a moment's notice it is important to be prepared.
Another plus to rain jackets is a layer of wind protection as well. Get one with a hood for added protection from the elements.
A great rain jacket option for women is the Mountain Hardwear Acadia Jacket Women's Lightweight Waterproof Rain Jacket. This jacket is great as it is super lightweight and features underarm zippers for extra ventilation for those warm rainy days.
For men's rain jackets a great choice is Marmot Minimalist Men's Lightweight Waterproof Rain Jacket. Featuring Gore-Tex material with Marmot's Paclite technology provides you with optimal waterproofing and breathability.
Similar to the women's rain jacket above, this jacket also features Pitzips, which allow you to regulate the internal temperature by increasing airflow when needed.
12. Layers
Dressing in layers is the smartest thing to do while hiking. It's always better to be overdressed and take off layers than to be cold and not have enough clothing with.
We like lightweight breathable base layers followed by a great moisture-wicking merino wool long sleeve top.
Smartwool is a great brand for merino wool base layers. They offer a wide range of products for both men and women and are one of the best in the business.
13. Warm Jacket
It goes without saying that you should always add a nice warm jacket to your hiking packing list for backcountry hikes and depending on the area you are in, even for a shorter day hike.
If you are hiking a mountain peak trail for a day hike, it will be warmer in the valley than at the top of the peak and a warmer jacket will come in handy for resting and appreciating the work you just put in to get to the top, without getting a chill.
We prefer the pack-ability of down jackets. They are very lightweight and often come with a stuff sack attached they can fold into. You can buy a variety of down jackets now. From full down, synthetic or a mix of both.
Hands down, Eddie Bauer is a favorite of ours for down jackets. They are made of high-quality materials, are ultralight, packable, and very versatile.
A great women's jacket we love is the Eddie Bauer Women's CirrusLite Down Jacket, which is filled with 650 premium down insulation.
In addition to Eddie Bauer, we really like the quality of Columbia products as well. The Columbia Men's Crested Butte II Omni-Heat Jacket is another great option when looking for down jackets.
This jacket features an Omni-Heat reflective thermal lining to trap your own body heat for warmth without the bulk.
Read more Best Packable Down Jackets
14. GPS Device
A GPS is another great survival item to have on your hiking packing list. Especially if you will be going on some isolated backcountry hikes where you will not have cell service or access to highly trafficked trails and roads.
There are a variety of styles available today. Most have extensive battery life, weather forecasting and messaging capabilities to stay in contact with your hiking buddies.
Read more How to Choose the Best GPS for Hiking
15. Maps & Compass
In addition to a GPS, a map of the area or trail is a great item to have on hand in case you get off trail or need to reference something quickly without worrying about wasting your GPS battery life.
A lot of National and State Parks offer extensive trail maps. They outline where ranger stations are, how long trails are and sometimes even the difficulty of the hikes. The best part is if gathered from the park they are usually free.
You should also always have a compass with you when hiking. Being able to orient yourself should you become lost, whether on a day hike or longer, is essential to finding your way back to safety. 
We like to carry the SUUNTO A-10 Field Compass with us on all hikes. Personally, this is one hiking essential we never hit the trail without. And you shouldn't either. 
16. Hiking poles
We cannot stress enough the importance of hiking poles and this item belongs on every hiking packing list, no matter your age.
Not only are they a lifesaver for those steep ascents and descents of mountain peaks but they are great for providing extra stability and support throughout your entire hike.
Many styles now are collapsible which allows them to be easily stored on your pack while resting or if not in use.
17. Sun Protection
Always one of those hiking essentials when spending time outdoors, especially with the rise in skin cancer and skin cancer awareness. Even on cloudy overcast days you can still get a sunburn so make sure to protect yourself.
Try to choose a sunscreen with at least SPF 30+ such as Neutrogena Beach Defense SPF 70 and re-apply every 2 hours. If this is something you just will not do, there are great options for sun protective clothing (UPF).
These items will protect your skin without the need to constantly reapply sunscreen.
18. Lightweight Hat
Just as mentioned above about sunscreen for your body a hat is a great additional item to add to your hiking packing list that will provide coverage of your face, neck and ears.
The Columbia Unisex Bora Bora II Booney Hat is a great option for both men and women and provides great sun protection.
These areas are the most forgotten areas when applying sunscreen and can easily be protected by a wide-brim sun protective hat. Try to buy one that is lightweight and moisture-wicking with a minimum of 3" brim.
19. Warm Hat
Just as packing a warmer jacket is important, so is a stocking hat. Whether you will be needing it for your entire adventure or just packing it in case of colder weather, a warm hat is essential.
There are a variety of styles available ranging from beanie style to stocking hats with brims.
Just make sure you don't buy something too heavy and make sure it still has moisture-wicking capabilities or you will get too warm and end up taking it off when you need it.
20. Buff Headwear
Buff headwear is a great alternative to bringing a sunhat. The Buff has many functions. You can wear it as a bandana, ponytail holder, sun guard, scarf, hat, or neck gaiter.
They come in many solid colors as well as fun designs and are made of 100% polyester microfiber. They are durable, soft, wind-resistant, breathable and moisture-wicking. Buff headwear is Seam-Free so you won't have any irritation from seams.
Even if you are heading into a colder climate for hiking, you can still buy a Buff headwear as they even make some out of Merino Wool.
21. Binoculars
The last thing you want is to be on some amazing hike, then spot wildlife, just to realize you didn't pack your binoculars. Pick a pair based on what you want to carry.
There are a variety of full size and palm-size binoculars to choose from. Get a pair that are also great in rainy weather conditions and that are rated for long-distance animal viewings.
Many times in the mountains, for example, you may be hiking a peak only to look down in the valley and see a herd of sheep or elk.
Read more Best Compact Binoculars
22. First Aid Kit
A simple first aid kit is a great addition to anyone's hiking packing list. Pack just a few essentials for the day or maybe even an extensive one for a multi-day adventure.
Kits that include second skin or steri-strips are great in the case of bigger cuts or injuries. In addition to that make sure there are splint items, gauze and ace bandages in case of sprains or breaks.
23. Multi-Tool
Bringing a pocket knife or multi-tool is a very functional item for hikes. They have many uses and can be used for protection as well.
Multi-tools are wonderful for multi-day hikes as you will be opening packages for meals, eating food, cutting down kindling for fire starter, etc.
24. Bear Spray
If you're going to be in bear country, this is one of those hiking essentials. You can find bear spray at most outdoor stores or online. Other great bear detractors are bells and whistles or even clanking your hiking poles together. 
Remember that you cannot fly with bear spray, so you will have to plan on purchasing this item when you arrive in your destination.
25. Toilet Paper/Wipes
An absolute necessity, as you may not be able to control when the need for these items hit you.
Choose whichever you are most comfortable with but several brands make hiking/camping specific toiletries that are more compressed and lightweight for carrying in your pack.
The plus to bringing wipes is you will also have them for wiping your hands off or wiping yourself down after a long sweaty day on the trail.
Of course, with this item you should also pack a large zip lock bag (one of those hiking essentials) because you need to pack out what you pack in. Do not, under any circumstances, plan to leave your toilet paper or wipes on the trail.
26. Sunglasses
We cannot stress the importance of a great pair of sunglasses as one of your hiking essentials.
Not only are they great protection for your eyes against the sun's harmful rays but they also make those long full sun days much easier on your eyes.
I definitely start to get a headache when I am constantly squinting from forgetting my sunglasses.
Oakley is one of our go-to sunglasses brands. Try to buy a pair of sunglasses with polarization in addition to UV protection.
Having polarized lenses provides you a clean and crisp view through your lens cutting any glare from the sun. 
27. Whistle
You never know when an emergency situation may happen, so this is definitely one of those hiking essentials.
In addition to packing a great first aid kit, you should also include items, like an Emergency Whistle, that may help you be found in case you get lost. It's a small inexpensive item, but it may save your life.
---
Recommended Multi-Day Hiking Essentials
---
28. Dehydrated Meals
Don't knock them till you try them. For those spending the night out on the trail, dehydrated meals are a great option. They are lightweight and take up very little space in your pack.
Also, all they need is hot water and presto, a hot meal after a long day hike. There are several different types of meals and flavors so if you are a picky eater buy a few beforehand to make sure you have something you'll actually like to eat after your long day on the trail.
If you're planning a longer multi-day hike, these hiking essentials can be a weight and space saver for you too.
29. Hiking Stove
Depending on what your hiking plans entail will help you decide if you need to pack a stove.
We like the single-burner style like the Jetboil Flash Camping Stove Cooking System since they are lighter weight and very convenient for cooking food after a long day of hiking.
Read more Best Backpacking Stoves for Hiking
30. Backpacking Tent
Lightweight tents are one of those hiking essentials that can be hard to perfect. The tent needs to be small and light but also strong and sturdy.
There are hundreds of options on the market, so this an be one of the hardest tasks you'll face when buying gear for hiking.
Ultralight gear is super popular among hikers, but you have to remember that, while light, this gear isn't made for rugged multi-day trips with varying weather.
You want to find something that can hold up to some wind, stands strong and can block rain.
Ultimately, what you decide to buy will depend on where you are hiking and the climate. Not all tents are created equal, so be sure to do your research and buy one that suits your needs.
31. Sleeping Bag
Depending on what the weather will be like while you're out hiking will ultimately determine how warm of a sleeping bag you need to have with you.
Just like our warm jacket suggestions, we prefer down sleeping bags for their lightweight build, packability, and warmth.
A great sleeping bag option for men or women is the Sea to Summit Ascent Down Sleeping Bag. It is great for most sleeping conditions with a 25 degree Fahrenheit rating.
It is packed with 750+ Ultra-Dry down insulation and is a mummy shape. Featuring vertical chest baffles, a shaped hood, oversized draft collar, and zipper draft tube.
Read more How to choose theBest Sleeping Bag
32. Sleeping Bag Liners
Sleeping bag liners are one of those hiking essentials that is commonly overlooked when planning for a hike.
They come in a variety of different shapes and sizes, but figuring out which style is best for your frame and build, may well be a process of trial and error, to find the most comfortable gear for you.
There are generally two shapes when it comes to sleeping bag liners: the 'Mummy' design or the rectangular fit. 
Sleeping bag liners are great for providing an extra layer of warmth around you inside your sleeping bag. A favorite of ours is the Sea to Summit Stretch Silk Sleeping Bag Liner.
This liner features AA-grade ripstop silk & polyester with lycra stretch side panels. It is smooth and comfortable and can be used alone in warm weather or as an added layer in your sleeping bag in colder weather.
Read more Best Sleeping Bag Liners: Top 12 + How to Choose
33. Sleeping Pad
A sleeping pad is another great addition to your overnight hiking list. There are a variety of sleeping pads available but always look for a lightweight, packable one to keep your weight down in your pack.
The Klymit Static V Sleeping Pad is an affordable lightweight camping pad with a V-chamber design to limit air movement and heat loss for better support and comfort. It's very easy to use and has a push valve allowing for quick inflation and deflation.
34. Camp Utensils
Camp utensils are also one of those commonly overlooked hiking essentials when formulating a backpacking trip list. However, no days, you can find great multi-functional sets of utensils that are lightweight and durable.
The Gerber ComplEAT, Camp Cooking Tool features 4 components: spoon, fork, dual-sided spatula, and a 4 function multi-tool. All of them together weigh less than 2.5 ounces.
The 4 function multi-tool features a serrated Package opener, can opener, bottle opener, and a veggie peeler.
35. Multi-Day Hiking Backpack
Your hiking backpack for any long-duration trip is one of the most important items you have. Finding the perfect bag for you is not always easy and may require multiple trips to outdoor stores to find what brand and style works best for your frame.
Some companies make bags that fit women's bodies better than other companies and the same goes for men, so don't be afraid to try several different kinds before settling. 
A great option for women is the Osprey Packs Pack Aura Ag 65L Backpack. Offering great anti-gravity suspension which helps make you feel like you are carrying less weight than is actually in your pack.
It has great features like trekking pole attachments, adjustable harness and hip-belt, internal hydration reservoir sleeve, removable floating top lid, and dual zippered pockets with web attachment points.
A great option for men is the Osprey Aether AG 70L backpack. This pack has continued to stay at the top of lists for its great multi-position torso adjustment which fits a wide range of body sizes.
With a durable open-cell foam lumbar pad and molded channels, this pack provides maximum comfort and airflow. The great design offers a separate sleeping bag compartment, compression straps, and exterior pockets for strategic packing.
36. Repair Kit
Preparing a list of hiking essentials for your hiking adventure includes trying to anticipate the need for worse case scenarios.
Having a  Tear-Aid Fabric Repair Kit on hand is an essential hiking item for those long backcountry hikes.
You never know when you may get a tear in your pack, tent, or sleeping bag. Accidents happen all the time and better to be prepared than to struggle for the remainder of your trip.
37. Gloves
Gloves are an essential hiking item no matter the duration of the trip or the weather.
They are lightweight and will make a huge difference if you encounter unexpected weather changes out on your hike. We really like Waterproof Outdoor Gloves.
They are windproof, waterproof and have touch screen fingertips to allow you to work your devices without removal. They also feature an anti-slip design to help with grip while climbing those steep ascents.
38. Kindle/Book
I know, a kindle, not quite an essential item for a packing list but after a long day of hiking it is nice to unwind and relax by the campfire while reading a good book.
Reading also really helps me get relaxed and ready to sleep so I never travel without it. The newest Kindle Paperwhite is a great choice as it is now waterproof! They are also lightweight and offer up to 8 weeks of battery life from a single charge.
Of course, there are several great e-readers to choose from and you can also always just download a book app onto your phone as well.
39. Backpacking Chair
Backpacking chairs may not be an essential item but they are super handy. Especially after a long day out on the trail.
The Sportneer Portable Lightweight Folding Camping Chair is sold as a two-pack and is crafted from ultra-breathable, super-absorbent mesh that circulates air and keeps you relax.
Setup is super easy and fast. The aluminum frame keeps these chairs lightweight, coming in at around 2 lbs. They are also pretty heavy duty, supporting up to 350 lbs.
40. Microfiber Towel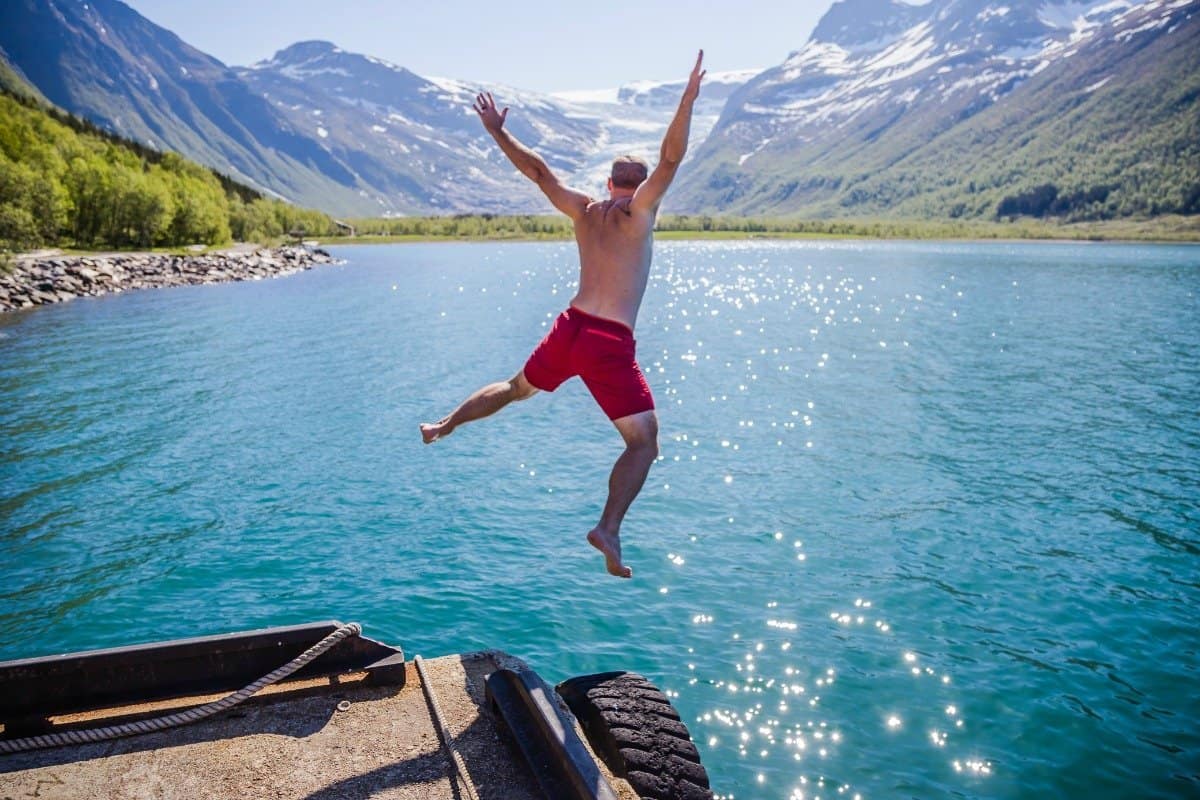 Lastly, this is one of those hiking essentials that you'll be thankful to have in your pack at the end of a long hiking day.
We carry microfiber towels with us on every hike because you never know when you're going to need one.
If you're roughing it, you may want to hop into a nearby lake or river to rinse off and cool down. If you don't have access to water, you will want it wipe away sweat from your face.
If your hike has huts or refuges, you may have access to a spigot or shower, so having a towel with you is always a good idea.
---
Wherever your adventure takes you we hope this packing list has provided you with a great base for your upcoming hiking trips!
More on Hiking:
Did you like this story? Share it!