A Scotland road trip may not necessarily be the first type of trip you think of when you begin planning an excursion to the northern reaches of Great Britain, but actually, the wild vistas and long and winding roads make for epic views as the scenery rolls past your window.
A road trip is one of the best ways to truly immerse yourself in the Scottish landscapes. Having your own vehicle gives you the freedom to plan and to travel at your own pace and to go where and when you choose.
Uncover hidden castles, explore remote national parks and drive the windswept coastlines. From the classic Scottish border routes to extensive, multi-day drives through the spectacular Highlands, there is a lot waiting for you in Scotland.
If you've done any amount of research on taking a Scotland road trip, you have inevitably come across countless references to the North Coast 500 (NC500) route, the most famous road trip route in Scotland.
Now, I'm not here to tell you that you shouldn't do that drive, it's famous for a reason, but I want to draw your attention the biggest new route in Scotland, the North East 250 (NE250).
Designed to offset the overwhelming amount of people on the popular NC500 route, the new NE250 offers just as many amazing places to explore but I think way more diversity.
Not to mention that it is a brand new route, thus virtually empty of other travelers, although I don't think it will stay this way for long once word gets out about it. We found ourselves enjoying classic Scotland landscapes, small coastal villages, expansive farm fields, Highland Coos, the amazing Cairngorms National Park and everything in between. Convinced yet?
To help inspire you to give the new NE250 a try and encourage you to see this great country by car, here's our Scotland Road Trip guide, complete with itinerary suggestions, rental tips and a few important rules of the road.
Don't leave home without: Lonely Planet Scotland (Travel Guide)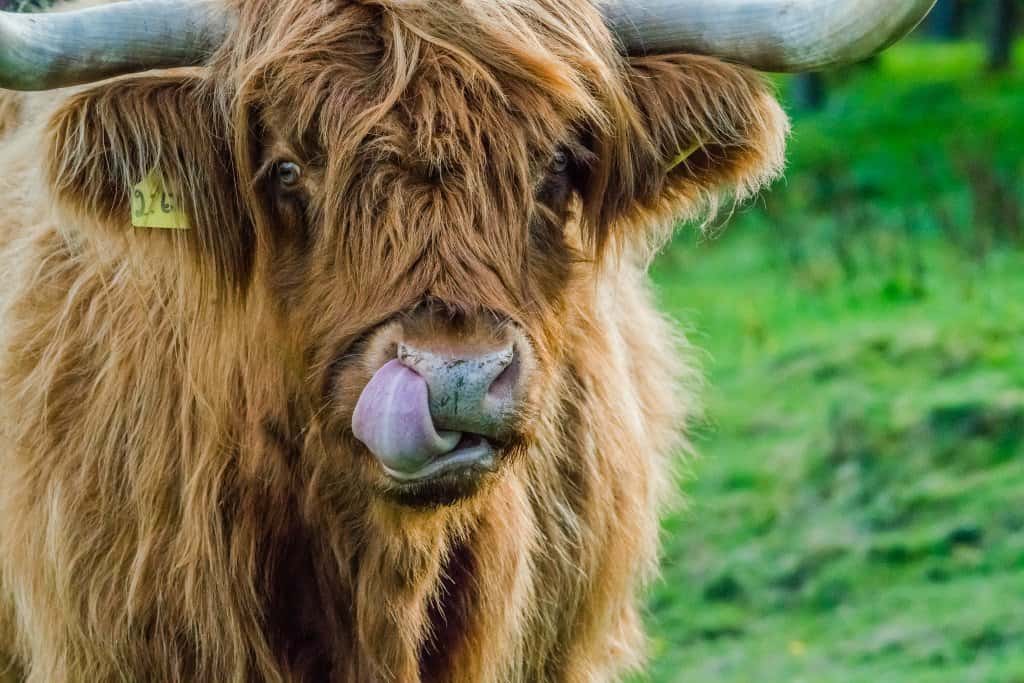 ---
Best Stops on the North East 250
You could plan a solid two weeks for the North East 250 route and still not get into everything that it has on offer, which we think is fabulous. There is so much diversity along the route and changing scenery that you will not be bored either.
It might not be as popular at the NC500 but I strongly believe that the North East 250 will quickly become one of the top Scotland self-drive tours available.
Aberdeen
The third-largest city in Scotland, your road trip will likely start and end here but that doesn't mean you should miss it. Plan some time on either end of your Scotland road trip to experience some of the sights that are on offer, particularly Old Town Aberdeen.
This part of the city is beyond charming with massive old-style buildings and cobblestone streets. If you're a Harry Potter fan, you'll be delighted to see the lawn that was used in the scene where Harry learns to fly his broomstick.
There are a number of other things to do in Aberdeen and the surrounding area, like dolphin watching in the bay and pub hopping downtown. We found some great eateries, churches, old buildings and overall enjoyed the vibe of the city during our stay on both ends of the road trip.
We stayed at the Skene House, located downtown and not only loved the location but the onsite parking lot. We had our favorite meals in Aberdeen at the Moon Fish Cafe and the No. 10 Bar & Restaurant.
Balmedie Beach
Heading north from Aberdeen we were in search of Balmedie Beach. This expansive piece of shoreline not only offers an enormous stretch of beach but also some towering sand dunes. When you're driving along the highway this beach is really hard to spot, which you wouldn't think due to the dunes, but there are large sheep fields between the road and the ocean.
You have to keep an eye out for the signage that points to the turnoff for the beach. You then travel on a very narrow, paved access road that ends at a parking lot.
At the parking lot are public use bathrooms, a ranger station, and some shops. Leaving from the parking lot on foot, there is a well-maintained network of boardwalks until you reach the dune system. We were quite surprised at how big the dunes were as we passed through them to the beach.
The coastline here is not rugged but instead lined with fine sand and dune grass. It's very beautiful and a great way to start off your Scotland road trip on the North East 250.
Newburgh
While this stop offers a small village to check out, the main reason you want to pull off here is for a visit to the Newburgh Seal Beach. Located inside the Forvie National Nature Reserve, just 1 mile outside of the village, is a beach that is commonly occupied by a seal colony of roughly 400 animals at the mouth of the Ythan River.
Walking up to the beach from the car park is through a dune system and once you reach the beach they seals are hard to miss. It's also a really great stop to just go for a beach hike on a nice day and we encountered several locals jogging, strolling and walking their dogs.
New Slain's Castle
Scotland certainly boasts a lot of castles and there is plenty to see along the North East 250 route but this one was our favorite. Officially a ruined castle, this estate has the most incredible views of the sea.
Set on a high cliff, the views are dramatic and it's a fun place to explore. The structure of the castle is solid so it's very easy to imagine what it looked like at its height while you're wandering around inside.
It is said that the author of Dracula, Bram Stoker, found his inspiration for the book during a visit to the castle in 1895. Accessing the castle from the main road is easy but not well marked. It also requires that you travel down an unpaved road but there is a nice size parking lot right next to the ruins.
Crovie
Adding a completely different aspect to the North East 250 is the presence of several tiny villages set along the coastline, directly on the sea. One of the better ones to have a look at is Crovie.
This village is built on a narrow ledge that literally steps away from the sea and while there are plenty of other villages built-in similar proximity to the sea, Crovie is said to be the only one on mainland Britain where you cannot access the village by car.
This is due to the ledge being so narrow that it's only wide enough to be used as a footpath. People who live in Crovie leave their cars at the south end of the village and have to walk in. If they go grocery shopping, they use wheelbarrows to transport things to their houses.
While you may be tempted to drive down for a closer look, don't do it. There are a parking lot and viewpoint on the cliffs opposite the village that gives you a fantastic view of the houses.
Pennan
Like Crovie, Pennan is one of the many small villages that are located right on the seashore, however, this one is accessible by car. The narrow road that winds down to the village should be taken slowly and you should yield to anyone going up.
Once you reach the bottom, turn left and drive until you reach the gravel car park. There is ample room to park and turn around here. Take some time to go for a walk along the beach and in front of the buildings.
The village is very quiet but probably the most visited along the North East 250 due to the existence of a single red telephone booth. The iconic booth was placed in the town during the filming of the movie Local Hero.
Fans of the movie flock to the village to pose with the booth, thus making it one of the most popular stops along the route.
Cullen
This town is a fantastic place to base yourself and explore the surrounding area. However, the highlight of a stop here is the chance to try the famous Cullen Skink soup in the town where it was dreamed up. Made from smoked haddock, potatoes, and onions that are cooked together in milk and cream, this dish is hearty and oh so delicious.
To have the ultimate experience that involves learning about the history of the soup and eating from the recipe that has won the Cullen Skink World Championships, I highly recommend a visit to the Cullen Bay Hotel.
We stayed here during our Scotland road trip and used the hotel as a base for exploring the sites in Moray. Yes, we also gorged ourselves on not only the Cullen Skink soup but also the other amazing dishes served at the onsite restaurant. If you're looking for something different, try the monkfish and chips!
Bow Fiddle Rock
Scotland has a lot of natural beauty along the North East 250 but hands down the best natural wonder on the route is Bow Fiddle Rock. This spectacular rock formation is located right off the coast in Moray, just north of Cullen.
It is easily found by using a map or GPS and once you arrive at the car park there are plenty of signs that show you the way to the beach and viewpoints.
We attempted an early morning sunrise visit, as we had seen many photos online showing the sun rising directly behind the rock, but due to the time of year didn't get to experience that. However, the site is stunning and no matter what time of day you arrive to view it, you won't be disappointed with this stop.
Cairngorms National Park
Officially the largest National Park in the United Kingdom, the Cairngorms National Park is an untapped wonderland for outdoor lovers. We based ourselves in nearby Aviemore and spent our time in the park hiking into the mountains with Wilderness Scotland and driving around on the quiet back roads.
The hiking access is some of the best you can get and the park offers a wide variety of treks and hikes, ranging from strolling day hikes to multi-day backcountry treks deep into the mountains.
Activities are not only limited to on foot, but many also come to the Cairngorms to ski, bike, go horseback riding, swimming and golfing, to name a few. For us, it was all about hiking. We traversed two sections of the park to get a taste for the variety that it offers.
The first was a very accessible trail leaving from the main visitors center that winds up into the hills and takes you through amazing Scottish pine forests that have you thinking about the movie Brave. The other trail was the start of a more difficult access point that leads up into the mountains and has more of an alpine feel.
Ruthven Barracks
We came across this site by accident after ending our hiking in the Cairngorms National Park and heading back to Aviemore. The site has an impressive presence, perched on top of a hill and overlooking the whole area that surrounds it.
Once the site of a castle that was built in 1459 and then destroyed in 1689 during the Jacobite Rising, the British government decided to utilize the spot for a fortified barracks completing the current structure in 1721. The site can be explored by foot, free of charge, and is worth a stop.
Corgarff Castle
This is the most unique castle you will ever see. Set in the middle of a beautiful, rolling green field, this white castle is surrounded by a unique star-shaped barrier wall. Built-in the middle of the 16th century by Forbes of Towie, the castle has a bit of a torrid past involving rivalries and various occupations.
Now in the care of Historic Environment Scotland, the castle is open to the public and is very accessible off the North East 250 route.
Glenlivet Distillery
One of the best side extensions you can do on the North East 250 is the Whiskey Trail. This route takes you through beautiful landscapes and alongside some of Scotland's, and the world's for that matter, most famous whiskey distilleries.
You could literally make an entire road trip out of just visiting this trail but for us, we only stopped at the Glenlivet Distillery which is the biggest selling single malt whiskey in the USA and the second biggest selling single malt brand globally.
Falls of Feugh
Like many of the villages you'll come across on your Scotland road trip, Feugh is charming. What it makes it special though, is a visit to the famous Falls of Feugh where you can access a stone-built footbridge that overlooks a series of falls.
Within these falls it is possible to witness large amounts of salmon jumping up rocks during spawning season.
The best seasons for watching this are September to November and February to March. Our visit was at the end of September and we did see a couple of salmon jumping during our visit.
Braemar
This stop is a fantastic two for one deal. Just outside of the village is the beautiful and totally Scottish, Braemar Castle. Set in a field, the castle is privately owned by a family that maintains the castle heritage of the country.
They offer interesting bagpipe shows in the summer and options to privately book and hold events at the castle. While you could easily continue on your way after visiting the castle, we highly recommend you venture into the village of Braemar just up the road.
There is decent parking in the center of town where you can leave your car and go for a walk. Our visit coincided with lunch, so we had the experience of a local pub lunch and then went for a walk around the town center.
There are some beautiful footbridges to check out, some cute shops and a beautiful church that was the highlight of the visit.
Dunnottar Castle
This is probably the most impressive ruined castle, set on a coast, that you will ever see. Located just outside of Stonehaven, south of Aberdeen, this is one of the best stops on the North East 250 road trip route.
It has a complex and extensive history that is worth reading up on before you visit but if you just happen to stop here, the views will be enough for a spectacular visit too.
Not to mention that when this castle was at its height, it was visited by many famous Scots including Sir William Wallace (Braveheart) and Mary Queen of Scots.
---
Plan Your Own Scotland Road Trip
Best Time to Take a Scotland Road Trip
We drove the NE250 in late September during the height of fall and the changing colors brought an element to our trip that made it special. While summer might have more reliably sunny days, I think the colors were a fair trade-off for the couple of rain showers we encountered.
Of course, the most popular time of year to enjoy a Scotland road trip is during the warm summer months when the weather is great and the outdoors can be experienced without much rain. That being said, any time of year you can expect some rainfall at some point in Scotland, so be prepared for this.
In winter, Scotland can experience cold temperatures and heavy snowfall, especially as you travel further north. Daylight hours will shorten and you will need to be prepared for adverse weather conditions.
Unless you are experienced in driving on icy or snowy roads then it wise to save your Scotland road trip until the worst of the winter months are over.
Rental Car Information in Scotland
There are plenty of rental car companies available in Scotland, including the standard internationally known brands. Many will have depots across the country, particularly in major cities such as Glasgow, Edinburgh, Aberdeen, Inverness, etc and at the major airports too.
Depending on your itinerary, many will offer the opportunity to pick your car up at one location and drop it off at another. This is particularly useful if you are limited on time and are planning on driving all the way north from the southern borders for instance.
In Scotland, it's rare to find many automatic cars. The vast majority of vehicles, including rentals, will be manual. For this, you will need to have a driving license that specifies you can drive a manual. If you only have an automatic license, then make sure you book in advance to ensure you can reserve an automatic.
The standard rentals are four-door saloons, however, there will be larger vehicles available, but again make sure you book in advance. If you are traveling in winter and visiting remote destinations, you may want to consider a 4×4, if you feel comfortable driving in snowy, icy conditions that is.
The minimum age for renting a car varies in Scotland from company to company, generally, though it will be 21 and a young driver surcharge will apply for anyone under the age of 25. Ensure your license is in date and valid for the type of vehicle you wish to rent.
Many people wonder what company to use when booking a rental car, as not all companies are created equal, we know. We have had great success in Europe by booking with Discover Cars.
As Americans, we always rent automatics in Europe and have had no issues with availability with them. They are our top recommendations for car rentals in Scotland.
Need to book a car for your road trip adventure? We use Discover Car Hire for comparing car prices to find the best deal. They search both local & international rental companies.
Driving in Scotland: Road Laws and Conditions
The first important rule of the road to remember while driving in Scotland is that they drive on the left. As simple as this seems, if you aren't used to it then it can be confusing, to begin with, particularly when you reach roundabouts and turnings. Just take it slow and you will adjust soon enough.
Scottish cities can be quite hectic to drive around, especially in rush hour. Historic cities such as Edinburgh, for instance, were not designed with cars in mind and you will find many one-way streets, narrow lanes and a maze of streets. It can be easy to get lost, so bring a Sat Nav or have a passenger directing.
Outside of the cities, however, you will find that the roads become much, much quieter. As a general rule, the further north you travel the more sparsely populated the country becomes and the more peaceful the roads too.
You may have the urge to pull over and photograph the epic scenery, but just be wary that there may be traffic behind you!
There are plenty of whiskey distilleries to be found on your Scotland road trip, but just remember that drink driving is not acceptable in the United Kingdom. The legal limit is quite low and it's not worth risking it even for a tipple.
The speed limit will vary in Scotland so look out for road signs informing you of this. Speed cameras will be present even in rural areas. In the cities and built-up areas, expect the speed maximum to be 30 miles per hour, while on single-lane A-roads the limit will be 60mph.
On motorways and carriageways, the speed maximum increases to 70mph. Overtaking is not permitted on dual carriageways and motorways.
Insurance and Roadside Assistance
Third-party car insurance is a legal requirement in the United Kingdom and your rental company will ensure you are covered to the minimum level. It may be wise to take out more expensive insurance that covers you for more than just third party damages, however, as if you do have an accident, then this will very much be worth it.
If you are traveling outside of the cities it will be worth investing in roadside assistance too as some of the best Scotland road trip destinations are remote and you won't want to get stuck in the middle of nowhere with no chance of finding help.
Related Article: Travel Insurance for Europe Vacation – Do I Need It?
Gas Stations in Scotland
Gas Stations are generally open 24 hours in the big cities of Scotland, however, in more remote villages and regions you may find opening hours are limited, so the further you stray from the main roads the more prepared you need to be.
Fill up when you can and keep your car topped to avoid any unwanted incidents.
Most gas stations will accept cash or card, however, increased in the cities, you will find some are becoming card only. Be prepared with both payment options. Petrol will be cheapest in the cities at the large chain stations while the more remote you travel the more you can expect petrol to cost.
Other Scotland Road Trip Itinerary Options
Scotland has almost endless opportunities for road tripping. It might be a small country, but it is beautiful and well connected. The drive between villages, towns, and cities is never too far to make the trip uncomfortable or tiring, while the natural beauty and intriguing culture will constantly keep you in awe.
Here are some of the best drives in Scotland.
The Scottish Borders
Start in the south by exploring the Scottish Borders. This historic route actually takes you through parts of England and Scotland, as you trace the ever-shifting borders and towns that have historically divided these two countries.
This 89-mile route will start in Carlisle in England and end in Edinburgh in Scotland, taking you to iconic locations such as Gretna Green, where English couples used to run across the border to get married and to historic ruins such as Melrose Abbey.
North Coast 500
The North Coast 500 is probably the most popular Scotland road trip itinerary and has increasingly been cited as one of the best road trips in the world by travelers and travel writers. The route encompasses 500 miles of the best Scottish coastline in the north.
Starting in Inverness, you travel towards John O'Groats, the most northerly point on the mainland, before looping around and returning back to Inverness. Experience the remote north, the rugged coastline, and the dramatic scenery.
Angus Coastal Route
The Angus Coastal Route encompasses 68 miles of epic scenery and charming communities along the eastern coast of Scotland. Stretching from Dundee in the south to Aberdeen in the north, this is a drive you can easily do in just one day, but you may find yourself stopping off for more than a few nights to truly appreciate the local culture and the many whiskey distilleries along the way.
Highland Route
This classic road trip takes you through the best of the Scottish Highlands, past incredible vistas and panoramic landscapes that can be rivaled in few other locations. This 116-mile route begins in Aberdeen and takes you all the way north to Inverness.
Argyll Coastal Route
On the west coast of Scotland, you can drive the beautiful Argyll Coastal Route from Tarbet to Fort William. This 129-mile road trip will take you through some iconic Scottish scenery, including the unforgettable lakes and wetlands of Loch Lomond and The Trossachs.
This trip was made possible in partnership with Visit Britain and Visit Scotland. All recommendations, opinions and stories are my own, as always.
More on Scotland:
Did you like this story? Share it!