Figuring out how to plan a road trip can be a daunting task if you're not prepared. Trust us, we've been there! We've road tripped in all ways imaginable in 6 continents around the world.
The goal of this article is to simplify the planning process and share with you some of the steps we take when putting together our own road trips, whether in the USA or while traveling internationally.
Before heading out on the road, careful planning is a must. To maximize your road trip fun, you must plan the details, but we reckon this planning and anticipation are all part of the fun, and complete the whole experience.
Depending on the length of the road trip and the number of places to see, a lot of factors should be carefully considered before the trip. It can seem overwhelming at first, but don't worry!
We've broken our process down in 9 easy steps, so have a read, take some notes and get started with you own planning.
---
How to Plan a Road Trip
---
1. Pick your destinations
Before you do anything else, you need to finalize the list of destinations for your road trip.
Once you have a list of must-visit places, it will be much easier to start looking up useful information online without getting too overwhelmed. 
You will want to be mindful of the distances between places and the time of year that you will be visiting.
I highly recommend that you narrow down a certain area and then make a list of the places that are the most important to you.
From here, you can fill in your destination list with secondary places that are on the way to each of your important places or not too far off your route.
2. Decide on your schedule
Once you have chosen where to go, you need to figure out the timeline for your trip. Check how many days you can take off work, and make sure your buddies are free to come with you (unless you're going solo).
Looking at holidays and long weekends is an excellent way to squeeze a few more days into your travel time and a trick we used for years to maximize our trip time.
Another factor to consider when deciding on your schedule is the best time to visit the destinations on your list. Whether you want to enjoy nature or party in a busy city, look for dates appropriate for each place.
Different seasons will provide you with varying experiences. This info will also provide you with ideas on how to pack for the climate in those destinations.
3. Work on your budget
Deciding on the amount you are willing to spend is another essential prerequisite of any road trip. Traveling to multiple destinations will definitely add to the costs, so make sure you're financially prepared.
Don't stress too much, though – you can still have action-packed road trips on a tight budget! With the right strategy and a lot of DIY, you can save money and still have a memorable experience.
4. Create an itinerary
Now that your list of destinations, schedule, and budget are in place, it's time to create a detailed itinerary of your adventure.
Since you'll be on the road, the best practice would be to plan your route as strategically as possible. This will help you get the most out of this trip without tiring yourselves out or spending too much time or money in any location.
As you create your itinerary, you'll also discover more about the destinations on your list – this is a good way to familiarize yourself with the places you'll visit.
One of the things that help us plan our routes and itinerary is by using navigation apps, like Google Maps, to look at drive times and distances between the places we want to visit.
Not only do they help you find your way, but you'll also learn which routes offer the best sights or the fastest journeys. 
While it's great to have a well-planned out and detailed itinerary, be sure to plan in some spare time to discover places you might now know about too.
5. Do comprehensive research about the destinations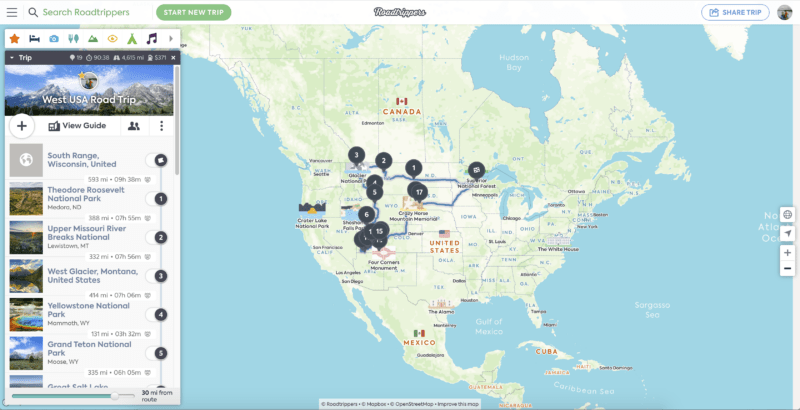 Here comes the critical part of planning –research. Comprehensive research about the destinations and other travel essentials takes a fair amount of time and effort.
This is an important part of your trip planning and is a part of the process that will require you to go back to the itinerary phase, over and over again, as you tweak your plans.
Unless you're running on an open-ended time schedule, this step will help you understand how many days you need to spend in each place.
Here are some apps you can use to make your research easier:
Roadtrippers: This website/app is essential for planning your adventure. It helps you create your itinerary and customize your stops from the list you'll see on Roadtrippers. It also has a turn-by-turn navigation feature to make sure you won't get lost along the way.
Google Maps: You can never go wrong with these most commonly used apps – just make sure to download an offline version during your road trip – the roads less traveled are often the most beautiful, but sometimes the mobile signal is not available in those areas.
Travefy: Organize your itinerary for the day on this convenient app to avoid getting confused or overloaded. You can attach tickets, itineraries, bookings, and write random notes – it makes planning an extended road-trip more strategic.
6. Choose Your Transportation
While this may seem like an obvious thing, there are actually plenty of options to consider when planning your road trip.
Firstly, are you planning to do a domestic or international road trip? If domestic, you have the option of using your own vehicle. If international, you'll be looking to rent.
Options for road tripping can range from cars, campervans, RV's and overland trucks. What you choose will really be based on your style and desired experience.
We have literally road tripped with all these options and more. There is no right answer, it really comes down to what you are most comfortable with.
Some considerations, even if your road trip is domestic, you might still consider renting a car. This will save you from accruing a large number of miles on your own car.
7. Create a checklist of your trip essentials
After completing your research, you can start preparing essentials for the trip. Create a checklist so you don't forget anything. Being ready reduces the likelihood of dramas on the road.
If you're planning to visit a handful of destinations and intend to stay on the road a bit longer, your checklist is there to make things easier.
Go through it once or twice and check whether all items have been ticked off; you'll feel confident before setting off on your adventure and thoroughly enjoy it while you're at it.
There are organizer websites where you can download checklists– they're easy to follow and can make your life ten times easier. Alternatively, Google Sheets or Notes are helpful for creating lists too.
8. Book your accommodation ahead of time
Last-minute bookings during road trips can result in some unplanned detours or nights spent sleeping in the car!
Being spontaneous is a good thing, but when you're looking for a place to stay, it's often better to find one ahead of time. Before hitting the road, suss out accommodations for the trip and book them in.
You'll never run out of online resources when finding the right lodging during your road trip – there are endless places where you can book your accommodation online as you embark on your journey.
Alternatively, it is possible to road trip and camp too. If this is something that interests you, it would be handy to pack a tent and sleeping bag in your car so you can take advantage of campgrounds too.
9. Buy tickets to attractions you want to see in advance
If you're short on time, it's often a good idea to buy tickets to attractions while you plan a road trip and before you hit the road.
This will likely save you money, as paying for things in advance usually scores you a lower rate than if you rock up spontaneously.
Aside from this, it will definitely save you time because you get to skip the long ticket queues!
Check the website of each attraction you want to visit, and start scooping up those bargain tickets before hitting the road.
10. Protect yourself by having travel insurance
For your peace of mind, make sure to get travel insurance. Going on any trip always has risks, and protecting yourself – and your property – when going on a road trip is vital.
It will only cost you a few bucks, but the peace of mind you get will be priceless. We have an Allianz Travel annual insurance policy.
---
Planning may feel like a pain in the neck, but a little bit of work now can save you a load of hassles in the future.
The last thing you want is to be stranded, lost, or wasting precious vacation time with unexpected delays. Thankfully, working on your plans before hitting on the road has never been easier.
With plenty of tips, apps, and guides on how to plan a road trip online, you'll never feel lost!
This post is sponsored by our partner Allianz Travel (AGA Service Company) and we have received financial compensation as ambassadors, but all opinions expressed are our own.
More Road Trip Inspiration:
Did you like this story? Share it!