Have you ever showed up in a city and fell in love with its beauty? Within seconds of arriving in Copenhagen, we could not put our cameras down.
Filled with 17th-century red brick buildings, green copper rooftops, colorful buildings and sailboats scattered along its canals it is no wonder that some of the best things to do in Copenhagen rank among the top in Europe.
The 3 days we spent in Copenhagen during our last 2 month trip through Europe opened our eyes to the charm of the city, providing some fantastic photographic opportunity.
You could easily fill a week with everything on offer in this city, but 3 days is a good place to start. Something to note is that the weather can be a real factor in your visit.
We found that, even in the height of summer, the weather was unpredictable. One minute it would be sunshine and the next pouring down rain.
Keep this in mind by being prepared, carry a rain jacket and umbrella with you, even if it is sunny when you set out in the morning and you will have a fantastic time.
Take the time to explore the backstreets, eat the street food and stop to enjoy the street music. It is what gives this unique city it's character.
Before you start out to explore Copenhagen, I highly recommend purchasing the Copenhagen Card. This little gem is going to give you access to pretty much everything listed in this guide, free unlimited access to the entire public transportation system including the train, bus, and metro.
This card is available in 24, 48, 72 and 120-hour options and also offers discounts on tours, plus savings at museums, restaurants, cafes and more. It is invaluable in saving time while exploring Copenhagen in a short amount of time.
Don't leave home without: Lonely Planet Denmark (Travel Guide)
---
19 Best Things to do in Copenhagen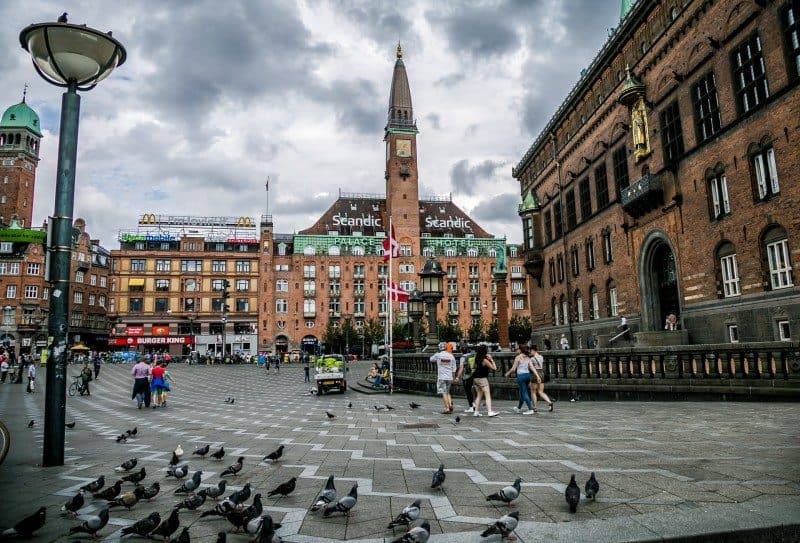 1. Københavns Rådhus (Copenhagen City Hall Square)
Throughout the day Copenhagen City Hall Square is filled with street performers, travelers and locals.
With tribal music play, locals selling hand made souvenirs, kids running around the square trying to pop large bubbles, and great architecture added all together there's no wonder why Copenhagen City Hall Square is one of the best places for photography.
This square has lots of life and is great for photography, so grab a local hotdog (pølsevogn) from the street food cart and sit on one of the many park benches and enjoy photographing the atmosphere.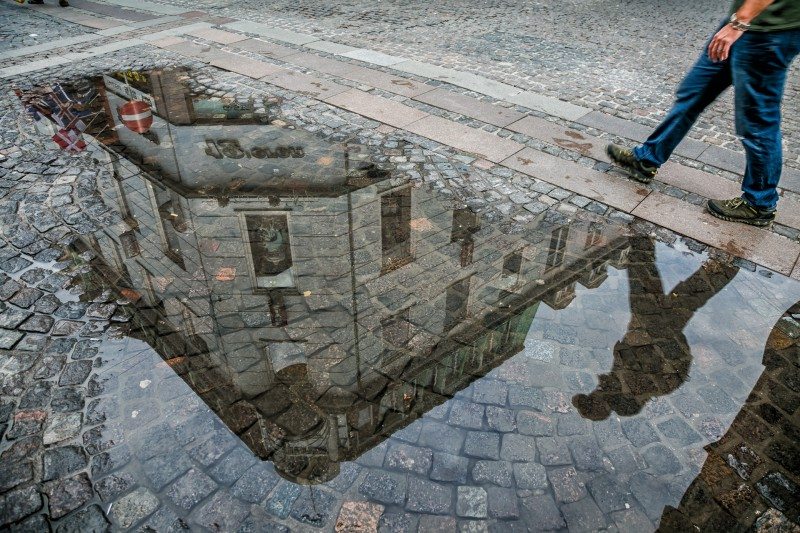 2. Stroget Street
Stroget Street is the vein that runs to the heart of Copenhagen and it's filled with travelers, locals, shopping, food and street performers.
This large pedestrian, a car-free shopping area, stretches 1.1 Km long as one of the longest pedestrian shopping streets in Europe. It's a great street to stroll down and photograph the different sites and architecture around you.
Throughout the day you can find acrobats and magicians performing acts that will leave you with a smile on your face.
Don't be scared to head down one of the many winding side streets to see where it goes. Another great street to discover is Lehderstrasse Street adjacent to the Stroget walking street. This street is less traveled and has some great photo opportunities
Watch out for con artists that prey on tourists. Their games may look easy, however, they make money on games in which they ask passersby to guess the whereabouts of the ball under one of the three cups.
Also, watch out for pickpockets in this area. One person warned us that they had their wallet stolen right out of their hand while buying food at a street cart.
Photo spots near Stroget Street: Storkespringvandet
It was a present to the Crowned Prince Frederik and Crowned Princess Louise in connection with their silver wedding anniversary in 1894. It depicts three storks about to set off. This is another great fountain where you will find both travelers and locals gathered around it.
Related Article: Ultimate Guide to Eurail Pass Train Travel in Europe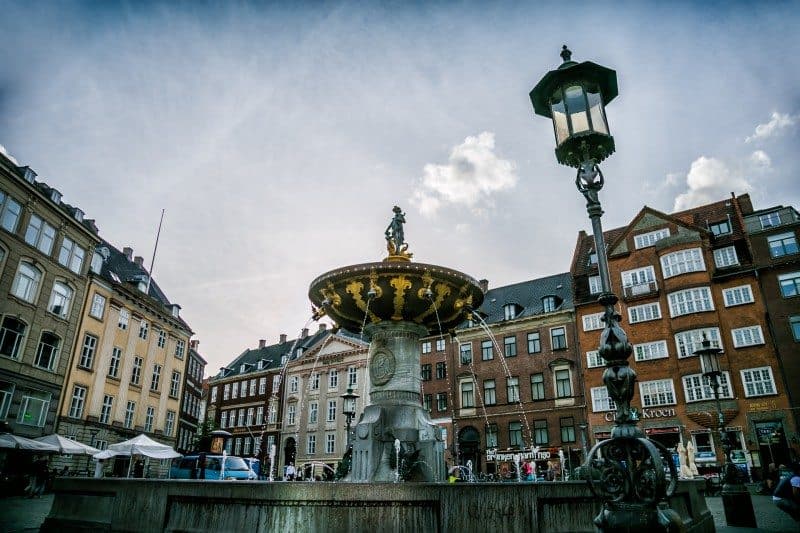 3. Caritas Brandon (Caritas Fountain)
While checking out Stroget Street you will run across a large bronze fountain. The Caritas Well, also known as the Caritas Fountain, is the oldest fountain in Copenhagen, Denmark. Built in 1608 by Christian IV and is located on the corner of Gammeltorv, it is now part of the Stroget pedestrian zone.
Throughout the year you can find different festivals here and on the days we were in Copenhagen they had the Jazz festival.
If you're lucky, this fountain will be covered in 24-carat gold-copper balls symbolizing golden apples. You can find golden apples in the fountain on monarchs birthdays as well.
Need to book a car for your road trip adventure? We use Discover Car Hire for comparing car prices to find the best deal. They search both local & international rental companies.
4. Hojbro Plads (Absalons Statue)
At one end of Hojbro Plads is Storkespringvandet, then at the other end is the large copper green equestrian statue. The equestrian statue of Absalon on Højbro Plads in Copenhagen was unveiled in 1902 to mark the 700 years' anniversary of the death of Bishop Absalon, the city's legendary founder.
For Lina and I, this was our first look at one of the many canals that run throughout Copenhagen. Many festivals are held in this square throughout the year.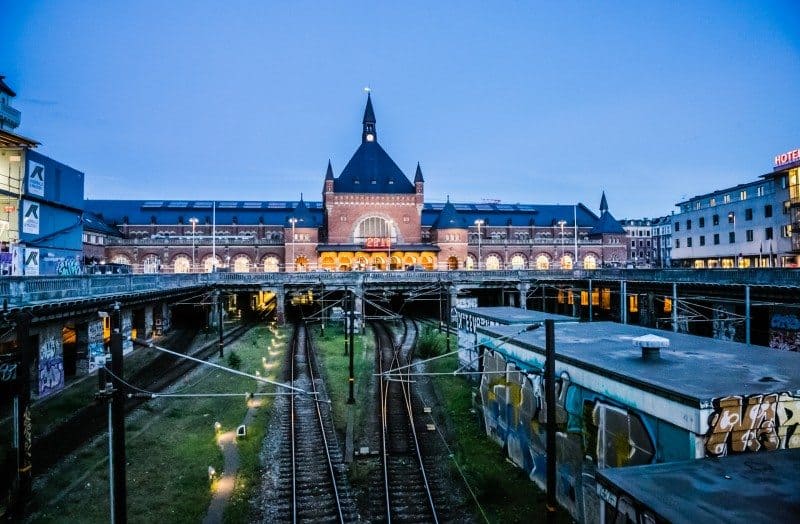 5. Central Station
For any traveler traveling by train like Lina and I did this will be your first photo opportunity in Copenhagen. I know what your thinking Central Station is a train station and not so photogenic.
Yes, it is a train station, however, some of the most photogenic buildings in all of Europe are train stations and the Central Station in Copenhagen is no expectation.
This large red brick was built in 1911 by architect Heinrich Wenck and has withstood the test of time. The Central Station in Copenhagen offers great photos inside the train station along with outside the train station.
You can take your time photographing the travel atmosphere inside or head out to the streets like we did to get some great building shots along with photos of the massive groups of bikes chained together.
Don't leave home without: Lonely Planet Denmark (Travel Guide)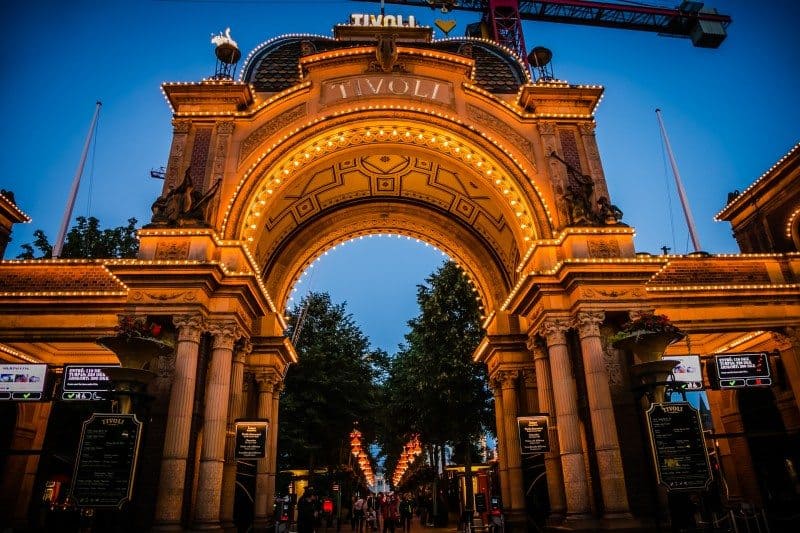 6. Tivoli Gardens
When arriving in Copenhagen I really did not know much about Tivoli Gardens other then it's known as a world-famous amusement park and pleasure garden.
Standing at the red-bricked arched entrance of Tivoli Gardens there's no wonder why people say it's a must-visit while visiting Copenhagen.
The park is truly an amusement park built within an Alice In Wonderland-like gardens and it's easy to get lost into that rabbit hole.
Get inspired as you walk around the grounds of the garden. The park opened in 1843 and is the second-oldest operation amusement park in the world with rides for all ages.
7. Christiansborg Palace
The Christiansborg Palace is yet another iconic building in Copenhagen. It's located on its own little isle called Slotsholmen.
This palace is impressive from the inside out and can be viewed from the street, however its worth entering to photography the inside courtyard. When the flags are out the royal family is in this house.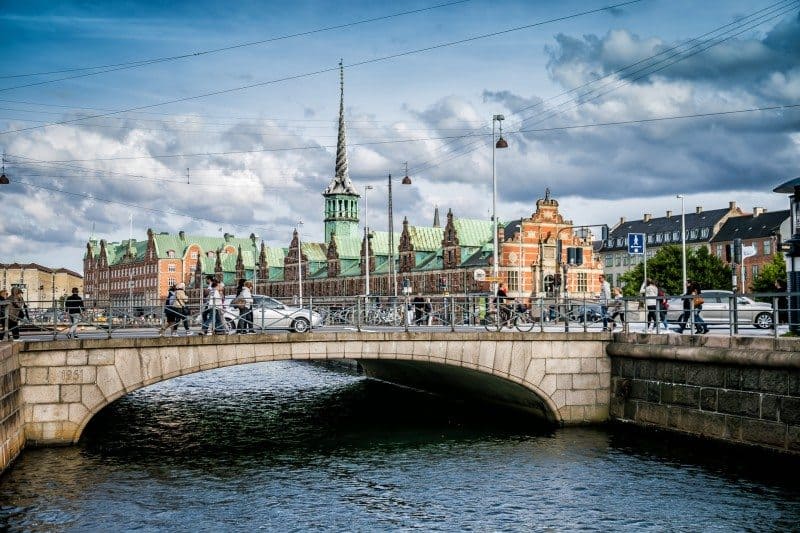 8. Borsen
Just down from the Christiansborg Palace, you will see a gray spire point peeking out from the skyline. Situated next to the canal, this red brick building with copper greened roofs and its 4 gray dragon tails spiral, cannot be missed across town.
We walked past this building many times on our way to Nyhavn. This is one of the oldest buildings in Copenhagen dating back to 1625 when it was used as the stock exchange in the center of Copenhagen. The historic building is situated next to Christiansborg Palace, the seat of the Danish Parliament, on the island of Slotsholmen.
Note: Borsen is not open to the public (travelers), it is open only for private advents. However, you can capture some cool photos of the building from the street.
Read reviews and check prices with our Hotel Search Engine, that gives you the best hotel deals found on the web. Our search engine pulls results from all of the major booking places, including Expedia, Hotels, Booking and more. All the options, all the deals, all in one place and just for you.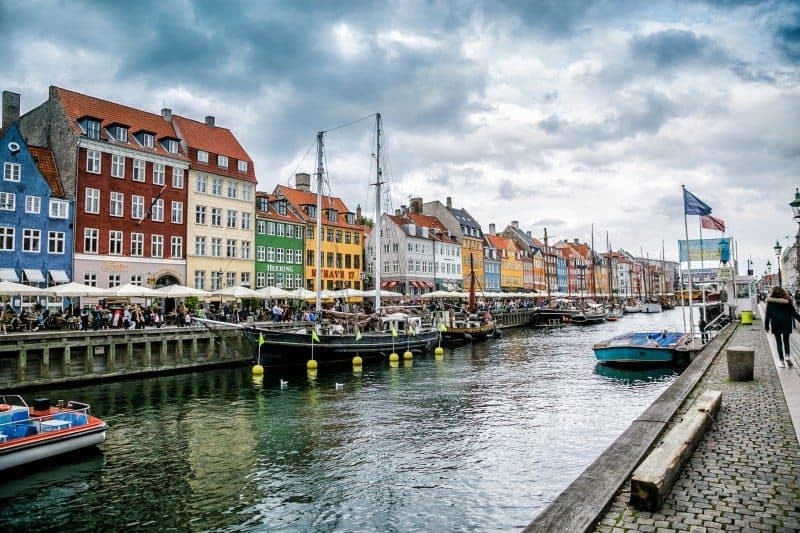 9. Nyhavn Street
If you have ever seen a photo, read an article or seen a video about Copenhagen then you've probably already seen a shot of Nyhavn Street.
This 17th-century waterfront is one of the most popular locations in Copenhagen. With brightly colored townhouses, bars, cafes, restaurants and old wooden ships parked in the canal there's no wonder why. We enjoyed walking along the large wooden pillars that outline the canals.
This is one of the most popular places in Copenhagen and there will be lots of travelers and locals hanging out here. In our opinion, one of the best photo spots in Copenhagen you can find. Capture a few shots at the start of the Nyhavn canal then walk to the waterfront to capture a few photos of the city.
Our favorite spots were along the canal a few feet off of the place where everyone takes photographs, then our other favorite spot was looking to the city from the first bridge. The sunsets over the city side so this would be the best sunset spot for sunset photography in Copenhagen.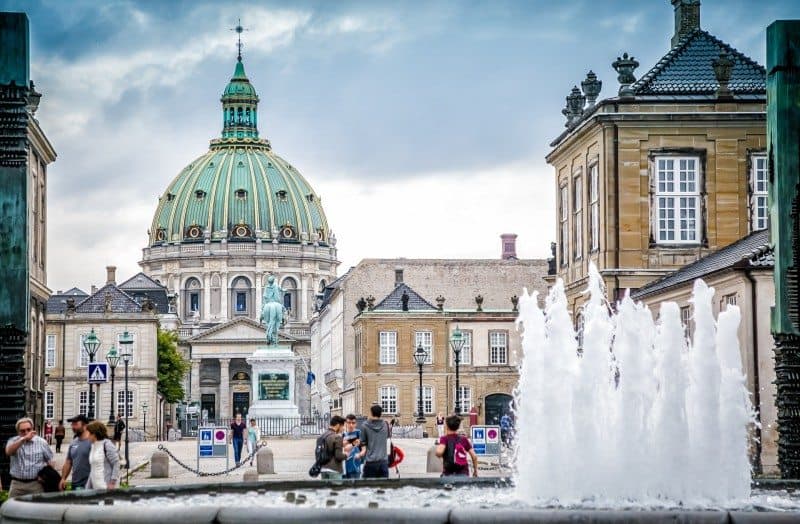 10. Amalienborg Palace/ Amaliehaven Park Waterfront
We stumbled on Amaliehaven while we were walking the harbor on our way to The Little Mermaid. What I love about Amaliehaven is that it is a little park located between Amalienborg Palace and the waterfront.
This gives for some great photographs shooting towards Amalienborg Palace but also some great photographs of the harbor. With classic buildings to one side and tall ships on the other, you can.
Limited to only 10 people, this Copenhagen Small-Group Bike Tour explores the Danish capital of Copenhagen during this half-day tour. Leave the directions and navigation to a guide, just pedal along and enjoy the scenery, passing highlights such as the Rosenborg Castle and Amalienborg Palace.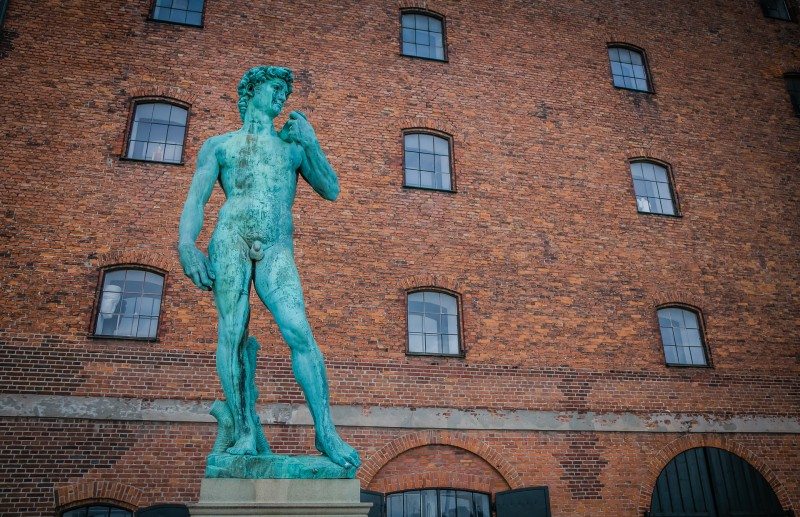 11. Frederik's Church (Marble Church)
This one was a pleasant surprise to me as we were walking down the street dodging raindrops and suddenly came across this church without warning.
It is a very huge building as very beautiful, lining up with the Amalienborg castle and the opera house. It's one of the most impressive churches in Copenhagen and is worth a visit inside to see the marble.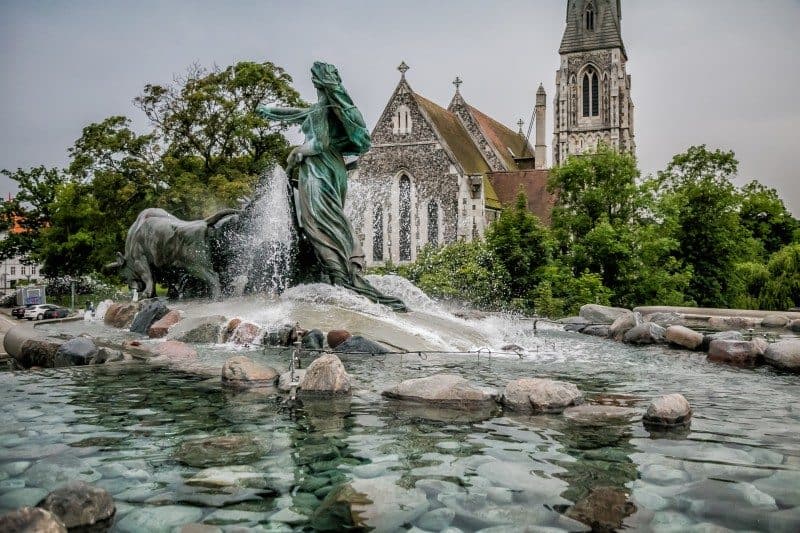 12. St. Alban's Church/Gefionspringvandet
Gefionspringvandet fount is one of the most beautiful fountains we have seen in our travels. This large fountain has bright teal water and sits on the harbor front.
It features 4 large bulls with water misting out of their noses being driven by the Norse Goddess Gefjun. This is the largest monument in Copenhagen and we did not plan on seeing it. It just happened to be on the way to The Little Mermaid.
Sitting next to the Gefion Fountain in St. Alban's Church. This Church is great to photograph with the fountain or across the park. This gray stone church with a reddish-brown roof looks like it has been placed in a country type landscape, not a big city.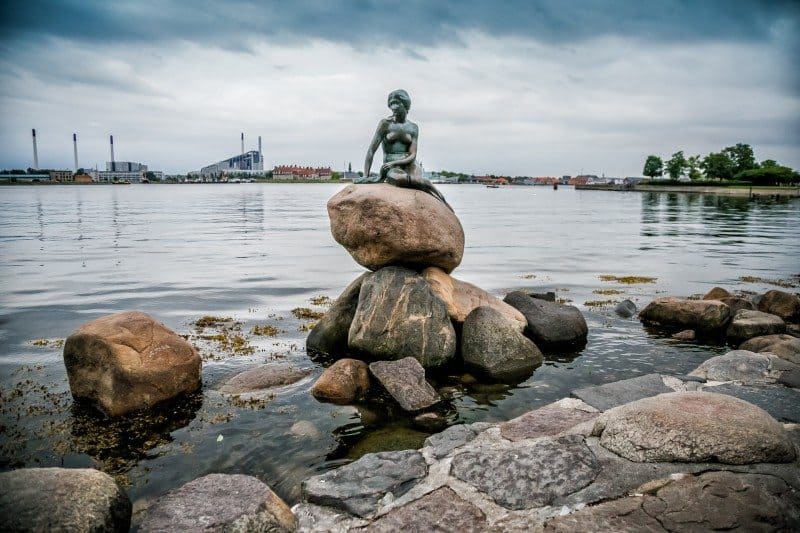 13. The Little Mermaid
Sitting along the rocky waterside of Copenhagen is an Iconic statue that symbolizes the city of Copenhagen and is one of the best things to do in Copenhagen for capturing iconic photos.
The Little Mermaid is truly little, trust me you'll be shocked at her size but worth photographing. Make sure you bring your patience with you as she is often very crowded and space, where you can access here for photos, is small.
Fact: Girl in the wetsuit, located in Vancouver, is similar to the Little Mermaid of Copenhagen.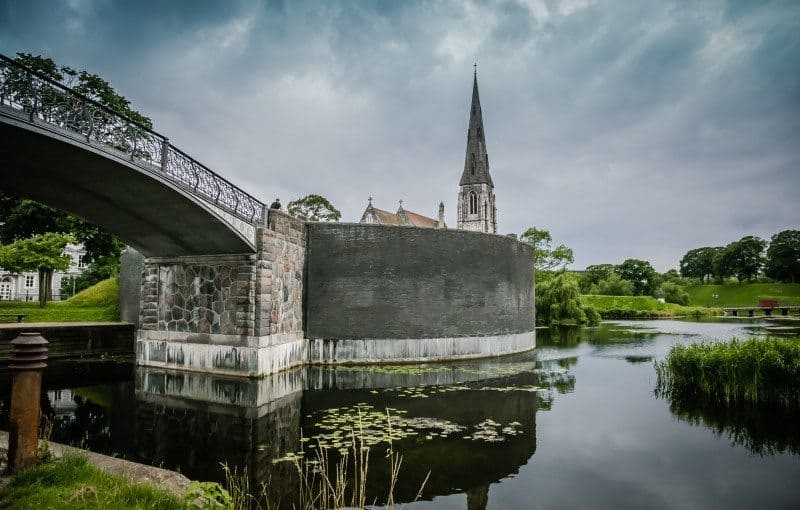 14. Kastellet Park
Located with The Little Mermaid gracing the waterside and the breathtaking fountain of Gefion gracing the other side, is Kastellet park smack dab in between.
This park is not just a park with canals; its canals are really moats to one of the best-preserved star fortresses in Northern Europe.
The gardens are popular for locals to run and bike through. We enjoyed the gardens on foot and this allowed us to discover a piece of history and also a piece of nature within the big city.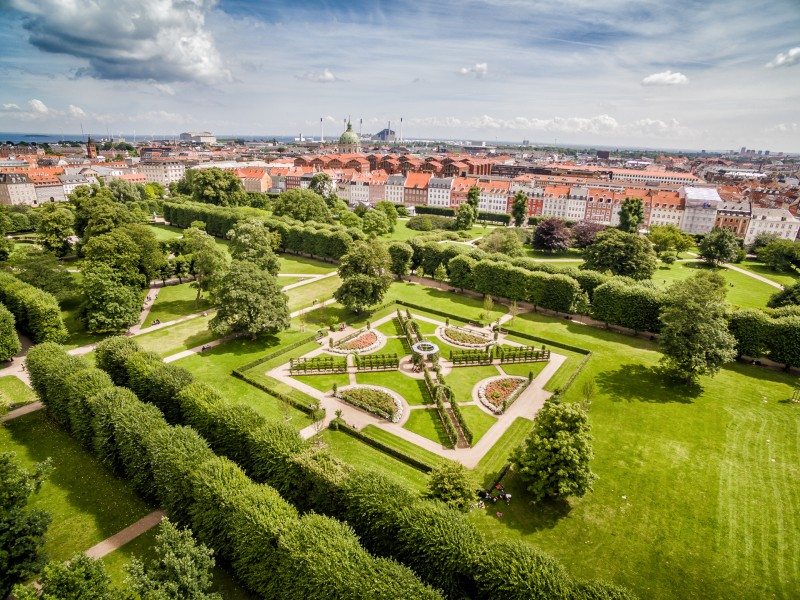 15. Kongens Have
Kongens Have is known as the Kings Garden. This is one of the best parks we have discovered while traveling. All of the walking paths were outlined with large, perfectly groomed trees and lots of green grass to layout and enjoy a sunny day.
You will find locals enjoying the day by sitting on the grass lawns. We enjoyed a picnic lunch while enjoying a slice of nature within the city.
Since we found this park on one of our nice days, we took advantage of it and we flew our DJI Phantom 3 drone to check out the aerial views.
Throughout the year there are different festivals within the park's grounds to provide some local flavor and entertainment. If you follow one of the three trees outlined paths, it will lead you right to Rosenborg Castle.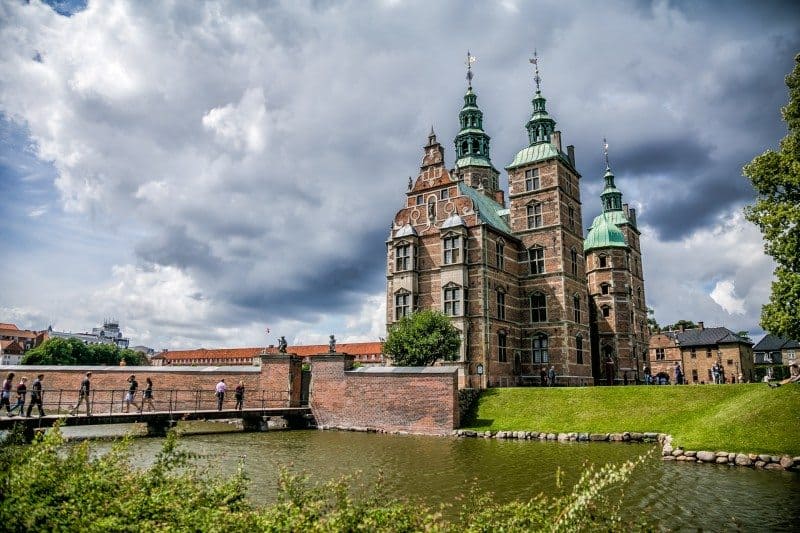 16. Rosenborg Castle and Garden
Step back in time as you walk across the moat to explore the grounds of Rosenborg Castle. Walking around this large, 17th-century building will make you feel like you belong in a movie set.
The best part is that the castle is well hidden, meaning it won't be crowded with tourists. We've met many people that have been to Copenhagen, yet never stumbled across the awesome castle.
Next to Rosenborg Castle is the opulent castle gardens which are easily the best gardens you'll come across in Copenhagen.
This garden is really fit for a king with huge rows of roses and colorful flowers. Once you step foot past the green hedge that outlines the garden you will be drawn directly to the roses. You can't miss them. It's a great opportunity to work on incorporating flowers with your photographs of the castle.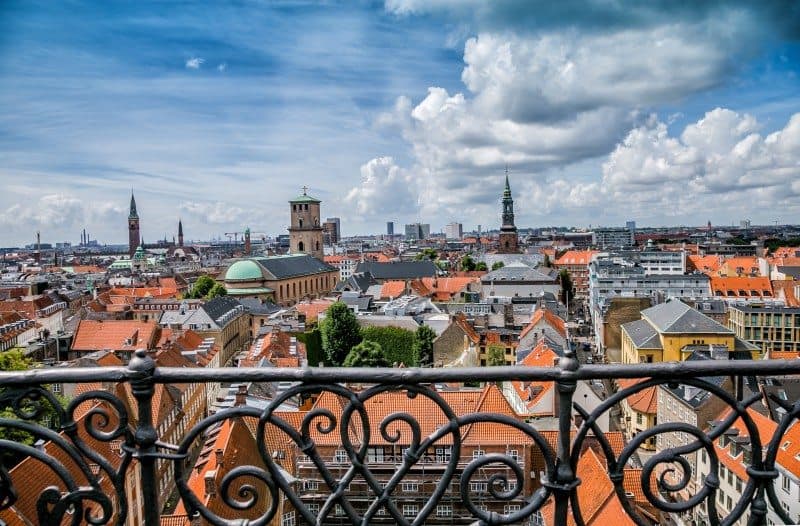 17. Round Tower
If you're looking for one of the best views of the city, you will have to climb the Round Tower in Copenhagen. This round tower can be seen throughout the city but don't let the size fool you.
There are only 10 steps up, no kidding. The inside of the round tower is shaped like a huge walking path spire and it's completely flat as you ascend to the top. No stairs, just a smooth ramp.
You can get some of the best city shots here of Copenhagen, however outlining the top of the round tower is a fence that does make it default to photography through.
You'll have to get creative and make sure you watch out for the children running around. We were almost taken out on several occasions by children running down the smooth spiral walkway of the tower. Hands down one of the best things to do in Copenhagen to get a panoramic view.
18. The Meatpacking District
If you're a foodie and you love to photograph food then the Meatpacking District is the place for you. This district is outlined with trendy restaurants and some of the best eats in Copenhagen.
At night this district comes to life with its poplar nightclubs. It's a good place to just wander in the streets after a great meal and get the feel for the city. It's also very close to the Central station.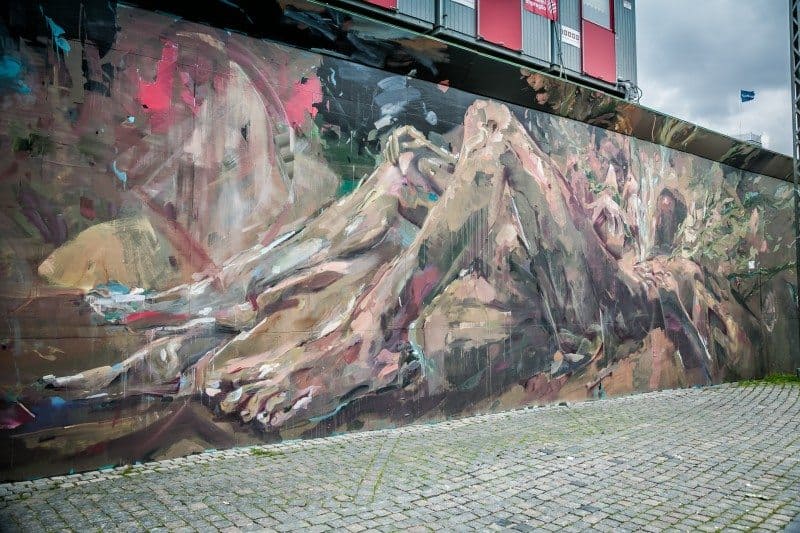 19. Street Art in Copenhagen
You can find some great street art throughout Copenhagen and we've gathered a few of the streets below for you to check out.
Atlas Bar/Flyvefisken, Istedgade, Enghave Place, Sydhavn St., Mozarts Plads, Freetown Christiania, Amager Bio, Nordhavn St., Osterport St. , Slagelsegade, Nannasgade, Norrebroparken, and Kapelvej. The art you find in these places will range from wall paintings, traditional street art, traditional statues, and creative statues.
Don't leave home without: DK Eyewitness Travel Guide Denmark
---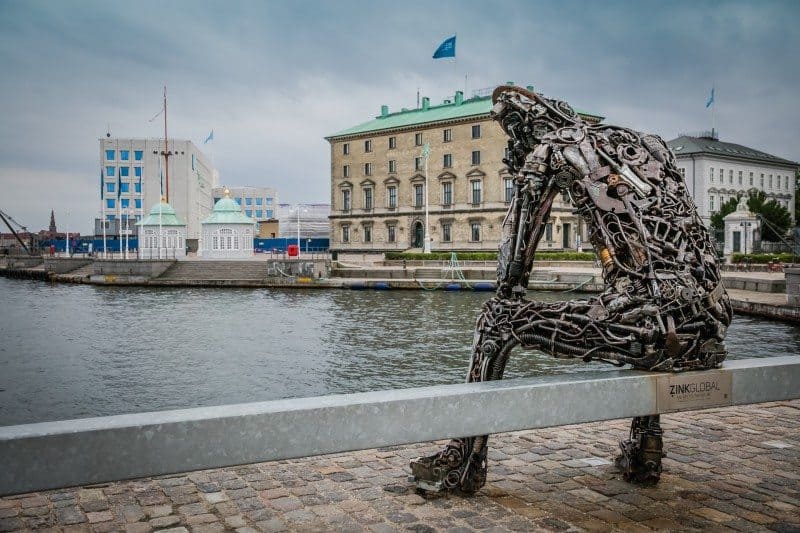 Tips for Visiting Copenhagen
With all of those locations throughout the city you really cannot get a bad photo, they allow you to see all of the different sides of Copenhagen.
The one thing you'll learn fast is that there is no limit to the number of things to do in Copenhagen, so allow yourself to go with the flow.
The city itself is photogenic from different perspectives and can put a lot on offer by just spending an hour or two walking around.
Don't be afraid to put on your walking shoes and explore a little, trust us, it will be worth it. Here's hoping for good weather on your visit.
It's a lovely city but make sure you pack your sense of humor, and a few other useful things, as the city is notorious for inconsistent weather and loads of rain in the summer.
This aside, honestly, it is one of the most alive cities you can set foot in on a trip through Europe. The city pulsates with a vibe that creates energy and keeps you out on the streets all day.
Transport: Use your feet and walk around the city. They do offer options for transport like canal tours by boat and the iconic hop on hop off bus but it's a very walkable city. If you are pressed for time, the next best option is by bike. Do as the locals do and rent a bike to discover the best photo spots in Copenhagen.
Useful items to pack: It's true, the weather isn't always great in Copenhagen but you will still want to make the most of it. Pack an umbrella, rain jacket and camera covers to combat the weather.
Recommended Guide Book: We always recommend packing a good guide book that includes maps and pointers for the city, this will help you to pinpoint the best photo spots in Copenhagen during your visit. Our go-to is Lonely Planet Copenhagen.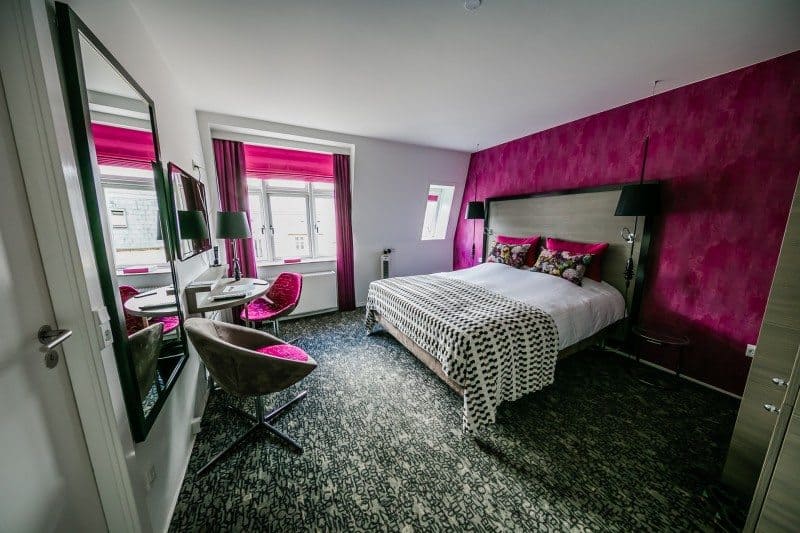 Where to Stay in Copenhagen
While you'll find many options in a range of prices, we opted for a stay at the Andersen Boutique Hotel and found it quite comfortable.
It's a stylish boutique hotel located in the Meatpacking District with really great proximity to the Central Station for arrivals and departures if you're on a train journey through Europe. They also serve up a really great organic morning buffet for breakfast and offer a free wine hour daily in the lobby.
Read reviews and check prices with our Hotel Search Engine, that gives you the best hotel deals found on the web. Our search engine pulls results from all of the major booking places, including Expedia, Hotels, Booking and more. All the options, all the deals, all in one place and just for you.
---
More on Europe:
Did you like this story? Share it!