Europe is an incredibly diverse continent, with a multitude of languages, cultures, and histories that dissect and interweave each other as much as they separate and diverge from country to country.
For budget travelers though, while this is a fascinating part of the world to explore, many countries in Europe have a reputation for being expensive, in particular in Western Europe and Scandinavia.
Places like Norway or the United Kingdom are best avoided if you are on a budget, but that still leaves an abundance of destinations left to discover in Europe.
You can sip cheap sangria on beaches in Spain, or find budget accommodation in Poland's historic cities. From the Iberian Peninsula to the colder climes of the former Eastern Bloc, here are the cheapest places to travel in Europe.
Don't leave home without: Lonely Planet Europe (Travel Guide)
---
10 Cheapest Places to Travel in Europe
---
1. Italy
Italy can be an expensive destination, or it can be one of the cheapest places to travel in Europe. While entrance fees to museums and costs for hotel rooms can stack up if you are exploring places such as Rome or Venice, head away from the tourist traps to see the real Italy.
In doing this you will find a much, much cheaper side of the country.
Accommodation: The cost of accommodation in Italy can vary wildly depending on the destination, and the time of year you travel. Hostel beds in cities can range from 10 Euros at the lower end, up to 40 Euros a night in Venice.
Transportation: Public transport in Italy can be wonderfully cheap, and in cities, you can pay as little as 1.50 Euros for a metro or bus ride. Train travel is cheap if you book fares in advance, on specific dates, while bus fares with companies such as Flixbus are very cheap, with a Rome to Milan ticket costing as little as 15 Euros.
Meals: In Italy, you can pay as much or as little as you like for food, but if you are on a budget then you can still get a fantastic pizza at a local restaurant for as little as 6 Euros, while a bottle of wine in the supermarket can cost 3 Euros and up.
Activities: Entrance to museums in cities generally cost upwards of 10 Euros, depending on the popularity of the attraction, but you can save money by purchasing city cards in destinations such as Rome. On the coast, you can enjoy many beaches for free, while in the countryside, exploring villages and towns only really set you back the cost of transportation and food while you are there.
Our Top Recommended Tours:
2. Spain
Spain can easily be one of the cheapest places to visit in Europe if you want to explore the western side of the continent. With cheap beer, cheap wine, and cheap food, it's an excellent destination for sun and culture lovers.
Accommodation: Hostels in cities such as Madrid and Barcelona can cost a lot, with summer highs pushing prices up to 40 Euros. Low season, you can score a bed for 20 Euros, and less in smaller destinations.
Transportation: Spain has a great network of buses and trains, but to get the cheapest deals, you must book in advance – particularly for trains. A bus from Barcelona to Madrid, for instance, would average around 30 Euros, for a 7-hour journey.
Meals: Food and drink is a great value in Spain if you eat locally. Watch out for the Menu del Dia, or the Menu of the Day, which many restaurants advertise for as low as 10 Euros for a three-course set meal including a drink.
Activities: Museum prices vary from city to city, but many offer free entrance on certain days of the week, just check in advance. You can visit most beaches, or enjoy hiking activities for free in Spain.
Our Top Recommended Tours:
3. Greece
While it might seem from the news that Greece always appears to be in dire economic straits, for the discerning budget traveler, this isn't necessarily a bad thing, because the country is one of the cheapest places to travel in Europe.
You hang out in Athens and explore the mainland or head out to visit the Greek islands. Both options can be done on a budget and you'll get a fantastic variety on your trip if you combine the two.
Accommodation: Greece is a very seasonal destination, and in summer, costs can skyrocket compared to winter. You can still find great deals on accommodation, and prices for a single room can range from 20 Euros upwards, even in peak season.
Transportation: If you are island hopping, then the cost of ferries needs to be factored into your budget because this is the main way to get around. A ferry from Athens to Mykonos can cost 40 Euros in high season, a journey time of roughly 2 to 3 hours.
Meals: Eating out can be pleasantly cheap in Greece. A Gyro can cost just a few Euros while at seafront restaurants you can pay 20 Euros per head for a 3-course meal and wine in a lovely location.
Activities: Many archaeological sites charge entrance fees, with the Acropolis in Athens charging 20 Euros per ticket. Catamaran trips in the islands start from around 60 Euros for a full day.
Our Top Recommended Tours:
4. Poland
Poland is one of the cheapest places to travel in Europe, and with cheap transport, food and accommodation – and importantly, cheap beer! – it's hard to go wrong.
Be sure not to miss the charming city of Krakow and when you're done exploring there head north to Warsaw. Both cities offer great architecture, food, and history.
Accommodation: Hostel prices in cities start at roughly 10 Euros per night, and hotel rooms can be found for as low as 30 Euros for a double.
Transportation: A public bus ride in Warsaw is just 1 Euro, and an intercity bus from Warsaw to Krakow will cost just 5 Euros if booked in advance.
Meals: You can find a solid meal in a local restaurant from 5 Euros in non-touristy areas, while beer can cost less than a Euro.
Activities: Costs in Poland are cheap, and the most expensive tour will be the Auschwitz bus trip, which costs 30 Euros from Krakow.
Our Top Recommended Tours:
5. Czech Republic
The Czech Republic is a great destination for beer and nature lovers. The country has a treasure trove of small cities to explore, where you'll find hardly any other travelers.
Of course, you won't want to miss the stunning capital city of Prague. While it will be the most expensive in the country, it will still be among one of the cheapest places to visit in Europe.
Accommodation: In Prague, hostels cost from 10 Euros a night for a reputable place, with costs lowering outside the capital. A double room can cost from 30 Euros upwards for a nicer hotel on the outskirts of the city.
Transportation: Tickets on buses from Prague to Brno can be as low as 5 Euros, but expect to pay more on the day, while bus tickets in the capital cost around 2 Euros a ticket.
Meals: Visit non-touristy restaurants to score classic Czech dishes for less than 5 Euros a plate.
Activities: Many attractions are free to enter, while some, such as the Church of St Nicholas cost just 3 Euros.
Our Top Recommended Tours:
6. Hungary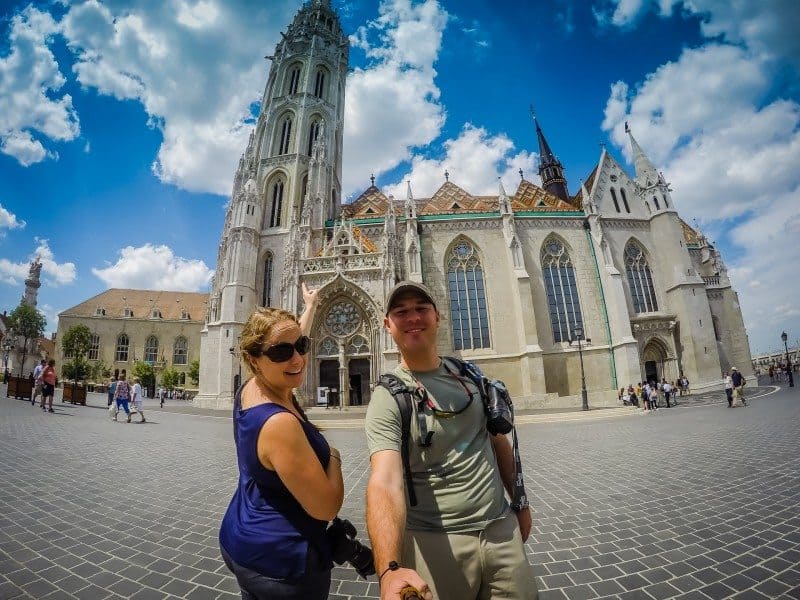 Like Prague, Hungary's capital Budapest is getting ever more pricey. Budapest is still cheap, but explore lesser-known spots such as Lake Balaton or Debrecen and prices are even lower.
Don't be afraid to venture outside of the capital city and explore more of this unique European country.
Accommodation: Cheap hostels start from just 5 Euros, but these are usually party hostels. More upmarket hostels will cost from 10 Euros up, while hotel rooms in the center begin from 30 Euros for basic lodgings.
Transportation: Public transport in Budapest costs around 1 Euro per ride, while a bus ride to Debrecen will cost on average 10 Euros.
Meals: You can eat at great restaurants for good prices, with a plate of Hungarian food costing as little as 6 Euros for goulash, even in more touristy areas.
Activities: Visiting the thermal baths start from 15 Euros, but for a full day's entrance, while a trip to the House of Terror museum costs 10 Euros.
Our Top Recommended Tours:
7. Croatia
While nowhere near as cheap as it used to be, Croatia is still a great option for budget travelers looking for gorgeous coastline and history, but to avoid high costs, travel outside of the summer season.
With the popularity of Game of Thrones, Dubrovnik is an absolute must-visit while in Croatia. Despite the fame, you can still score great deals, so do not hesitate to add the city to your itinerary.
Accommodation:

Prices vary from city to city. In Split you can find hostels from 10 Euros per night, in Dubrovnik in high season, this can rise to 20 Euros or more.

Transportation: A Dubrovnik to the Split bus will cost from 8 Euros up, with equally similar prices between other cities.
Meals: Outside of tourist areas, you can find meals at restaurants for around 6 Euros, rising in fancier places or on the coast.
Activities: Museums are low cost, while national park fees at places like Plitvice lakes cost 15 Euros in high season.
Our Top Recommended Tours:
8. Montenegro
Montenegro is Croatia's southern neighbor, and actually, the country offers similarly spectacular coastline and history for much lower prices. Despite its small size, there are plenty of incredible things to do in Montenegro.
If you're not up for a busy itinerary, the beaches are some of the best in Europe for relaxing.
Accommodation:

Hostels in Kotor start at 10 Euros per night, while in the capital, Podgorica, you can get a double room for the same price as a Kotor dorm bed.

Transportation: Transport is good value in Montenegro, and local transport, either a bus or minivan from Kotor to Podgorica will cost 6 Euros for a 2-hour journey.
Meals: A local restaurant serving good Montenegrin food will set you back around 5 Euros for a meal.
Activities: Entrance fees are cheap, and access to Durmitor National Park for instance only costs 2 Euros.
Our Top Recommended Tours:
9. Albania
Little visited Albania was once one of the most isolated places in Europe, but today, it's slowly gaining a reputation for itself amongst intrepid travelers, because it's possibly the cheapest place to travel in Europe.
Accommodation:

Basic accommodation begins from just 5 Euros in hostels, while you can find rooms in more upmarket hotels in Tirana for as low as 25 Euros a night.

Transportation: Intercity bus travel, while slow and tedious, is cheap, and fares cost just a few Euros each way.
Meals: You can dine out at 'expensive', upmarket restaurants in Albania and only be set back around 10 Euros per head.
Activities: Entrance costs are minimal for attractions, and of course, beaches and hiking in Albania are all free activities.
Our Top Recommended Tours:
10. Ukraine
Editors note: Due to the Russian Invasion, it is not currently safe to visit Ukraine.
Ukraine and cities such as Kiev, Lviv, and Odessa are surging in popularity, and prices still remain exceptionally low even in the most touristy places. 
Accommodation:

Hostels in Kiev start from 5 Euros a night, while apartments and hotels can cost as low as 25 Euros for basic lodgings.

Transportation: Bus and train travel is cheap in Ukraine, and transport on the metro in Kiev is just 10 cents a ride. A bus from Kiev to Odessa will cost 10 Euros.
Meals: Eating at Soviet-style canteens will provide you with a huge plate of food for just a few Euros, while you can easily enjoy a more upmarket meal in Kiev for 10 Euros a person with drinks.
Activities: Entrance costs are low to traditional attractions in the cities. Tours to Chernobyl will cost 100 Euros or up depending on the company, for a day trip from Kiev.
Our Top Recommended Tours:
---
More on Europe:
Did you like this story? Share it!