I don't think I have ever met a traveler that didn't know the company Viking River Cruises. It is hard to pass a Sunday night without seeing a commercial on the TV or surf the net without seeing an advertisement.
We had the pleasure of traveling with Viking River Cruises on our most recent trip to Europe and chose to sail on Poland, Prague, and the Elegant Elbe itinerary.
For those of you curious about Viking River Cruises and what they have to offer, we want to give you an inside look into what you could expect if you chose to travel on the rivers of Europe with this exceptional company.
Some of the information we provide is applicable to the specific itinerary we were on but no worries, we make sure to let you know that.
---
Viking River Cruises in Europe-What to Expect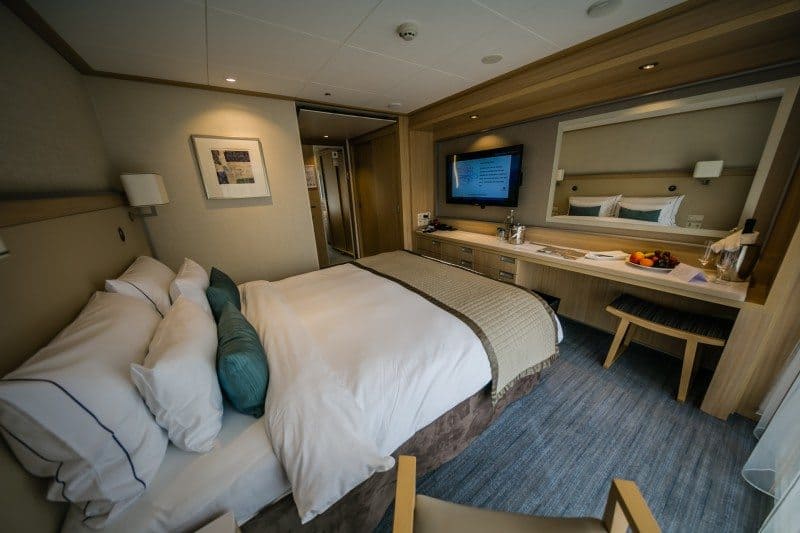 The Staterooms
First things first, let's take a look at the rooms that you will be staying in. Viking offers four different room categories on their riverboats starting with the lower deck window only cabins, to upper deck window, to upper deck rooms with a balcony and of course, a pair of luxurious suites.
We stayed in an upper deck balcony room and can tell you the rooms are more comfortable than most hotels you'll stay at on land.
Our room featured a queen-sized bed, flatscreen tv, nightstands, dresser drawers, a desk, large closet, in-room safe, full-amenity bathroom with toilet, sink and shower and large floor to ceiling sliding glass doors onto a private balcony with table and chairs.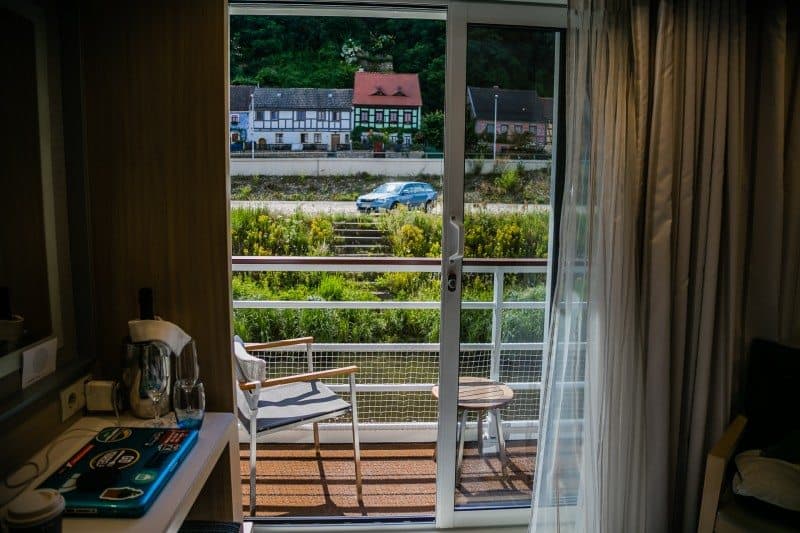 The room stewardess kept our room immaculate and was always swapping out towels, tidying the bed and making sure we had fresh fruit.
The TV featured movies, television channels, all the cruise program information, live onboard camera channels and a series of documentaries about the places we were visiting on the river.
We stayed in a Verandah cabin that had a private balcony deck with sliding glass doors. We found this feature to be fabulous for relaxing on cruising days.
There were also nights we were docked and I was able to capture some beautiful night shots of the city by setting up my tripod on the balcony and not having to worry about it while it was taking long exposures.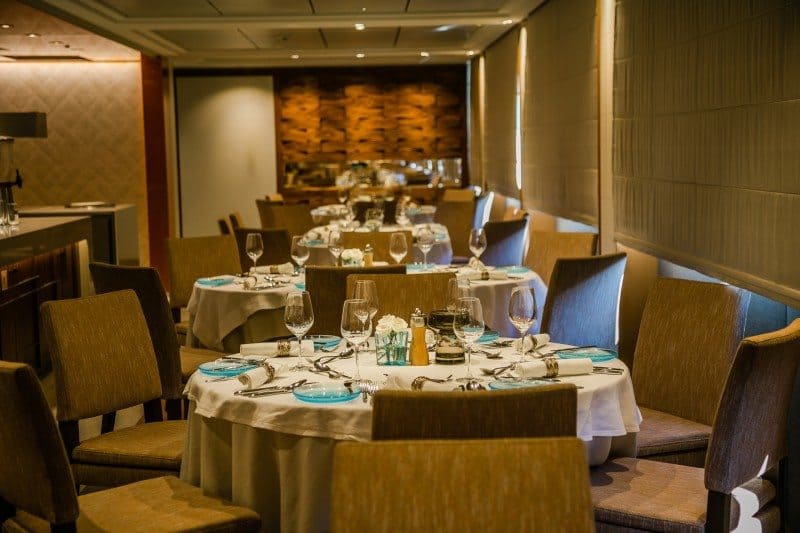 The Food
With their dedicated cooking staff, I can say without hesitation that we never ate a bad meal on the Viking River Cruise. Breakfast buffets were complete with fresh fruit, yogurt and a variety of toppings.
You could select from breakfast meats and have an omelet cooked to order. If you wanted something fancier, there was always the morning menu that never changed each day but offered things like pancakes, Eggs Benedict and oatmeal.
Lunch offers up two options, lighter fare in one of the lounges that typically consists of soup and salad or a heavier option in the dining room with daily changing menus options. Always on offer in the dining room is a complete salad bar and pasta options made to order.
Dinner is always served in the dining room and the menu changes daily with a variety of options for all tastes and preferences.
It was always our favorite meal of the day as we would sit with new travelers and share stories from both present and past travels.
With the wine flowing and lighthearted company, you'll be hard-pressed to spend less than 2 hours at dinner.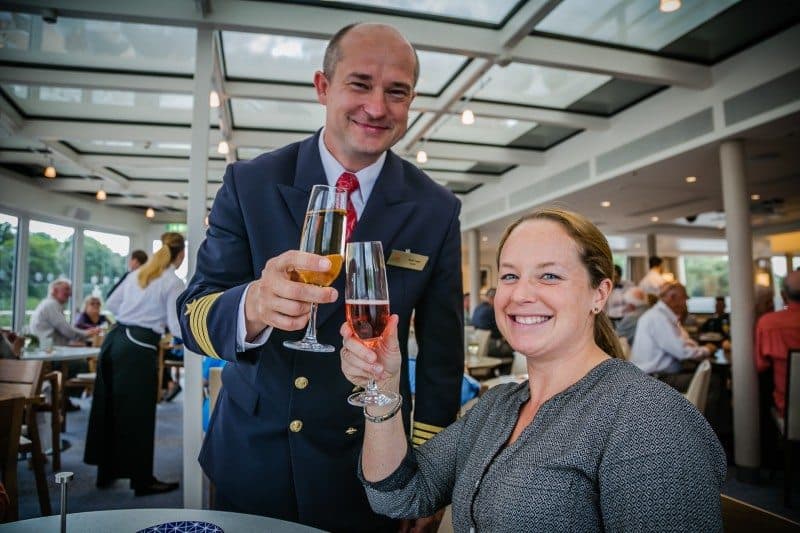 The Staff
I think the brightest gem you will find during your trip with Viking River Cruises is not only in the destinations you visit but in the staff. Service is their first name and they are some of the kindest tour staff we have ever met.
They great you happily each morning with a smile on their faces, answer endless streams of questions and go over and above the call of duty to solve any problems you may have.
They make a conscious effort to learn everyone's name and greet you that way for the duration of your trip. If you have certain preferences, you never have to ask more than once. This makes the trip very personable and special and is a standard a lot of companies could stand to mirror.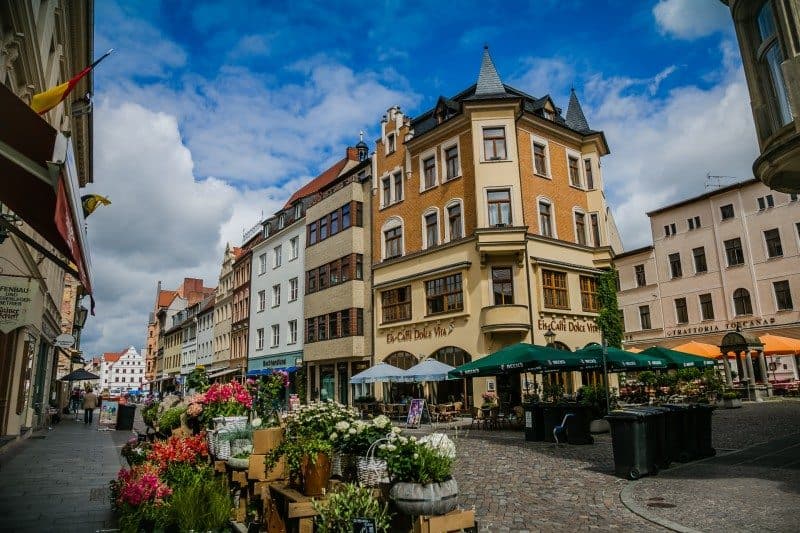 Shore Excursions
Viking River Cruises does a nice job of including at least one shore excursion in each city port, however, they also offer several optional tours that can be booked if you are looking for a more in-depth experience on your vacation or want to visit a site that is not included.
The included shore excursions will typically hit the highlights on offer in either the form of a walking or bus tour. They do their best to break up the ship into small groups, so you can expect there to be 3-4 groups of around 20-25 people.
During your time in port, the shore excursions will be run by locally sourced guides that are hired by Viking to run their tours. They know the lay of the land and their cities history very well.
Something to note is that Viking River Cruises puts a strong emphasis on visiting museums and churches. They do not offer many if any- depending on your itinerary, outdoor options for people that are looking for a bit more exercise or a quicker pace.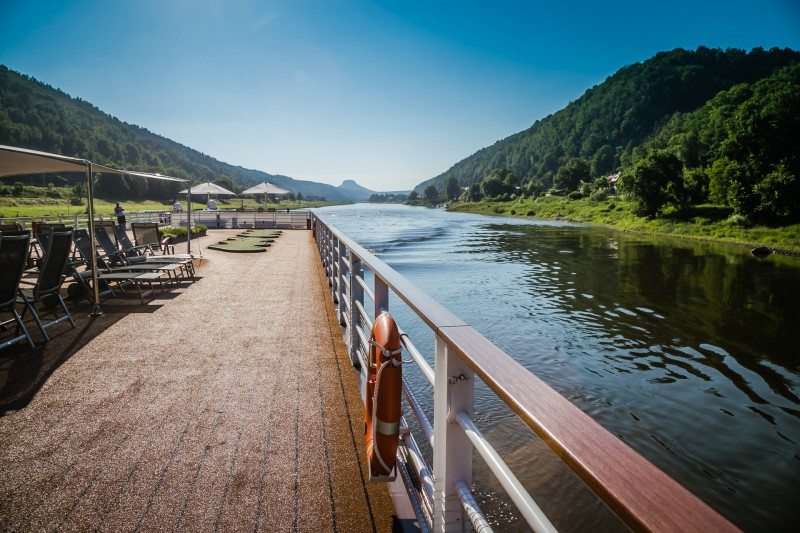 The Entertainment
Staying true to their mission in culture exposure, their entire program revolves around the countries and cities that you visit during your itinerary.
They arrange cultural performances, dances, skits, and lectures to give you the best feeling for the history of the destination.
When you're not being entertained in that way, the onboard piano musician and singer fill the lounge rooms with familiar songs for as long as people are willing to stay up in the evening.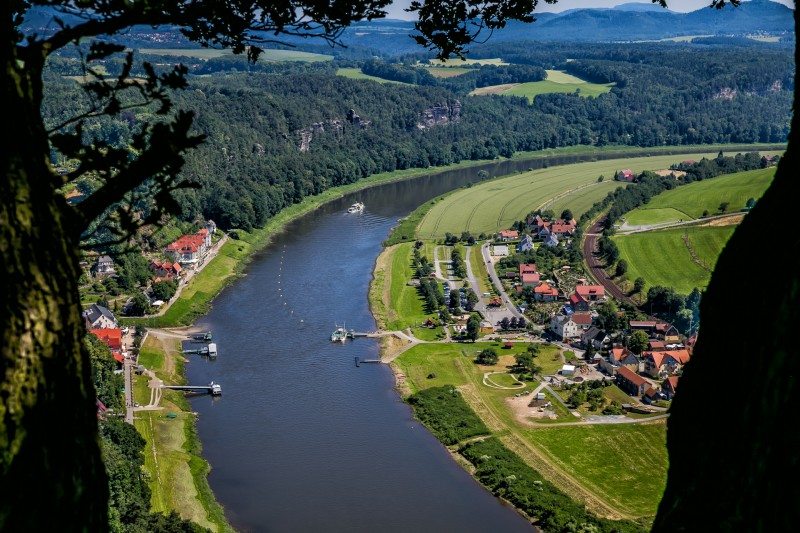 What's Included on the Poland, Prague and Elegant Elbe Itinerary
Viking River Cruises does a good job of making the whole experience complete. There is quite a bit included on the 16-day Poland, Prague and the Elegant Elbe itinerary.
Complimentary WIFI
Yes, there is free WIFI included on the cruise but honestly, it doesn't work very well. This surprised us as we spent a week road tripping through Germany before our cruise and never had coverage issues. But, it's available and it is free nonetheless.
14 Guided Tours
You can expect to have an included tour at every port you arrive in. This includes entrance to any sites you visit, walking tours, museums, churches, cultural activities and on this particular itinerary, a visit to Auschwitz is also included. In addition to the 14 included shore excursions, there are some optional tours on offer as well.
All meals on the Ship
15 breakfasts, 6 lunches & 7 dinners; while you are cruising on the Elbe River, all your meals and drinks are included. Your hotels in Berlin, Prague, Krakow, and Warsaw are also included in this itinerary at properties like Hilton, Sofitel, Radisson, and Marriott. You also get complimentary wine, beer, and soda during lunch and dinner.
Coffee & tea during the day
Available all day every day is the coffee station serving a variety of coffee and tea. Keep your eye out for the rolls in the morning and the fresh backed cooking in the afternoon.
Visit 3 Countries
This itinerary starts in Berlin taking you through a lesser-traveled part of Germany as you make your way to the Czech Republic. You then cross the border and spend a few days in Prague before heading onwards to Poland. Visit 7 UNESCO World Heritage Sites along the way.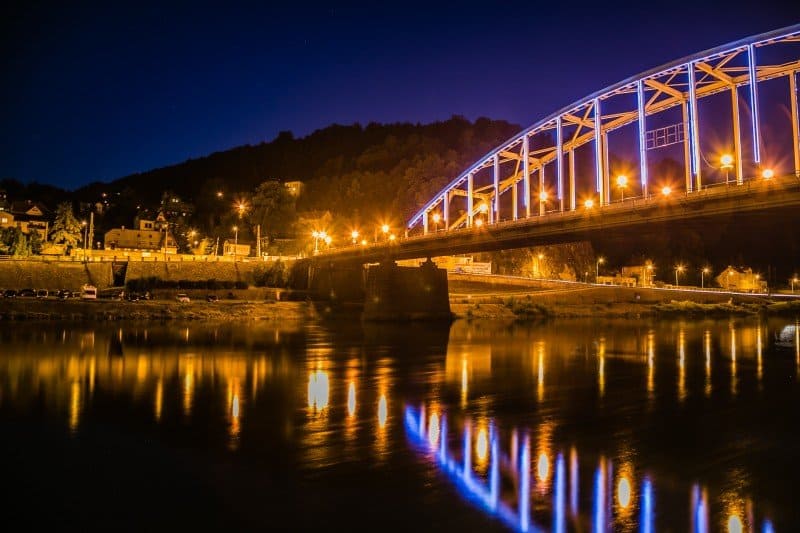 Viking River Cruises in Europe
No matter which itinerary you choose to travel on, you can be assured that your trip will be a wonderful experience with Viking. They really do go out of their way to ensure you have a relaxing and memorable experience in Europe with them.
Looking for more advice on cruising? These travelers never have been on a cruise before and they decided to book back to back cruises totaling 50 days of sailing: What we learned from our first cruise experience – 50 days
More on Europe:
We partnered with Viking River Cruises to bring you this trip report. All opinions are 100% mine.
Did you like this story? Share it!