Have you ever visited a destination and instantly felt a deep connection? This happened to me when we went to Germany and it my hope that these incredible Germany photos that I captured will express why.  Arriving in Munich for the first time was like going home for me. For years I have wondered about the country where so many of my ancestors had resided and what it would be like to visit. Finally having the time, we spent 3 weeks in Germany during our most recent trip to Europe.
These photos will take you through some of the most beloved areas of Germany but also show you some places you probably didn't know existed. It is our hope that we inspire you to travel more and book a trip to Germany to see for yourself.
30 Germany Photos That Will Spark Your Wanderlust
Munich
Beautiful, lovely, historical, picturesque Munich started an instant love affair with the country. We arrived by train and spent 3 days in the city dodging rain clouds and seeing some pretty spectacular sights. The vibe in Munich is intoxicating and we just couldn't get enough, even when it was raining you could find us under one of the many beer tents or enjoying a pretzel in one of the many brewhouses.
Plan your own trip to Munich ====> 4 Days in Munich
Marienplatz is the heartbeat of old Munich and the first place you should head when you arrive. It is here that you get your first feel for culture in Bavaria and have the opportunity to witness the famous Glockenspiel that shows scenes from the 16th century. Even on a cloudy, rainy day the beauty of this central square cannot be denied.
?
I simply could not resist the bright colored pool in this fountain. Also located in the Marienplatz, the Fish Fountain garners its name from the fish market that used to be setup nearby. Local merchants would place fish in this very fountain to keep them fresh. For me, it was all about the color.
Don't leave home without your Lonely Planet Germany (Travel Guide)
?
Climbing towers in Europe is not only good exercise but a fantastic way to see the far reaches of any city you might be visiting and Munich is no exception. We got this view from climbing one of the towers at St Peter's Basilica.
?
One of my favorite Germany photos, this was one of those amazing travel moments. After spending a day chasing blue sky around Munich, we arrived at the Royal Residenz 1 hour before closing and decided to tour the palace. It's no lie when you hear that Europe in the summer is crowded…. we've been fighting crowds since we landed in Budapest a week earlier. So you can imagine our surprise when we entered the most famous room in Munich, the Hall of Antiquities, to find ourselves utterly alone. I told the guard that I could only whisper, because I have never been alone in such a grand place. She said to me, 'Yes, this is a pretty special moment. You are alone in Munich's greatest room. It's just you and the ghosts now.'
Looking for photo gear advice? Check out =====> Ultimate Travel Photography Gear List
?
A major perk of Munich is their awesome transportation. We hopped on a tram right outside our hotel and in 20 minutes we were walking up to the beautiful Nymphenburg Palace. We spent some time inside wandering the halls before making our way to the stables and then out into the gardens. You can't see them in this photo but behind that building are some of the most beautiful gardens in all of Europe.
?
After prying ourselves away from Munich, we hopped in our rental car and headed for one of the most popular day trip spots in the area, Dachau Concentration Camp. Now, we have been exposed to a wide array of tragedy in our travels including the genocides in Rwanda and Cambodia but this would be our first visit to a concentration camp from WWII. If those halls could speak…
Neuschwanstein Castle
This is probably the most famous castle in Europe, if not the entire world. The dream project of the 'Mad' King Ludwig II who was deemed unfit to be king because he enjoyed the outdoors, hunting, the mountains and had a strong dislike for people. He spent all of his time and money building opulent castles, including this one. Shortly after he was removed from the throne for being crazy, he was murdered. Who did it remains a mystery to this day. Having visited the castle, I don't think he was 'mad' at all, who wouldn't want to live amongst the mountains in a castle like this?
The best kept secret about visiting this castle is that you an actually stay just one turn down the road from it. Most people stay in Fussen and then make their way by bus to the base of the hill before climbing to the top. Not us, because we stayed so close, we were able to get up and experience Neuschwanstein at sunrise with no crowds. It was amazing.
Thinking of traveling with a drone and don't know where to start? Check out the Best Drones For Travel From A Real Drone User.
?
9am and we were two of a handful of people on the castle grounds. The difference with these quiet experiences is that you actually have a chance to feel the place and relate to the history and stories that surround them.  This is impossible when the place is so crowded you can't see anything and so loud you can't even think. Visiting places first thing in the morning or last thing in the evening can really provide special experiences.
Don't leave home without your Lonely Planet Germany (Travel Guide)
?
We stopped off at this lake the day we drove South from Munich towards Neuschwanstein Castle. The road was winding and we only caught a short glimpse of the water before hauling on the brakes, turning around and venturing down a small side road where we were treated to this view. Bavaria proved to be a truly stunning part of Germany.
Rothenberg ob de Tauber
Originally planned as just a quick stop on our German road trip itinerary, we decided to make a long drive day from Fussen to Rothenburg ob de Tauber for an overnight. It turned out to be the best decision to make. Crowded with tour buses and day trippers, you can barely move through the streets during the day, let alone take a nice photo. However, as the sun lowers itself, the buses pull away from the city walls and silence enters the streets, the city becomes magical. Easily one of our favorites cities in all our travels, wandering the medieval streets evoke a sense of wonder and childhood excitement.

Needing some decent light, you'd never know we were still battling the crowds when this photo was taken. You'd laugh in hilarity if you knew the whole story, actually. When we first arrived it was so full of people we left in search of a grocery store where we purchased stuff to make a 'working' dinner. Heading back, we parked ourselves on set of steps, making our sandwiches and bolting into the road at every chance it cleared. The people watching was priceless and truth be told, it wasn't until we had made and eaten our dinner that we got our clear moment to capture the photo above. Total wait time? At least 90 minutes.
?
Another city, another tower to climb. I thought this tower view was particularly rewarding with the cookie cutter architecture of the city, bright orange roofs and varied color schemes.
Nuremberg
As with many of the towns and small villages located on the Romantic Road, people tend to spend more time passing through them then they do enjoying them. There is a lot to be said for the experience you can have if you just allow yourself to stay overnight in some of these places. Not only will you get good photography opportunities when the tour buses leave for the day, but you'll get a chance to see the real magic on offer. We stayed 2 nights and it opened up Nuremberg in a very special and unique way for us.
Plan your own visit ====> You're Crazy If You Don't Spend 2 Days in Nuremberg
There are a lot of beautiful places to discover in Nuremberg but we loved being able to wander and then reroute back to the center of old town. This stunning marketplace holds one of the best Christmas markets in Europe and well, it isn't too bad in the summer either. It's all about the shapes and contrasts in this square and the red striped umbrellas over the vendor stalls are the perfect finishing touch.
?
In between rain storms, and let me tell you it really rained when we visited Nuremberg, we would spend our time wandering the streets looking for little gems like this. The architecture is intriguing in these buildings and you can even enjoy a Bavarian dinner in that building complete with brewhouse music, waitresses in lederhosen and cold, German brews.
?
This is a view that very, very few people are privileged to get. The main church of St Sebald in the historic center opens its towers to visitors only two times per week and at two specific times. This prevents the wear and tear on the building that would come if they let everyone visit it with open admission. We got extremely lucky being there on a day it was open and enjoyed a virtually private tour with only 2 other people of the towers and the entire off limits area of the church. It was incredible.
Hamburg
Always lively with sailors, brothels, pirates and wealthy business men, Hamburg has seen many faces through the centuries. With so much going on, naturally it's been on my radar of European places to visit for years. We didn't get the best weather, lots of rain, but we had no trouble falling for this city.
Plan your own trip to Hamburg====> Highlights from 3 Days in Hamburg
One of the most unique districts we have ever come across, the Speicherstadt in Hamburg's UNESCO World heritage listed warehouse district not only wows with gothic revival architecture, but holds the seams of so many stories of the city.
Don't leave home without your Lonely Planet Germany (Travel Guide)
?
This statue stands in the now destroyed center of the St Nicholas Church in central Hamburg. The church lies in ruins, but this statue stands out in the center as a memorial to the past of Hamburg. I was captivated by it and could see so many other meanings in the design.
?
While it is not possible to visit the inside, you can stand at the doors to the company that was hired by the Nazi regime to produce the toxin Zyklon B. This toxin was the exact poison used in the gas chambers during WWII to exterminate people. The employees of the company didn't even know what they were producing and they thought it was being used for agricultural purposes. The owners of the company were directly collaborating with the SS to produce odorless poison.
Berlin
After spending so much time in Bavaria, Berlin was a bit of a culture shock to us. It's still classic Germany under the hood but is so progressive and much more modern. Everything about Berlin screams progress, tolerance, acceptance and we loved it. It's a city we could live in and that's saying something.
Headed to Berlin? ====> 12 Best Photos Spots in Berlin
Say hello to the Berlin Cathedral. This beauty sits among some of the most prominent international museums in Berlin and takes up residence on Museum Island. This small island sits point center to Berlin and the Spree River, making it a wonderful place to spend an afternoon.
?
The heart of the city and a monument that has stood through the roller coaster of history in Berlin, the Brandenburg Gate. During the division of Germany with the Berlin Wall, the Brandenburg Gate was left standing in no mans land, between East and West Germany. It was not accessible by the public, yet today it stands as a lively center to spend your afternoon people watching and listening to live musicians.
?
Being seen from virtually every corner of the city is the iconic TV Tower in the center of beautiful Berlin. Couldn't have asked for a more spectacular sky of clouds while walking by to capture the true grandeur of the tower.
Looking for photo gear advice? Check out =====> Ultimate Travel Photography Gear List
?
Coming up the stairs from the underground tunnel and catching our first glimpses of the Victory Monument in central Berlin. You can enter the monument and climb the 285 stairs to the top for out of this World views of the city.
?
Views for days and views for miles. THIS is the rewards for your effort of climbing the Victory Monument. Can you even believe how lush Berlin is? I love visiting big cities and discovering beautiful green parks in them.
?
This is one of the coolest fountains I have ever seen in my travels. The Neptune Fountain depicts a series of animals circled around and facing 4 women with Neptune at the center. The women are said to represent the 4 rivers of Prussia. Not only is it beautiful but you could spend a solid hour studying it.
Potsdam
The land of palaces and Prussian royalty, I think a visit to Berlin would be a shame if you didn't add on a day trip to its neighbor, Potsdam. Easily accessible on the trains that leave from the center of Berlin, you can spend your day wandering extremely ornate and well-preserved palaces of the Prussian Kings that essentially founded what Germany is today.
Wandering in the footsteps of the Prussian Kings of Potsdam awakened a curiosity in me that I hadn't felt for a while. Who were the Prussians, where did they come from and why did they come to Germany? These questions were felt intensely as a large part of my bloodlines comes from East Prussia, the last stronghold of the Prussian blood before it was taken by Russia forcing many of the last inhabitants to flee into immigration. This particular palace, Sansoucci, was the grandest palace of the great Fredrick II. These statues are part of the group of people that 'hold' the roof up on the grand palace. Each face is different and all are laughing and joking. A depiction of how Fredrick II chose to enjoy life.
?
If you tired of the palace you could head out back to the well decorated garden area. These large terraces sit just to the side of the palace and create a beautiful way to enter the gardens that occupy acres behind them. Clearly opulent, you can see the wealth and taste of the times of the people that lived here.
Along the Elbe River
When we weren't road tripping or riding trains around Germany, we were cruising on her best kept secret, the Elbe River. It was amazing to us how few people venture off the tourist trail in Germany. We were there in the height of summer when the well known places were bursting at the seams, yet we hit the Elbe river to find only solitude and quiet little gems. For anyone on the fence about river cruising, don't be, it's a great way to beat the crowds.
Highlights from our River Cruise ====> Elegant Elbe River Cruise with Viking River Cruises
The city market of beautiful Wittenberg. This town was the home to the famed, Martin Luther, the man who led the reformation that paved the way for a transition from Catholic to Protestant beliefs. He's also the founder of the infamous witch hunt movement that spread even to the New World- famous for the Salem Witch Trials.
?
Torgau is a small town in Germany that we have never heard of before, despite the fact that it contains the oldest and most complete Renaissance Castle in Germany. Our river boat docked in Torgau for an evening visit and a spectacular sunset.
?
It's hard to grasp sometimes when you're fed a piece of information that doesn't seem possible. This is how visiting Dresden was for me as we were told that the entire city was reduced to nothing but rubble during WWII. Literally nothing was left standing, yet today we see it in all it's glory. Restoration is a powerful thing but something it's hard to really process that what you're starting at isn't original.
Don't leave home without your Lonely Planet Germany (Travel Guide)
?
Behold, the beautiful city of Meissen. After flying our drone for this epic view, we set off on foot to learn a bit more about the history of the city- the center point for some of the finest porcelain in the world- before hiking to the top of the cathedral hill.
?
Our last stop in Germany on our river cruise was the beautiful Bad Schandau and Bastei Rock. We took in a fair bit of hiking while we explored the area and we were happy to be out in nature for the first time in weeks. In 1801, Carl Heinrich Nicolai, said about the Bastei Rocks: "What depth of feeling it pours into the soul! You can stand here for a long time without being finished with it… It is so difficult to tear yourself away from this spot." Well said, Carl, well said.
— ? —
3 weeks and multiple places visited, yet there is still so much to see in Germany. I have no doubt in my mind we'll be back to explore more of the beauty this country holds through the lens. Have you been to Germany?
Did you like this post? Share it!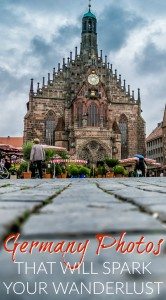 Love our photos?
Want to see more amazing photos from the world by the Divergent Travelers Adventure Travel Blog? Check out these travel photography post:
29 Cuba Photos Reveal Vibrant Diversity
25 Amazing Drone Photos of the Philippines
25 New Zealand Photos That Showcase the South Island
19 North Island New Zealand Photos That Inspire Travel
25 Cambodia Photos To Inspire Wanderlust
27 Thailand Photos That Will Amaze
36 Philippines Photos To Inspire Your Next Vacation
21 Maldives Photos Reveal Pure Paradise
Did you know we also run photography tours around the world? Putting YOU in positions to capture amazing images all over the world. Why not join us on an adventure! Check out our upcoming photography tour.
---
Where Did We Stay In Germany?
Munich- Our road trip started in Munich at the Hotel Jedermann. This hotel is located very close to the train station and numerous public transport options. Check rates and reviews for Hotel Jedermann.
Other great hotels in Munich, Germany.
Find Accommodation in Munich- Read reviews and check prices for hotels in Munich at TripAdvisor or AirBnB. (Book today at AirBnB and get $40 off!)
Fussen- This was probably our favorite night during our Europe travels. Schlossrestaurant Neuschwanstein is at the foot of Neuschwanstein Castle- literally we could see the castle from our room window. Check rates and read reviews for a magical stay under a fairytale castle.
Other great hotels in Fussen, Germany.
Find Accommodation in Fussen- Read reviews and check prices for hotels in Fussen at TripAdvisor or Booking.Com
Rothenburg- Hotel Gastof is located just outside the city walls of medieval Rothenburg making it a quieter option for your stay. They also have onsite parking which is a huge bonus! Check rates and read reviews.
Other great hotels in Rothenburg, Germany.
Find Accommodation in Rothenburg- Read reviews and check prices for hotels in Rothenburg at TripAdvisor or Booking.Com
Nuremburg- The Hotel Elch is located in an amazing part of the city and we were able to access all the best sites on foot. Plus the breakfast buffet was well rounded and tasty. Check rates and read reviews for Hotel Elch.
Other great hotels in Nuremburg, Germany.
Find Accommodation in Nuremburg- Read reviews and check prices for hotels in Nuremburg at TripAdvisor or Booking.Com
Berlin- After some really bad weather, we pushed through our last day to end our roadtrip in Berlin at the Three Little Pigs Hostel. We also stayed at Hilton Berlin, Circus Hotel and Huettenpalast while visiting Berlin multiple times this summer. All are fabulous options depending on your budget.
Other great hotels in Berlin, Germany.
Find Accommodation in Berlin- Read reviews and check prices for hotels in Berlin at TripAdvisor or Booking.Com
---
Top tours you can not miss out on your Germany Trip
Below are the best tours in Munich, Germany. Viator offers all different types of tours in Munich, Germany. Click to view the top tours in Munich, Germany that you can not miss. Also check out our 4 days in Munich Guide.
Viator – Private Munich Bike Tour. Pedal through Munich's scenic streets with a private guide on this 3-hour bike tour, and see firsthand why this Bavarian metropolis ranks as one of the world's most livable cities. Cycle at your own pace along the bike-friendly streets, winding your way through the timeworn lanes of Munich Old Town and the verdant expanse of the English Garden. Stop as often as you like to take photos, learn more about the sights, or enjoy a well-earned stein in a beer garden.
Viator – Munich by Night and Dinner at Hofbrauhaus. The guide and traditional entertainment give you marvelous insights into Bavarian culture. Plus the food at Hofbrauhaus is outstanding!
Viator – Munich Old Town Walking Tour. First time in Munich? Take in the best bits of the Bavarian capital on this 2-hour walking tour of Munich's Old Town. Admire architectural wonders like the Old Town Hall, St Peter's Church and the Munich Residenz; stroll through the lively Viktualienmarkt; and see the world-famous Hofbräuhaus beer hall. Accompanied by an expert guide, you'll have ample opportunities to learn more about Munich's history, cultural heritage and beer-brewing legacy
Viator – Third Reich Bike Tour in Munich. Uncover Munich's role in the rise and fall of the Nazi Party on this half-day bike tour. Trace the history of the Third Reich as you follow a guide on a 5-mile (8-km) route through the city. Pass by sites such as the Hofbrauhaus, where Hitler and the National Socialists held their first meeting in 1920, and Odeonsplatz, the site of a fatal gunfight that broke out between the Nazis and Bavarian police.
Viator – Hitler and the Third Reich Munich Walking Tour. Delve into Munich's dark past and the birth of the Nazi ideology on a revealing 2.5-hour city walking tour. Led by a knowledgeable guide, discover the sites that provided backdrops to Adolf Hitler and his followers as they set about founding the Third Reich, giving Munich its title as the 'Capital of the Nazi Movement.' See beer-halls where Nazi brown shirts first gathered, buildings from where Hitler delivered speeches, and memorials to opposers
Fussen
Below are the best tours in Fussen, Germany. Viator offers all different types of tours in Fussen, Germany. Click to view the top tours in Fussen, Germany that you can not miss.
Viator – Full-Day Bavarian Castles Tour from Fussen. Step into the fairy-tale world of Bavaria and visit majestic castles, alpine lakes and medieval towns on this full-day tour from Fussen. Enjoy skip-the-line entrance to the dreamy Neuschwanstein Castle, famously the inspiration for Disney's Sleeping Beauty castle. Then, visit Linderhof Castle, another of King Ludwig II's magnificent castles, and Hohenschwangau Castle, the 'Mad King's' childhood home.
Viator – Skip-the-Line: Neuschwanstein Castle Tour from Fuessen Including Horse-Drawn Carriage Ride. Visit the popular Neuschwanstein Castle on this guided, 4-hour tour from Füssen. This "skip-the-line" ticket allows for quick access to the inside of the medieval masterpiece for a guided walking tour. Neuschwanstein Castle was one of three palaces built by King Ludwig II of Bavaria and would eventually become the inspiration for the castle in Disney's movie Sleeping Beauty. After the tour, enjoy a horse-drawn carriage ride down to the village of Hohenschwangau.
Rothenburg
Below are the best tours in Rothenburg, Germany. Viator offers all different types of tours in Rothenburg. Click to view the top tours in Rothenburg, Germany that you can not miss.
Viator – Full Day Tour to Rothenburg. Visit the city of Rothenburg, the Jewel of the Middle Ages, on this guided, full-day sightseeing adventure from Frankfurt. Enjoy free time to explore the sights and sounds of this picturesque town, widely considered to be the most well-preserved medieval old town in all of Germany. Then join a guided city tour through the town's winding, cobbled lanes.
Nuremburg
Below are the best tours in Nuremburg, Germany. Viator offers all different types of tours in Nuremburg, Germany. Click to view the top tours in Nuremburg that you can not miss. Also check out You're Crazy If You Don't Spend 2 Days in Nuremberg.
If you buzz out of town without spending a night, you won't have a chance to head underground at the Altstadthof Brewery for a guided tour of their historic rock-cut cellars.
Nuremberg Castle Without the Crowds. The centerpiece of tourism in Nuremberg, the castle sits on the tallest part of the city and looks down over all that is below.
Exclusive Roof Top Tour of St Sebald Cathedral
Berlin
Below are the best tours in Berlin, Germany. Viator offers all different types of tours in Berlin, Germany. Click to view the top tours in Berlin that you can not miss. Also check out 12 Best Photo Spots in Berlin Germany.
Viator – Berlin Segway Tour. Experience Berlin like never before on this guided, educational and entertaining, 3-hour small-group Segway tour. Berlin is Germany's capital and cultural centerpiece. Cruise to all its main sites — like the Berlin Wall, Brandenburg Gate, Berlin Cathedral and Museum Island, Reichstag, Gendarmenmarkt and many more — stopping frequently to hear fascinating stories, take pictures and discuss Berlin's history.
Viator – Berlin Bike Tour. Get to know the best of Berlin on this guided, 4.5-hour bike tour. Learn the history of the city, from its beginnings to its role as capital of the Nazi Third Reich, to the divided city of the Cold War, to the modern-day capital of a unified Germany. This tour includes a trip to the Berlin Wall Memorial, Checkpoint Charlie, Brandenburg Gate and more. Ride along the Spree River, through Tiergarten Park and stop at a beer garden for lunch (own expense).
Viator – Dresden Day Trip from Berlin. Absorb the wealth of culture and elegant architecture found in Dresden, longstanding hub of German arts, during this 10-hour day trip from Berlin. Begin with a guided tour of the city center on foot, learning about its history as you explore the Zwinger palace, Semperoper (Semper Opera) and Frauenkirche (Church of our Lady).
Viator – Private Berlin 3.5-Hour Walking Tour. Cold War In Berlin. Enjoy a 3.5-hour walking tour in Berlin and learn about the cold war sites of Berlin, including all major site in the center of the huge world clash between America and Russia. See the East Side Gallery, the wall Memorial, the Stasi headquarters, Checkpoint Charlie, the main memorial for the Russian soldiers, Oberbaumbrücke and Bornholmer straße checkpoint.
---
Looking for more to read about Germany?

4 Days in Munich Itinerary- Things to Do in Munich | Elegant Elbe River Cruise with Viking River Cruises

---

Resources for Planning Your Ultimate Germany Trip

Recommended Guide Books For Germany: 
The best road map to get for your Germany road trip:
Book a Room: Read reviews and check prices for all hotels in Germany at TripAdvisor or Booking.Com.
Search for Flights: Priceline or Skyscanner offers great deals to Germany.
Travel Insurance: WorldNomads or Allianz Travel Insurance, policies available for US and International travelers.
Car Rental: Plan your car rental with Auto-Europe. We got a killer deal on our car rental through them.
Search for  Tours and Trips in Germany we recommend:
Disclosure: We partnered with Auto Europe to bring you this adventure. All opinions are 100% mine.