So I may or may not have brought you here under false pretenses. Perhaps you're looking for information about camping in Berlin or maybe you were looking for more information on the Huettenpalast.
Either way, I'm going to let you in on one of Berlin, Germany's best kept secrets.
Set smack dab in Berlin's edgiest district, Kreuzberg, the Huettenpalast offers the unique concept of indoor camping for outdoor adventure lovers from around the World.
Born out of a vision, this indoor camping option is set inside an old factory building with a central garden, hammocks and a feel for the outdoors.
Related Article: 12 Best Photo Spots in Berlin Germany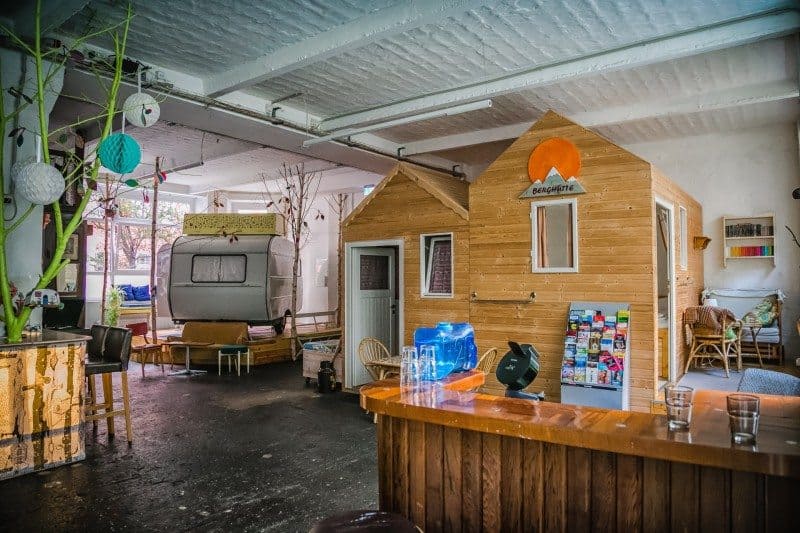 Imagine yourself stepping off the busy city streets of Berlin into a small doorway.
Once you enter the building you pass through the entryway into an oasis. The sounds of the street with the busy cars, hum of voices and everyday bustle just fade away as your eyes carry into the open space beyond the front door.
Instinctively, you head to the central courtyard to find it displaying beautifully blooming flowers and lush green plants. It resembles a garden and you're instantly swept to a peaceful place with nature.
Your eyes follow the room and find the hammocks hanging under a green mesh top and small tables setup for you enjoy the mesh sunshade. Everything about the courtyard screams relaxation.
Just when you think you've found heaven, you enter the large building to find the indoor camping facilities.
In each corner of the room you can find either a small camper or cabin. Your eyes continue to scan the room, finding the back corner with shared toilet and shower facilities.
Related Article: THE VEGAN BURGER GUIDE TO BERLIN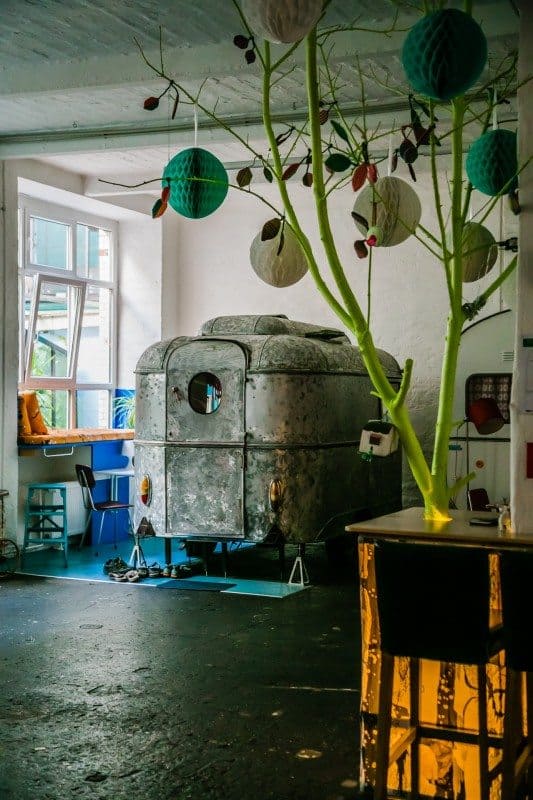 The Heartbreaker
The manager hands you a key and directs you to the front corner with a window so large it sweeps almost from floor to ceiling and welcoming you below the window is a sitting area.
Sitting within the same lot is this antique camper, silver metallic in color with red accents. The manager smiles and says, 'you get the Heartbreaker.'
The pride and joy of her collection, the Heartbreaker was acquired from a backyard with a whopper of a story.
Originally from Dresden, this camper was created in 1959 by Karosseribau Nagetusch and would have came from the factory with elegant wooden panels inside.
Renovations proved difficult as the camper was in a rotten condition and the sanding took the layers down to almost nothing.
It was at that point they decided to stop trying to restore it and embrace the nostalgia of the past.
Book your own stay in the nostalgic Heartbreaker camper to enjoy some camping in Berlin.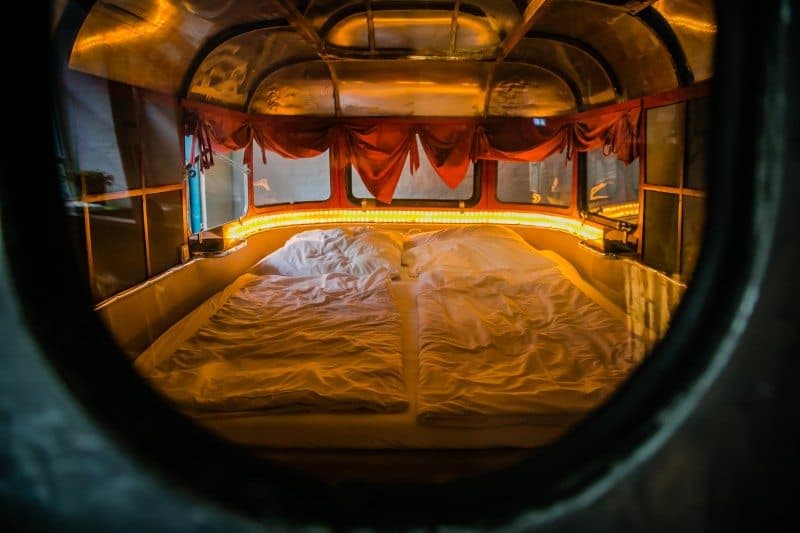 Huettenpalast Camping in Berlin
If it's character you seek, or maybe just a unique experience, than you have come to the right place.
Each plot has it's own private accommodation complete with bedding and space to securely store your luggage during your stay. No camping gear is needed for a stay at the Huettenpalast.
Don't expect luxury, expect and adventure in the city. The space is incredibly communal with comfortable and spacious areas to socialize and lightning fast WIFI if you decide to keep to yourself.
There is a help yourself coffee station within the old warehouse, as well as a small water cooler and glasses.
Breakfast is served in an organic style with freshly sourced items and gourmet coffee.
Topping it all off, the Huettenpalast is located 2 blocks from the closest Metro station that will connect you with everything you could possibly dream of on your trip to Berlin.
Not to mention the wide variety of dining options, food markets and nightlife establishments.
If you're up for an adventure in city or are just looking for something different, you can check out the Huettenpalast for yourself. Be sure to tell them we sent you!
More on Germany:
Did you like this post? Share it!