Germany is an easy country to get round and it is no wonder why you are searching for a way to make your Germany road trip a reality. Renting a car in Germany is a great way to see the countryside and it will allow you to get off the beaten tourist path and really discover what Germany has to offer. Renting a car allowed us to discover a piece of Germany most tourists just see from a window of a tour bus.
This guide is stuffed full of useful information that I wish I had found before road tripping though Germany. From top road tripping routes in Germany, to the rules of the road and even basic information about what side of the road they drive on in Germany. If you want the ultimate German road trip experience and are looking to discover Germany off the beaten path like we did, look no further. Everything you need to know about taking a Germany road trip.
Looking for photo gear advice? Ultimate Travel Photography Gear List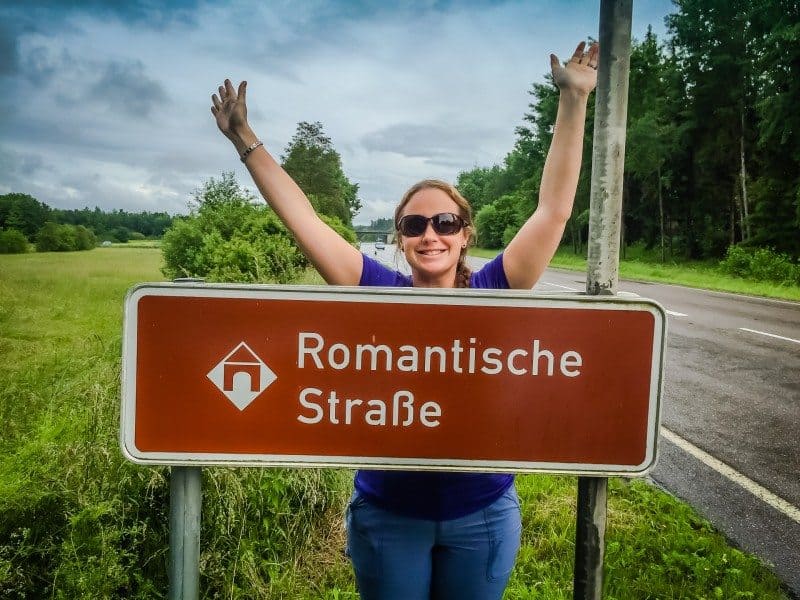 Top Germany Road Trip Routes
Germany's Romantic Road (this is what we did) is 261 miles long and drives you through the heart of Bavaria. Highlights include Munich, Nordlingen, Dinkelsbuhl, Rothenburg, Nuremburg, Bamburg and Fussen where you can visit the famous Neuschwanstein Castle. This is one of the most poplar routes to take in Germany.
The German Castle Road is 625 miles long with more then 70 castles and palaces. The Castle Road is a theme route in southern Germany and a small portion in the Czech Republic, between Mannheim and Prague.
The German Fairy Tale Road starts in the town of Hanau, Germany and is one of the top road trip routes around Christmas for the large Christmas markets.
The German Wine Road is 50 miles long throughout southwest Germany. The wine route stretches through the middle of the Palatinate (Pfalz, former Rheinpfalz), the biggest coherent wine growing area in Germany.
It is really up to your personal preference as to which route you should take, but we can tell you from experience that the Romantic Road is absolutely stunning and a classic way to get into the rich traditions of this beautiful country.
Get the best guide book on Germany for your Ultimate Germany Road Trip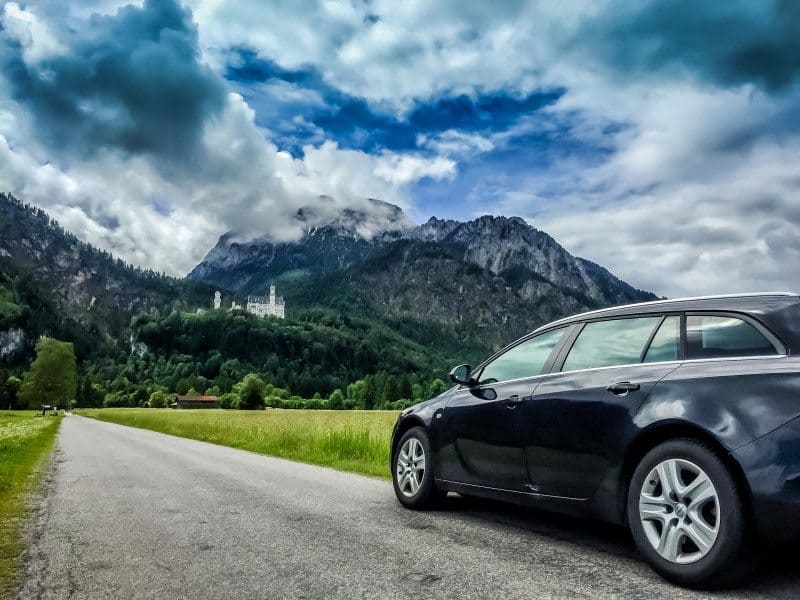 Our Route
As mentioned above, we primarily drove the Romantic Road, however we did have some deviations in it and ultimately planned a route that took us from Munich to Berlin in 5 days. We started in Munich, visited Dachau and then drove south to overnight in Fussen where we visited the Alps and Neuschwanstein Castle. We then drove North to Rothenburg, stopping off in small villages along the way when the weather was clear.
We encountered a lot of rain on our road trip, so this affected where and for how long we stopped in between overnights. We spent 1 night in Rothenburg before heading over to Nuremburg for 2 nights. Leaving Nuremburg, we had planned to stop in Bamburg but rain so heavy it was causing people to pull over on the AutoBahn deterred us and we pushed all the way to Berlin without another stop.
We will be back to drive more of Germany, including more stops on the classic route of the Romantic Road and then head over to the Black Forest and Stuttgart. There is so much to see. Despite the bad weather, we loved our trip and uncovered so many gems. Having a car gave us a chance to stay in small towns, like Rothenburg and experience it after all the tour buses left. This was magical and something special.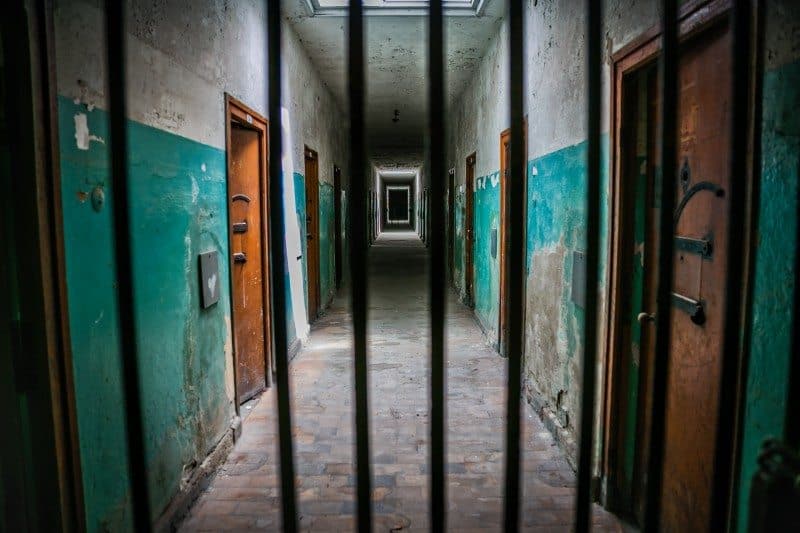 What Kind of Car Should I Rent?
Most rental cars in Germany are manuals. Very few are automatics and the automatics they do have are only midsize and large automobiles. If you're a beginner or novice manual driver you should stick to an automatic. Germany is not a good place for a traveler to learn how to drive a manual.
Does size matter for renting a car in Germany? Small is better for getting around the little back streets and for fitting into narrow parking spaces around Germany. We wanted that classic European rental car where we could barely fit our luggage and that was what we rented.
However since we wanted an automatic they only had midsize cars and large SUV's. They did not tell us this until we picked up our rental. All the small compact cars were manual. So do not be surprised if you do not get what you reserved.
Check rates at Sixt Car rental=> We got a killer deal!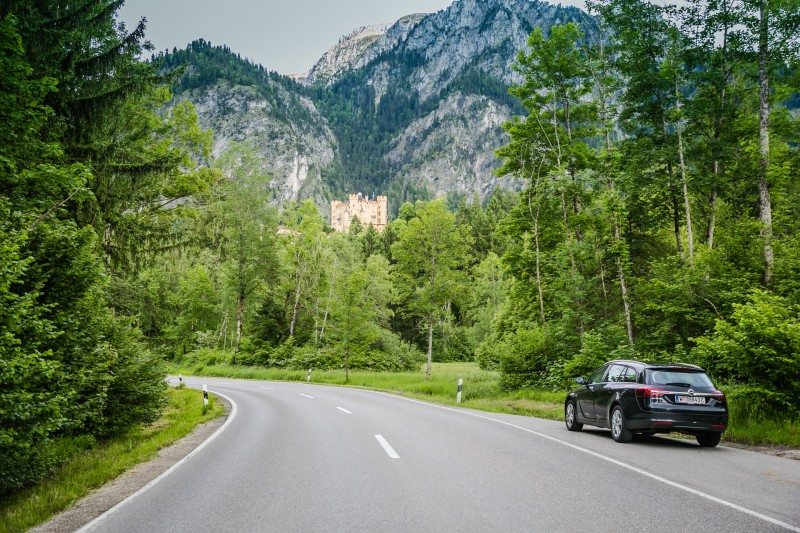 Dealing with Parking in Germany
We had no issues finding parking during our road trip in Germany. This was one of my first worries about renting a car in Germany, however it was quickly eased with available parking lots and perhaps some luck in finding street parking. Most hotels and hostels will offer parking along your route but some do charge you depending on the location; we made sure to book hotels that offered free on site parking.
The off site parking can cost 9-12 euros per day, so it pays to look into that information before you make a booking. Public parking is metered unless the sign allows use of a parking disc. For metered parking lots be sure to check the signs for the parking rules in each spot. All public parking lots offer free parking between 8 PM to 6 AM.
Get the best guide book on Germany for your Ultimate Germany Road Trip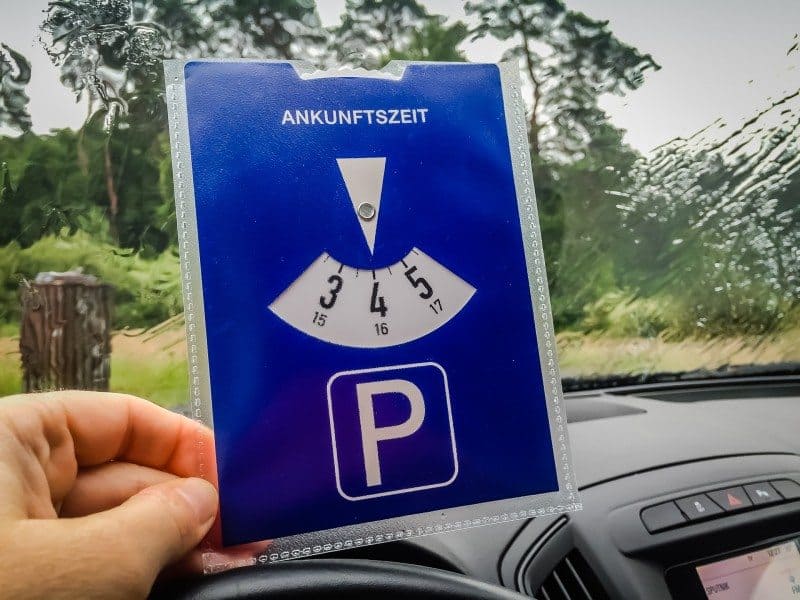 How to Use a Parking Disc in Germany
Just a few minutes into our Germany road trip I started to dig in the glove box. I found this dial card that looked like something out of a first grade classroom but what I found was a parking disc. It is required to use a parking disc while parking in signed areas throughout Germany. Parking disc are in every rental cars glove box and they are simple to use.
The parking disc allows you to park free for a certain time in certain public parking lots. All parking spots in Germany are well marked with signs allowing free parking from 1 to 4 hours depending on the sign. This is when you must us a parking disc and if you park in a spot that requires a parking disc and you do not display a parking disc, you will be fined.
Fines vary from 10 to 20 euros. Just use the dial and round up to the nearest time on the dial. Example, if you arrive at 10:40, set the dial to 11. After you set the time you must display this in your window for parking attendants. We did see a few checking and handing out fines. If you do not have a German parking disc you can easily buy one at petrol stations or DYI stores.
Related Article: 4 Days in Munich Itinerary- Things to Do in Munich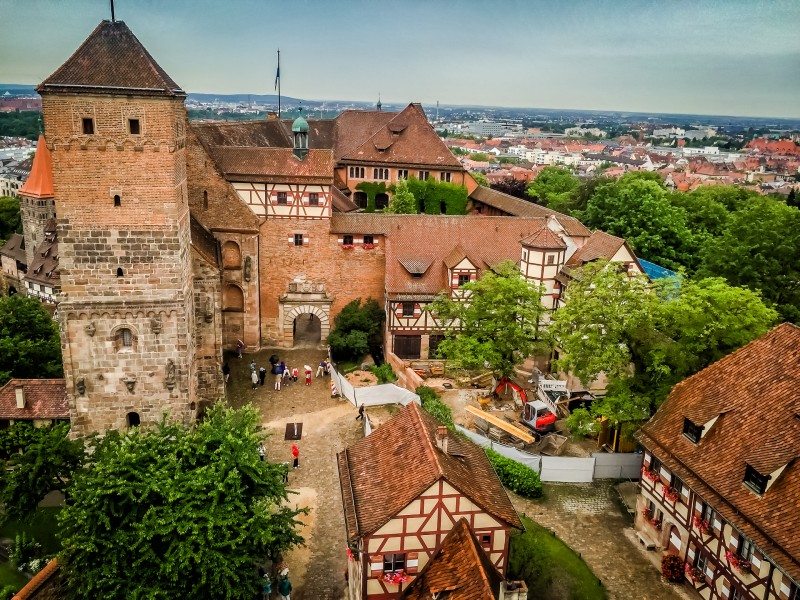 Keeping Your Rental Car Safe
Even though Germany is one of the safest countries in the world, it is recommended to lock your car doors. We locked ours everywhere since we had our drone and other valuable items inside the car. Our trunk was covered and hid those items out of site to deter break ins.
We always made sure even if something was in the back seat it was hidden by a jacket or sweat shirt. We did not see or experience any issues with vandals but we were smart about parking. We made sure to park in well-lit areas with lots of room for other cars to operate around us.
Finding room to park your car where you won't get a ding is a challenge, but something you should be aware of doing. It is not uncommon for the car rental companies to chart every single ding on their rental cars and it won't take you long to see that your car is likely really marked up when you pick it up. the tight parking makes it difficult to keep the car dent free, but it is possible.
Related Article: You're Crazy If You Don't Spend 2 Days in Nuremberg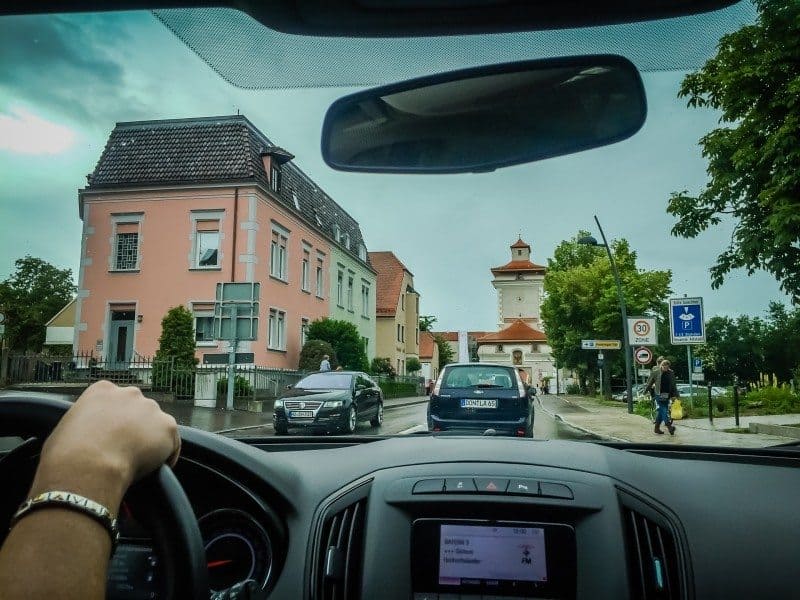 Renting a GPS Unit
You can rent a GPS system with your rental car and the GPS units can cost $45-$60 dollars depending on your rental. They also recommend insurance in case the unit stops working or gets stolen, this is an extra fee. Renting a GPS in worth every penny unless you can use your phone.
We used Google maps on our phone throughout our whole road trip and as a result, didn't rent a GPS unit. If you do not have phone service, Google maps will still work without service but you will have to connect to WiFi load your location and stops.
After it's loaded, your good to go without any service or WiFi. You will not be able to make adjustments but it works just like you have service so you can pin point where you are. We used T-Mobile throughout all of Germany on our unlocked iPhone and it worked well for us.
Maybe you are not nuts about not having a GPS system. I understand and phones are great but sometimes you will have service and sometimes you will not. Below are GPS systems we recommend you to get if you are looking at buying a GPS system.
Note: You want to find one that has international maps.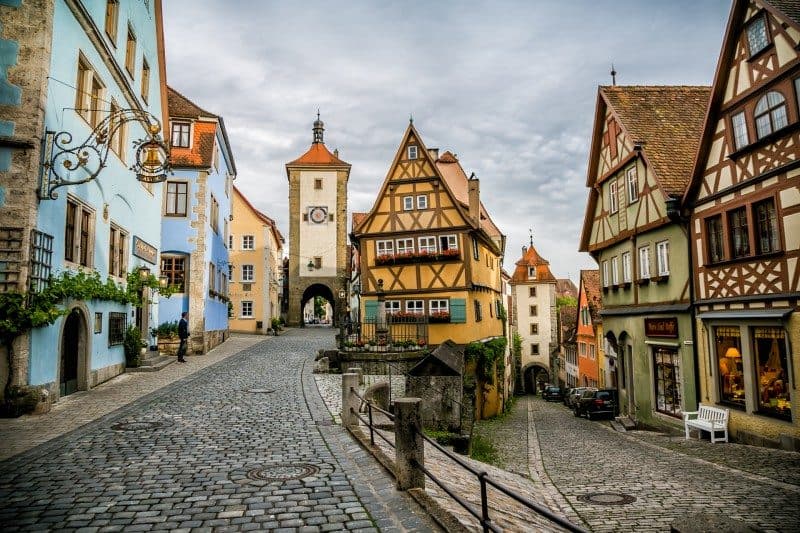 Germany Road Conditions- What to Expect
The roads in Germany are well built and well maintained with proficient road signage. However, there was a lot of construction throughout our drive making some of our drives slow. The construction areas were well marked. Germany is well known for its AutoBahn and the traffic on these moves fast with no speed limits for normal traffic.
On major highways the traffic moves fast and be sure you pass only on the left and once clear move over to the right. Dotted yellow lines mean you can switch lanes where solid yellow lines mean stay in your lane even if you can pass. We ran into this a lot in construction zones; it was typical for the two-lane highway to split off into a construction zone into two different directions but then connect back together once we were though the construction zone.
City and village roads vary from cobble stones to concrete and asphalt roads. There is many one way streets with concrete dividers in-between the lanes, so if your arrival location is on the left your going to have to pass it and make an u-turn when you can. You will also need to watch out for trams and metro's throughout Germany as they use the same roads that the cars use. Speeds are marked though every city varying from area to area. The two default speed limits are 50 Km/H (31 MPH) inside built-up areas and 100 KM/H (62 MPH) outside built-up areas.
Check car rental rates at Sixt rentals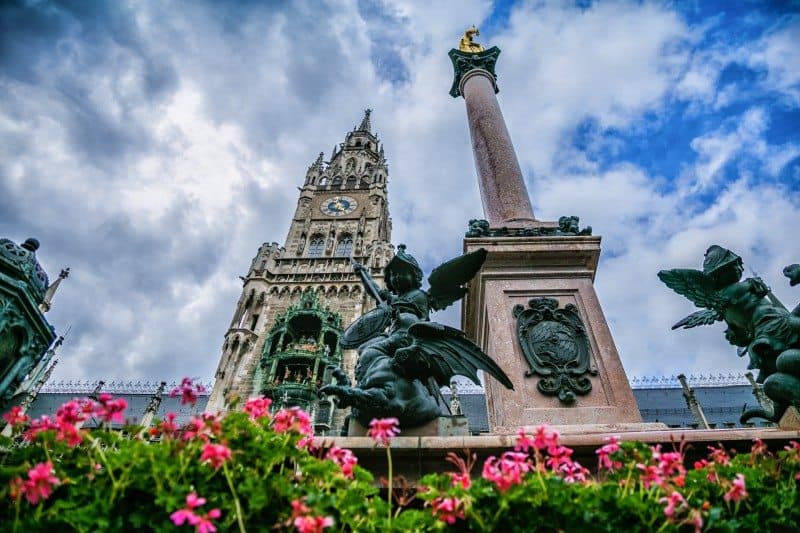 The country roads twist and wind throughout the German countryside. Most country roads are large two lane highways but you will have to look out for farmers on tractors along with the occasional biker.Most of the country roads cut right though the towns so there is no need to exit if you want to check out a random city.
Welcome to the Autobahn where some parts of the highway have no speed limits. Drive to your comfort and keep right allowing faster traffic to be able to pass you on your left. There is a minimum speed to maintain and you can get a fine for driving too slow since you are considered a hazard.
While parts of the autobahns and many other freeway-style highways have posted limits up to 130 KM/H (81 MPH) based on accident experience, congestion and other factors, many rural sections have no general speed limit. Any person driving a vehicle may only drive so fast that the car is under control. Speeds must be adapted to the road, traffic, visibility and weather conditions along with personal skills and characteristics of the vehicle and load.
In our personal experience, village signs, speed limits and exits are not well marked. They are often placed right at the exit leaving you no time to prepare for the exit you want to take. So exits come up quick and most of time involves a sharp turn so be prepared when exiting off the highway.
Get the best guide book on Germany for your Ultimate Germany Road Trip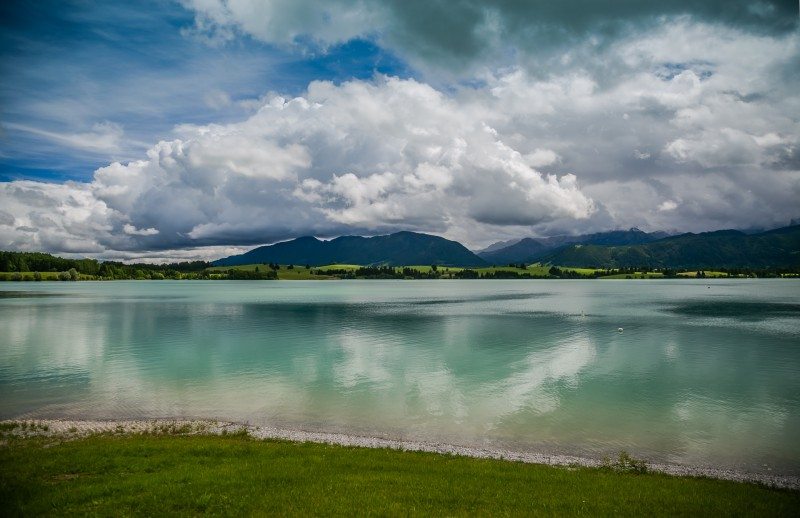 Be Aware of Bikers- They Are Everywhere
Watch out for Bikers! Germany is popular for bikers. So most towns have bike lanes on the streets or sidewalks. At times, the bikers seemed to own the road and had no problems making sure the cars knew that. This can get a little hectic in cities. Most country roads have a special biking path along the highway for biking but we did run into a few bikers riding on the highway with traffic. Just give them room and once you can pass, pass by giving them lots of room to bike.
It's typical for drivers to give right way to pedestrians and bikers. This was surprising to us as there was many times while we were walking cars would stop to let us cross the road at intersections, even if we didn't have a green light. They would even stop and hold up traffic. It's the law for pedestrians to cross on green but if it's not marked the pedestrians have the right of way.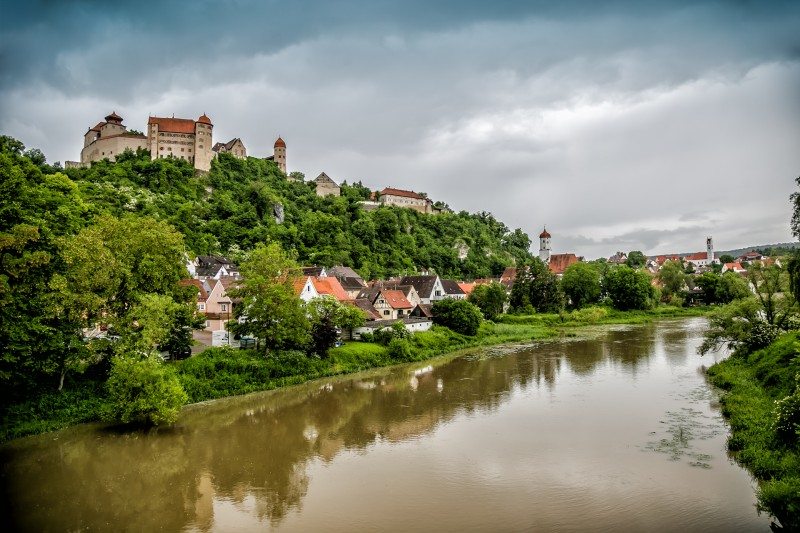 Rental Car Facts, Extra Fees & Useful Information
Your own driver license from your home country, state or province is valid in Germany as long as it is valid in your home country. Some places suggest that you get an international drivers license to accompany your valid license, but we don't think this is necessary in Germany unless your license is not in English.
The minimum age to drive in Germany is 18.
Seat belts must be worn in Germany by all passengers, even on tour buses.
A down despot of 800 euro is required to rent a car in Germany and will be held against your credit card until the rental is returned undamaged.
It cost an extra 20 euro to add a second driver.
Cars are not allowed to travel to Africa; sorry your Germany to Africa road trip is not permitted. I guess people try to smuggle rental cars into Africa.
Germany has no

toll

highways.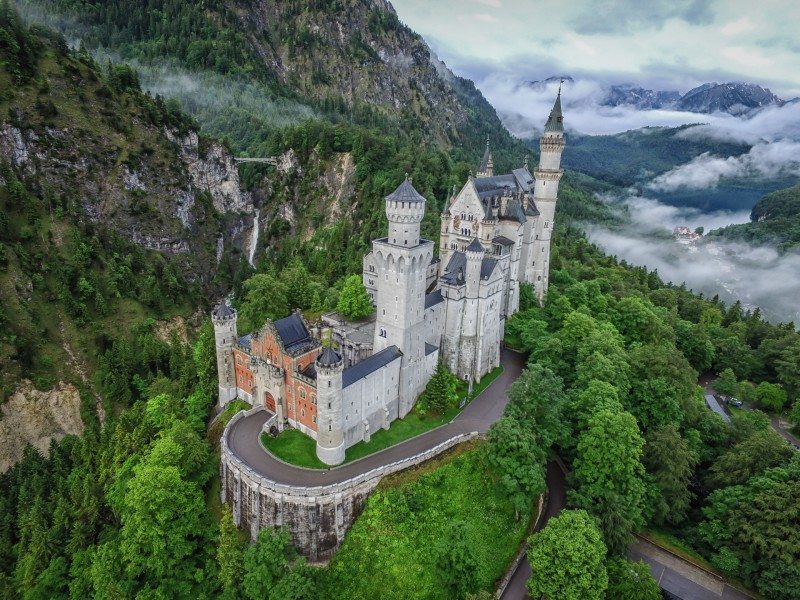 Use of mobile phones are prohibited while your vehicle is in operation. The only time you are permitted to use a mobile phone is if you're parked and the engine is turned off. You may use a hands-free device while driving only if it does not impede your hearing.
Do not run your engine while you are parked. There is a 3 minute rule to running your engine. Even on the hottest and coolest of days you can only

pre-

start your car 3 minutes before driving and a person must be in the driver seat.
Motorists are prohibited from unnecessarily revving their motors and slamming of car doors can result in a fine.
It is also illegal to cruise in Germany. You can not drive back and forth unnecessarily through towns.
Traffic drives on the right and passes on the left.
Drivers must have insurance and must carry proof of the insurance as well proof of ownership or registration and rental papers at all times.
Vehicles must carry a warning triangle and a super-duper highway first aid kit.
You are required to place the warning triangle 100 meters behind your vehicle if it is disabled.
Always lock your vehicle and take the keys whenever you leave it.
It is illegal to drive with your parking lights only; you must use your headlights at night and during inclement weather.
Start planning your own Germany Road Trip with Sixt Car Rentals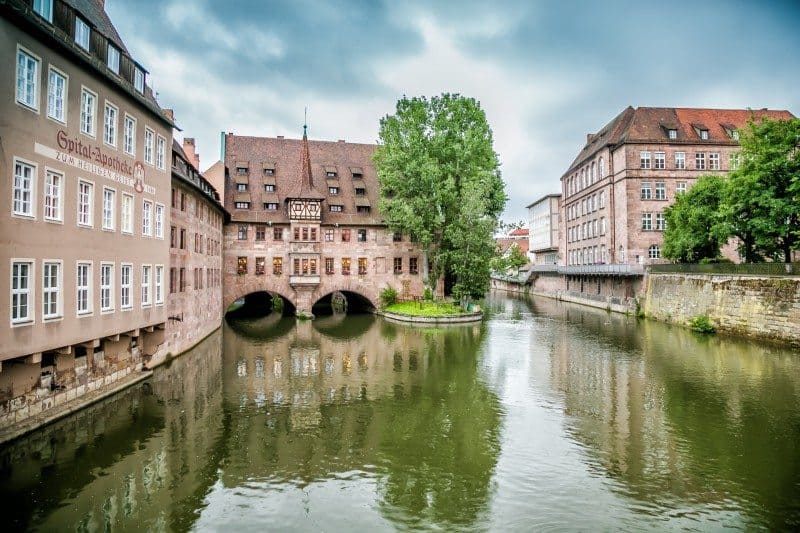 You cannot turn right on red in Germany unless there is a green arrow on the traffic signal. When a right on red is permitted you must come to a complete stop before making the turn.
Germany has zero tolerance for alcohol.

If

you've had a sip, don't drive. Be responsible and do not drink and drive.
Shops are closed on Sundays in Germany. Do not save your shopping for Sunday. It was surprising how whole towns shut down, even in tourist sections. Only some tourist restaurants and bars would be open.
You can find grocery stores throughout Germany. Stores like

Lidl

,

Netto

, Penny and

Aldi

are popular among locals and have a great selection of goods. They are well stocked with anything you could want for breakfast, lunch and dinner. We easily cut our food bills in thirds by shopping at local grocery stores. Large beers are no more than 1 euro for 0.5 liter where at the local bars they were 3 to 4 euro.
Having lunch packed we could easily

pull off anywhere, we found local parks, rest area's and lookouts were our favorite places to enjoy lunch.

Gas Stations are found throughout all of Germany and usually had large convenience stores attached, just like

in

the United States. They have all of your needs from Petrol fuel, snacks, sodas to sit-down restaurants. Pumps are marked with the type of fuel in German and English, making it easy to fill up. There was no need to

pre-

pay before fueling, just pick your fuel type and start pumping.
IMPORTANT: Many German cars use diesel, not petrol. The rental car company should have the gas door marked, but if they do not, make sure you check the fuel type in the manual before filling up.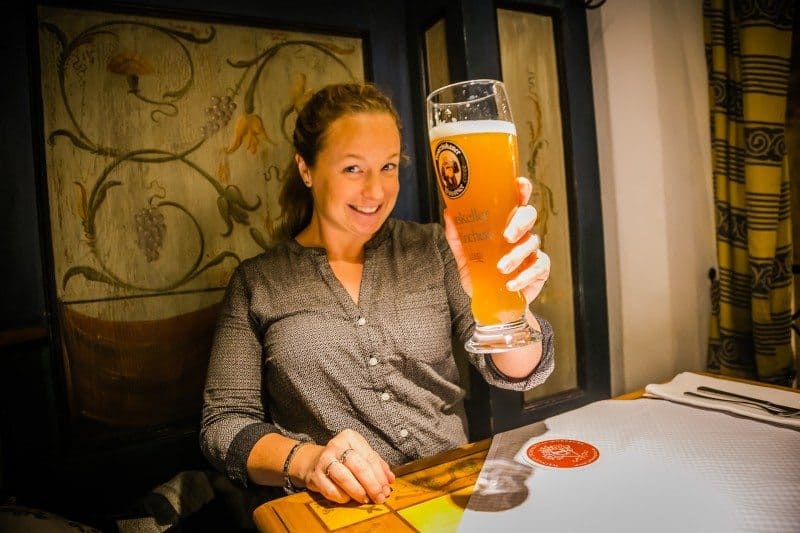 Rest Stop Bathrooms
You will have to pay for the use of most bathrooms in Germany. This is even the case at gas stations, even if you're buying gas or basic goods so be prepared to shell out some coins. We found free bathrooms at free standing rest ares, ones that did not have a gas station. They are found along the major highways and are marked well with signs. All bathrooms had toilet paper and hand soap for use, this was a nice change.
Get the best guide book on Germany for your Ultimate Germany Road Trip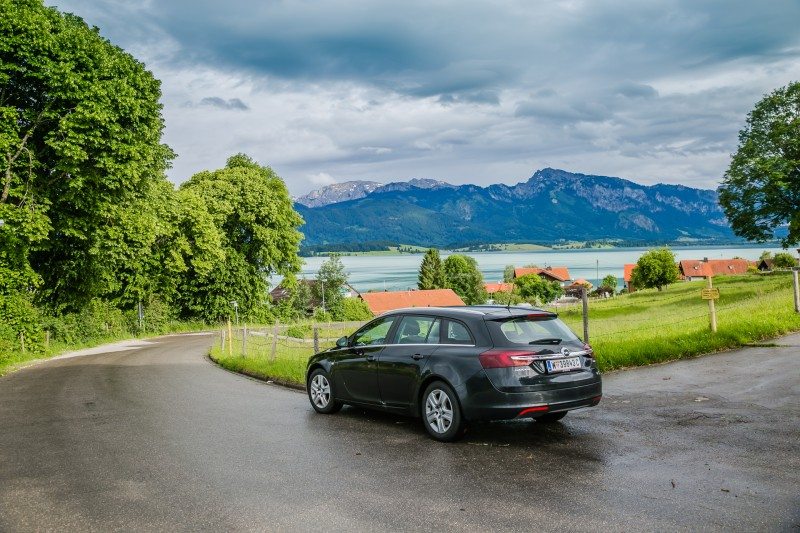 Information on Traffic Fines
Police can be found throughout all of Germany. Just like the USA they use marked and unmarked police cars. Some areas are controlled by automatic speed cameras. We never receive a ticket, however we did have a worming light flash at us when we were speeding.
Police are allowed to collect fines for minor traffic offenses on the sport. If you don't have enough cash on hand, you can usually pay with credit/debit card. If you refuse to pay on the spot you may be assessed a high fine when you go to court, and some fines are based on your income. German police are very professional and corruption in very rare. You will always be given a receipt for payment.
Related Article: 20 Simply Unreal Castles in Germany to Visit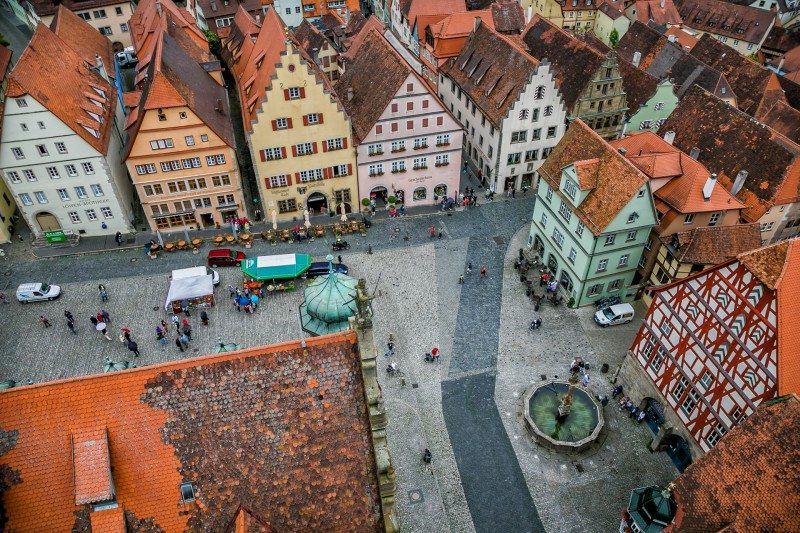 Most moving-violation enforcement in Germany is done via enforcement cameras. Germany probably uses such cameras more than anyone else (except possibly Britain). Permanent and temporary cameras– both automated and manually-operated– are used to catch speeders, red-light violators, and tailgaters. Sometimes an obscure sign will warn you of the existence of such a camera, but it's usually too late by the time you see it.
Citations are mailed to the registered owner of the vehicle within a few weeks. If you're driving a rental car, the ticket will go to the rental agency. They, in turn, will report you to the police as the driver of the vehicle and the ticket will be forwarded to you. Some rental car shops will pay the ticket then charge you a lager fee on top of the ticket.
Related Article: How to Visit Neuschwanstein Castle from Munich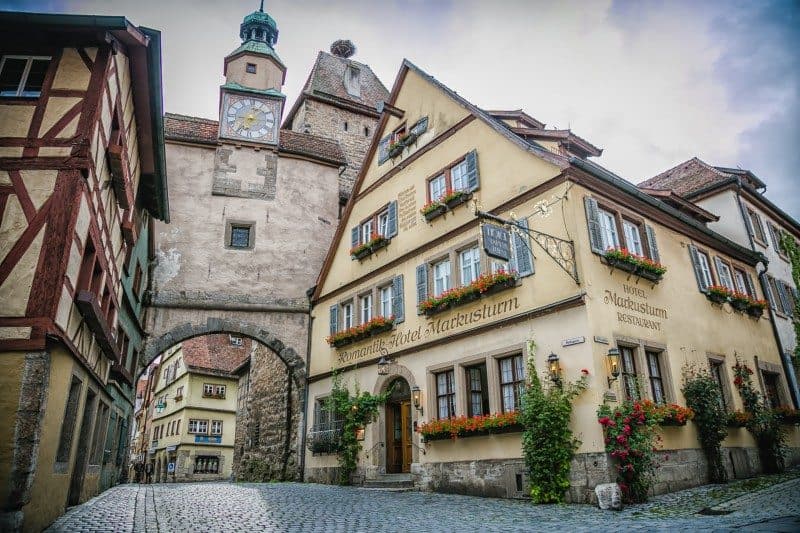 Don't Forget These Items for Your Germany Road Trip
4 in 1 USB charging cable for your phone or tablet.
Lonely planet guidebook to Germany.
Mosquito Repellent, We have put together some of the best kinds of mosquito repellent to buy for your Germany road trip adventure.
Sunscreen, We have put together some of the best kinds of Sunscreens to have on our Germany road trip adventure.
Quick Drying Towel
Waterproof Backpack
Waterproof Bags for Camera/Phone/Etc.
Good footwear for mud and water. We use and like: Keen Sandals, Crocs waterproof shoes and Merrel hiking shoes.
Plastic trash bags for wet/muddy clothing
Changes of clothing
Food & Water (Pack a cooler, We stocked up at every town, so we had food for lunch. This saved us a ton of money. )
Water Bottle, Fill up right out of the tap or even out of rivers with Lifestraw Go Water Bottle with Integrated 1,000 Liter Lifestraw Filter
Baby Wipes or Wet Wipes
Hats (We love our Buff's.)
Travel First-aid Kit
Rain Jackets
Pocket Knife to cut fruits you may find along your road trip adventure.
Sunglasses are a must. We like and use: Costa Polarized Sunglasses and Suncloud Polarized Sunglasses.
Day Bag (We love our PackSafe Venturesafe X30 backpack because it locks up 100%)
10-25″ Telescoping Pole (Selfie Stick)
Camera (We carry the Canon 6d DSLR camera with Canon 24-105L lens.)
Bring along a Frisbee, ball, or beach tennis rackets so antsy kids (and adults!) can blow off a little steam at rest stops.
Auxiliary Audio Cable for music that works on all phones and iPods. Not all cars have Bluetooth and the radio works part of the time. Thats if you can find something in English.
Power cords for phones, GoPro's and anything else you may need to change. I love our car power inverter that allows us to plug in using a USB or a basic three-prong plug. It works great for charging up my drone.
The best road map to get for your Germany road trip:
We can't wait to explore Germany again, next time we will rent a camper and explore this amazing country.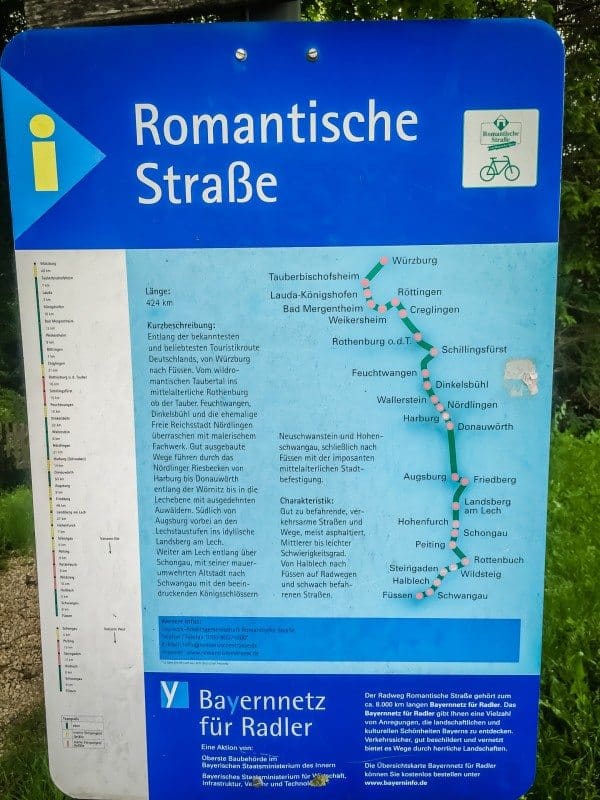 Using Sixt Car Rentals in Germany
If you are looking for the best place to book a car rental in Europe, then look no further. Sixt Car Rentals offers some of the best car rental deals in Europe. When you search, you get all the available rates and results in one place. Not only does it save you time, but it saves you money since they contract with companies for better rates.
Our experience using Sixt was seamless and one we wouldn't hesitate to recommend or use again ourselves. If you are planning a road trip in Germany or anywhere else in Europe, be sure to check them out.
Check Germany car rental rates.
Where Did We Stay During Our Germany Road Trip?
Munich- Our road trip started in Munich at the Hotel Jedermann. This hotel is located very close to the train station and numerous public transport options.
Other great hotels in Munich, Germany:
Fussen- This was probably our favorite night during our Europe travels. Schlossrestaurant Neuschwanstein is at the foot of Neuschwanstein Castle- literally we could see the castle from our room window.
Other great hotels in Fussen, Germany:
Rothenburg- Hotel Gastof Post is located just outside the city walls of medieval Rothenburg making it a quieter option for your stay. They also have onsite FREE parking which is a huge bonus!
Other great hotels in Rothenburg, Germany:
Nuremburg- The Hotel Elch is located in an amazing part of the city and we were able to access all the best sites on foot. Plus the breakfast buffet was well rounded and tasty.
Other great hotels in Nuremburg, Germany.
Berlin- After some really bad weather, we pushed through our last day to end our road trip in Berlin at the Three Little Pigs Hostel. We also stayed at Hilton Berlin, Circus Hotel and Huettenpalast while visiting Berlin multiple times this summer. All are fabulous options depending on your budget.
Find Other Accommodation in Berlin- Read reviews and check prices for hotels in Berlin
Top tours you cannot miss on your Germany Road Trip
Private Munich Bike Tour. Pedal through Munich's scenic streets with a private guide on this 3-hour bike tour, and see firsthand why this Bavarian metropolis ranks as one of the world's most livable cities. Cycle at your own pace along the bike-friendly streets, winding your way through the timeworn lanes of Munich Old Town and the verdant expanse of the English Garden. Stop as often as you like to take photos, learn more about the sights, or enjoy a well-earned stein in a beer garden.
Munich by Night and Dinner at Hofbrauhaus. The guide and traditional entertainment give you marvelous insights into Bavarian culture. Plus the food at Hofbrauhaus is outstanding!
Munich Old Town Walking Tour. First time in Munich? Take in the best bits of the Bavarian capital on this 2-hour walking tour of Munich's Old Town. Admire architectural wonders like the Old Town Hall, St Peter's Church and the Munich Residenz; stroll through the lively Viktualienmarkt; and see the world-famous Hofbräuhaus beer hall. Accompanied by an expert guide, you'll have ample opportunities to learn more about Munich's history, cultural heritage and beer-brewing legacy
Third Reich Bike Tour in Munich. Uncover Munich's role in the rise and fall of the Nazi Party on this half-day bike tour. Trace the history of the Third Reich as you follow a guide on a 5-mile (8-km) route through the city. Pass by sites such as the Hofbrauhaus, where Hitler and the National Socialists held their first meeting in 1920, and Odeonsplatz, the site of a fatal gunfight that broke out between the Nazis and Bavarian police.
Hitler and the Third Reich Munich Walking Tour. Delve into Munich's dark past and the birth of the Nazi ideology on a revealing 2.5-hour city walking tour. Led by a knowledgeable guide, discover the sites that provided backdrops to Adolf Hitler and his followers as they set about founding the Third Reich, giving Munich its title as the 'Capital of the Nazi Movement.' See beer-halls where Nazi brown shirts first gathered, buildings from where Hitler delivered speeches, and memorials to opposers
Fussen
Full-Day Bavarian Castles Tour from Fussen. Step into the fairy-tale world of Bavaria and visit majestic castles, alpine lakes and medieval towns on this full-day tour from Fussen. Enjoy skip-the-line entrance to the dreamy Neuschwanstein Castle, famously the inspiration for Disney's Sleeping Beauty castle. Then, visit Linderhof Castle, another of King Ludwig II's magnificent castles, and Hohenschwangau Castle, the 'Mad King's' childhood home.
Skip-the-Line: Neuschwanstein Castle Tour from Fuessen Including Horse-Drawn Carriage Ride. Visit the popular Neuschwanstein Castle on this guided, 4-hour tour from Füssen. This "skip-the-line" ticket allows for quick access to the inside of the medieval masterpiece for a guided walking tour. Neuschwanstein Castle was one of three palaces built by King Ludwig II of Bavaria and would eventually become the inspiration for the castle in Disney's movie Sleeping Beauty. After the tour, enjoy a horse-drawn carriage ride down to the village of Hohenschwangau.
Rothenburg
Full Day Tour to Rothenburg. Visit the city of Rothenburg, the Jewel of the Middle Ages, on this guided, full-day sightseeing adventure from Frankfurt. Enjoy free time to explore the sights and sounds of this picturesque town, widely considered to be the most well-preserved medieval old town in all of Germany. Then join a guided city tour through the town's winding, cobbled lanes.
Nuremburg
If you buzz out of town without spending a night, you won't have a chance to head underground at the Altstadthof Brewery for a guided tour of their historic rock-cut cellars.
Nuremberg Castle Without the Crowds. The centerpiece of tourism in Nuremberg, the castle sits on the tallest part of the city and looks down over all that is below.
Exclusive Roof Top Tour of St Sebald Cathedral
Berlin
Below are the best tours in Berlin, Germany. Viator offers all different types of tours in Berlin, Germany.
Berlin Segway Tour. Experience Berlin like never before on this guided, educational and entertaining, 3-hour small-group Segway tour. Berlin is Germany's capital and cultural centerpiece. Cruise to all its main sites — like the Berlin Wall, Brandenburg Gate, Berlin Cathedral and Museum Island, Reichstag, Gendarmenmarkt and many more — stopping frequently to hear fascinating stories, take pictures and discuss Berlin's history.
Berlin Bike Tour. Get to know the best of Berlin on this guided, 4.5-hour bike tour. Learn the history of the city, from its beginnings to its role as capital of the Nazi Third Reich, to the divided city of the Cold War, to the modern-day capital of a unified Germany. This tour includes a trip to the Berlin Wall Memorial, Checkpoint Charlie, Brandenburg Gate and more. Ride along the Spree River, through Tiergarten Park and stop at a beer garden for lunch (own expense).
Dresden Day Trip from Berlin. Absorb the wealth of culture and elegant architecture found in Dresden, longstanding hub of German arts, during this 10-hour day trip from Berlin. Begin with a guided tour of the city center on foot, learning about its history as you explore the Zwinger palace, Semperoper (Semper Opera) and Frauenkirche (Church of our Lady).
Private Berlin 3.5-Hour Walking Tour. Cold War In Berlin. Enjoy a 3.5-hour walking tour in Berlin and learn about the cold war sites of Berlin, including all major site in the center of the huge world clash between America and Russia. See the East Side Gallery, the wall Memorial, the Stasi headquarters, Checkpoint Charlie, the main memorial for the Russian soldiers, Oberbaumbrücke and Bornholmer straße checkpoint.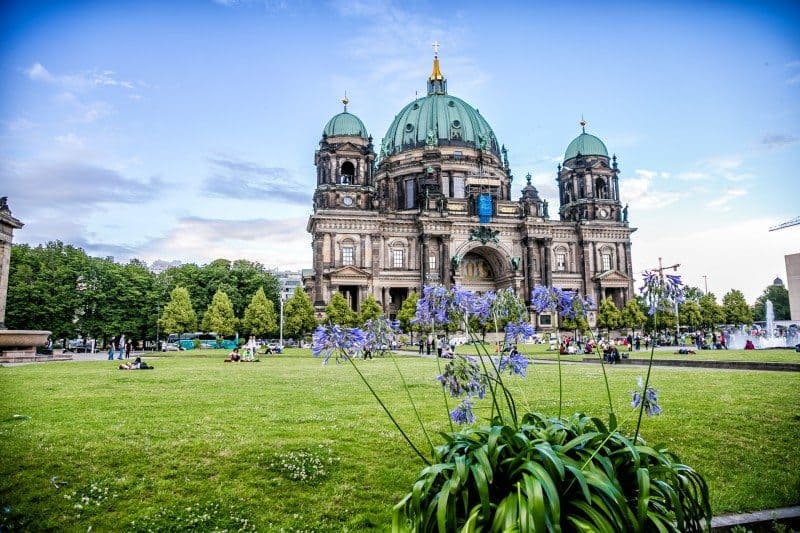 Useful Terms to Know
Abbiegen – turn
Abstand- distance (to the vehicle in front of you)
Ausfahrt – exit
Alkohol – alcohol
Ampel – traffic light
Bahnübergängen – railroad crossing
Beschädigung – damages
Bußgeld – fine, penalty
Drogen – (illegal) drugs
Fahrverbot – loss of driving privileges
Fehlverhalten – incorrect driving in specified situations; (literally: inappropriate behavior)
Fehlverhalten – incorrect driving in specified situations; (literally: inappropriate behavior)
Fristüberschreitung – inspection or emission control violations (expired inspection stickers)
Fußgängerüberweg – crosswalk
Geldstrafe – fine, penalty
Geschwindigkeit – speed; unangepasste Geschwindigkeit = uncontrolled speed (over the speed limit)
gefährliche Überholvorgänge – illegal, unsafe passing
Handyverbot – cell phone use prohibited while driving
Punkte – points
Rechtsfahrgebot – failure to use right-hand lane
Rückwärtsfahren – backing
Sicherheitsgurt – seat belt
Übertretung – Violation (often used with Geschwindigkeit to indicate km above the posted speed limit)
Unfall – accident
Verkehr – traffic
Verkehrsübertretung – traffic violation
Verstöße – violations
Vorfahrt – right-of-way
Wenden – turning
---
More on Germany:
12 Best Photo Spots in Berlin Germany
Elegant Elbe River Cruise with Viking River Cruises
Camping in Berlin with Huettenpalast
30 Germany Photos That Will Spark Your Wanderlust
More Europe City Guides:
4 Days in Paris | 3 Day Bruges City Break Guide
Best Photo Spots in Copenhagen
3 Days in Rome | Ireland Guide to Renting a Car
When is the Best Time to Visit Europe
3 Days in Florence | 3 Days in Barcelona Itinerary
3 Days in Prague | 3 Day Krakow Itinerary
Ultimate Guide to Eurail Pass Train Travel in Europe
Travel Insurance for Europe Vacation – Do I Need It?
Best Places to Fly a Drone in Europe
3 Days in Lisbon – Things to Do in Lisbon, Portugal
---
Resources for Planning Your Ultimate Germany Road Trip

Recommended Guide Books For Germany:
The best road map to get for your Germany road trip:
Book a Room: Read reviews and check prices for all hotels in Germany
Search for Flights: Priceline or Skyscanner offers great deals to Germany.
Travel Insurance: We use Allianz travel insurance and have since our first trip to Mexico in 2003. They've been there for us on our adventures – and many friends and readers – multiple times over! If you want to book with Allianz Travel Insurance, simply use this link to get their travel insurance!
Car Rental: Plan your road trip with Sixt Car Rentals. We got a killer deal on our car rental through them.
Search for Tours and Trips in Germany we recommend:
The Best of Germany (Start and end in Frankfurt-am-Main! With the discovery tour Best of Germany Summer, you have a 12 day tour package taking you through Frankfurt-am-Main, Germany and 11 other destinations in Germany. Best of Germany Summer includes meals and more.)
Bavarian Highlights (Start and end in Munich! With the in-depth cultural tour Bavarian Highlights, you have a 9 day tour package taking you through Munich, Germany and 9 other destinations in Germany. Bavarian Highlights includes meals, transport.