Hamburg is a city that has been on my radar for many years. After my first trip to Europe back in 2007, I became obsessed with taking a month-long leave of absence from work to backpack in Europe and the many things to do in Hamburg were at the top of my list.
While dreaming about this endeavor, I googled in vain the places in Europe I may want to visit and still remember the day that Hamburg came up in one of my searches.
If you're like me, I prefer to see things from a visual perspective before delving into the text and learning more. So I would spend countless hours scanning the image databases searching for cities to add to my faux itinerary to Europe.
I remember seeing images of Hamburg that invoked such a strong sense of wanderlust that it's been on my list of places to see in Europe ever since then.
We spent 3 weeks in Germany. Check out our Germany articles!
No surprise, we added Hamburg to our itinerary on our 2 month trip through Europe this summer. Despite being caught in some summer rainstorms for most of our visit, we were both absolutely taken with the city and think anyone who doesn't spend 3 days in Hamburg is crazy.
However, we do realize not everyone has the luxury to travel for long periods as we do, so I am going to make a strong case for why you should spend 3 of your precious vacation days in this cool city.
Tune into the comments below and let us know if we have convinced you to add Hamburg to your travel lists.
Don't leave home without Lonely Planet Germany (Travel Guide)
---
Things to do in Hamburg, Germany
Learn the Pirate History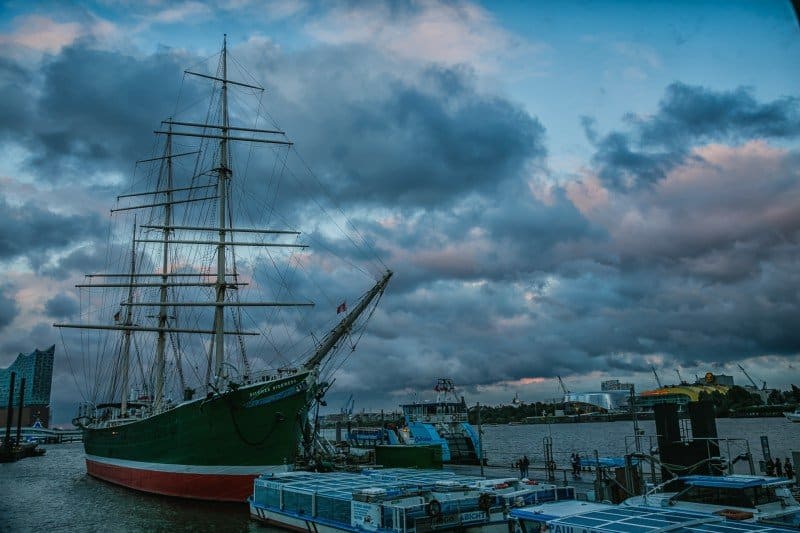 As one of the great European port cities, Hamburg has a strong pirate history dating back to the 1300's. A place that has been frequented by pirates throughout the centuries mostly tends to revolve its legend and lore around the famous Klaus Störtebeker.
He and his crew were captured and tried for piracy in Hamburg. Legend has it that Störtebeker offered a gold chain, long enough to enclose all of Hamburg in exchange for his life. It didn't work and he, with his companions, was sentenced to death by beheading.
Upon execution day, Störtebeker is said to have asked the mayor of Hamburg to release as many of his companions as he could walk by after being beheaded.
Intrigued, the mayor granted the request agreeing to free every man his headless body would pass. Legend has it that Störtebeker's headless body walked past 11 of his men before the executioner tripped him. 3 days in Hamburg is the perfect amount of time to listen to all the pirate lore.
Speicherstadt Warehouse District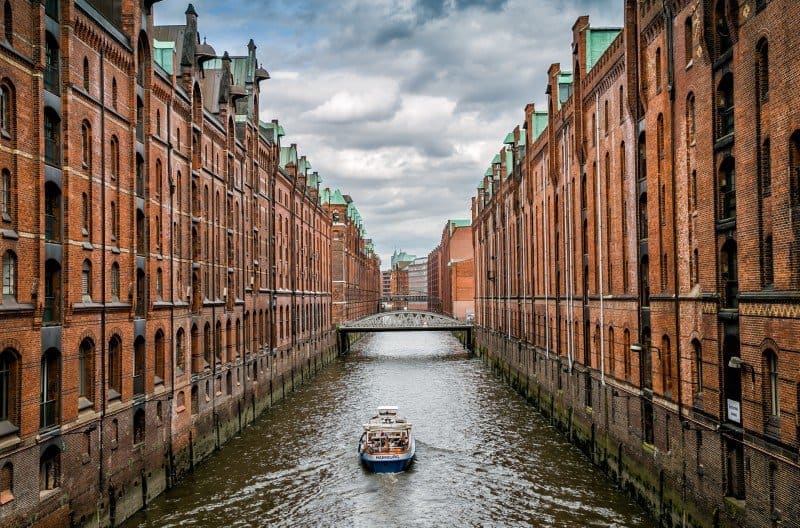 This is the most picturesque place you can visit in Hamburg and in my opinion, in all of Europe. Ripe in history, the Speicherstadt is the largest warehouse district in the World with all the buildings standing on massive oak timber piles.
The district started to be built in 1883, finishing in 1927 and was operated as a customs-free zone. Originally the heartbeat of the city, today it is a protected UNESCO site and a place you can take some time to get lost in during your visit.
The contrast of the brick buildings with the dark blue water of the canals makes for an eye-pleasing experience. Spending 3 days in Hamburg will give you ample opportunity to explore this cool area of the city.
Reeperbahn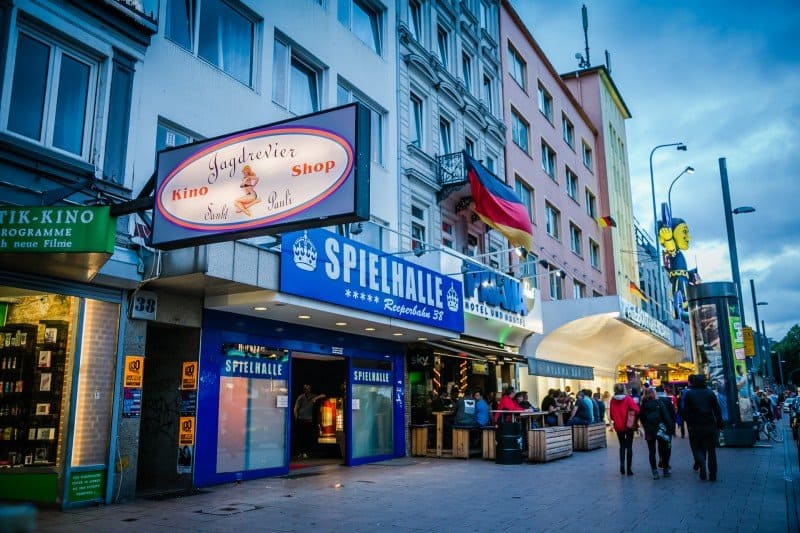 If it is seedy streets, pumping clubs and food from around the world that you seek, then you'd be on track to have a wander through Hamburg's Reeperbahn district.
The area is famous for its prostitution history and contains Germany's largest red-light district. It is an area that would have rivaled Amsterdam in its prime.
Today the scene on the Reeperbahn is less intense but street prostitution is still legal during certain times of the day on Davidstrasse.
There is also a small area that still exists featuring prostitutes behind windows that mirrors the scenes you'd get in Amsterdam.
As of 1933, large screens were installed to block the view of Herberstasse and signs were placed prohibiting the entrance of women and underage teens.
Testa Distribution Factory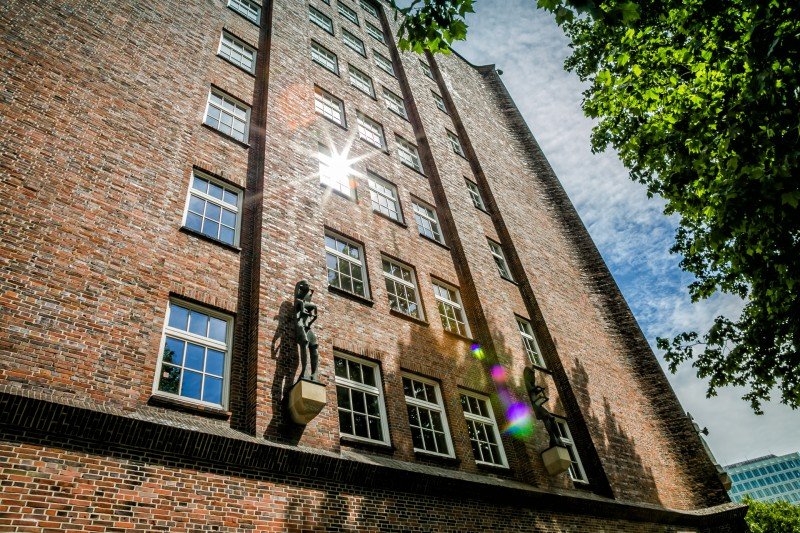 While it is not possible to visit the inside, you can stand at the doors to the company that was hired by the Nazi regime to produce the toxin Zyklon B.
This toxin was the exact poison used in the gas chambers during WWII to exterminate people. The crazy twist is that the employees of the company didn't even know they were producing the poison used in the concentration camps.
They thought it was being used for agricultural purposes. The owners of the company were directly collaborating with the SS to produce odorless poison. Both were tried and executed for their roles in WWII.
Save as you sight see around Hamburg with the Hamburg Card, yours for one great-value price. With your card, enjoy free or discounted entry to over 130 attractions and tours.
St Nicholas Church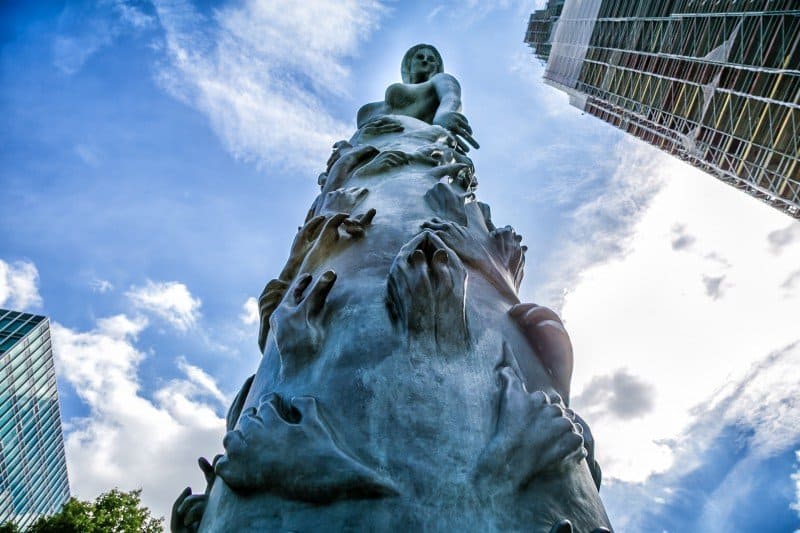 Surprisingly, this site turned out to be my favorite during our visit. Which would seem odd to anyone who knows the church. Once part of the five main churches in Hamburg, St Nicholas Church now lies in ruins after being bombed during WWII.
Only the tower remains of this important Hamburg landmark which is impressive seeing as St Nicholas church was the tallest building in the World from 1874 to 1876. What really captivated me about this site is the single statue that stands in the destroyed courtyard.
At the top of a large column is a woman, looking down towards the ground. Along the column are sculpted hands that are reaching, grasping and holding their way in the direction of the woman. Long contemplation left me wondering if they were there to help her up or tear her down.
Landungsbrücken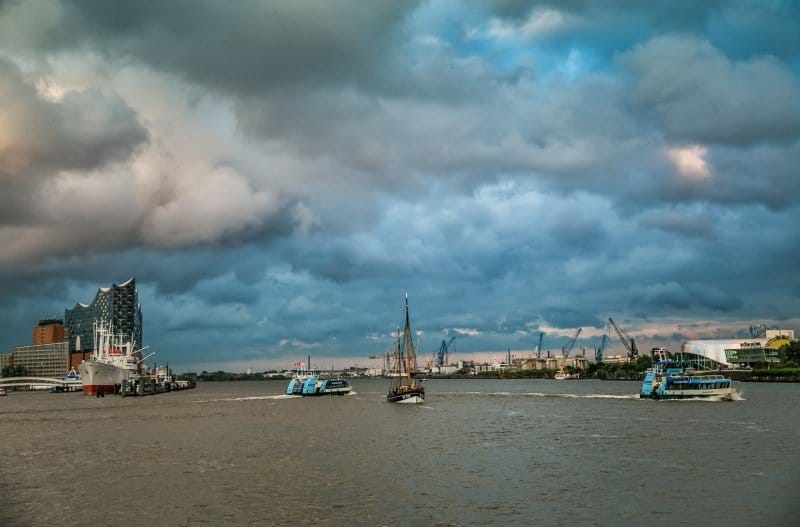 The absolute essence of Hamburg is its spectacular waterfront port along the Elbe River. It is done great justice by offering a beautiful walkway along the river that offers you the opportunity to show a little, enjoy the ice cream shops and take in the shipping scene on the river.
You'll also enjoy a panoramic view of the harbor and the new Elbphilharmonie concert hall. This area is especially great to visit in the evening light while the sun is setting and lighting up the sky in shades of pink.
Don't leave home without Lonely Planet Germany (Travel Guide)
St Michael's Church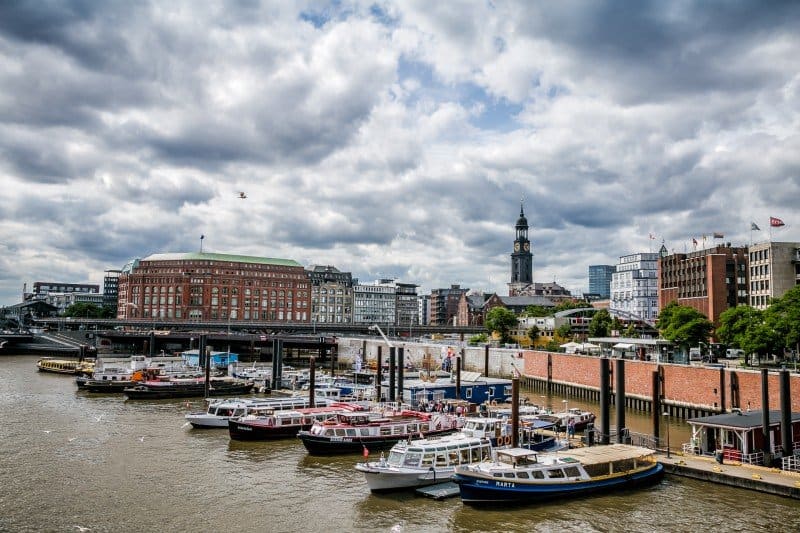 The main draw to this church is a climb up the stairs of the tower for a view of Hamburg. St Michael's church is the most popular church in Hamburg and has been rebuilt 3 times over the course of its existence. It has been replicated in nine different cities in the World and is worth a visit when out exploring Hamburg.
Need to stay connected? Enjoy unlimited internet in Hamburg and everywhere in Germany with a 4G-LTE Pocket WiFi.
Hamburg Historic City Center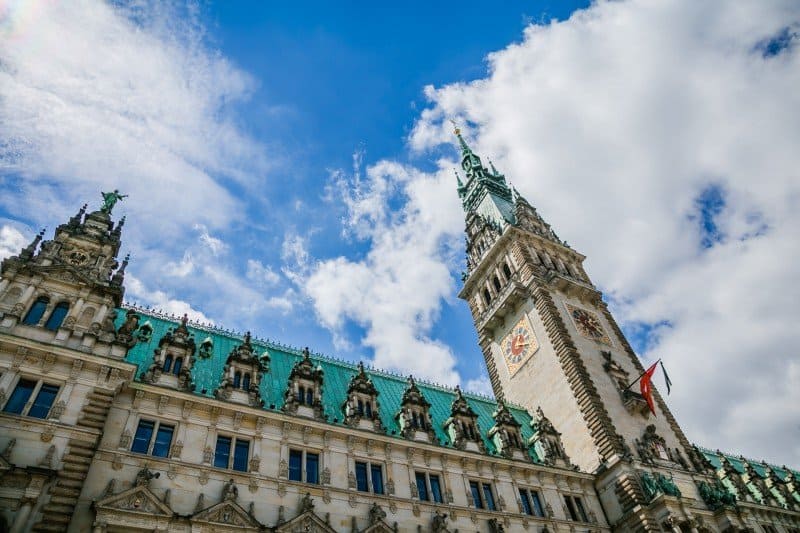 If you've done some traveling in Europe, you'll know that every city has a main center point to it. It is usually a square surrounded by iconic architecture from the region you revisiting. Some of them are great, some of them not so much.
Rest assured, Hamburg has a stunning historic city center. During our 3 days in Hamburg, we made a point to visit this area every day. The layout is welcoming and you can't beat the canals that run along the edge of the square.
St Pauli
When you've had enough sightseeing and you want to find that one district with the hip bars, trendy shops, and relaxed attitude than you should head straight to St Pauli.
In fact, we suggest you stay in this area. Well connected by public transport, this is the area to immerse you into today's culture of Hamburg. We never tired of walking the streets in St Pauli when we were in need of a beer, coffee or meal.
Each little place has its own vibe and its all you can do to not let yourself wander inside each one of them as you pass by. Without a doubt, this is the place you want to spend your downtime while visiting Hamburg.
Why not get the keys to the city? Hamburg City Pass: One Day or Multi-Day Pass gives you the key to discovering everything in Hamburg Germany.
Tips for Visiting Hamburg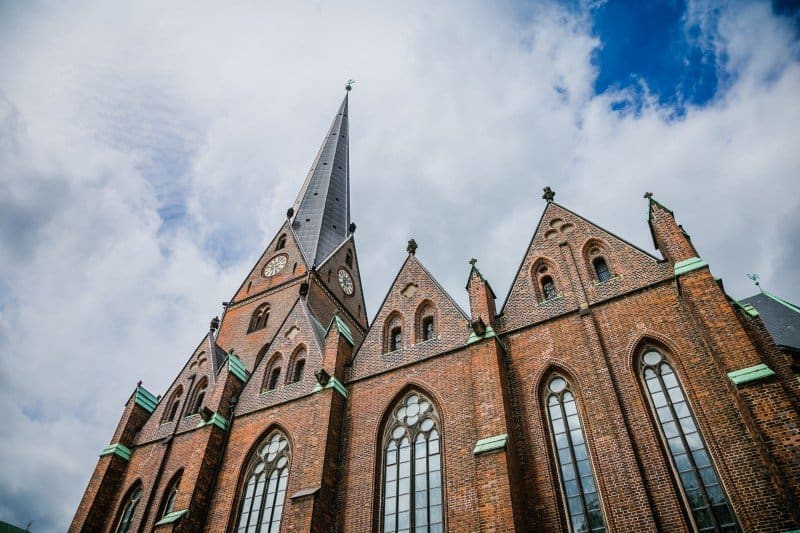 Besides saying that you should spend 3 days in Hamburg- that's our first trip, we wanted to highlight some of the things that made our stay so great.
Our tips are designed to make your trip to Hamburg easier and give you some recommendations for your stay.
Transportation
We utilized two different forms of transport during our 3 days in Hamburg. First and foremost, public transportation is brilliant and routes around the city in a seamless way.
The Hamburg card gave us free transportation options on all buses, trams, ferries and metro trains during our stay. In addition to public transport, we also used the Hamburg Hop On Hop Off bus for another look at the city.
Hamburg Card
If you're planning to spend 3 days in Hamburg (like we recommend) then you shouldn't hesitate on purchasing a Hamburg card. This handy pass gets you discounted entry into over 150 attractions and offers free public transportation.
Accommodation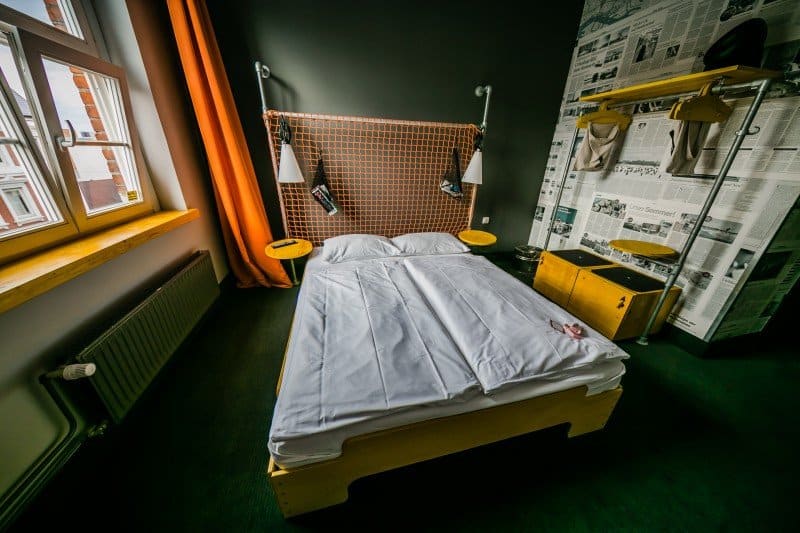 We've said it before and we'll say it again now, stay in St Pauli. It's the best district for a base. Our days were spent at the Superbude St Pauli, a place that is a marriage between a traditional hostel and a hotel.
If you want the hostel atmosphere, they have it. If you want a private room, they have that too. We saw people of all ages staying there, couples and even a couple of families.
Read reviews and check prices with our Hotel Search Engine, that gives you the best hotel deals found on the web. Our search engine pulls results from all of the major booking places, including Expedia, Hotels, Booking and more. All the options, all the deals, all in one place and just for you.
Free walking tour of Hamburg
As with any European city, we highly recommend joining one of the free walking tours of Hamburg that leaves from the historic city center on your first day in the city.
This is a great way to pick up some history, hear some stories and see some of the main sites. We took the free walking tour in Hamburg with Sandemans New Europe-Hamburg. If you're lucky, you'll get Julian for your guide.
Need to book a car for your road trip adventure? We use Discover Car Hire for comparing car prices to find the best deal. They search both local & international rental companies.
Fantastic Hamburg Tours:
Highlights of Germany Tour
Start and end in Frankfurt-am-Main! With the in-depth cultural tour Highlights of Germany, you have a 12-day tour package taking you through Frankfurt-am-Main, Germany and 13 other destinations in Germany. Highlights of Germany includes accommodation in a hotel as well as an expert guide, meals, transport and more.
Germany's Cultural Cities Tour
Start in Berlin and end in Munich! With the discovery tour Germany's Cultural Cities featuring the Romantic Road (Berlin to Munich), you have a 10-day tour package taking you from Berlin to Munich and through Berlin, Germany and 11 other destinations in Germany. Germany's Cultural Cities featuring the Romantic Road (Berlin to Munich) includes accommodation in a hotel as well as an expert guide, meals, transport and more.
Central Europe Tour
Start in Hamburg and end in Krakow! With the in-depth cultural tour Germany, Czech Republic & Poland Hamburg, Berlin, Leipzig, Dresden, Prague & Krakow, you have a 17-day tour package taking you through Hamburg, Germany and 15 other destinations in Europe. Germany, Czech Republic & Poland Hamburg, Berlin, Leipzig, Dresden, Prague & Krakow include accommodation in a hotel as well as an expert guide, meals, transport and more.
More on Germany:
Did you like this story? Share it!