Renting a car in Ireland allowed us to get off the basic tourist path and make our own divergent path in Ireland. We got to explore all of the different sides that Ireland has to offer on our own timeline. We explored the local side of life in Ireland. We explored the outdoor and nature side of Ireland. We were transported back in time through the historic side of Ireland.
Renting a car in Ireland made our trip magical.
Ready to plan your own road trip through Ireland? Check Auto Europe for competitive rates.
Rent A Car in Ireland or Take A Bus Trip?
Cant we just stop for a few minutes? Or does anyone else want to stop there? Is something you will be saying and hearing on the tour bus as your traveling around Ireland but you'll mostly be enjoying the views from the bus window. Don't get me wrong, bus tours have their place but with a car we were those people who were checking out the sites and exploring the different castles.
There were so many spots we ended up during our road trip around Ireland that the everyday traveler would not have found or missed on the tour bus. With a bus trip you only get the basic highlights during the most crowded times of the day. With a car you can take your time and explore the nooks and crannys that this country offers, and trust me there are loads of them.
Discover a 12th Century ruin===> Finding Glendalough in the Wicklow Mountains
The flexibility alone wins the argument. On the day we had planned to visit the Cliffs of Moher it ended up pouring rain with thick low fog, so it wouldn't have been possible to see anything. We moved on to another part of the country that was sunny and clear and came back to the coast the next day for better weather. We couldn't help but wonder about those people of the strict bus schedule or day trips from Dublin were doing on their horrible day.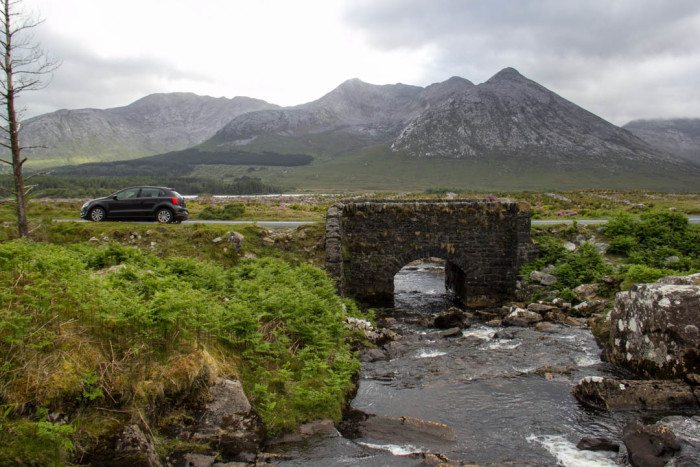 Daily Life on the Road
We spent two weeks driving around Ireland and while we had enough time to see most of the grand sites, we could have easily spent a month. The country is amazing and it sucks you into it's culture. Our drives most days were easy and total driving time averaged around three hours. Once we added stops in though, it would take up most of our days.
There is much to see on the back roads in Ireland and it never failed that we would be driving down some back country roads and come across a hidden castle or monastery. The best part is we would be the only ones there exploring it. You just can't beat that when you are exploring a new place, especially Ireland.
Looking for some castles to explore?===> 9 Castles You Cannot Miss in Ireland
Our days of driving usually consisted of several shouts, including "Just pull over", "Go back" and "Let's check that out". There is something cool to see around every turn and it never failed we would jump in the car and five minutes down the road we would be pulled over on the side of the road checking out another hidden gem.
Ready to plan your own road trip through Ireland? Check Auto Europe for competitive rates.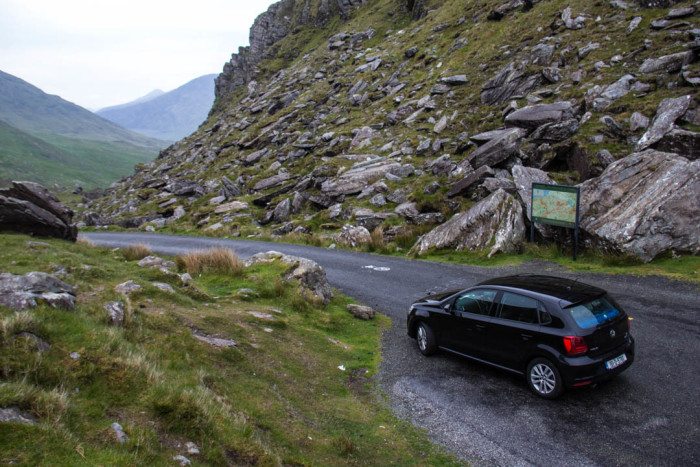 Things To Watch Our For
Tractors. We ran into many farmers who took up the whole road.
Sheep. The sheep also own the road. They might be grazing on the side of the road but this will not stop them from ending up on the road.
Driving Locals. The locals are used to the roads and the drive fast! Often times they don't move over much either. It is just best to slow down and give way to them. They know the roads and they have places to be.
Speed Limit Signs. Speeds are marked well and most of the time with the roads being so narrow and windy you will not be able to drive that speed. You do need to watch out for speed cameras, they are everywhere. Highways were 100 to 120 and country roads were 60 to 80. Reading signs are easy. All street signs and highway signs are in English and Irish.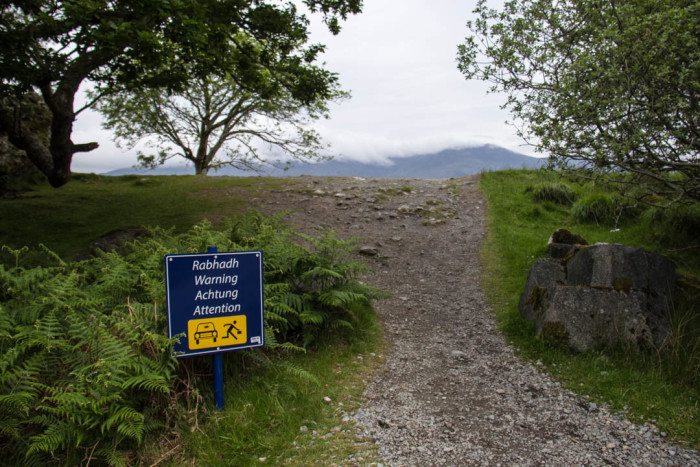 Valuables. You will see a variety of signs while driving but one you should pay special attention to is the car theft signs. Do not leave anything valuable sitting out in your car, this includes your GPS. Be sure to lock things up in the trunk or glove box BEFORE you stop. Thieves will often watch to see if people lock up stuff in the trunk and then break into your car when you leave.
Tolls. Ireland's newest and most efficient motorways will require you to pay a toll. This will be around Dublin and between Dublin and Galway. Be sure to check with you rental car company about how this is handled and if you should pay when you pass.
Parking. Most sites on the Wild Atlantic Way offer free parking. You will be tempted in many places to just pull over and clog the shoulder, but first look for signs indicating a parking lot. It is much safer for you and your rental car if you are in the car park versus the side of the road.
Visit Cobh, Ireland, the Titanic's last port of call ===> The Real Titanic Experience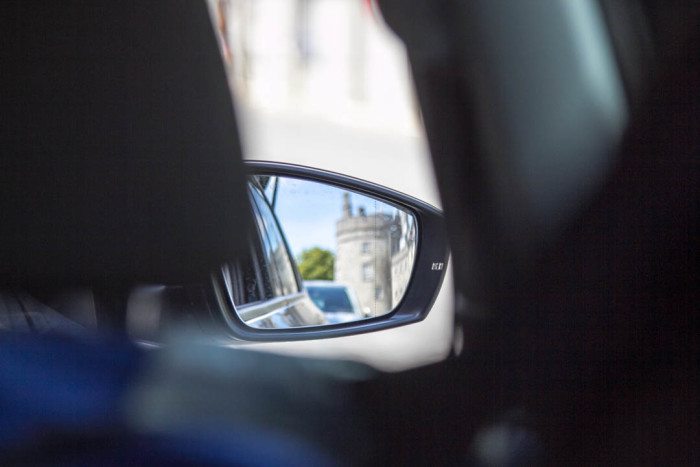 Do You Need A GPS?
Maps are helpful but a GPS is what you really need. While we spent a lot of time looking at the map to plan projected routes, it was when we wanted to get off the beaten track that the GPS helped the most. We could just follow signs of things that interested us and not worry about getting lost.
Can I use the GPS on my phone? Yes that is an option but phone service in the country can be intermittent and sometimes not work, so the GPS on your phone will not always be a reliable way to navigate. Just rent a GPS (or bring one from home with Ireland downloaded on it!) it's worth the time you will save and its worth just plunking in where you want to go and getting there smoothly.
Find places the tourist buses don't go ===> Climbing Carrauntoohill- Ireland's Tallest Mountain
Road Etiquette
Keep left! All driving is on the left side of the road.
The roads can be windy, narrow and at times just wide enough for one lane and small car. You will meet all kinds of traffic, from large tour buses and tractors on these roads. Just find a driveway to pull into to let them by, it's not worth getting into a stand off with them. If this requires you to back up, then you must do so. They will not get out of the way for you. They may give you a few feet to drive around but your better off just pulling over and letting them by.
Ready to plan your own road trip through Ireland? Check Auto Europe for competitive rates.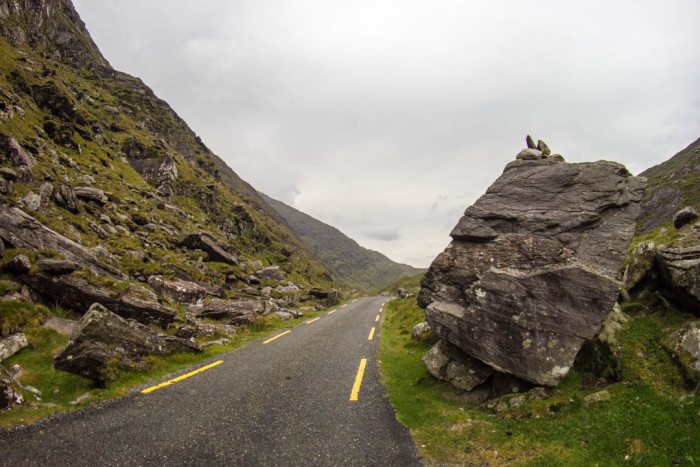 Get the smallest car you can. You will need it to fit down the roads and this will also save you on gas. We had 3 people, 3 large backpacks, a duffle bag (camping gear for Africa) and 2 small backpacks in our compact car. It was a tight fit for us but the comfort in navigating the narrow roads was a perfect compromise.
What We Rented
Car Rented: Volkswagen Polo 5 DR Automatic
Days Rented: 11 (we did not keep our car while in Dublin)
Used 3 tanks of gas (rough cost 160€)
Total Distance Driven:1976 kilometers
Ready to plan your own road trip through Ireland? Check Auto Europe for competitive rates.
---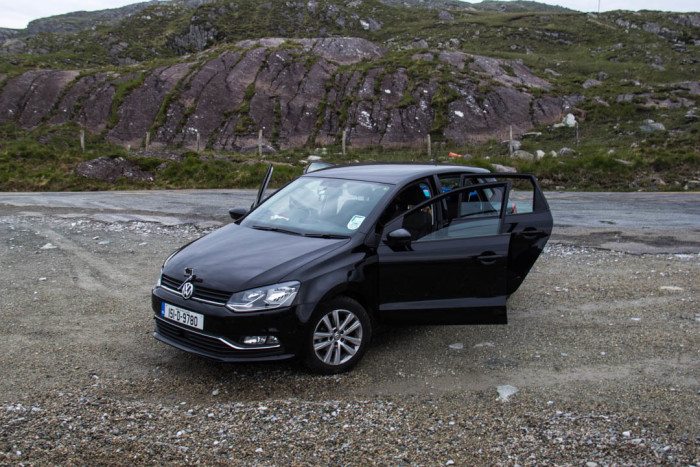 All doors open and exploring Ireland!
More on Ireland:
---
Resources for Planning Your Trip to Ireland
Recommended Guide Books For Ireland: Lonely Planet Ireland (Travel Guide)
The best road trip Map for Ireland: Ireland (National Geographic Adventure Map)
Book a Room: Read reviews and check prices for all hotels in Ireland at TripAdvisor or AirBnB.
Search for Flights: Priceline or Skyscanner offers great deals to Ireland.
Travel Insurance: We use for Allianz for travel insurance and have since our first trip to Mexico in 2003. They've been there for us on our adventures – and many friends and readers – multiple times over! If you want to book with Allianz Travel Insurance, simply use this link to get their travel insurance!
Car Rental: Check Auto Europe for competitive rates. We got a killer deal on our car rental through them.
Top Tours in Ireland that you need to check out: Viator's top 10 tours in Ireland.
Gadventures Ireland Explorer 13 days, Belfast to Dublin
Visit the Giant's Causeway
Guided tour of Old Bushmills Distillery
Guided historical walking tour of Derry
Cliffs of Moher visit
Walk along the Wild Atlantic Way
Ring of Kerry excursion
Cork orientation walk
All transport between destinations and to/from included activities
Gadventures Highlights of Ireland 9 days, Dublin to Dublin
Cliffs of Moher visit
Walk along the Wild Atlantic Way
Ring of Kerry excursion
Cork orientation walk
All transport between destinations and to/from included activities