While America is traditionally seen as the ultimate location for a road trip, there are other parts of the world that can be well explored and discovered by car.
Ireland is a land full of natural beauty, a lovely little island packed full of hidden gems and secret wonders that go unnoticed by visitors that come to Ireland every year and never leave Dublin.
Taking a road trip through Ireland can be an excellent way to see the Emerald Isle in all its glory. Depending on how long the trip is, you can hypothetically see all of Ireland on a single vacation.
Compared to the vastness of America, Ireland is considerably smaller but has so much to offer anyone visiting, especially when it comes to the coastlines and diverse scenery. Here are the best ways to explore Ireland on a road trip and the best things to see along the way.
Don't leave home without Lonely Planet Ireland (Travel Guide)
---
Best Road Trip Routes in Ireland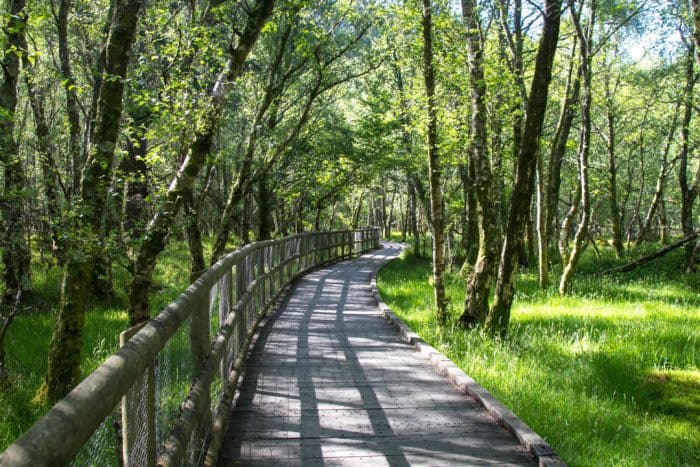 1. The Republic of Ireland – Dublin to Portlaoise via the Wicklow Mountains
This route offers a mix of rustic delights and modern comforts. Starting in Dublin, the capital city of the Republic of Ireland renowned for its Guinness, you can spend a few days in one of Ireland's most famous cities.
Once you're done there, you travel through the wilderness of the Wicklow Mountains, which will take you past villages and towns that you can stop off at whenever you like.
Then, you arrive at Portlaoise, also known as Port Laoise, which is located in Ireland's midlands. It's a vibrant and delightful town that makes for an excellent final destination.
The journey is filled with incredible natural sights, along with many medieval buildings that are still standing. When you are not driving, be sure to plan a full day to hike in the natural beauty of the Wicklow Mountains.
The trails are groomed, well marked and will take you straight through the most beautiful parts of the park. With all of that, there is no wonder why this is one of the best road trip routes in Ireland.
Driving distance from Dublin to Portlaoise via the Wicklow Mountains is 93 miles. From Dublin to the Sally Gap Ireland to Wicklow Mountains National Park to Portlaoise. The roads are typical roads in Ireland, two-lane roads that are slow-moving.
Looking for accommodation along the way? We recommend Talltrees B&B if stopping in Portlaoise and if stopping in Dublin check out The Merrion Hotel or The Marker Hotel.
Read reviews and check prices with our Hotel Search Engine, that gives you the best hotel deals found on the web. Our search engine pulls results from all of the major booking places, including Expedia, Hotels, Booking and more. All the options, all the deals, all in one place and just for you.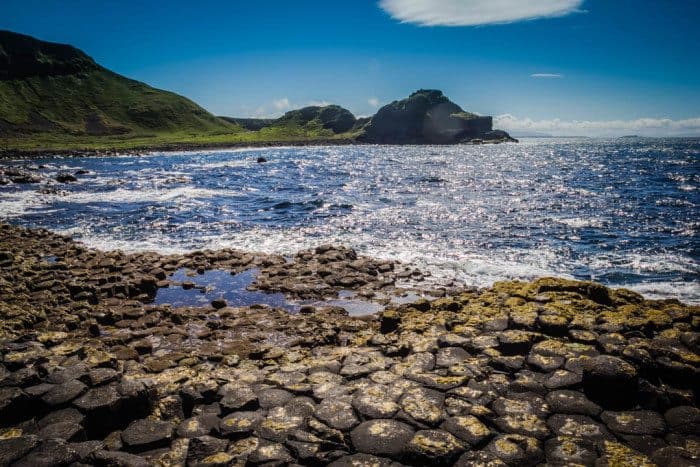 2. Northern Ireland – Belfast to Donegal via the Giant's Causeway
The capital of Northern Ireland is worth seeing and gives you the chance to experience the North of Ireland. Belfast has an interesting history as the city where the Titanic was built during the golden age of shipbuilding, and there are great opportunities for shopping, dining, and culture. Plus, Belfast is a beautiful city that is worth just a day spent wandering around.
The Giant's Causeway is a truly spectacular sight and a must-see for anyone visiting Ireland. Located in Antrim, it's the result of a volcanic eruption over 60 million years ago, the Causeway is famous for the polygonal columns of layered basalt and is an Area of Outstanding Natural Beauty.
Donegal borders the Atlantic Ocean and has a largely Irish-speaking population. The country is well known for its incredible beauty, from the majestic cliffs to coastal roads. Going from the urban attractions of Belfast to the rustic charms.
Driving distance from Belfast to Donegal via the Giant's Causeway is 146 miles. From Belfast to 44 Causeway Rd to Londonderry to Donegal. The roads are typical roads in Ireland, two-lane roads that are slow-moving.
Looking for accommodation along the way? We recommend Benedicts of Belfast if stopping in Belfast and if stopping in Donegal check out Harvey's Point.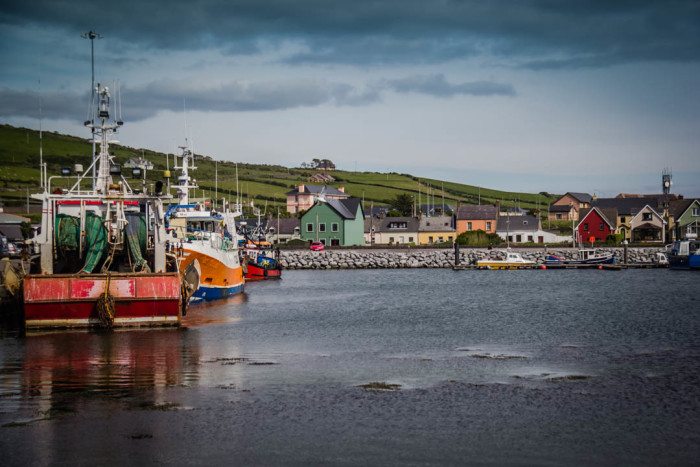 3. Wild Atlantic Way – Ireland's Great Adventure
Last but not least, is the visually stunning Wild Atlantic Way. This route is Ireland's greatest adventure and one that you shouldn't miss if time permits. The Wild Atlantic Way is the top of the list for the best road trip routes in Ireland. The drive starts in Kinsale, in the southeastern part of the country and follows the coast all the way to the town on Londonderry, in the northwest.
It's not a direct route to just drive either, there are plenty of side options including the Ring of Kerry, the Dingle Peninsula, the Connemara Peninsula and the Cliffs of Moher, to name a few. You need a solid 2 weeks to drive this route and see the highlights. 3 weeks will give you time to start and end in Dublin while driving the entire coastline of Ireland.
Driving distance of the Wild Atlantic Way is 1,600 miles. The roads are typical roads in Ireland, two-lane roads that are slow-moving. We have found the best Wild Atlantic Way road map that you will need to take on The Wild Atlantic Way Route Atlas: Ireland's Journey West 1:126,720
Recommended Hotels or B&B's on the Wild Atlantic Way, Ireland. The hotels are in order per stop, so you can take this list and know where to stay along the Wild Atlantic Way in Ireland.
Our Top Recommended Hotels or B&B's:
Need to book a car for your road trip adventure? We use Discover Car Hire for comparing car prices to find the best deal. They search both local & international rental companies.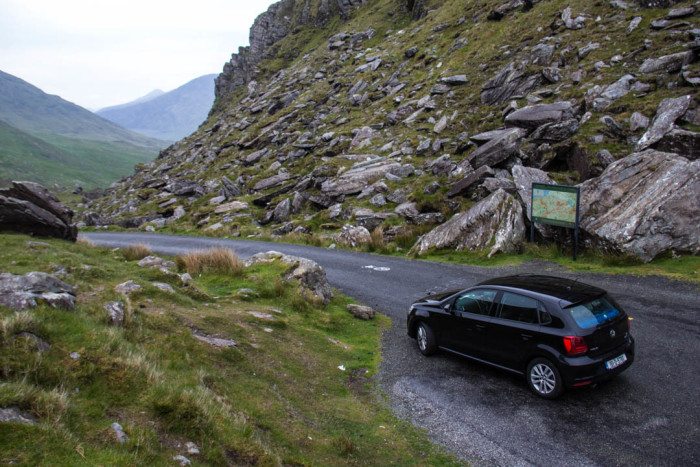 Planning Your Ireland Road Trip
No matter where you decide to go and what you decide to see, it's important that you make sure everything is prepared before embarking on your road trip.
Make sure that you've planned your routes out carefully and that you know how long it will take you to get to each destination. Make arrangements for fuel and anything else to make sure that your days run smoothly
For example, are you going to take your car on the journey or will you rent one when you arrive? Often times people prefer to take their own car for the sake of convenience and comfort. In this case, it's also important to ensure that you are covered in the event of an accident or breakdown.
No matter how good a shape your car is in, there's any number of things that could happen that could have an impact on your journey; flat tires, problems on the road, breakdowns, all of these are possibilities. Making sure that you have excellent breakdown coverage is the best way to ensure that you and your family are secure on your journey.
Ireland is a treat for the eyes and has so much to see and do, and taking a road trip is easily one of the best ways to see the country at its finest.
More on Ireland:
Did you like this post? Pin it!