Sometimes removing yourself from the things you find comfortable and immersing yourself into the unknown can reveal things about a place that you wouldn't have seen otherwise. You know, those things you couldn't have dreamed existed in a space that most people just fly over.
As adventure travelers, we're used to putting ourselves in situations that push the boundaries of comfort. Scratch that, what I meant to say was, we're used to putting ourselves in situations that obliterate the boundaries of comfort.
We're not afraid to pack our gear and food on our backs to set off into the backcountry with tents in tow for several days at a time. We don't need the luxury to enjoy travel because we live for experiences of solitude and the opportunity to feel small amongst the beauty of the earth.
This may sound corny but it is at the very core of why we love to travel and why we seek out adventure experiences. That said, it isn't often that these types of experiences are able to be paired with luxury and still put you into remote places that are very far off the beaten path.
So you can imagine our skepticism when we first learned about the Explora Travesia. A nine-day overland journey starting in Salta, Argentina that takes its travelers off the beaten path into remote, barely explored places en route to the heart of the Atacama Desert in northern Chile.
Not stopping there, Explora boasts luxury with upscale accommodation, meals, services, and transportation along the way (insert single eyebrow raise). The trip offers all the things that are typically very hard to deliver when it comes to remote travel based on logistics alone.
Believe it or not, someway, somehow, Explora manages to deliver exactly what they boast.
It's All About Going with the Flow
The Explora Travesia is a feeling, an emotion and a journey into you. It's a way to remove yourself from daily society and provide time for you to immerse yourself in the world. To see things simply and raw as they are and to evaluate them with inner reflection instead of fast-moving judgment.
Offering chances to get away from the overcrowded tourist sites and discover the heart of the Andes Mountains, you get to feel the land, interact with the locals and explore. The Travesia is not a vacation but a journey. It's a chance to slow down, to let go and to go with the flow.
We didn't spend inordinate amounts of time being briefed on what we were going to do. We got up in the morning, had breakfast and went out to explore. Our guides knew the land and we trusted them to take us into the heart of each area and show us why it was special.
The idea of the Travesia is to not know what is coming and to not focus on the particulars of the things you are doing. It was a valuable exercise in learning to let go and dig for a deeper experience. How many kilometers did we walk? How tall is that mountain? What is this trail called? By the second day, we found ourselves asking, who cares?
We threw ourselves into the experience enjoying the miles and miles of hiking we did each day through areas so off the beaten path we never saw another tourist. Letting go to live in the moment was a release we haven't experienced in a while.
While that would be enough for most people, what got us was the touch of luxury that Explora is able to add to the experience. Those moments when you set out for a three-hour sunset hike where our guide led us to a high viewpoint with a surprise empanada and champagne greeting. Yes, we enjoyed top-shelf champagne and fresh-baked local food, from a viewpoint, at sunset, in the middle of nowhere.
The entire experience was like this. One day we set off into the desert to hike a canyon area that is located on the 12,000 acre Finca Rancagua where we climbed straight-up rock faces to some of the most spectacular views you can imagine. Descending back into the valley we were treated to a full-scale BBQ picnic, in the desert, again in the middle of nowhere.
The best part about these things was that we didn't know about them, so we couldn't expect them. In our experience as adventure travelers, remote equals minimal when it comes to these things. Being surprised by such luxuries while out having a real adventure was a treat.
A Journey on Foot
The core of the Travesia is hiking. Our days were spent walking, climbing and searching for wildlife. It wasn't uncommon for us to traverse upwards of 1000 meters in elevation and cover 10 miles each day. The best part is that every day was different.
All the hiking was through desert terrain, the sun was hot and the land dry. While most people assume this would be boring, it was surprising to see just how much life is in the desert. Plants abound with varieties of shrubs, brush, and cactus.
Desert foxes peer from the shadows of boulders and chinchillas race amongst the rocks. When you take the time to slow down it's amazing what comes to life around you.
Due to the altitude, the entire Travesia is designed to acclimate you to the mountains so you can enjoy your journey. Salta is already high at 2500m and each day is spent hiking up from there so that the corresponding nights spent higher are easier.
This includes strategic positioning of the camps where you spend nights at 2500m, 3500m and 4300m along the way.
This prepares you for the ultimate crescendo of your journey, summiting the 5604m Cerro Toco that sits in the Atacama Desert once you reach the luxury resort Explora Atacama.
Remote Luxury of the Explora Travesia
While it would be easy to assume that the camps along the way are primitive, I am excited to share with you otherwise. Not only were they insanely comfortable and luxurious, but the meals were served with great detail and fine ingredients. Yes, even in the most remote places we set foot.
Finca Rancagua
After leaving Salta and making our way to the small NW Argentina town of Cachi, we were delivered to the shockingly beautiful Finca Rancagua. I say shocking because we were, without denying it, prepared to spend 6 days without a shower.
Imagine our surprise when they showed us to our huge, king bed suite complete with sitting area. The bathroom had a double vanity, western toilet, and a beautiful claw tub shower. We were definitely not roughing it. (3 nights)
Tambo La Quesera
After spending the day literally climbing volcanoes at Los Gemelos, we arrived at the Quesera camp. Again, expecting more of a primitive option yet slightly hopeful for a tad more luxury after the surprise at Finca Rancagua, we arrived to be blown away again.
Built from a traditional farm home, the interior has been restored into comfortable rooms. At the center is a beautiful kitchen and dining area where they served us more high-end meals. Opposite the private rooms were our own private bathrooms with, wait for it, hot water showers. Best surprise ever after a day of climbing volcanoes. (1 night)
El Laco Container Camp
Our highest camp at 4300m, literally located in the high Chilean Andes was again a surprise. Yes, there was a personal chef and yes, there were private bathrooms with hot showers.
We had a private room that opened up to the most incredible view of the Andes Mountains around us. This was the most primitive of the camps but seriously, I don't even think you can call it camping with all the amenities we had at our disposal. (1 night)
Explora Atacama
After a morning hike around the enormous Laguna Capur salt lake we descended from the Chilean Altiplano into San Pedro de Atacama and the driest desert on earth. The culmination of the Travesia is the opportunity to base at Explora's luxury hotel in the Atacama desert and spend your days exploring the area.
You also have the option to complete the Travesia with a summit attempt of the 5604m Cerro Toco. Unfortunately, I came down with a head cold, so I didn't attempt it but David definitely did and he summited successfully. (3 nights)
Our Thoughts on the Explora Travesia
Explora merges the very best of remote, off the beaten path travel with more luxury than any real adventurer could expect with their Travesia from Salta to the Atacama desert. While they offer it running in either direction, I feel the best way to experience this trip is from Salta, because instead of leaving you comparing everything to the opulent stay of the Explora Atacama, you're surprised around every corner. This allows the trip to crescendo and unfolds your adventure along the way.
The thing we loved the most was the 'in the moment' element of the journey. It was a real adventure and a true opportunity to explore the region we were traveling through. We had boots on the ground and uncovered each area through long hikes each day.
We met locals. We marveled at the vastness of the desert. We challenged ourselves, even when the air was thin. We stood in awe at the top of volcanoes. We snuck up on flamingoes in the heart of the Andes Mountains.
Would we do it again? We wouldn't even hesitate.
Did you like this post? Share it!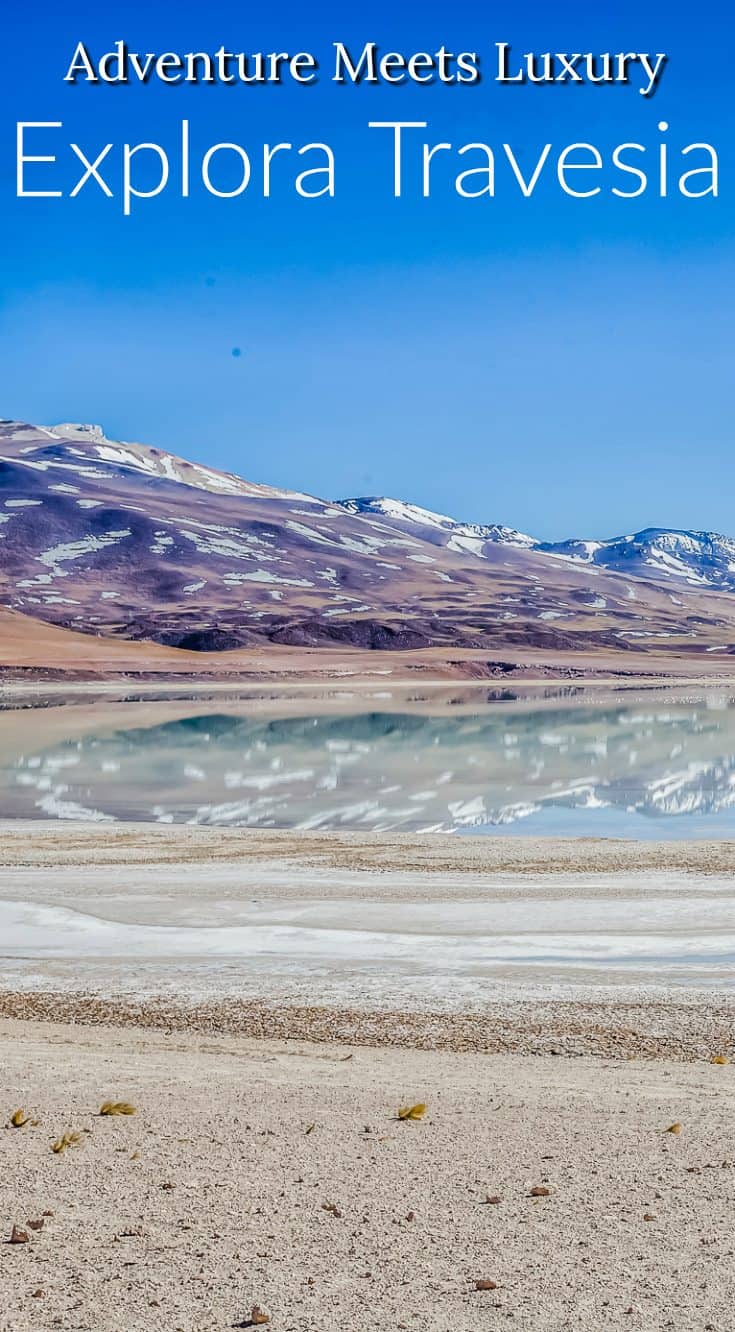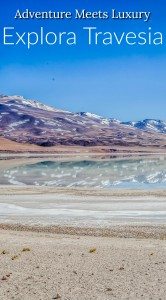 Travel Insurance: We use Allianz for travel insurance and have since our first trip to Mexico in 2003. They've been there for us on our adventures – and many friends and readers – multiple times over! If you want to book with Allianz Travel Insurance, simply use this link to get their travel insurance!
The opportunity to experience this journey was made possible in partnership with Explora. All internal reflections, awesome moments, surprises, travel stories and opinions are, as always, 100% mine.