Anyone can drive through and view all of the canyons, arches, and mountains from their car window, but to really immerse yourself you'll want to check out the best hikes in Arches National Park.
This national park is home to over 2,000 arches, most of which have their very own hiking trail. If you have a short window of time in which to explore the park, choosing just a couple of these trails is easier said than done.
This article puts together the best hikes in the park, what you'll see on them, where they're located and why you want to add them to your list. Happy hiking!
Don't leave home without your own: Lonely Planet USA's National Parks (Travel Guide)
Best Arches National Park Hikes Map
HOW TO USE THIS MAP: Above you'll find a map of the best hikes in Arches National Park and their trailheads. Click on the top left of the map to find separate layers marking the route and points of interest. You can hide and show different layers, or click icons on the map to see the names of places we mention in this hiking guide. "Star" the map to save it to your own Google Maps, or open the map in a new window for a larger version.
---
15 Best Hikes in Arches National Park
---
1. Delicate Arch Trail
This trail is one of the best Arches National Park hikes and leads to the famous Delicate Arch. Yep, the arch that appears on every Utah license plate!
With jaw-dropping views, the sandstone bridge and surrounding scenery are something you won't want to miss.
The only thing that may have you rethinking the Delicate Arch hike is that it does require a little bit of willpower. The trail can be a bit rocky at times, requires a hike up steep slick rock, and even follows a steep cliff wall.
If you can push through the 2.5 hours along the 3 miles of trail, you'll be rewarded with the memory of a lifetime and some insane views.
If this hike is too much for you but you still want to see the most famous arch in the park, you can still head to one of the Delicate Arch viewpoints. The lower Delicate Arch viewpoint is the easiest with a short walk from the parking lot.
Looking for more information on hiking to the Delicate Arch? We have put together a hiking guide based off our experience hiking to the Delicate Arch.
2. Landscape Arch Trail
One of the most famous hikes in all of Arches National Park is to Landscape Arch. Luckily, it's a short hike and relatively flat.
Located in the Devils Garden, which is home to a handful of the area's most iconic arches and landforms, this trail puts all the best of the national park's natural beauty on full display.
It also offers a spur trail before you reach Landscape Arch that offers a short 0.5-mile detour to see both Pine Tree Arch and Tunnel Arch.
Leaving from the Devils Garden trailhead, the entire trail is only 1.6 miles long and can easily be done by hikers of all experience levels. Most people take around 50 minutes to complete the hike.
If you're looking to beat the crowds on this one, it is possible to camp in the Devils Garden campground to get an early start.
Want to get away from large groups of people? It's possible on this tour: Arches National Park Backcountry 4×4 Half-Day Tour.
Looking for more information on this hike? We have put together a comprehensive guide from our experience hiking the Landscape Arch Trail.
3. Devils Garden Trail to Double O Arch
If you consider the hike to the Landscape Arch to be a bit too easy for your liking, why not continue onto the Devils Garden main trail to view the second largest arch in the park: the Double O Arch.
Also located in the Devils Garden, this trail continues on from Landscape Arch and shows off the best side of the park!
Different from the Landscape Arch Trail, the hike along the Devil's Garden Trail is meant for more experienced hikers. If you're afraid of heights you might also want to rethink this trip as it traverses narrow ledges.
You'll also need to be prepared for some decent elevation gain along sandstone fins after you leave Landscape Arch.
The total trail is 4.2 miles from the Landscape Arch (there and back) and takes about 2.5 hours to complete. Just be sure to arrive early to ensure you get a parking space.
If you're looking for a secret hike you need to check out Moab's Best Kept Secret Tour: Mini Narrows Cool Summer Hike.
This trail is our favorite hike in Arches National Park! Here's our guide to hiking the Devils Garden trail.
4. Primitive Trail
Also located in the Devils Garden, the Primitive Trail is an alternate route leading from the Landscape Arch to the Double O Arch.
This trail is meant more for experienced hikers and a little more off the beaten path, which means fewer tourists.
Although the trail is marked with rock cairns, many people find this trail to be a difficult hike and it is not uncommon for people to lose the trail. Make sure you are properly prepared.
The Primitive Trail is a 7.8-mile loop trail that will take you around 5 hours to complete if you do all of the spur trails to various arches along the way.
The total Primitive loop includes Landscape Arch, Pine Tree Arch, Tunnel Arch, Fin Canyon, Double O Arch, Navajo Arch, Partition Arch, Dark Angel, Black Arch, and Private Arch.
Although the hike takes some time, you'll be fully immersed in the nature of the park away from the noise and crowds of the more popular trails.
Just imagine the views from the Sky! Well, stop imagining and make it a reality on this Canyonlands & Arches National Park Airplane Tour.
We have hiked many of the best hiking trails in the world and in doing so we have tried out what works and what does not. Here's our guide to 40 Hiking Essentials: The Ultimate Hiking Packing List.
5. Balanced Rock Trail
Anyone can visit the Balanced Rock viewpoint, but if you really want to take in the beauty of these rock formations, you'll have to hit the trail.
With the massive circular stone sitting atop its rocky perch, this is one sight you'll have to see to believe!
The trail to Balanced Rock is easily done by well-seasoned hikers and beginners alike. Stretching only 0.3 miles in a loop around the rock, most travelers complete the trail in just 20 minutes.
Do you love hiking while exploring international destinations? If so, here are a few more epic hikes in the world that need to be added on to your hiking bucket list.
6. Broken Arch Trail
Getting a bit tired of the crowds taking up all the room on the more famous trails around the park? The hike to Broken Arch is perfect for travelers looking to get off the beaten path.
Although you will find fewer people, the scenery is no less amazing than the other arches in the park.
The start of the Broken Arch Trail can be either in the Devils Garden or at the Sand Dunes Arch parking area. The entire trail is only 2 miles in length and takes most hikers about 1 hour to complete.
Do you love hiking? Here's a few hiking adventures you need to do! Best Hikes in the USA: 15 Stunning Trails You Cannot Miss
7. The Windows Trail
One of the most iconic arches in the entire park requires just a short walk to reach. We are talking about the breathtaking Windows Arch.
Featuring a north window and south window, these iconic red rock arches stand side by side, a sight not often found in Arches National Park. You'll also want to walk the full loop that includes Turret Arch.
The Windows Loop is an easy hike that can be done by travelers of all experience levels. In around just 45 minutes, you'll be able to finish the one-mile-long loop trail.
Hiking poles aren't a must while taking on those top hiking trails in Arches National Park but they are a handy tool! Here are our tips for finding the Best Hiking Poles: Top 5 + How to Choose the Right Ones.
8. Fiery Furnace Hike
The Fiery Furnace is a hike that is only meant for advanced backpackers. Even willpower will not be enough to navigate your way through these mazes of rock. If you're looking for a challenging hike, this is it.
Even though this hike may seem intimidating, you'll be experiencing nature as you have never seen it before, so it's worth the extra effort it takes to organize it.
The hike varies depending on which route you take but you can expect to hike around 2 miles. Visitors will have to obtain a permit and watch a video with the park rangers at the visitor center before starting their journey.
If you still want to hike through the Fiery Furnace but lack experience, you can also join a ranger-led hike.
No matter how you choose to experience the Fiery Furnace, be sure to take plenty of water and check-in at the visitors center.
Are you into taking photos? If so you need to join the Sunset and Night Photography in Arches National Park.
Let us light the way for you. Pack a headlamp or two for those early sunrise/late sunset hikes: How to Choose the Best Headlamp.
9. Park Avenue Trail
Are you looking for a break from the arches? Park Avenue is a great hike that takes you right through the heart of one of the most breathtaking canyons in the entire park.
The courthouse towers line either side of the wash like skyscrapers and it is easy to see why this trail earned the name Park Avenue.
Park Avenue is not the most difficult trail in Arches National Park but it is a one-way or out and back trail. The entire trail is 1-mile each way and takes just about 45 minutes to complete.
10. Tower Arch Trail
This is another hike that you can go on if you're looking to get away from all the crowds of some of the more popular arches around the park.
Despite not being on most people's itineraries, Tower Arch Trail is one of Arches National Park's best-kept secrets!
With breathtaking scenery and a 92-foot span arch, this trail will show you a side of Utah not often seen by the world.
The Tower Arch Trail is only 3.4 miles long and is only considered moderately difficult. The hike will take about 2.5 hours to complete.
Do you plan on exploring a little deeper? If so you'll need the right gear. Here's our guide to the Best Ultralight Backpacking Gear for Adventure.
11. Skyline Arch Trail
It doesn't matter if you're a well-seasoned hiker or just a beginner, the Skyline Arch Trail is easy!
With the arch lining up perfectly with the sky, it is not hard to see how this breathtaking sandstone bridge earned its name.
As one of the easier hikes on our list, the scenery can also be enjoyed by anyone. The trail is only 0.4 miles long and takes no more than 20 minutes to finish.
Hiking clothes are hard to find, we would know after hiking some of the best trails in the world. Check out How to Choose the Best Pants for Hiking
12. Double Arch Trail
Not to be confused with the Double O Arch, the Double Arch Trail is another unique hike in Arches National Park that takes visitors to two sandstone bridges springing from the same pillar of rock.
Not to mention that these two arches may look familiar to you when you visit. That is because they were featured in the opening scenes of Indiana Jones and the Last Crusade.
The Double Arch Trail is easy for hikers of all ages to enjoy and offers a great view. Stretching only 0.5 miles in length, it takes most people around 20 minutes to hike to the arch and back.
13. Sand Dune Arch Trail
The Sand Dune Arch is one of the more fun spots to explore in the park. With beach-like soft sand covering its base, children and adults alike can't help attempting to build their own sandcastles.
The Sand Dune Arch is also known to get quite windy as you have to navigate through a narrow canyon with steep rock sides before you reach the arch. So expect a breeze and potentially some sand spray too!
The trail itself is quite short in length, stretching only 0.3 miles and the Sand Dune Arch trailhead is a short distance from the parking lot. The hike takes most people around 20 minutes to complete.
If you are looking to continue the hike, be sure to check out the Broken Arch Trail above. You can combine them to make a longer hike.
Every hiker needs a Buff or two! Here's our guide to Buff Headwear (And 16 Simple Ways To Wear Them)
14. Petroglyph Trail
Although you will see tons of scenery along the Petroglyph Trail, this hike is better known for its history than natural beauty.
Starting off at the century-old Wolfe Ranch, travelers will be able to take a glimpse into what life was like in the past. But the real attraction on this trail is the age-old Native American rock art.
The Petroglyph Trail starts at the parking lot, passes Wolfe Ranch and stretches 0.5 miles in a loop. The entire trail can be completed in around 30 minutes.
If you're looking to view more Petroglyphs we suggest joining the Moab Scenic Off-Road Petroglyph Tour.
From our experience, a good pair of hiking socks are worth their weight in gold! Here's everything you need to know about finding the best pair of hiking socks for your adventure.
15. Courthouse Wash Rock Art Trail
If you want to dive even deeper into the history of Arches National Park, be sure to head over to view the Courthouse Wash Rock Art.
With a history dating all the way back to prehistoric times, this rock art proves that this now desolate part of Utah was once the home of early civilizations.
The Courthouse Wash Rock Art Trail is a short walk and is easily completed by all kinds of hikers. Only being 1 mile in length, you should plan to spend around 40 minutes on the trail.
---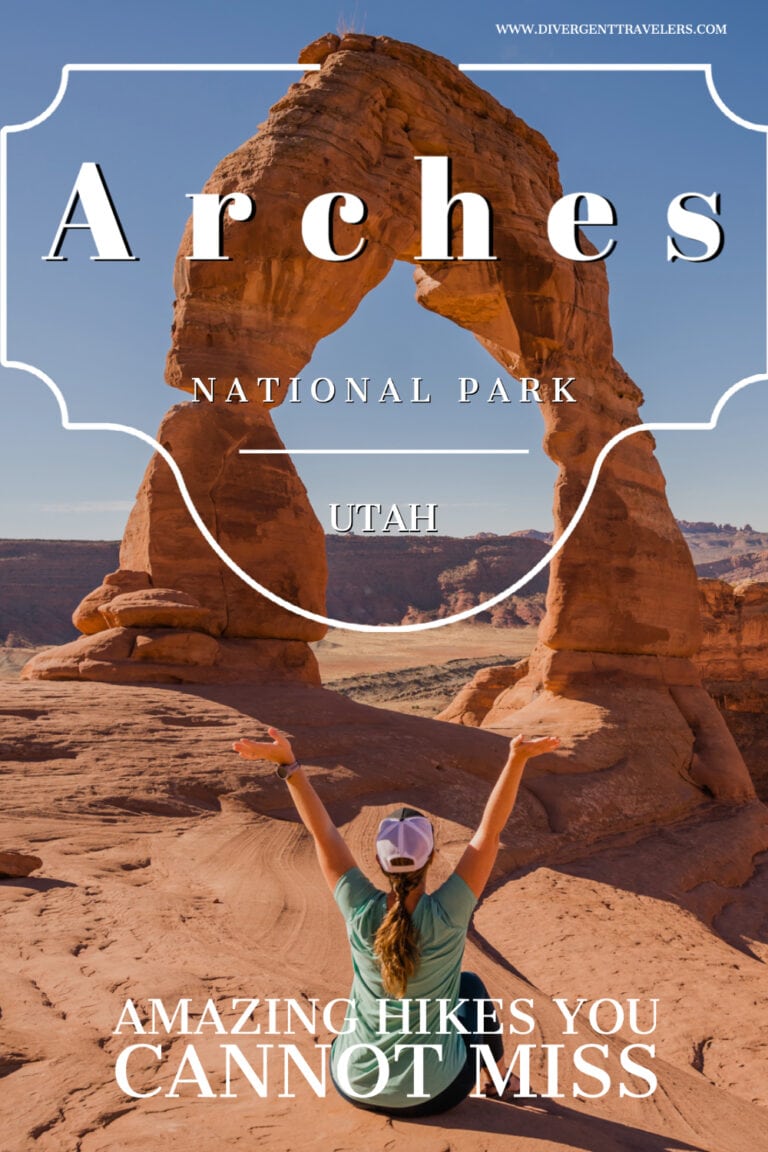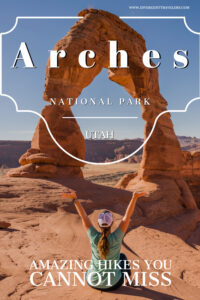 You might also like:
Did you like this story? Share it!