If you're traveling through the southwestern United States, visiting Monument Valley is a must. There's a reason this unique area has been featured in countless Hollywood films and it's well worth a day or two of any road trip.
The southwestern states are home to some of the USA's most dramatic landscapes, and one of the best places to visit when you are traveling through the region is Monument Valley, Utah.
Found within the vast expanse of land that forms the Navajo Nation, Monument Valley is known for the imposing rock formations that rise sharply from the otherwise flat plateau.
This is arid, desert-like land too, and it's Monument Valley that has been featured more than any other location in Hollywood movies set in the Wild West.
While its landscapes might have been romanticized by famous Westerns, and more recently by Instagrammers living the Van Life and road-tripping west, Monument Valley will always be unnervingly beautiful to see firsthand.
It's one of the best stops in the southwest, and to inspire your journey, here's our ultimate guide to Monument Valley.
Don't leave home without: Lonely Planet Southwest USA (Travel Guide)
Where is Monument Valley?
Monument Valley is located within the Navajo Nation, and it straddles the border between the states of Utah in the north and Arizona in the south.
The valley is just a small part of the vast Colorado Plateau, and Monument Valley itself stretches for around 17 miles in length, through a protected area known as the Monument Valley Navajo Tribal Park.
How to Get to Monument Valley
Monument Valley is best accessed on a self-drive tour. If you don't drive, then your best option is to join a multi-day excursion on an organized tour through the southwest because Monument Valley is in a remote location – it's not exactly the day-tripping kind of destination!
Monument Valley is located along Highway 163, which passes through the valley itself on its way from Utah south into Arizona. The highway is around 60 miles long, and starts in Bluff, Utah, and continues south to Kayenta in Arizona.
The entire highway is a beautiful place to road trip, as it passes not only through Monument Valley but through this spectacular desert-like part of the southwest.
But part of the beauty of Monument Valley lies in its veritable isolation from the rest of the world. This is not a place you can simply visit on a whim, purely because it's a long way from any major cities.
For this reason, you will want to consider putting together a longer road trip, that takes in many more of the sights in the Utah-Arizona area and across the Colorado Plateau.
In fact, the nearest major cities are a long way from Monument Valley, and the closest large airport is almost 200 miles to the south in Arizona, in the provincial city of Flagstaff.
There are few connections here – certainly no international ones anyway – and you will need to pass through larger hubs such as Phoenix, Las Vegas, or Salt Lake City anyway, giving you yet another reason to simply turn this into one large road trip through the southwest.
Las Vegas, Phoenix, and Salt Lake City are all at least a 6 hour drive in different directions, but they are great places to start or end your trip, as you can easily pick up hire cars or campervans at the airports.
Depending on how much time you have, you can even start or end your trip on the Pacific coast, in Los Angeles, San Diego, or San Francisco, but be prepared for a lot of driving.
There are a lot of great places to see in the area, and you can incorporate monumental destinations such as the Grand Canyon, Horseshoe Bend, and Antelope Canyon into your itinerary if you are traveling through Arizona.
To the north of Monument Valley, in Utah, you can call into the Canyonlands, into Moab or you can see the Canyons of the Ancients National Monument, amongst many more sights and attractions too.
Best Time to Visit Monument Valley
As with most other places in the American Southwest, the best time to visit Monument Valley is during the late Spring and early Fall. That is if you want to avoid the peak season crowds and heat that come with the summer months of June through September.
If you want a totally unique visit, consider the off-season, which runs from late Fall to early Spring. There will be very few people and you will have a high degree of weather fluctuation. The days will be mostly sunny but that intense heat from summer will be gone.
During these seasons you can also expect cold evenings, overnights, and mornings. Our visit to Monument Valley was in mid-March, during our road trip from Las Vegas to Denver. I can attest to both colder weather and small crowds.
When we went to dinner in the evening, we had to wear sweaters. When we got up for a sunrise backcountry tour to photograph the sunrise, we had to wear down jackets. It was freezing cold until later morning when the sun was fully up.
If you are really looking for a unique experience, consider visiting Monument Valley during the winter, when the valley is occasionally blanketed in snow.
---
Things to do in Monument Valley, Utah
---
Monument Valley is a Navajo Tribal Park and is administered and cared for directly by the Navajo Nation. For this reason, you must pay $8 per person to enter the park. National park passes are not accepted.
The Navajo Nation also arranges more in-depth tours, as some areas of Monument Valley can only be accessed with local guides.
Our Top Recommended Tours in Monument Valley:
Tribal Park Loop
The main thing to do in Monument Valley is to drive the beautiful Tribal Park Loop. This 17-mile long road passes through the best natural sights that the valley has to offer, including the iconic rock formations and rock pillars, and past excellent viewpoints.
In fact, if you are only paying the $20 entrance fee, this is the only part of the tribal park that you can actually access in your vehicle, as anywhere else requires you to be on a tour with a Navajo guide.
The Tribal Park Loop is the best way to see the highlights on an independent trip though, and if this is all you can afford or all you have time for, then don't worry too much, because you'll experience the best of Monument Valley anyway!
The Tribal Park Loop starts and ends at the local visitor's center at the entrance to Monument Valley. While the road is a dirt track, it's very well maintained and a four-by-four vehicle is not necessary to drive the loop.
West and East Mitten Buttes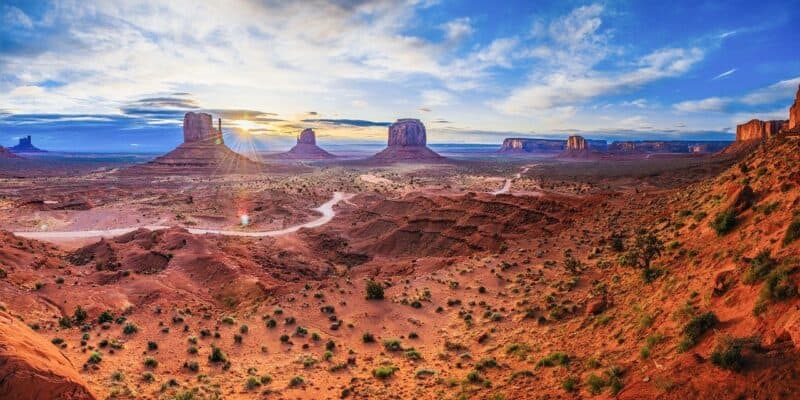 One of the most iconic sights that you'll see on the Tribal Park Loop, is the sight of the West and East Mitten Buttes.
These are the tall, imposing rock formations that rise dramatically from the otherwise flat valley floor, and it's these rock formations that always seem to make it into scenes from Hollywood Westerns, they even formed an integral backdrop to the HBO TV series, Westworld, a few years ago.
These enormous rocks are so named because they appear to look like hands wrapped in mittens, pointing toward the sky!
Wildcat Trail
The Wildcat Trail is a fantastic, short hiking trail that takes you around the base of West Mitten Butte. There are few trails in the park that you can hike without a Navajo guide, but the Wildcat Trail is one that you can self-walk.
It's around 4 miles long, and quite literally takes you into the shadow of the butte, offering you the best view of the rocks. Remember to take lots of water, as the sun can be brutal in summer in Monument Valley. The hike will take around two hours, with plenty of time for taking photographs along the way.
Lower Monument Valley
If you have more time to explore Monument Valley, then it's worth joining a tour with a local guide to visit Lower Monument Valley. This area of the tribal park isn't accessible by the public unless they are accompanied by a Navajo Guide.
You will not only be given a four-by-four tour of more remote areas, but you'll also have the chance to learn about Navajo history and culture at the same time.
The highlight of Lower Monument Valley is the Totem Pole, a tall, fragile, and thin-looking piece of rock that rises sharply from its base in the valley – like a Totem Pole.
Most tours last around three hours from start to finish and offer you the opportunity to experience not only a Monument Valley 'safari', as they call them, but parts of the park that you cannot visit on your own accord, and that consequently, are much quieter than points on the standard Tribal Park Loop.
Forrest Gump Point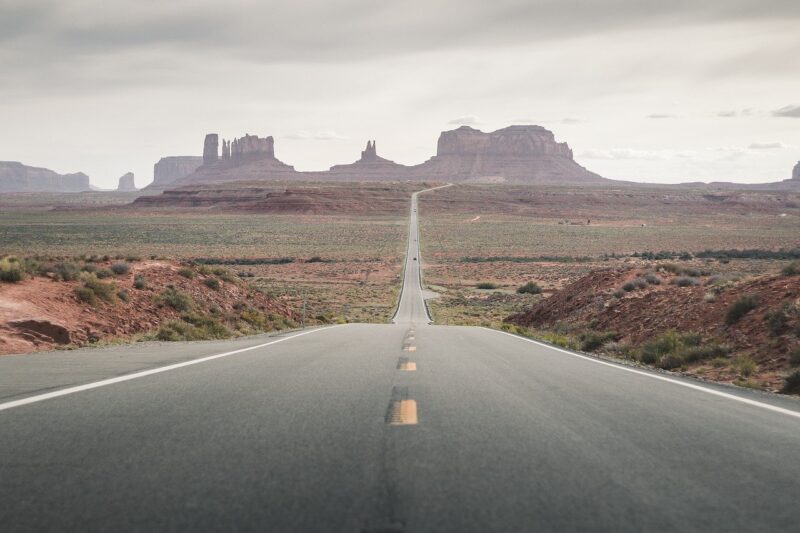 Monument Valley formed the backdrop to an iconic scene in the quirky movie, Forrest Gump. Partway through the movie, Forrest Gump begins running across the USA, and there's a famed clip of the character, played by Tom Hanks, running along Highway 163, with the monumental rock formations of the Mitten Buttes in the background.
In fact, Forrest Gump Point, which is around 8 miles north of the state border, has become one of the most photographed spots in the valley, as the highway runs almost perfectly straight towards the rocks in the distance.
If you see a picture of Monument Valley from any road trip, on any Instagram account, it's going to be from Forrest Gump Point.
Take a Sunrise Photography Tour
We simply could not resist the opportunity to take a specialized sunrise tour into the backcountry of Monument Valley. We had the opportunity to see and photograph places in the park that are completely inaccessible to the general public.
The tours generally start around 3 AM (or around there depending on the time of year and sunrise times) from the lobby of the View Hotel. So if you're not staying there, you will need to make sure you have a rental car or have arranged a ride there from one of the other hotels nearby.
The tour we did lasted 4 hours and took us to many iconic spots located in the private Navajo areas of the park. The guide was knowledgeable and great about showing us the famous angles for each stop.
---
Plan Your Monument Valley Itinerary
---
One of the biggest challenges you'll face is just how much time you should give yourself for this massive site. Truth be told, the more time you can give it the more enriching experience you will have.
At the very least, try to give yourself 2 full days if you can. This would mean spending two nights, with a later in the day arrival before the first night. As we were pressed for time on our road trip and wanted to pack in several famous sites, we only spent one night.
What it really comes down to is planning ahead and then making the most of your time while there. This is how we put together our itinerary in Monument Valley.
Day 1: Arrival at Monument Valley by car from Page, Arizona just after lunch. Drove the Tribal Park Loop for the afternoon, stopping at various lookouts for photographs. Checked into Goulding's Lodge then drove up to Forest Gump Point. Dinner at Goulding's Stagecoach Restaurant.
Day 2: Early Sunrise Photography tour in the backcountry followed by breakfast at The View Restaurant. We then took a tour of the Lower Monument Valley before leaving Monument Valley and heading East to the Four Corners National Monument.
---
Where to Stay When Visiting Monument Valley
---
While you might pass through Monument Valley and spend a few hours exploring and driving around, before continuing your road trip north or south on the highway, you can also take the time to stay nearby and spend longer in the area.
This is a great idea if you want to catch that early morning sunrise over Highway 163, over the epic rock formations, or if you want to join more in-depth tours with Navajo guides across the valley, rather than simply driving the usual loop.
The nearest towns are Kayenta, which is just under 30 miles to the south, while Bluff is around 50 miles to the north. The intriguingly named town of Mexican Hat is a little closer to the north, but there are fewer hotels or accommodations here than in Bluff.
In Bluff and Kayenta you can find an array of hotels, while you can also find a few camping areas along the highway. These are our recommendations for accommodation during your visit:
Goulding's Lodge: (we stayed here in a cabin) Located 2km outside of the park entrance, this hotel offers both standard room and cabin options. The cabins have stunning views over the valley. They have an onsite restaurant too.
The View Hotel: Offers comfortable accommodation with onsite dining. This hotel offers insane valley views. They also offer premium cabins too.
---
Places to Eat Near Monument Valley
---
Your options here are limited if you are planning to stay at one of the two places we recommend above. Each of the hotels offers its own onsite restaurant. The options are limited and expensive but you can't really trade the convenience.
The day we arrived, we ate dinner at the Goulding's Lodge Stagecoach Restaurant. They were offering a salad bar and a menu with a variety of entrees. The salad bar reminded me of a typical dinner club salad bar, much as we have in Wisconsin. Fresh ingredients and a decent variety.
I would highly recommend that you give the Navajo Tacos a try! They are delicious.
After our sunrise tour, we opted to try breakfast at The View Restaurant. They offered the typical breakfast options that you would find in any diner across the states. The food was good but as I said, options are limited so you're going to be left with little choice.
The alternative is making the drive to either nearby Kayenta or Bluff, where you can find a wider variety of options, gas stations, and some fast food.
---
Monument Valley, Utah FAQs
---
Can you drive through Monument Valley?
Yes. Anyone can pay to enter Monument Valley and drive the scenic road, as well as partake in a few short hikes. Note that certain areas are off-limit unless you are with a Navajo guide.
Is Monument Valley worth the money?
Absolutely! It's a very unique destination and even if you're visiting other landmarks in the West, Monument Valley still stands out.
What town is closest to Monument Valley?
Mexican Hat is technically the closest town, though you'll find little there. Bluff and Kayenta are where most people choose to spend the night.
How long does it take to drive the valley drive in Monument Valley?
It will take about 2 to 4 hours, depending on how frequently you stop. There are many different outlooks and photo opportunities, plus some short hikes, so take your time and enjoy!
How much does it cost to enter Monument Valley?
It costs $8 per person to enter Monument Valley, plus additional fees for any tours with Navajo guides. Note that they do NOT accept national park passes.
What is the famous road in Monument Valley?
The road in Monument Valley that you see in the movies (including Forrest Gump!) and on postcards is Highway 163 Scenic Drive.
What kind of car do you need for Monument Valley?
Almost all cars can drive the scenic road through the valley. It is not paved but it is well kept, so in most cases, an SUV or even 4×4 is not necessary.
Can you drive through Monument Valley without a guide?
Yes, you can drive Highway 163 Scenic Drive without a Navajo guide. You just need to pay the $8 per person entry fee.
---
You might also like:
Did you like this story? Share it!