There are many tour options available when it comes to getting from Las Vegas to the Grand Canyon. At 277 miles long, over a mile deep and at times 18 miles wide, the Grand Canyon is one of the most spectacular natural sights on Earth. It was first seen by European eyes in 1540 when García López de Cárdenas led a party in search of the fabled Seven Cities of Cibola – however, its beauty was recognized far before this.
About a thousand years ago the Ancestral Puebloans lived here, carving their living spaces into the rock of the canyon itself – they, and cultures before them regarded the Grand Canyon as sacred. This gargantuan monument has already been captivating us for hundreds of years.
Today it draws millions of visitors every year who come to marvel at the majesty. One of the major cities closest to it is Las Vegas. The Grand Canyon is just a couple hours' drive by car, bus, even limo. This makes it more convenient than ever to not only get a glimpse of the canyon but to experience the incredible outdoors, challenge yourself with rewarding treks, learn about the Native American cultures of the area, admire waterfalls, creeks, and canyons all while having fun.
The Grand Canyon is a huge place, so you should decide what area of this natural wonder you want to see before visiting. Luckily we've shared the best options for how, and where, to see the Grand Canyon from the casino capital.
Don't leave home without your Lonely Planet Grand Canyon National Park (Travel Guide)
The Best Las Vegas to Grand Canyon Tour Options

West Rim
This is the portion closest to Las Vegas – no further than around 2 hours by road. It's mostly located on the Hualapai Indian Reservation, and as such private transport is not allowed within the area. However, there is a great system of hop-on, hop-off shuttle buses that take you to all the greatest viewpoints. These include Guano Point and its awesome vista, one of the most famous vantage points for witnessing the scale of the canyon.
There are a number of unique sights and activities in this region: hiking to the isolated village of Supai, for instance (permit required). Supai is the capital of the Havasupai Indian Reservation; located at the bottom of Havasu Canyon, this remote settlement is the only place in the United States to still have its mail carried out by mules. It's an intrepid 8-mile hike through this canyon to get to Supai, where you'll discover the otherworldly Wigleeva, a sacred rock formation in the red sandstone and the vivid turquoise waters of Havasu Falls.
Eagle Point is home to the famous Skywalk, a horseshoe-shaped glass walkway that springs out 4,000 feet above the canyon to provide incredible views. Here you can see the Colorado River flowing below where you stand, a truly surreal experience.
To get there, a bus tour is a good option from Las Vegas to the Grand Canyon, sometimes including a visit to the famous Joshua Tree National Park. A helicopter tour, on the other hand, offers unparalleled views of the canyon, as well as Lake Mead and Hoover Dam; a sunset tour is a romantic option, including a gourmet picnic dinner with champagne and flower arrangements.
Our top recommended tours including the West Rim:

North Rim
Much higher than the canyon's South Rim, the less popular northern part of the Grand Canyon is especially rugged and offers the best option for outdoors enthusiasts, with a few hiking possibilities in the area. Famous vistas are Bright Angel Point (which is where the Bright Angel Trail hike ends), Cape Royal, Angel's Window Overlook, and Point Imperial – which is the highest point of the Grand Canyon: 8,800 feet. Needless to say, the views from here are incredible.
The hiking trails here offer very different levels of difficulty depending on your own hiking ability. The Bright Angel Point Trail is the least taxing of these, being a paved path that takes around 30 minutes to walk – not so challenging. If you want something a little more difficult, there's the 3-mile Transept Trail, a circular route that follows the North Rim from Grand Canyon Lodge to the North Rim Campground.
For the adventurous, there is the 14-mile North Kaibab Trail that leads you down into the mighty canyon itself and on to Roaring Springs, with epic scenery every step of the way. These are all well-maintained trails but it's important to remember sun protection (sunscreen, hat, sunglasses) and a good stock of water to avoid dehydration.
Getting from Las Vegas to the Grand Canyon's North Rim takes a little longer than to the west, and with the distance in mind, tours from the city can last up to 10 hours. The magnificent bird's eye view is an option here, too, with helicopter as well as airplane flightseeing tours on offer. These can be combined with transport from Las Vegas, and may sometimes include things like jeep tours, or even an ATV ride – which are a lot of fun!
Our top recommended tours including the North Rim:

East Rim
While there is no official 'East Rim' by name, the eastern portion of the Grand Canyon holds still more wonders of nature to discover. It is here where the Little Colorado River comes into play, carving out little tributary canyons that eventually lead to the main event itself. Exploring this area can be done via East Rim Drive, a 26-mile long stretch of road that's actually part of Highway 64, beginning in the South Rim area at Grand Canyon Village and stopping at the east entrance of the Grand Canyon National Park itself.
A good way to experience East Rim Drive is via a jeep tour; while the idea of a luxury, fully air-conditioned tour bus might be interesting to some people, a Navajo-guided jeep tour is where it's at in terms of feeling connected with nature as you are driven along this almost impossibly scenic stretch of highway. Stopping off at various points for amazing photo ops, this jeep tour also takes in the beautifully alien scenery of the twisting pink and orange Navajo sandstone at Antelope Canyon.
It's from the east where you'll have the best vantage point for witnessing a sunset – one of the most breathtaking times of day to be viewing the canyon. You can watch the Grand Canyon gradually change color as the sun falls slowly into the desert horizon for an unforgettable experience. And for even more spectacular views, there's the famous Horseshoe Bend: this is a horseshoe-shaped meander in the Colorado River, and interestingly enough the only place you can have a picture taken at the Grand Canyon with the river in the background. Elsewhere you'll find the amazing Rainbow Bridge, the world's highest natural bridge. The Rainbow Bridge is sacred to a number of Native American tribes.
Located in the East Rim area are also famous man-made sights, such as the early 20th-century feat of engineering that is the Navajo Bridge (though a second bridge was added in 1993). It bridges the gap of Marble Canyon, a natural land form that marks the beginning of the Grand Canyon itself. There's also Cameron Trading Post, a historic town where you can learn more about the Navajo Nation, as well as obtain permits for hiking in their territory.
Our top recommended tour including the East Rim:
Don't leave home without your Lonely Planet Grand Canyon National Park (Travel Guide)

South Rim
It's this area of the Grand Canyon National Park that is the most popular. The South Rim boasts easy access to the canyon itself and as you may expect, is packed full of various things to see and do. In fact, a large bulk of amenities and sights, plus the views the canyon is famous for, are located at the South Rim. This is perhaps due to the location of Grand Canyon Village in this region, a well-positioned hub for exploring this side of the park.
Grand Canyon Village is, in fact, a destination in itself. With a number of historic buildings, the center of town is a good place to wander around and take in the early 20th century lodges and cabins – including the Grand Canyon Depot, built 1909-10, and the 1905 El Tovar Hotel; all of these are examples of what is sometimes known as 'parkitecture', associated with the birth of the National Park Service. Just outside town is the stark Desert View Watchtower, which with its big stone walls compliments the desert scenery – it was designed by architect Mary Colter in 1932; she is also responsible for nearby Lookout Studio and Hermit's Rest, too.
As ever, hiking is a great option: the Rim Trail and South Kaibab Trail offer the chance for less hurried immersion into the very landscape itself. This more active, yet meandering, approach to sightseeing here offers the chance to see things that you might otherwise miss – like the endangered California condor, which has recently returned to the area.
This area can get super busy; so while self-drive tours are an option, you can easily avoid traffic and parking by opting for a bus or jeep tour around the South Rim area. However, by far the fastest way to go from Las Vegas to the Grand Canyon is by helicopter, and a helicopter tour is a dramatic way to see the canyon itself. It's also a short plane ride from Las Vegas to the Grand Canyon Airport, which allows you to maximize the time you spend at this stunning location.
Our top recommended tours including the South Rim:
Did you like this post? Share it!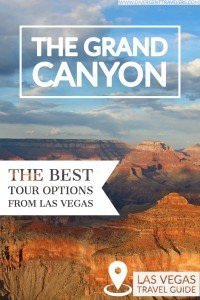 ---
More on the USA:
Adventurous Things to do in Las Vegas for Couples
13 Best Cities to Visit in the USA
Free Things To Do In Minneapolis Minnesota
18 Amazing Things to Do in Key Largo
25 Awesome Things to Do in Islamorada
Epic Miami to Key West Road Trip Guide
4 Perfect Days and Our Favorite Things to do in Asheville, North Carolina
Southwest Virginia Road Trip – Top Things to Do in Virginia
---
Resources for Planning Your Trip to Grand Canyon
Recommended Guide Books For Grand Canyon:
Grand Canyon Map:
Search for Flights: Priceline or Skyscanner offers great deals to Grand Canyon.
Find Accommodation in – Read reviews and check prices for hotels near Grand Canyon at Our Site or AirBnB. (Book today at AirBnB and get $40 off!)
Gadventures offers 35 multi-day trips through the Grand Canyon. Simply use this link to book today!
TourRadar offers 119 multi-day trips through the Grand Canyon. Check out ==> Grand Canyon Tours and Trips
Travel Insurance: We use Allianz travel insurance and have since our first trip to Mexico in 2003. They've been there for us on our adventures – and many friends and readers – multiple times over! If you want to book with Allianz Travel Insurance, simply use this link to get their travel insurance!
Search for Tours and Trips of the Grand Canyon we recommend: