Spain has some of the world's best hiking trails. With picture perfect views of the Pyrenees Mountains and shoreline views that look like they were made for a movie set. It should come as no surprise to you that we were eager to strap on our hiking shoes and join the Mediterranean track along the Camino de Ronda, also known as the Costa Brava Coastal Trail and GR92 trail, for a day hike from Lloret de Mar to Tossa de Mar.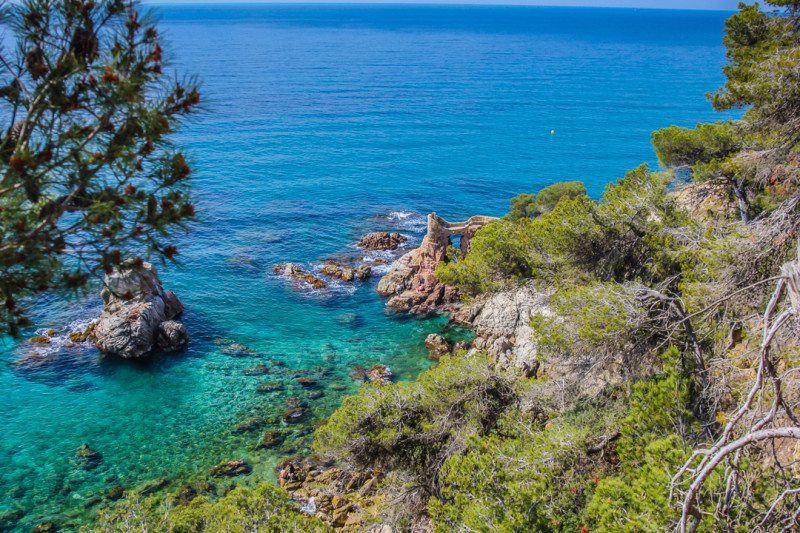 This monster Mediterranean track stretches 220km from Blanes, Spain and tracks all the way up the coast to Collioure near the border of France. A celebrated hike that allows you the chance to stop off in and enjoy all the small towns, beaches and culture of Spanish coastal living on the Mediterranean Sea.
Our hike started mid trail in the seaside town of Lloret de Mar, one of the liveliest towns on the Costa Brava coastline, not far from Barcelona. Starting this portion of the Camino de Ronda begins at the edge of the Lloret de Mar main beach by taking you around a castle that overlooks the Sa Caleta beach. Winding around the rocky shoreline, we found ourselves short of breath quickly. Not from hiking but from the view of stunning teal and dark blue water splashing against the rocky shoreline.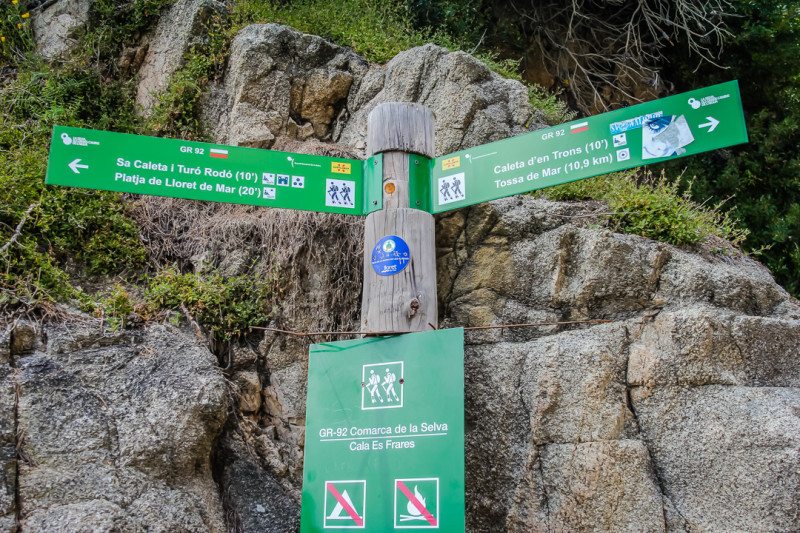 The walking path was worn cobblestones with many Sunday walkers passing back and forth on the short side of the trail that doesn't wander much beyond the city limits of Lloret de Mar. As the hike went on, the Sunday walkers turned around and we were the only hikers on the path within 45 minutes. We never ran into other hikers until we were closer to Tossa de Mar.
Once we got away from the short hikers, we basically had the trail to ourselves. It was hard not to glance out over the water on every stride and we did take advantage of some of the large cliffs that overlooked the ocean by climbing out on them and taking in the views. It's nice to put down the cameras sometimes, even if just for a moment, and just take in your surroundings.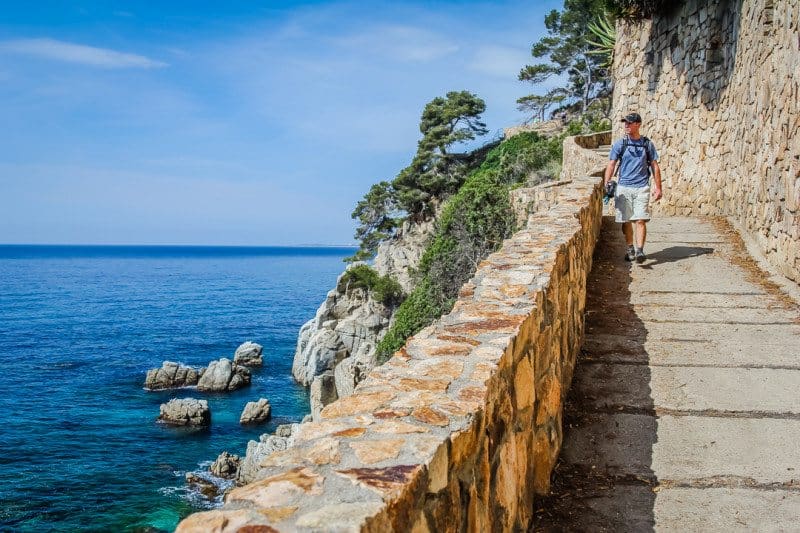 Finding Our Way on Camino de Ronda
Not too far outside of Lloret de Mar, the nice cobblestone walking path turned into gravel and then turned into rough random patches where there had been rock slides. We had heard some parts of this hike had been shut down due to wash out but we secretly hoped this was not the case because the coastal views were the kind you can't get enough of.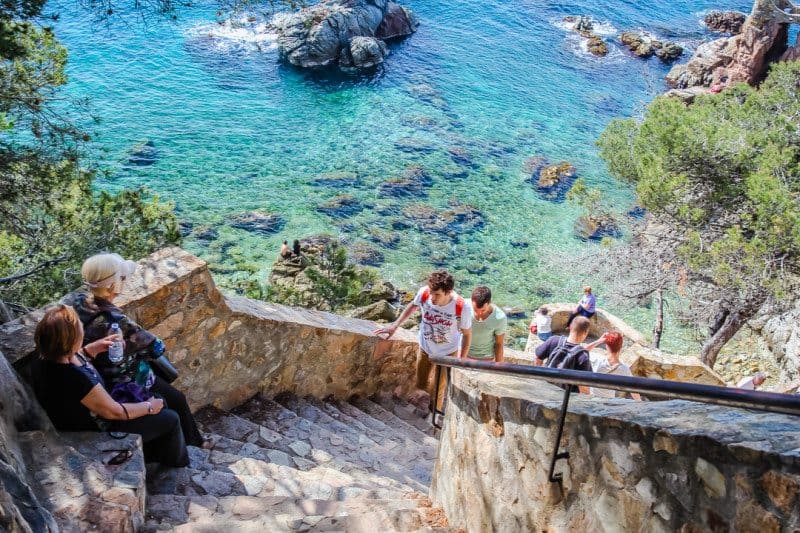 Low and behold, the rumors proved to be true. About an hour into the hike we came across a barricade on the coastal trail that advised us to either turn around or take the detour up the side of the mountain. Trying to staunch our disappointment, we headed towards the detour and a new, unexpected adventure.
Luckily, the Camino de Ronda was marked with white and red GR92 markers along the whole walk. We found these markers everywhere on stone walls, rocks and even trees, which made the detour navigation a piece of cake. If you see the markers you are on the right path. Other markers include X's that tell you where not to go. Arrows markers tell you to turn.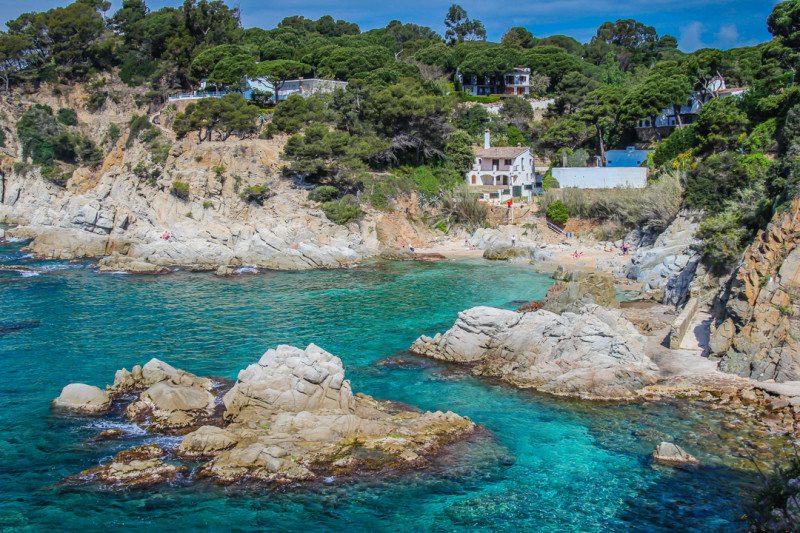 Making the Most of our GR92 Detour
Our new path took us up a steep mountain side before winding though a residential area that had closed up beach houses that over looked the coastline. As we walked farther on this path, the beach houses turned in to yearly resident homes. This part of the hike was all on asphalt and sidewalks, even though it was not right on the coastline it still gave us some nice views of homes overlooking the coastline.
The main residential area had some real curb appeal with the Spanish influence. Opulent yards had large trees in bloom with purple flowers that contrasted with tile decorated front gates. After passing through this area, we found ourselves descending back towards the sea and onto Canyelles beach. We found a scene of kids playing soccer while enjoying the spring day on the beach. This was our chance to take advantage of good bathrooms instead of using the nature toilet.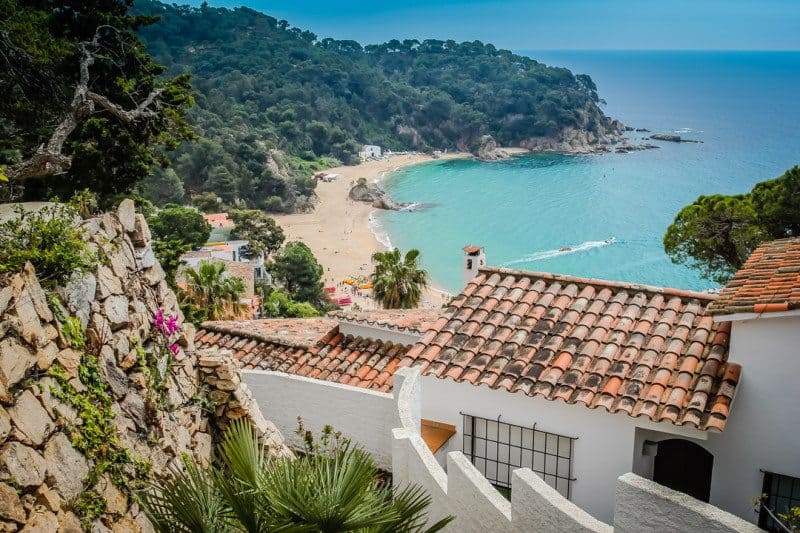 The Final Stretch into Tossa de Mar
After leaving the beach we were able to rejoin the actual Camino de Ronda trail back up the cliff side again to a higher elevation. Instead of being greeted by residential area, as we were before, we found ourselves in the middle of a hillside forest. Reaching the top of the stairs, we found that the path went from paved trail to a rocky raw trail that would be a real mess if the weather turned.
Alongside the walking trails it was evident that may people use this area for mountain biking and ATV riding. This was probably the strangest part of the hike as the terrain changed consistently between wooded areas and arid desert like surroundings. Literally we would be walking in the forest, then reach a clearing that looked like rocky desert. Usually these areas went on for a long time before you found more shade.
Even in Spring, Spain can be a hot place to be with intense sun. Every time we came to a patch with trees, we took a break to re-hydrate and enjoy the shade before continuing on through the next desert like patch. I joked a few times that this would be a great place to film a Naked and Afraid TV show here.
As we climbed up over our last hill and though the forest where we were given a wonderful view of Tossa de Mar. It was an overlook that you could only get if you had hiked there. Many others will never see it from this point of view. Descending into the medieval town was steep and followed a well trodden dirt track that required you to stabilize yourself to avoid falling. Once we reach the bottom, we suddenly found ourselves on the cobblestone streets of Tossa de Mar.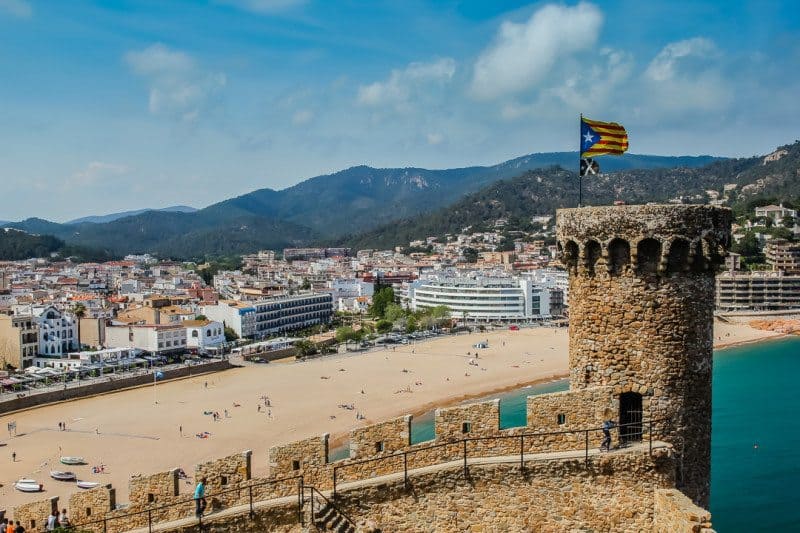 Facts About Hiking the Camino de Ronda- Lloret to Tossa
Day Hike Difficulty: 7 out of 10 due to the large hills and climbing paths
The path is 13 Kilometers long and the hike can be 4-5 hours depending on how often you stop.
The path conditions were nice, cobblestone path to gravel, concrete, asphalt, beach, dirt, back to asphalt and ending on the cobblestone streets of Tossa de Mar.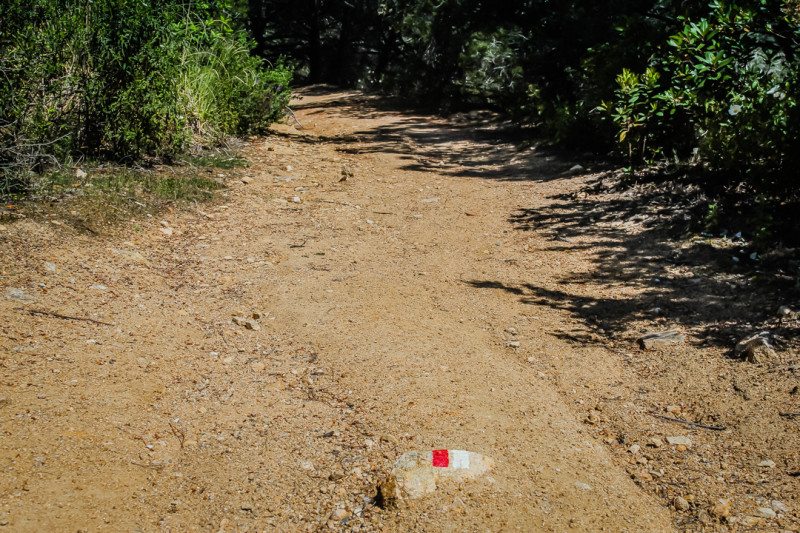 The hike was like a fine aged wine. It started out great and as it went on it got better. Sure, it was not a highlight to hike though a residential area but sometimes you can't take the path you wanted to take. That is the joy of an adventure. Lina and I will be back to complete the full 220km multi day hike that takes you through all the towns in Costa Brava.
Top Tip: Despite being a day hike, make sure you are prepared correctly.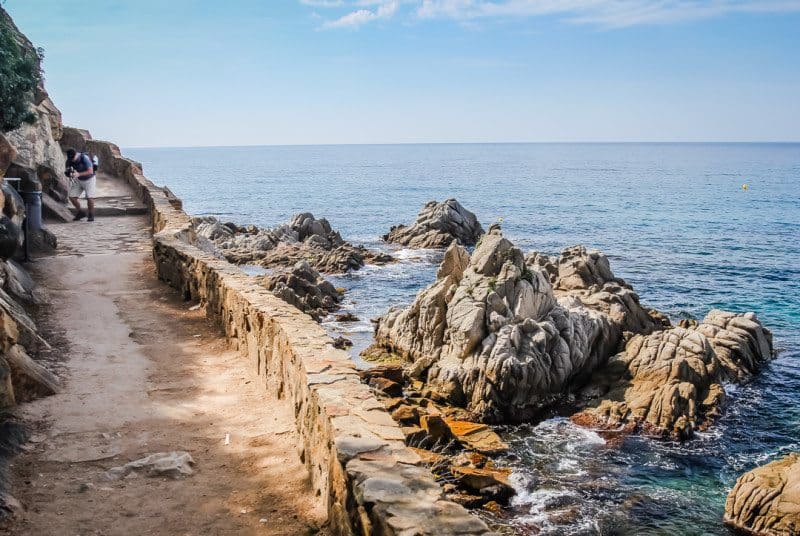 Pack enough water, snacks and a lunch for your whole day hike. You will not come across many, if any, opportunities to purchase these items along the way. There are many places to sit down and enjoy a snack along the way. Lastly, don't forget sunscreen. Even in the cooler spring weather, the sun was intense and we both got burnt.
If you love to get out on the trails, take in amazing views and get some exercise than you should definitely add Spain to your list of places to hike on your travels.
---
Europe City Guides to Check Out
4 Day London Itinerary | 4 Days in Munich | 4 Days in Paris | 3 Day Bruges City Break Guide
Best Photo Spots in Berlin | Best Photo Spots in Copenhagen | 4 Day Dubrovnik Guide
3 Days in Rome | Ultimate Germany Road Trip Guide
Ireland Guide to Renting a Car | 3 Days in Hamburg | 2 Days in Nuremberg
When is the Best Time to Visit Europe | 3 Days in Florence | 3 Days in Barcelona Itinerary
3 Days in Prague | 3 Day Krakow Itinerary | Your Guide For Doing Laundry While Traveling
Ultimate Guide to Eurail Pass Train Travel in Europe | Travel Insurance- Do You Really Need It?
Ultimate Travel Photography Gear List | Best Drones For Travel From A Real Drone User
Travel Insurance: We use for Allianz for travel insurance and have since our first trip to Mexico in 2003. They've been there for us on our adventures – and many friends and readers – multiple times over! If you want to book with Allianz Travel Insurance, simply use this link to get their travel insurance!