Kangaroos are everywhere in Australia, but you'd be surprised at how they can elude you, especially if you're a tourist! We share our experience of meeting the Pebbly Beach Kangaroos in NSW during our road trip.
Being a wildlife lover and visiting Australia meant that seeing a kangaroo was high up on my list during our visit. 
We had checked out a few places along the Great Ocean Road where we hoped to see them but left the area with not one sighting.  There were no kangaroos to be found.
---
Visiting the Kangaroos in Pebbly Beach NSW
---
A bit disappointed we continued on our road trip heading up the coast through Southern Victoria towards Sydney. We continued to make various stops in places where they could be seen yet they still eluded us.
That is, except for the dead kangaroos everywhere. Yes, dead kangaroos.  I would equate them to the whitetail deer that we have at home in Wisconsin.
They are everywhere, including on the roads, so they get hit by oncoming traffic.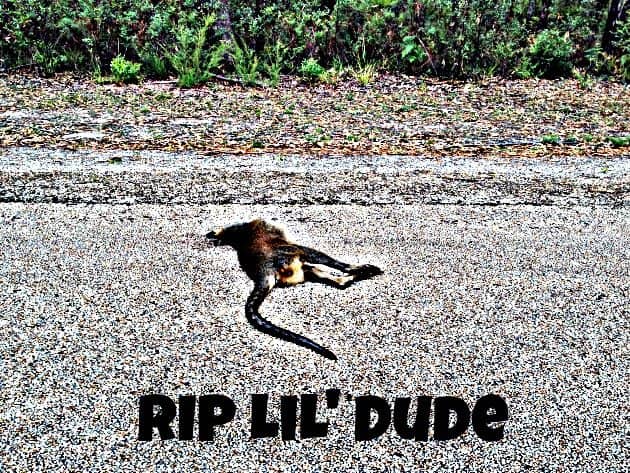 Imagine being a traveler on their first trip to Australia, just dying to see a kangaroo and the only thing you have been privileged to is bloated, dead kangaroos on the side of the road.
Not exactly what I had pictured for my first encounter with the iconic local animal.
My tally was up to about 6 roadside displays when I cracked open one of the guidebooks in our car to look at our route for the day.
In the sidebar was a paragraph about seeing kangaroos at Pebbly Beach. At that moment excitement overtook me. Could this be the moment I see my first kangaroo?
Planning A Stop at Pebbly Beach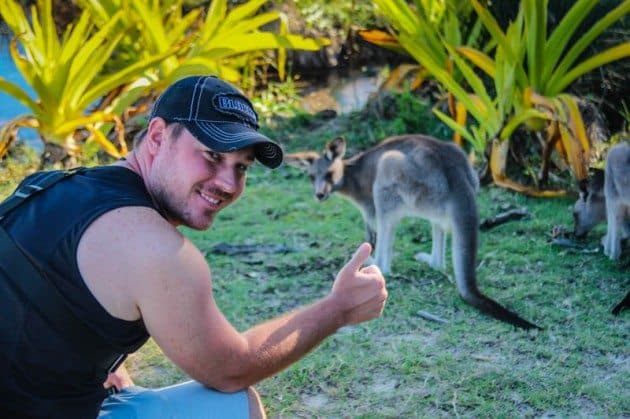 We circled it on our map and made the decision to stop off at Pebbly Beach for the afternoon. I know, it is probably ridiculous to the locals that someone would be that excited to see a kangaroo.
I know if someone was visiting Wisconsin and going bonkers over the whitetail deer I would laugh. But for a girl from the USA, seeing a kangaroo in Australia was an absolute must.
Kangaroo Nirvana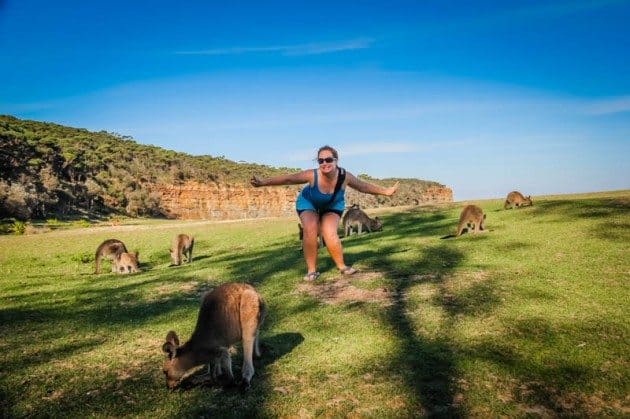 Boy was I in for a treat. Pebbly beach is home to a large resident population of kangaroos. They were everywhere and we spent the better part of the afternoon photographing them in various areas of the beach and park.
You could tell that they were used to people being around them. They tolerated us moving amongst them and although they appeared pretty tame, we didn't try to touch them.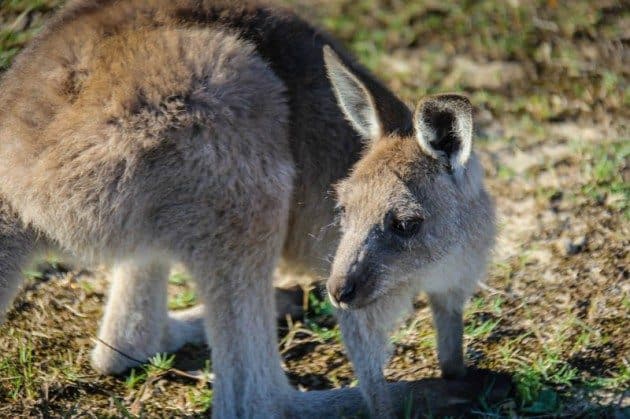 We were in the presence of the Eastern Gray Kangaroo, a common inhabitant of the Southeastern coast of Australia and I could see why they had picked Pebbly Beach as their home.
This beautiful white sand beach sat right between bright blue coastal waters and a beautiful lush National Park. There was ample grass over low rolling hills between the trees and sand making a grand buffet for them.
Spending Time at Pebbly Beach NSW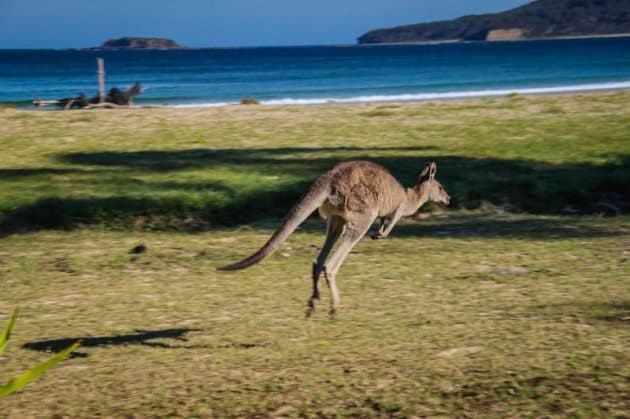 As an animal person, I enjoy taking the time to observe any animals that I see. Especially new ones to me.
Kangaroos as a whole are odd creatures, have you ever looked closely at their feet? They look like such innocent animals until you have a look at their built-in weapons.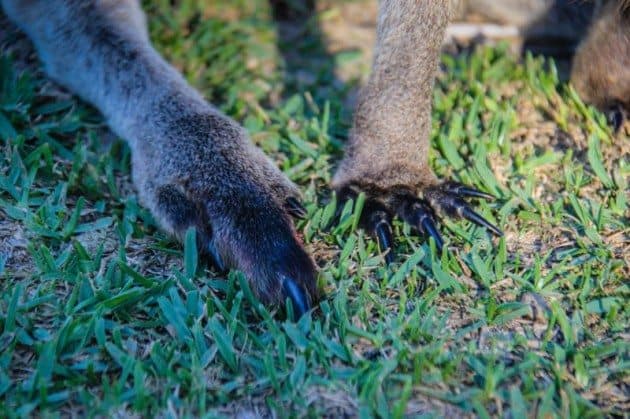 Seriously, razor-sharp 2-inch claws on their front feet and one large spike on their hind feet, they look wicked.
Assuming they use these as a defense against large predators, I was only able to observe them using their front claws to scratch at the dirt and their bodies.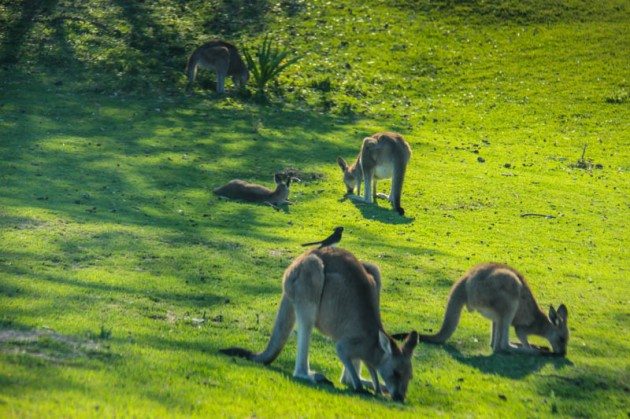 There were several babies that were still nursing, so they must have left the pouch not too long ago and were learning to graze.
Mostly they just hopped around all crazy and then crashed on the grass near the adults who were grazing.
We enjoyed just hanging out with them on the beach while they grazed and interacted with each other, living in a very social group environment.
The Perfect Australia Experience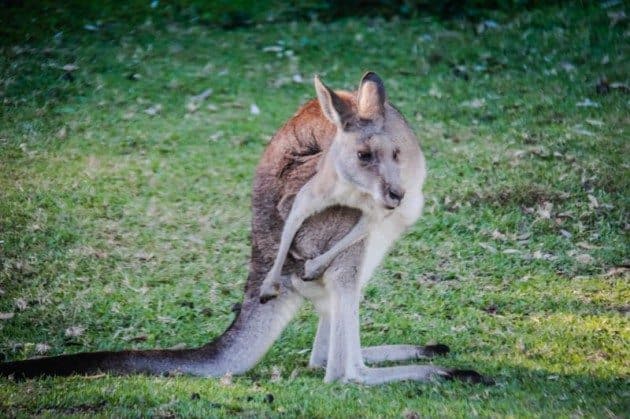 I found a peace about it all, that missing link in my visit to Australia.
I know the trip just started and we have a few more weeks of exploring with many more adventures, but I can officially say it.
I have walked amongst kangaroos in Australia. It was a good travel day.
---
 Have you paid a visit to the kangaroos at Pebbly Beach?
More on Australia:
Did you like this story? Share it!