Have you ever found yourself dangling from a rope 70 feet in the air? I wasn't really sure what that would entail when I signed up for a cliff rappelling day trip in Mexico. It was the second time we would jump on the adventure wagon on this trip. Earlier that day we participated in our first zip lining experience so the adrenaline was already pumping when we arrived at the cenote cliffs near Coba.
An adrenaline junkie is born.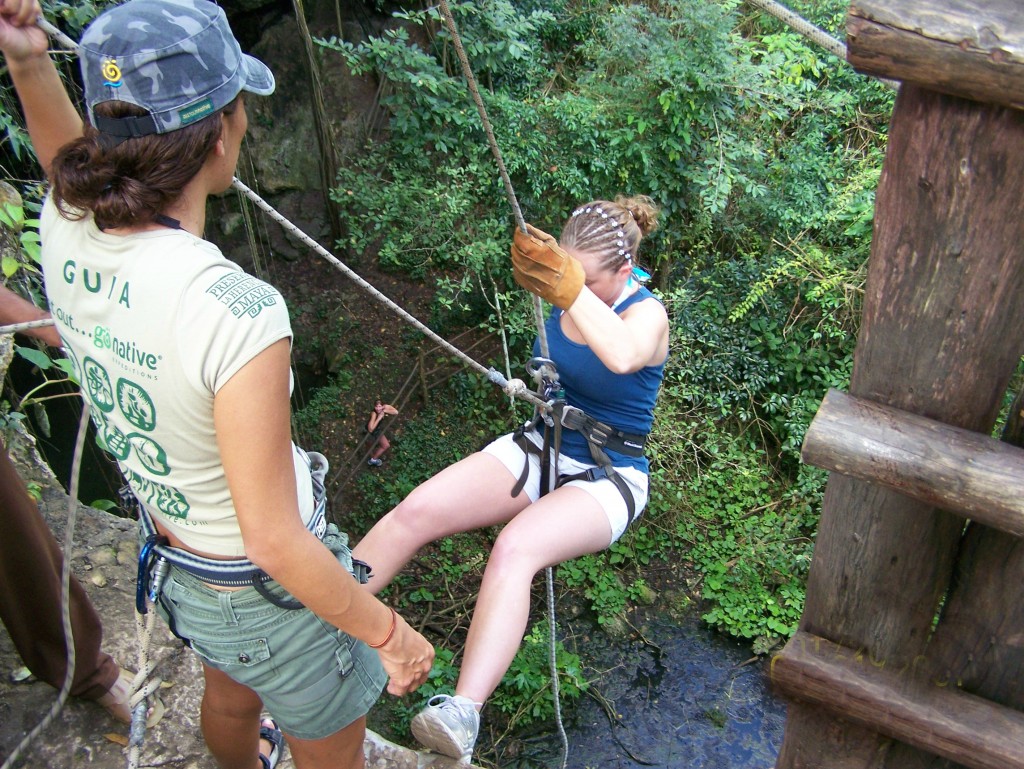 Like the zip lining, I found myself shaking slightly as the employees fitted me for my harness and rappelling equipment. It wasn't that I was scared, but there is something exciting about rappelling backwards off a 70 foot cliff that makes your leg shakes. This time I wouldn't be the first to go. I watched a couple people approach the platform and make their way over the edge. A couple others stepped up to the platform and decided their ambition had gotten the best of them and they gracefully opted out.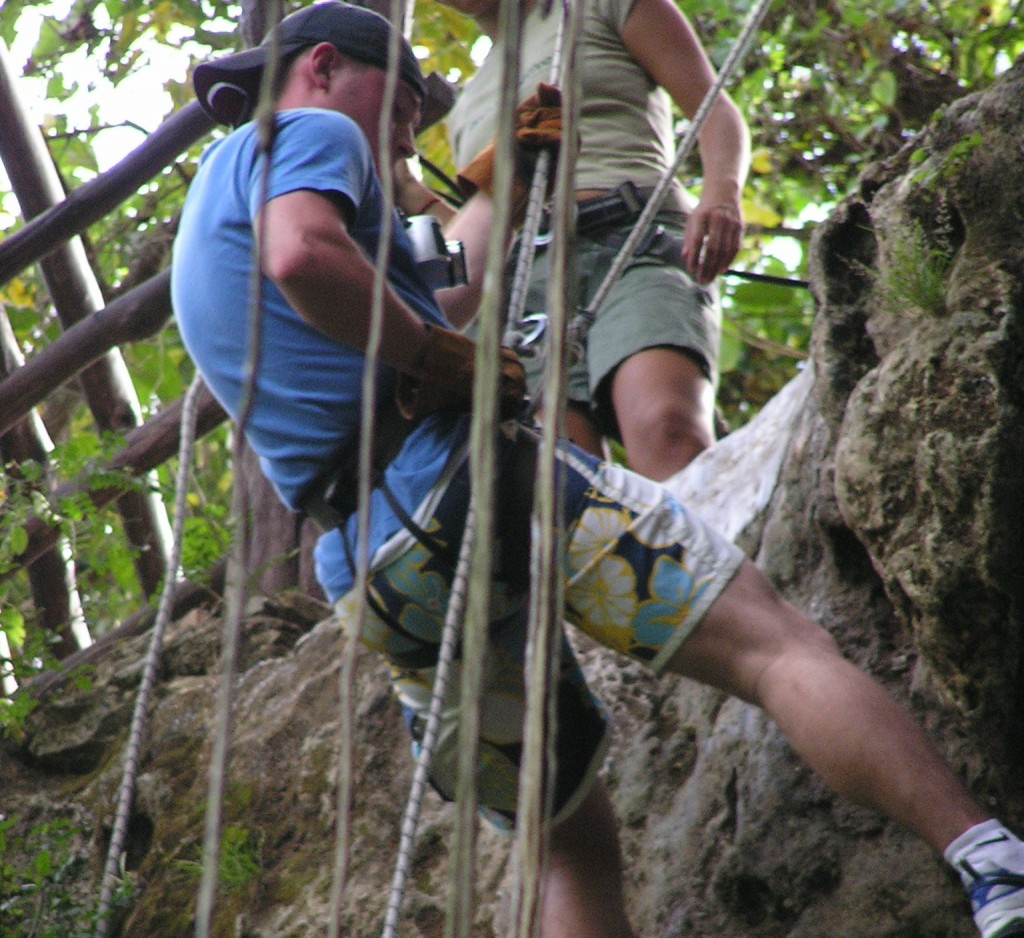 Our turn came up pretty fast after that. I went before David and found myself approaching the platform excitedly. I was ready to do this. The guide showed me how to hold the ropes separately. One was for support and the other was used to let myself down the rope. The way I held it would affect how slow or fast I made my way down the line. Thankfully they provided leather gloves because once you start to lean back off the cliff you can feel the tension and force from your own weight. Without gloves it would easily cause a good rope burn.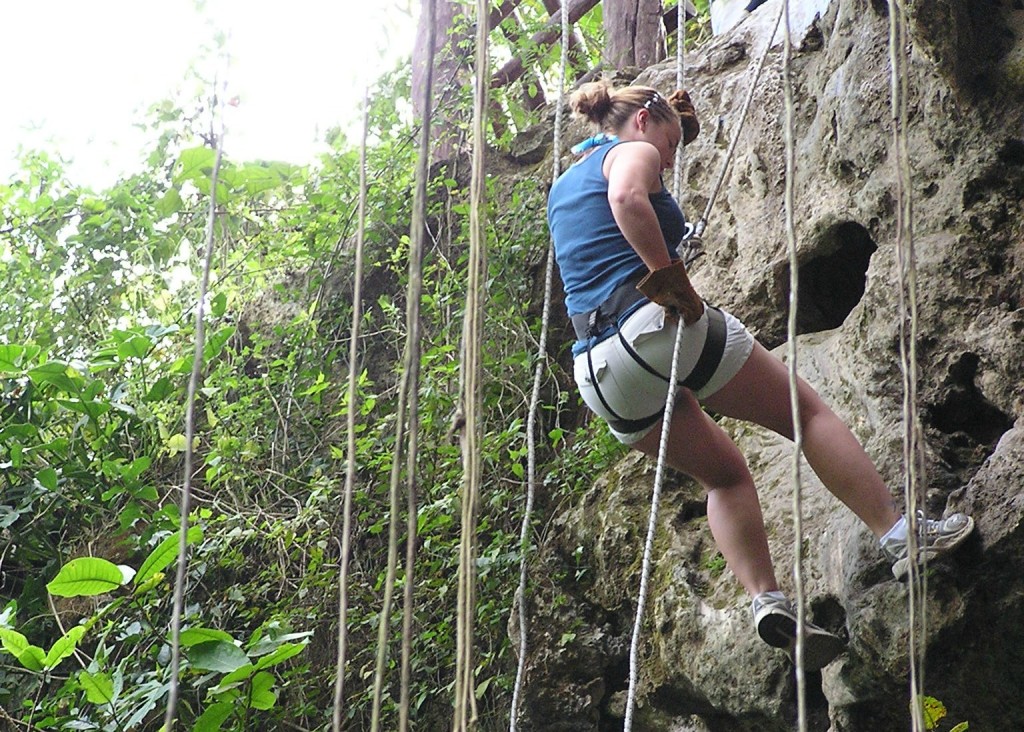 The hardest part was getting my balance right as I walked backward off the platform and parallel to the cliff wall to begin my descent. The balance doesn't really equal out until you get down the cliff wall to your waist height. Then the rope evens out and lays off the edge of the platform making it easier for you to stabilize and find your descent rhythm.
Just about when you think everything is going good and you have the hang of it, you realize there the cliff wall ends and gives out to a cavern. Leaving you at a free fall with no wall to walk your feet along. This was not something I was prepared for as I made my way down the wall. So you can imagine my surprise when I reached that point in the wall! I remember sitting there contemplating what my next move would be.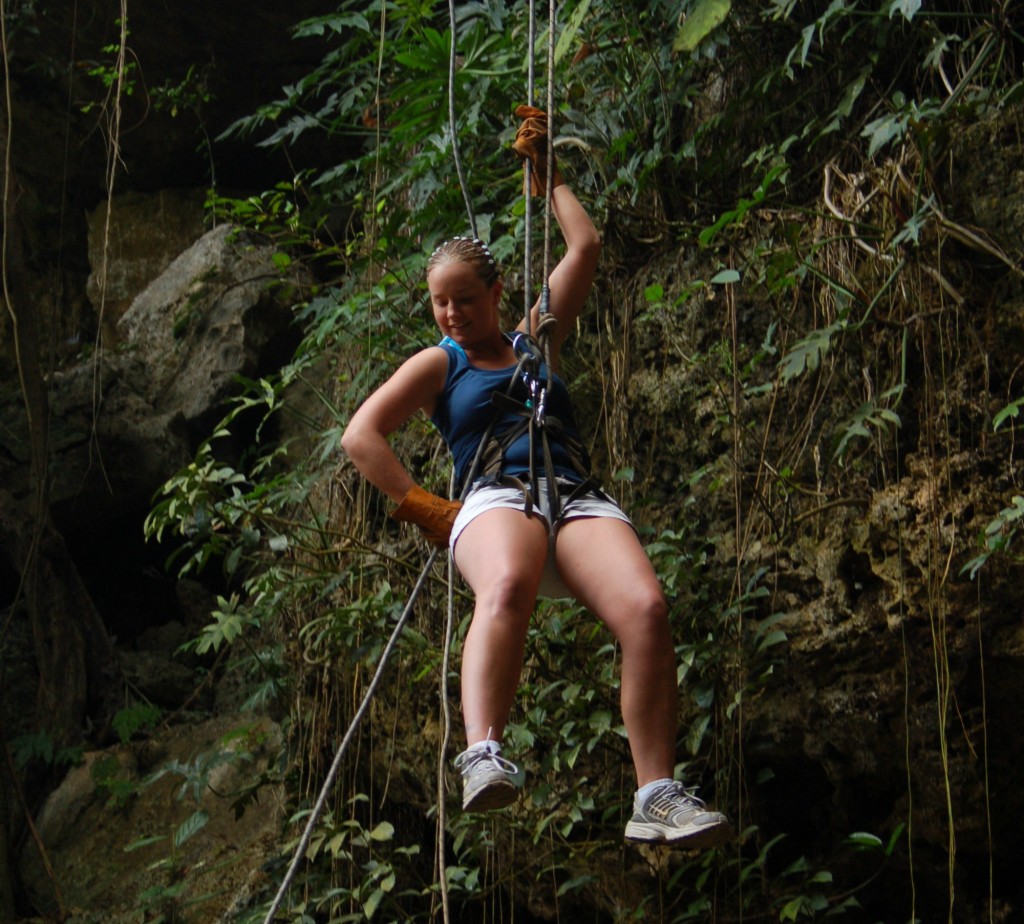 It was easy to support myself when I was able to walk my feet along the wall, but when you have to free rappel the balance game changes. You have to support your own weight at that point. Figuring that out on the fly was a challenge for me, as I had no experience doing this sort of thing before. So after hanging there and putting some thought into it, I decided to just go for it.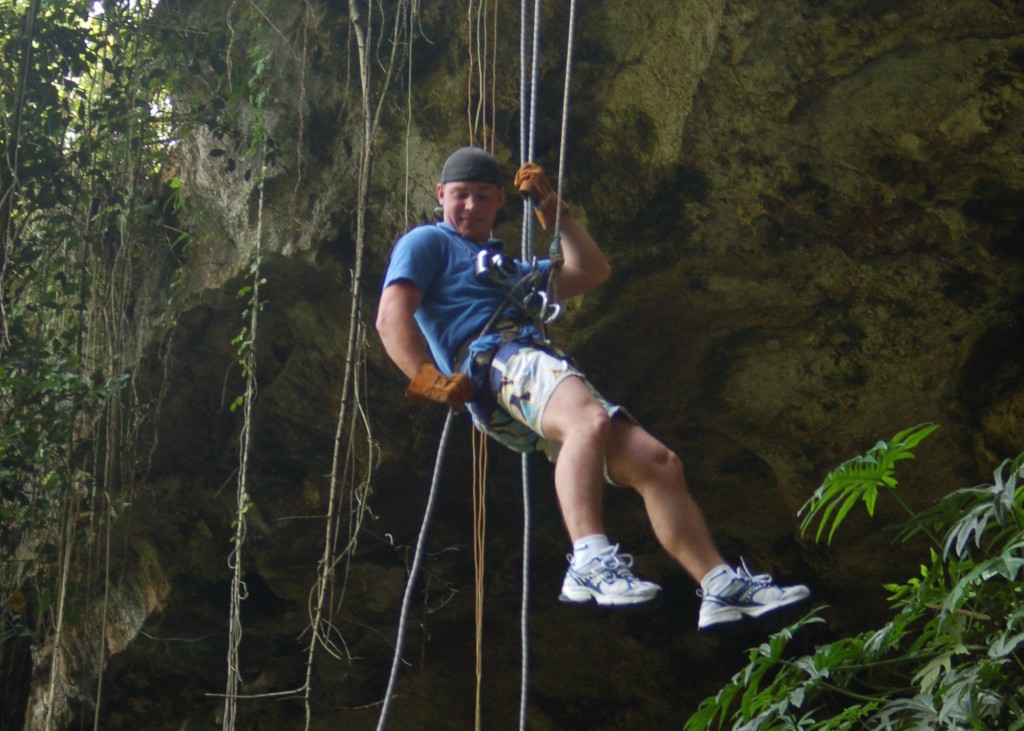 I released my brake hand and started to slide smoothly right down the rope. Of course the guide was a little concerned by my speed but I had plenty of control and was enjoying the ride. After what seemed like a hour my feet touched down on the ground below me and I was able to take my first glimpse around at the cenote I had rappelled myself into. It was a moment I will always remember and the final hook into my new found love for adventure activities.
Cliff rappelling is awesome and we want to hear your stories!